Currency ban may derail cement companies' revival hopes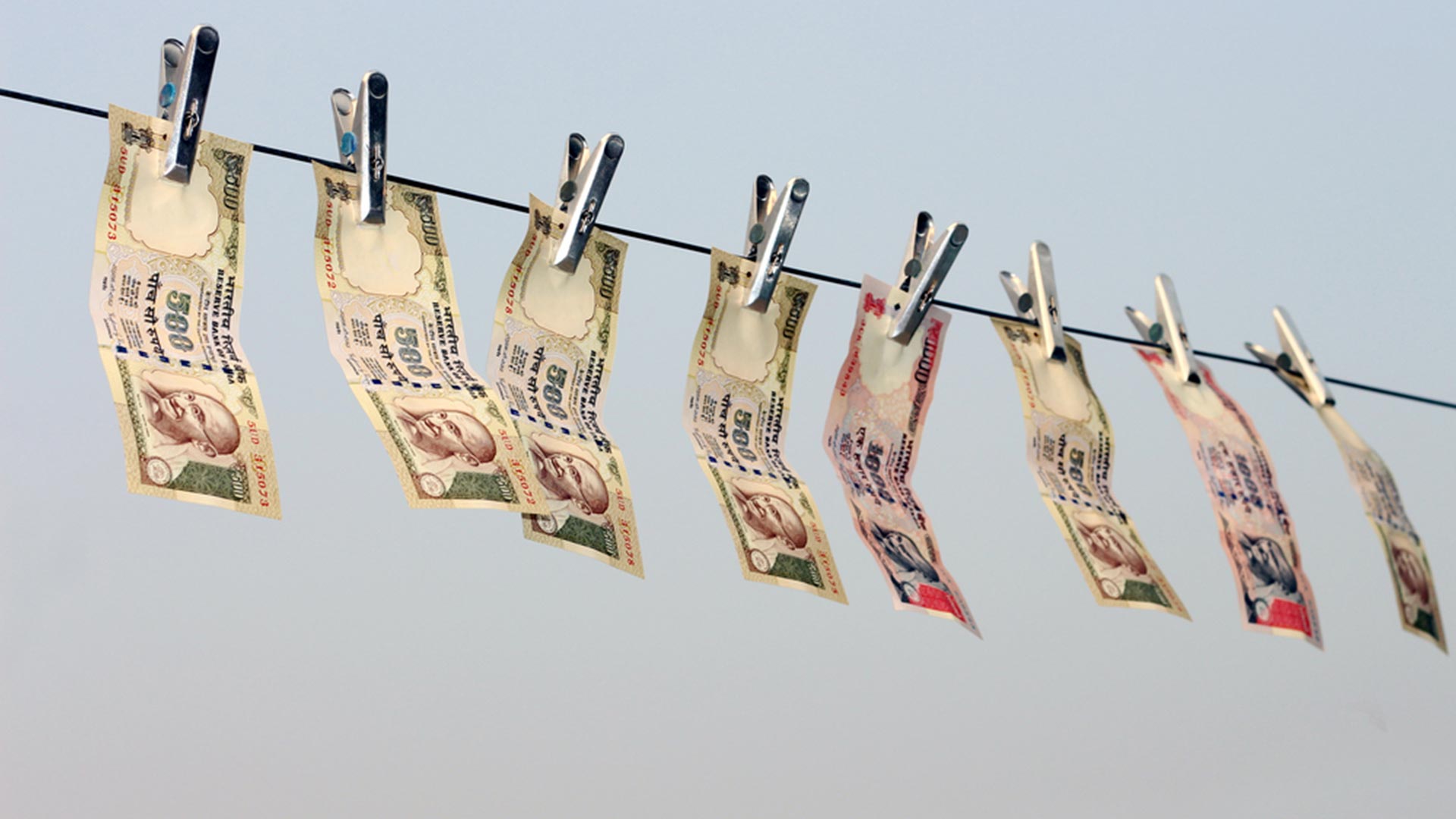 After investing Rs 600 crore in expanding its annual capacity to 4 million tonne from 2 MTPA, BK Birla group company Mangalam Cement is now looking at increasing its market share in north India to 4% by the end of the current financial year from the current 3.47%.
The new capacity has come on-stream at a time when the cement is undergoing an extended period of sluggish growth but the company believes that demand is poised to see an uptick beginning next January. But the optimism is now tempered as the fallout of demonetization is expected to peg back the nascent recovery witnessed in real estate industry.
Recently, the company invested Rs 500 crore in its Morak plant in Rajasthan to increase capacity to 3.25 MTPA from 2 MTPA and set up a new grinding unit at Aligarh in Uttar Pradesh with an investment of Rs 100 crore.
"Demand from the housing sector earlier contributed 64% to the overall volumes of the cement industry. With the real estate industry coming under pressure over the past couple of years, the demand mix has changed in favour of the infrastructure sector. Government intent and subsequent gradual pick-up infrastructure growth offers hope for sustainable future for the industry. But for a meaningful demand growth, real estate industry needs to pick up pace. Unless this sector participates actively, both volumes and realisations will be muted," said Kaushlesh Maheshwari, president (Marketing), Mangalam Cement Ltd, which sells its products under the brand name of Birla Uttam.
In the past two years, Mangalam Cement, one of the oldest companies in the sector, has undertaken various measures to streamline its infrastructure for on-road dispatches and realigned its brand image with a new logo apart from expanding capacity. It has also made deeper penetrations in the existing markets like UP and Rajasthan while expanding in the new territories like Madhya Pradesh.
"We tried to change the perception about the brand by focusing on a USP-based marketing. We are beginning to see the early results despite the demand scenario being challenging. But we are confident that a slight acceleration in economy activity will help us deliver much better," said Maheshwari on the sidelines of the company's event organized for honouring architect students in the country.
Source : Economic Times
50% Growth For Nashik Realty Sector Since Ganeshotsav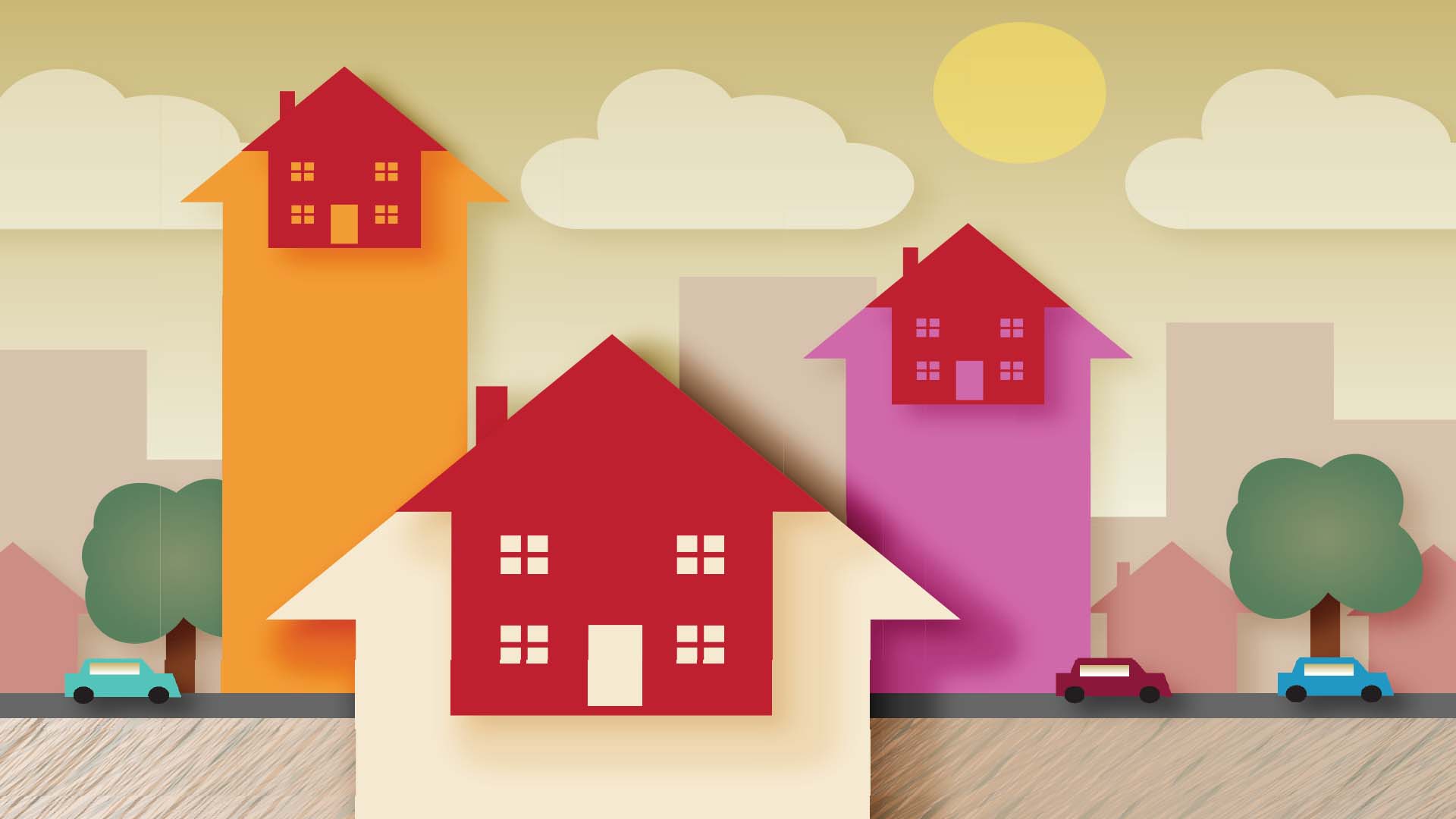 The realty sector has witnessed a positive and welcoming development since Ganeshotsav after a two year phase of recession and other difficulties.
According to CREDAI, the real estate sector has recorded growth of 50 percent in Nashik as compared to last year.  During the same period of last year, approximately 300 flats worth Rs 120 crore have been booked or sold since Ganesh festival, against 150 flats worth Rs 60 crore across the city.
Sunil Kotwal, Nashik CREDAI President, said, "Last two to three years were very tough for us. Now, the RERA Act and the GST have been implemented. The monsoon has been good this year. Hence, a positive movement has started in the realty sector of Nashik, mainly from the Ganesh festival."
He further added, "There has been around 50% vertical growth between 25 August and 28 September, compared to the corresponding period of last year. Dasara is an propitious occasion for booking properties. We are eyeing sale of more 150 flats worth Rs 60 crore on Dasara."
He also stated that there are enough ongoing projects in the city and the builders have good inventory at reasonable prices. He concluded, "Hence, this is the best opportunity for those who are waiting to buy homes of their dream. The prices will go up after new projects come up."
Properties ranging between Rs 15 lakh to Rs 2 crore are available in the city. About 15 new projects have been launched in the city on the occasion of Dasara.
Also Read: Insomniacs Bags The Digital Marketing Campaign Of The Year At The Realty Plus Excellence Awards 2017
Raunak Group Presents Apna Pehla Ghar Campaign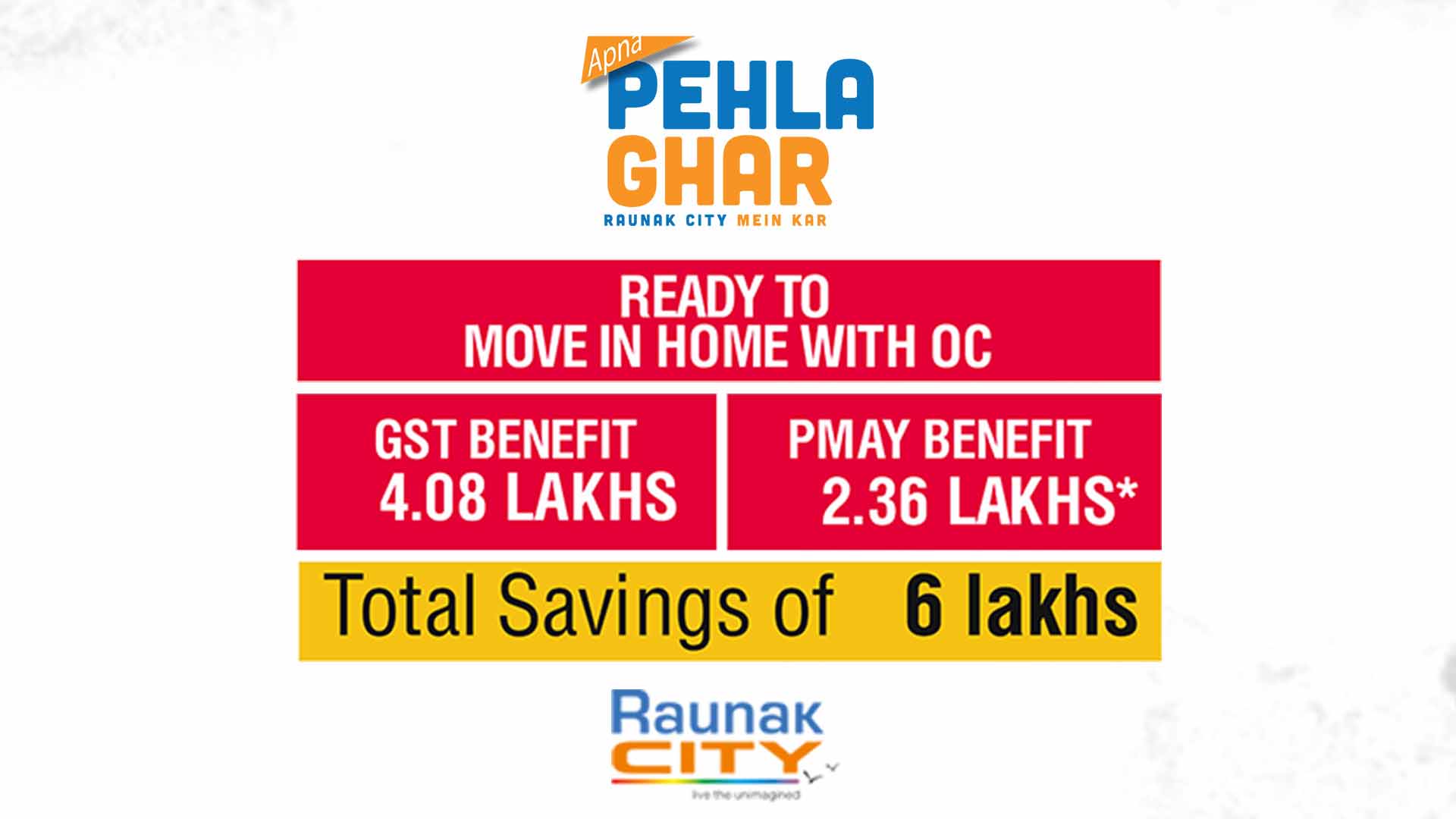 Raunak Group, a real estate developer based in Mumbai, has conducted an extensive research and discovered that for many customers in the real estate industry, the home that they purchase is the first true investment they make. Hence, they understand that very feeling and always thrive to help people in achieving their dream of owning their first home. It is with this thought process that they have announced the launch of their latest campaign, i.e. 'Apna Pehla Ghar' which aims at helping people own their first home close to the city of dreams, i.e. Mumbai.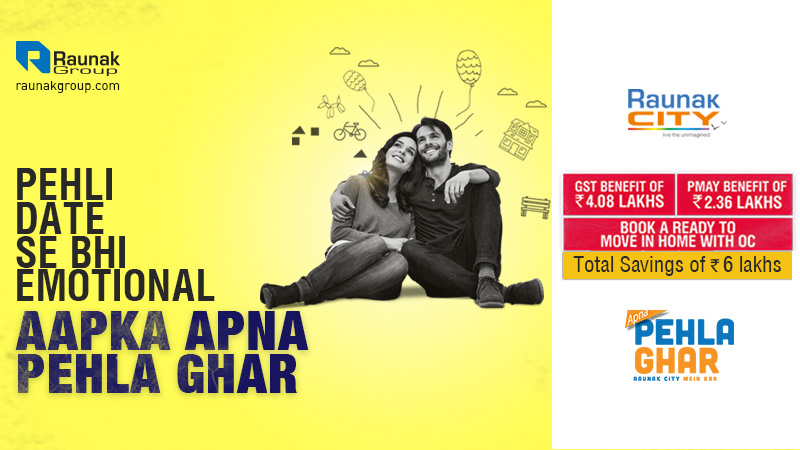 The thought behind the campaign is to assist and enhance the vision of the Prime Minister's dream mission of "Housing for All", an initiative that was introduced in 2015 which promised affordable housing to the urban citizens. This movement brought in Pradhan Mantri Awas Yojana (PMAY) which gives the customers the subsidy they need, thereby acting as an incentive for them to purchase their very first home.
Hence, Raunak Group is presenting an opportunity to their customers to buy and move into their first dream home in the ready to move buildings in Raunak Group's township development Raunak City in the upcoming smart city of Kalyan.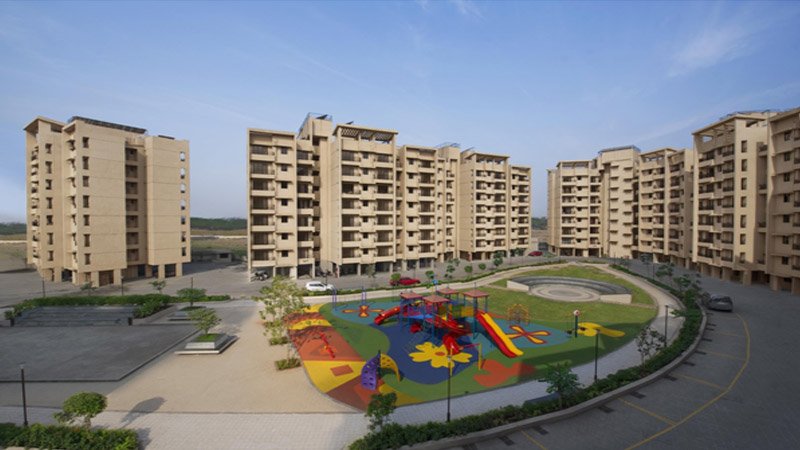 Actual Image Raunak City Sector 3 (With Kids Play Area)
The region of Kalyan stands as one of the best pocket-friendly locations where one can find and own their first every dream home. Thanks to its easy connectivity to Mumbai and the rest of the Mumbai Metropolitan Area via amazing roads and local railways, Kalyan caters primarily to the affordable housing segment.
Raunak City at Kalyan is the only biggest development right in the heart of the city and within the limits of the Kalyan-Dombivali Municipal Corporation. This meticulously planned development spans over 35 acres and will be developed in 4 separate sectors. The project has already built and delivered 10 buildings in Sector 2 along with 13 buildings in Sector 3. Raunak City offers 1 and 2 BHK homes at the best prices that one can find within Kalyan.
Actual Image Raunak City Sector 3
Raunak City stands as the best choice thanks to the most affordable prices of its flats. Each home comes packed with amenities like a landscaped garden, children's play area, community hall, jogging track, common clubhouse with a swimming pool and a gymnasium. Raunak City also upholds its responsibility to the environment by constructing solar panels for hot water, rainwater harvesting and a sewage treatment plant.
Raunak City has an offer that is customized exclusively for their customers. Their ready to move in homes at Raunak City have received their Occupancy Certificate so that one can move in at a moment of their choosing. Along with that, the GST benefit allows an individual to save Rs. 4.08 lakhs while the Pradhan Mantri Awas Yojana (PMAY) benefit allows them to get Rs. 2.36 lakhs back into their savings account, thereby helping each customer save a minimum amount of Rs. 6 lakhs!
With over 5,614 happy home-owners vouching for their reputation, choosing a dream home with Raunak Group is the wisest choice a potential homebuyer can make.
Also Read: Raunak Group Launches Darr Ke Aage Ghar Hai Campaign
Changing Patterns Of NRI Investment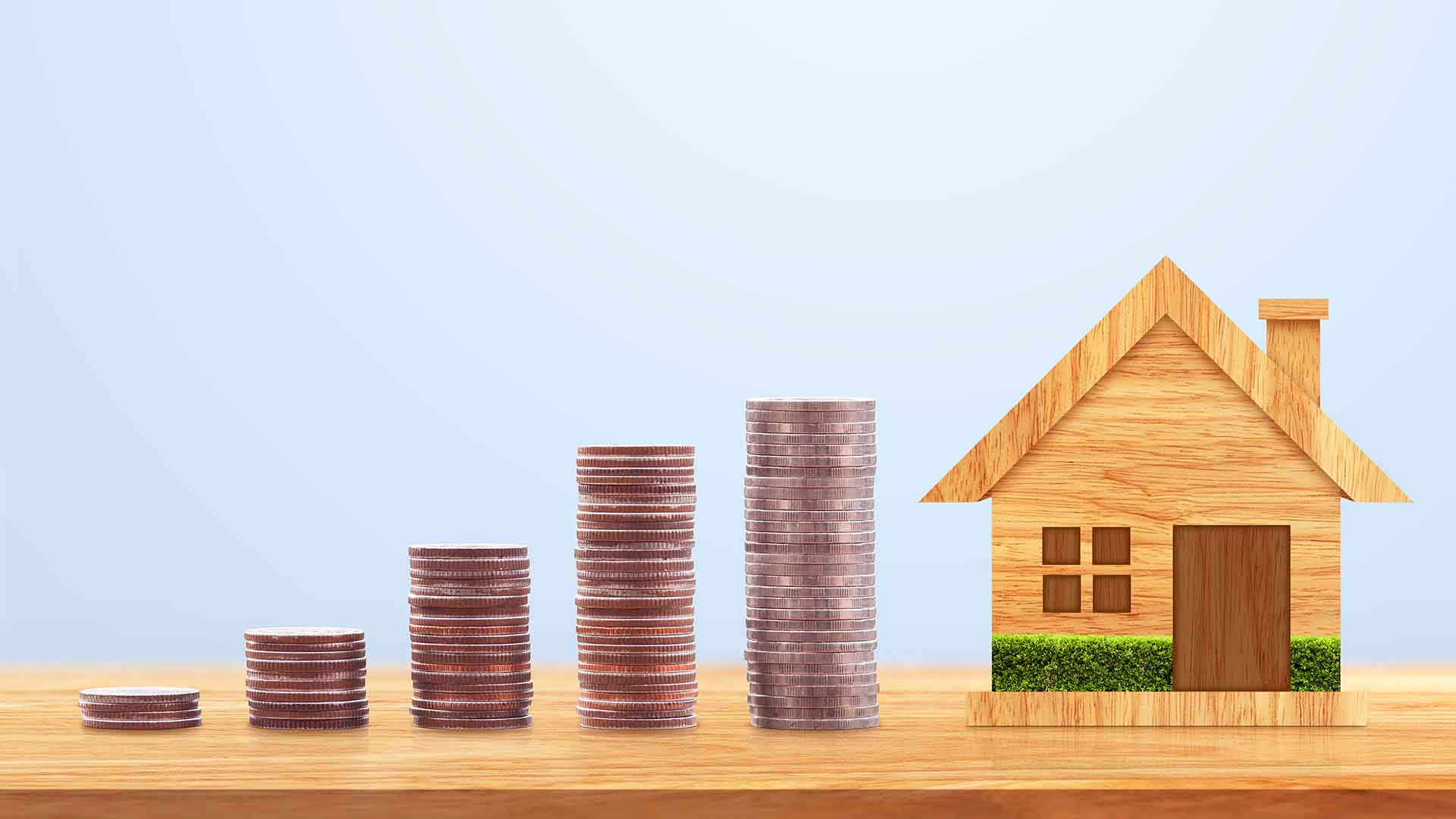 At present, there is more demand for mid-segment apartments in relatively affordable markets than ultra-luxury properties or saturated locations. The once high in demand prime locations are now facing a lull.
NRIs are now keen on investing in smaller projects which they are can either sell quickly or use on their own. Track2Realty data suggests South Indian's are investing in Kochi and Coimbatore, rather than Bengaluru or Chennai just as Gujaratis are investing Vadodara or Ahmedabad instead of Mumbai. While the Mumbai-born NRIs are investing in Pune and Nashik, the North Indian NRIs are investing in properties in Noida and Ghaziabad, instead of Gurgaon.
Nowadays, it is seen in most of the cases that the clients who buy luxury and super-luxury properties are end-users. Nonetheless, every end-user may not have the budget to spend on luxury or a super-luxury development believes Kaizad Hateria, brand custodian, and chief customer delight officer, Rustomjee Group.
Hateria explained, "The self-employed segment of NRIs, prefer to have an investment portfolio of different projects, instead of putting their money in large developments. They divide their money among various small projects, which enables them to sell easily if they want to, or earn good rental from their various investments."
Manju Yagnik, vice-chairperson of the Nahar Group says, "NRIs also like to keep the option of existing open, based on the movement of the global economy. A project with a large ticket size takes a longer time to liquidate. Over the years, NRIs have largely invested in properties across metropolitan cities, as it provides them with the lifestyle that they are used, in addition to appreciation and healthy returns."
He adds that in the present market conditions NRIs are avoiding big-ticket projects. They invest in affordable luxury which ranges from Rs 60 lakhs to Rs 2 crores as this is an attractive and safe option.
According to a survey conducted by Pravasi Bandhu Welfare Trust, a Dubai-based non-governmental organisation, they found an alarming 95% of NRIs in the Gulf do not save anything and return empty handed to India, even after working for a decade. The organization works to improve the lives of Indian workers in Gulf Cooperation Council (GCC) countries.
Due to a high cost of living and low wages, a majority of them fail to save sufficient money. According to the study only 10% of Indian workers in GCC nations, live with families. Thus, the demand for housing from NRIs now reflects ground realities.
Some other NRI statistics:
95% NRIs are employees and wage earners and cannot afford luxury property in India.
Small-ticket investments provide easier options for exit and better rental returns.
Rich NRIs have burnt their fingers or have learned from the bitter experiences of their peers and hence, avoid luxury properties.
Insecurity in the global job market is forcing NRIs to be realistic in their housing investments, back home.
Also Read: NRIs Fuelling Luxury Housing in Ahmedabad