Ganesh Housing Launches First Priority Campaign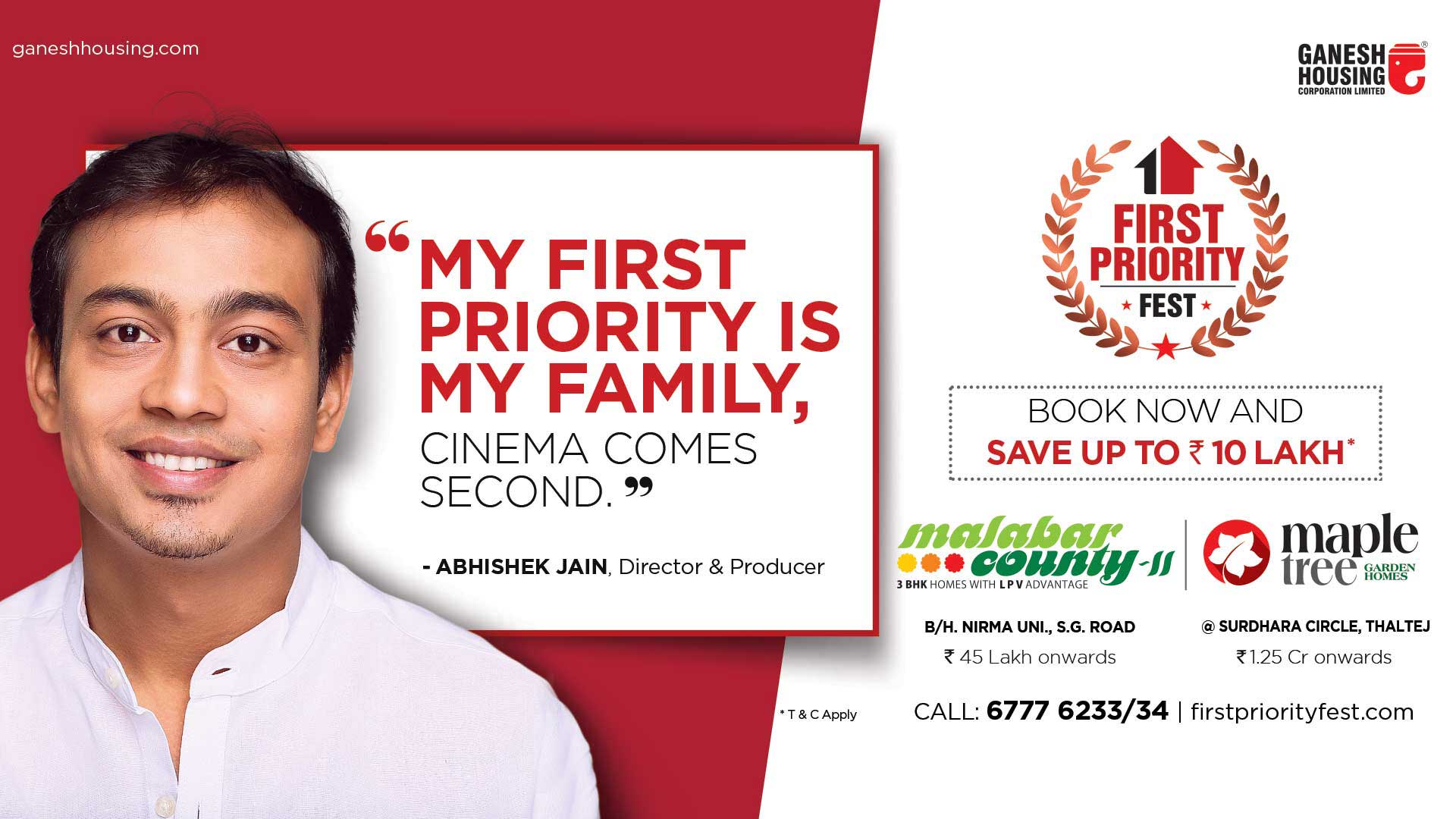 Ganesh Housing, one of the leading real estate giants based in Ahmedabad, recently announced the launch of their First Priority campaign. The campaign started off as the brainchild of Insomniacs digital agency, backed up by the efforts of INIT Design Studio.
Ganesh Housing was founded by Late Shree Govindbhai C. Patel in 1969, and they have been marking their presence in the real estate industry ever since. Their tagline, i.e. "Your Smiles are our Real Estate", brings further evidence to the fact that Ganesh Housing strives to stay above their competitors by dealing with their customers on a more personal basis. It was from this very perspective that First Priority Campaign was born from the brainstorming sessions at Insomniacs.
The First Priority campaign aimed at serving as a reminder to the populace that at the core of everything, a happy home is what keeps a person going. In a world filled with project deadlines, working hours and client meetings; individuals tend to miss out on the very concept of staying home and spending time with the family. Therefore, the First Priority Fest was launched to bring the focus back to a person's home, taking on an emotional aspect for both the brand and the customer. For the campaign, renowned personalities from a variety of industries were brought-in to endorse Ganesh Housing's latest venture. Along with the celebrity endorsements, Ganesh Housing promoted two of their numerous residential projects, i.e. Malabar County-II and Maple Tree that would serve as the ideal choices for a new customer to book a house in.
Shekhar Patel M.D, Ganesh Housing Corporation Limited, said, "The First Priority Fest is a one of a kind initiative by any developer. Local ambassadors from a spectrum of professions and age groups were recognized and brought on to the Ganesh Housing platform to give a voice to their individual priorities. The Strategy was basically to tap into Local communities with a Global message and we are very pleased that we were able to do that successfully."
Aneri D Patel, Director, GANESH HOUSING further quotes "The First Priority Fest campaign has been a unique engagement initiative by Ganesh Housing. It is not often that companies are able to connect directly with their target audiences through advertising campaigns. Individuals from different industries that might not be known nationally but are prominent figures of Gujarat were identified. Each of them gave a voice to their first priorities and this I believe truly moved the local audience. Through this campaign our ambassadors have in some way become a collective force for the organization and this I believe has a much greater impact than the voice of just one individual."
Commenting on the campaign, Khantil Mehta, Director of INIT Design Studio, states, "Ganesh Housing has been a leading figure in the real estate segment for which we pride ourselves in being their brand and creative consultant. We wanted a way to reach out to our target audience on a more personal level, as if we were talking to them face to face. Being in a market that is over-saturated with other players, we had to make sure that we took a different path than what would usually be preferred and considered as a 'safe move'. We are excited to see how the First Priority campaign will proceed along, and we can't wait to see how our audience responds to it."
The timing for the campaign further was an important aspect. " We wanted to time this campaign right after the festivities of NAVRATRI gets over. This is the time, when in Gujarat most of the offices are shut and people spend some quality time with their families. We wanted to hit at the time when the memories were fresh. So, that people can draw a parallel for him or herself and judge if they have been keeping their family and their needs as their first priority. The response so far has been overwhelming with more people connecting with the brand on an emotional level. Additionally, the inquiries have more than doubled for our featured projects, that is Malabar County-2 and Maple Tree.", shares Govind Rai; Director Strategy at INIT DESIGN STUDIO.