Mumbai Coastal Road Gets Approval From Centre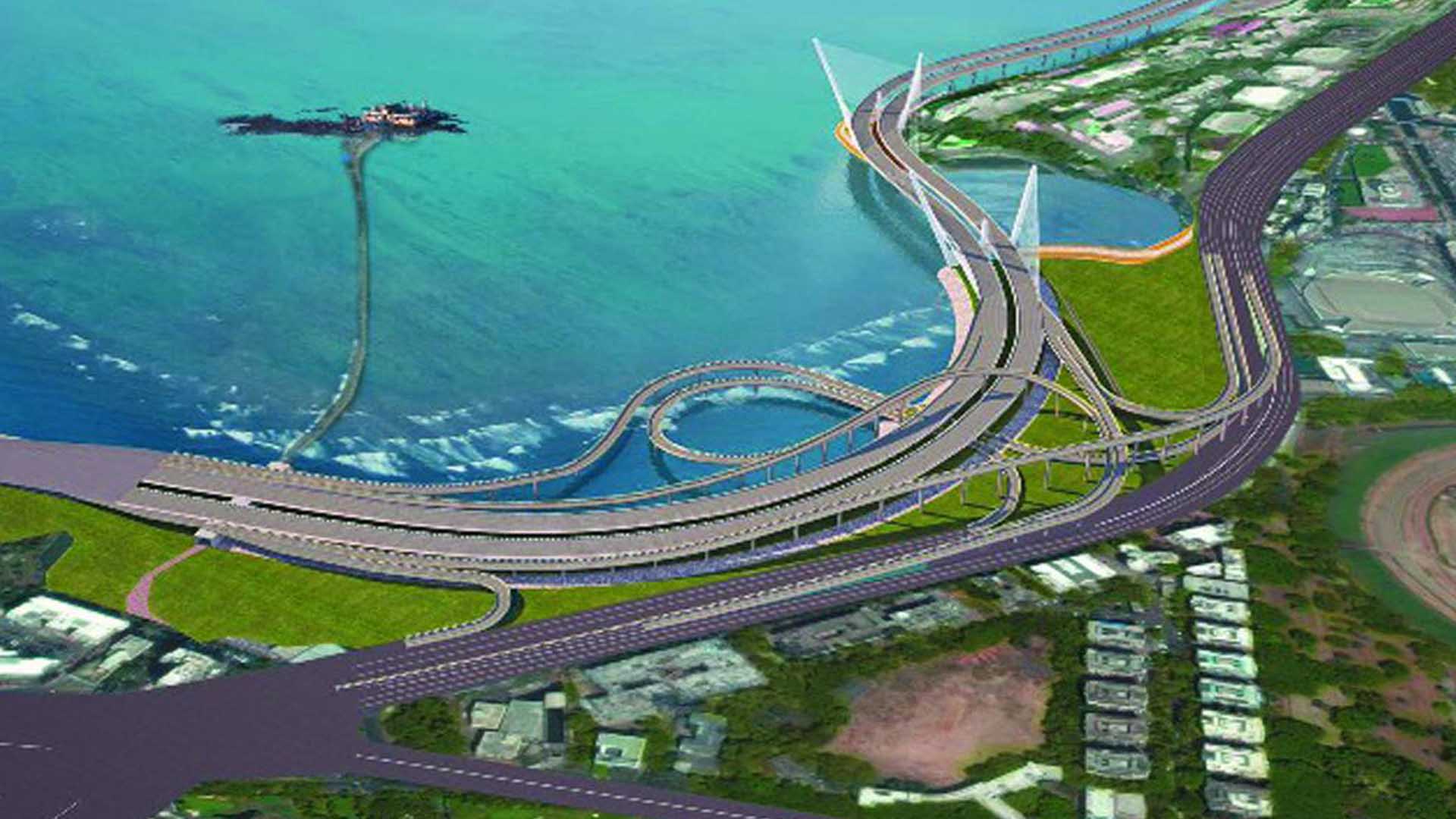 The proposed Mumbai coastal road project has finally been approved by the Central government. Chief Minister of Maharashtra, Devendra Fadnavis, tweeted last week – "Good news! Mumbai #CoastalRoad gets final environmental approval from the Central Govt."
Good news!
Mumbai #CoastalRoad gets final environmental approval from the Central Govt.
Thank you Hon @narendramodi ji and @anilmdave ji !

— Devendra Fadnavis (@Dev_Fadnavis) May 11, 2017
The ₹ 15,000 crore, project will be an eight lane 29 km road along Mumbai's coast connecting Nariman Point in south Mumbai and Kandivali in the western suburbs. The stretch will consist of undersea tunnel, elevated roads and bridges. The project is expected to begin later this year and is likely to continue for about 48 months. The Brihanmumbai Municipal Corporation got the clearance six years later after it was first proposed, which was stuck due environmental concerns and livelihood of fishermen.
The project will be built in two phases by BMC – the first phase will be a 9.98 km stretch from Marine Drive to the existing Bandra-Worli Sea Link and expected to complete by 2019. It will start with a tunnel at Chowpatty which will link to Priyadarshini park, after that it will pass through Bandra-Worli Sea Link. The phase will consist of four interchanges at Amarsons Garden at Breach Candy, Haji Ali, Worli and Bandra.
The second phase will cover 19.22 km road connecting the Bandra end of the Bandra-Worli Sea Link to Kandivali. Work on second phase will begin after completion of first phase which will also include the 9.5 km Bandra-Versova Sea Link. The approximate cost for the two phases will be ₹ 5,300 and ₹ 9,800 crore respectively. A further extension of the road up to Ahmedabad has also been proposed.
As many as 11 companies have submitted quotation for the project. BMC is planning to shortlist bidders by end of June and work is expected to begin after monsoon. The coastal road will reduce commute time 70% on the southern section which in turn will reduce carbon emission.
INIT Makes The Difference To The Ajmera 1150 Home Delivery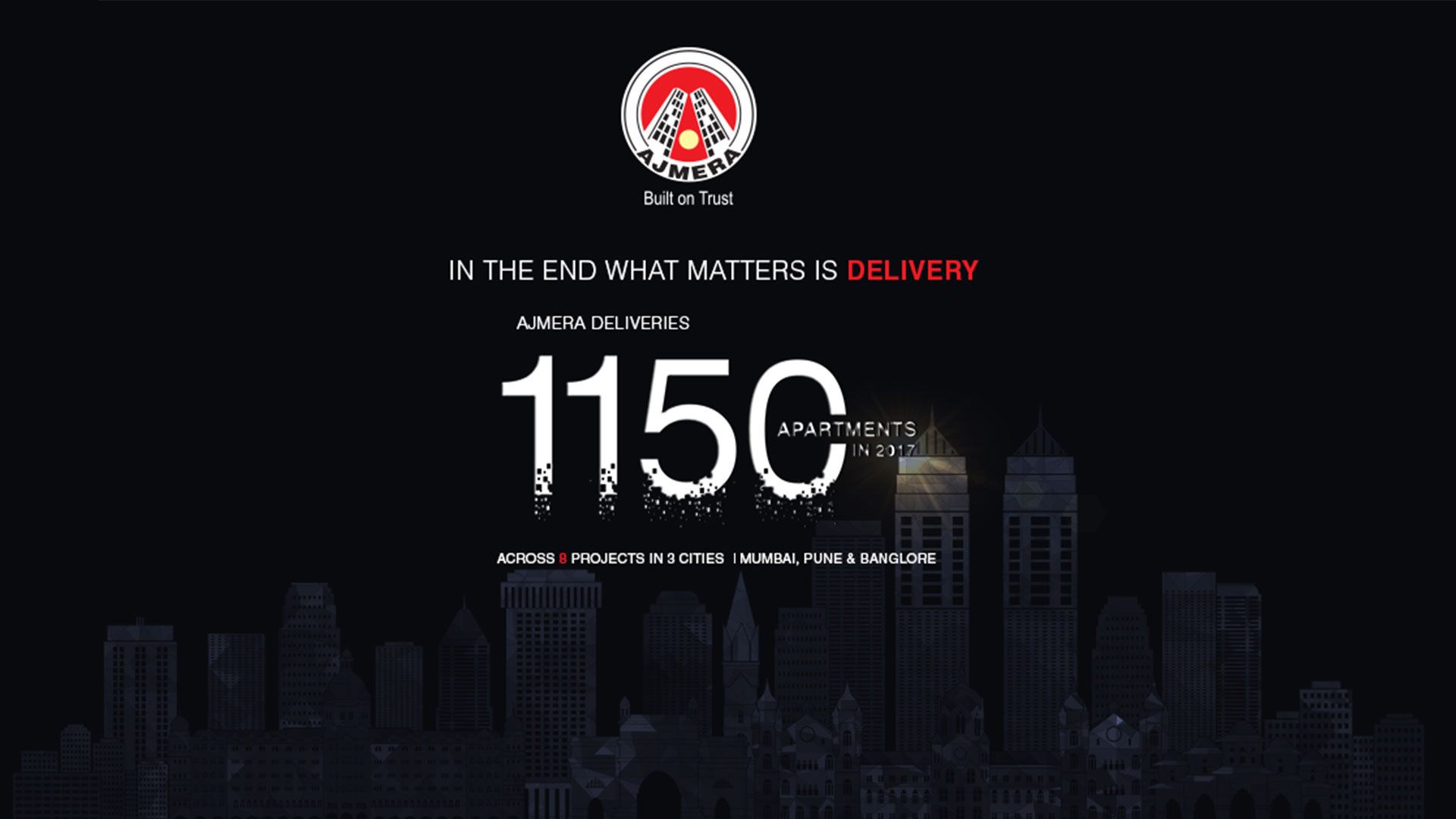 Ajmera Realty is a trusted name in the real estate industry. They joined hands with INIT  to delivery 1150 homes. INIT had to come up with something impressive as Ajmera holds a legacy of 42,000 happy customers in the 49 years of their operations.
Ajmera Realty wanted to show their delivery commitment and dedicates a rare tribute to all its customers by delivering 1150 homes to 1150 families this festive season. They wanted their customers to know that this remarkable feat has been made possible only because of them and their faith in the company.
This was the brief the design agency worked on and INIT came up with different TVCs to really capture the epitome of this home delivery moment. They called it – 'Delivering Homes, Delivering Happiness'. The ads and TVCs went on social media platforms as well as national television channels.
In order to showcase Ajmera's strength and focus towards delivery, they created four Tvcs that catered to different target audiences. The whole idea behind the TVCs was for people to understand the magnitude of Ajmera Realty and the brand it has become today.
The first TVC shows two men playing chess. The father is questioning about a new car and designation of his prospective son-in-law. The father objects to her daughter staying in a rented home and this is where the son-in-law breaks the news – 'ghar se leke khushiyan tak, sab kuch permanent hai'. The Tvc is aimed at youngsters, so they realize that to buy a home age is not a factor. It can be bought at any time and the youth should really give it a thorough consideration.
The second TVC motivates the consumers to think about owning a home instead of switching to a new rental home often. The ad shows a man complaining about changing his rented home 3 times in the past 5 years and talking about the problems that tag along in such situations. The message is lucid, 'ghar nahi developer badlo. Temporary ghar ko ab permanent karlo'.
Govind Rai, Director, INIT  said, "Ajmera Realty wanted to make an impact with 1150 deliveries at one time. Being in the industry for years we know the importance of such a gigantic step. We offered them a unique strategy that would appeal to all classes of people and at the same time make them take notice of the brand."
The next ad is aimed at the people who have bought a flat with Ajmera. In a meeting room a man is giving a presentation about the revenue and sales to his boss and team mates. However, he inculcates his new home and amenities in his dialogue. Everybody applauses and the vo comes as 'Sabko pata hai ke khud ka ghar milna koi celebration se kaam nahi'. The idea behind the ad is the happiness that one can't deny about owning a home. No matter who it is and where he lives or works at, it is the happiest day of his life when he buys a home and the lingering thought behind it – why can't the next 'he' be you?
Dhaval Ajmera, 'With the possession of 1150 homes we wanted to send a wave of happiness to our customers who would receive possession and also give people the hope that it is very much possible for them too. We are giving possessions in 6 projects all with different budgets and locations. Thus, conveying another fact that we offer a range of homes according to different target audience."
The possession is being given in Ajmera Aeon and Zeon, New Era, Ajmera Stone Park, Ajmera Pristine, Villows and Ajmera Aria projects.
Pune Smart City Targets Rs 100 Crore Grant From World Bank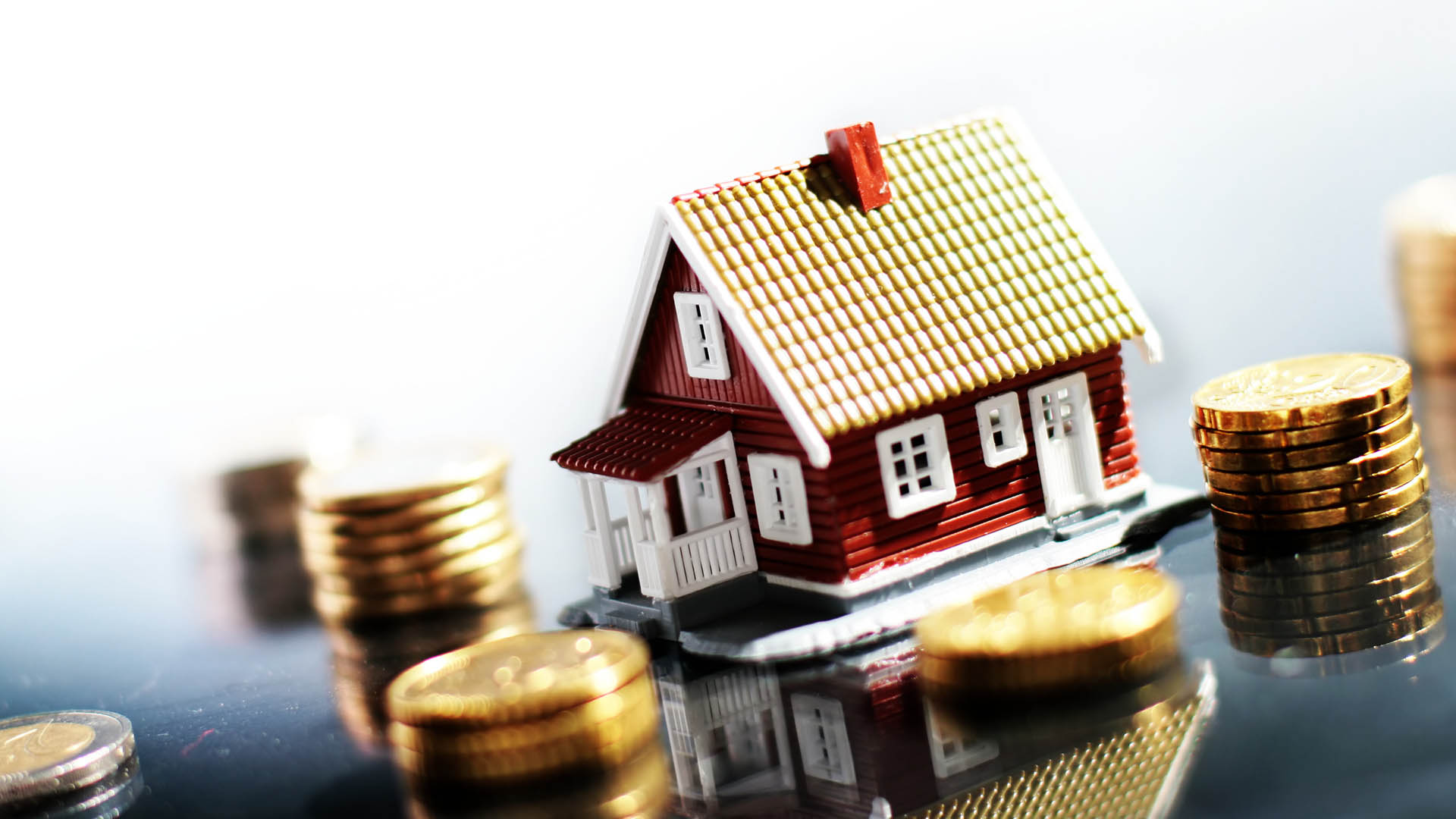 On the basis of designing performance-based programmes for smart city, the Pune Smart City Development Corporation Limited (PSCDCL) is eyeing for Rs 100-crore grant from the World Bank. The central government has set criteria to give out money which includes smart city projects their progress and execution. However, PSCDCL is losing out on the progress criterion as its launched projects are moving at a very slow speed.
Rajendra Jagtap, CEO PSCDCL, said, "We have decided to take part in the fast-track round to get grants for Pune's smart city projects. There are three categories, which we need to fulfil. Except for some problems faced in the execution of projects and their progress, we are sure we are fulfilling all the mentioned criteria. The World Bank will be giving Rs 100 crore for every city in every state that fulfils the criteria. We are quite ahead in Maharashtra, compared to other cities in the state. So, we are confident of getting Rs 100 crore. Before I took charge as the CEO, there was a delay in floating tenders for the Smart City company. Therefore, there has been a little delay in execution and progress of the projects."
"Owing to people's protests against some projects, we faced a problem in starting and executing projects. The Aundh area street design project is one such example. Now, we have decided on people's participation before starting projects in their area," said senior PSCDCL official explaining reasons for a delay.
The 14 smart city projects that have kicked off are:
Livelihood through The Lighthouses of Pune;
Slum rehabilitation of Dr Babasaheb Ambedkar vasahat Aundh;
Street and pedestrian walkway;
Central command and control centre for public transport;
Vehicle health monitoring;
Passenger information through mobile app and website;
City common mobility card;
Traffic demand modelling project;
Pune maximum solar city;
Plastic bottle recycling project;
Smart lighting;
100 percent grievance redressal system for water with the help of PMC care;
Quantified cities movement;
The garbage vehicle monitoring management system.
Out of these 14 projects, The Lighthouses of Pune, PMC care, plastic bottles recycling project, mobile application project and the central command and control centre for public transport project have been completed. Nonetheless, the remaining projects are still underway even after starting more than a year ago.
A screening framework has been prepared, comprising three sections — Part A, B and C in order to facilitate the screening of states and short listing of SPVs which are interested in participating in the Indian Smart Cities Programme. SPVs should be presented on November 30 after all information is furnished by the state. December 11 is the last date of receiving the submission from the state/union territory.
Also Read: Almost 52 Percent Of Residential Units Registered Under MahaRERA Remain Unsold: Report
FS Realty Bags The 9th Realty Plus Excellence Awards (North) 2017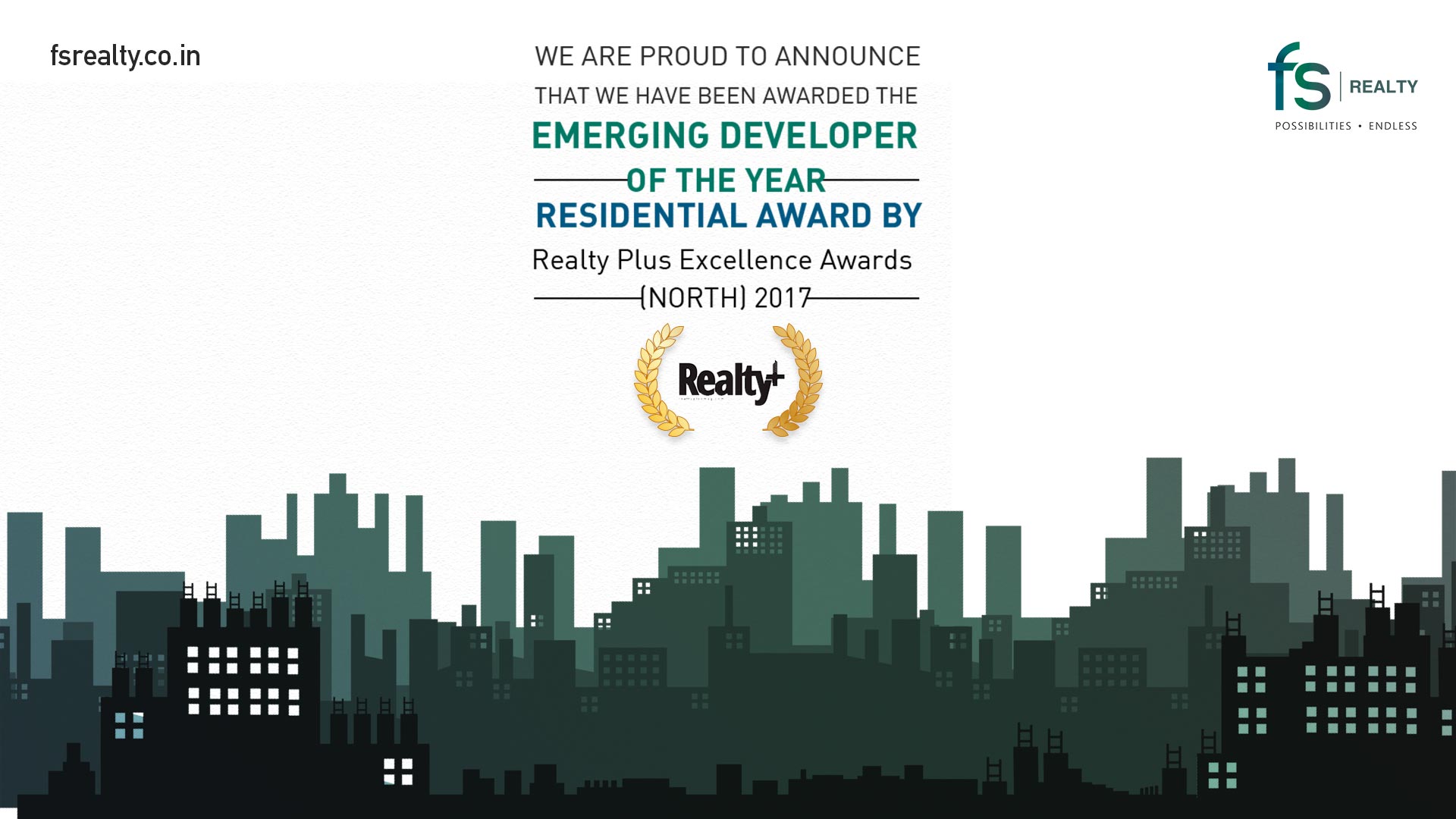 RealtyNxt congratulates FS Realty for winning the Emerging Developer of the Year award at the 9th Realty Plus Excellence Awards 2017 (North). The First Stone Group is an Asset Management Company with an array of verticals and a single vision of integrating excellence and enriching people's lives. First Stone Realty is its vertical which is doing some remarkable work in the real estate sector.
In the first year of its inception, the company has launched 9 projects and has over 6.5 million sq ft under construction. FS Realty is building upon those small desires and creating abodes that truly inspires a good life. Not only an innovative and forward-thinking company but it works with some of the best talents from the country and abroad which sets it apart from the rest.
All of their residential projects have a clearly defined niche which in turn targets a set audience. They offer a range of homes right from luxurious, royal and palatial living to budgeted, near to nature and customized homes. No matter what your dream home is, FS Realty has etched it to reality.
Charan Khangarot MD and CEO said, "It is very motivating when your efforts are not only noticed but also awarded. We thank the Realty Plus Excellence Awards for recognizing us. We could not have asked for more. Overwhelmed and boosted, there is a lot in store from FS Realty, the team is all the more excited to put its best foot forward".
Their projects truly define their vision of 'Shaping a better world'. FS Realty became the first developer in Rajasthan to get all their projects RERA compliant.
Jaypore – The Palatial Living, located in Vidhyadhar Nagar, is a project that offers ancient aristocratic flavors for modern day maharajas. It is an ultra-luxurious palatial abode that encompasses all the requisites of a royal home.
The Crown is a jewel located on the Tonk Road. It offers 3 and 4 BHK homes which provide the utmost luxury and solace at a price that will easily fit your budget. The Crest is spread in 65000 sq ft landscape surrounded by tropical gardens. It offers 3, 4 and 5 BHK homes located in Jagatpura.
Coronation offers customers meticulously designed 2, 3, and 4BHK apartments which have been exclusively customized to complement the taste of true connoisseurs. Pinnacle is 3 and 4 BHK apartments will impress those who wish to view the entire world beneath them. It stands 20 stories high and is set to become an architectural marvel with a panoramic view of the city.
FS Realty customers have genuine faith in the company and its projects because they offer complete transparency and even customize payment plans for them.
Also Read: INIT Mumbai Wins The Prestigious Realty Plus Excellence Awards 2017