The Next Big Technological Trends In Real Estate
The real estate market leaders are still not fully optimistic on the future of Virtual Reality (VR) or Artificial Intelligence (AI) or other emerging technology in the industry, however, mobiles or smartphones is still remains the main area of focus as well as marketing automation. These figures came from the recently concluded Imprev's annual Thought Leader Survey, a bi-annual survey organised by the marketing automation company to address key challenges that real estate industry executives face.
Developers and Brokers are safeguarding themselves while investing in new technology. Industry leaders have mixed opinions when it comes to new technology, and if they will truly deliver return on investment (ROI). Most of them are more interested to invest in technological opportunities that have already proven their potential, rather than totally committing to the 'next new thing'.
So, 'What's In' and 'What's Out'
According to survey, 48% respondant said that mobile apps will be the most crucial communication channel in next five years, while an equal number of experts were convinced that social media will contribute to almost 45% and videos 44% respectively.
Search advertising and portals saw less interest. A mere 24% respondent believed that Google Search Ads or other search advertising will be the most effective tool in next five years and only 20% felt that real estate portals will be most important channel in next five years. The future of print and display advertising were the most disappointing.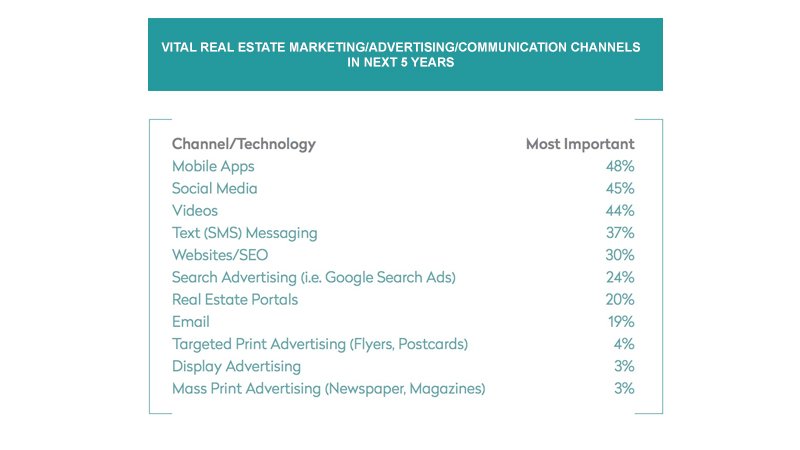 In another survey, real estate experts were asked which emerging real estate technology will be most vital in next five years, and how likely they are keen to invest in such technologies in the near future. Below are the survey results: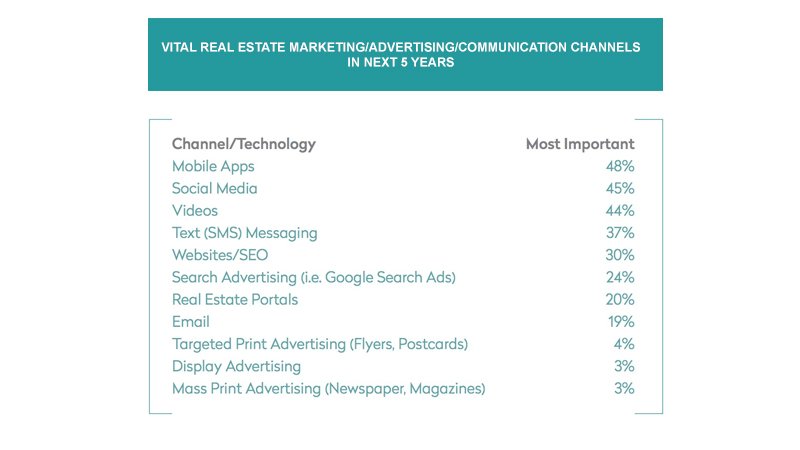 Brokers and Developers were most compelled by predictive analytics, big data and marketing but not so much about the future of artificial intelligence (including chatbots and automated virtual assistants) and VR offer. The survey conducted by Imprev took place between June 1 and June 30, 2017 which included nearly 200 real estate leaders.
Real estate leaders were more practical about the future and were more interested in investing only in technology that will give good ROI, which means sidelining the latest buzz about technology. The pressure is more than ever to deliver results, which calls for proven marketing infrastructure to achieve more success.
Key Takeaways
Mobile apps and social media will continue to grow as important outlets while portals and search advertising will be less effective.
There will be more investment in predictive analytics and big data, as compared to artificial intelligence or virtual reality platforms.
How Is Technology Shaping The Future Of India's Real Estate Consultancy?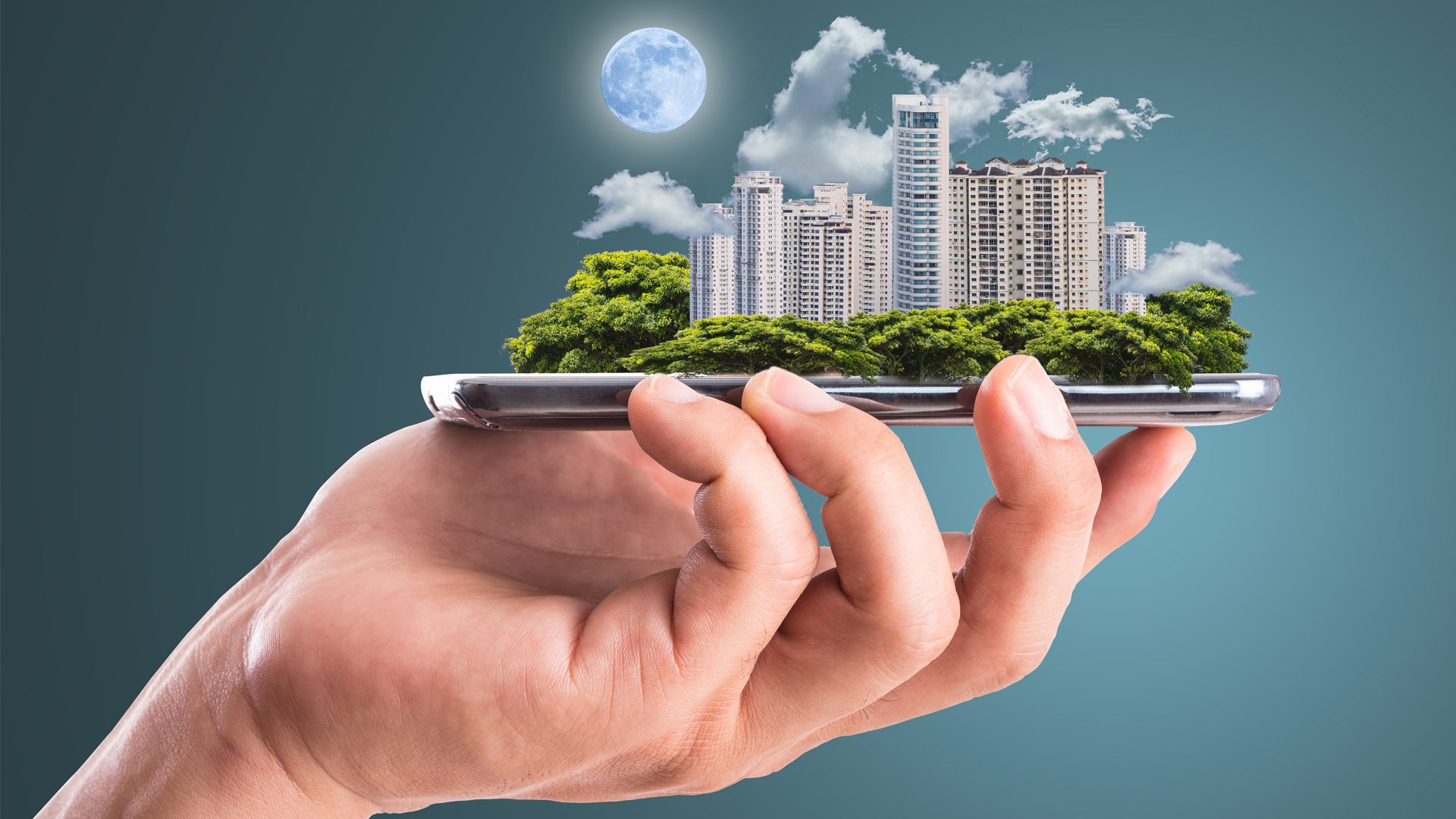 Technology is playing a groundbreaking role in different industries across the world; it is only innate that the property brokerage industry will also follow.
India's real estate market was on of the first marketplace to justify professional brokerage services. It identified the need to connect the renters and homebuyers with the concerned suppliers.
Today the real estate brokerage industry stands on yet another threshold, leveraging technology as a competitive advantage. Technology is indeed becoming an important separator for real estate brokerage across market segments and especially in the residential market.
Data Analytics
Another tool in the not so distant future is the improved use of predictive analytics. This has the potential to change the face of India's property consulting industry.
Much like the e-commerce websites that offer a personalized wish list of the items people have shown their interest in, algorithms will be able to define the customers with the kind of property they prefer and would be interested in buying.
As advancing technology and automation redefine the buyer and broker interaction on real estate, it becomes indispensable to enhance the buyers overall property purchase journey and create a feel-good vibe about the numerous online options.
In the present-day retail world, experiential marketing is already an important factor of attracting customers. Real estate consultants now face increasing pressure on finding tech-driven ways to enhance their customer experience.
Gaining the trust back
The RERA Act has finally started to bridge the chronic gap between customers and developers or brokers.
The constant delays in home delivery, misleading promises, non-existent regulatory compliance of projects and deceptive promotions have been the main cause of developing this mistrust. The trust deficit has come from developers as well with their thick barriers that they have erected between themselves and the customers. Developer reputation and accountability has serious been affected by this barrier.
Consultants can take this opportunity and bridge this gap through technology. The real estate consultants through various technology-enabled channels can bring customers closer to developers. This will permit customers to ask questions, clear their doubts in real time and establish a rapport that has really been missing from the residential property marketplace.
The virtual reality
Virtual tours have been around for some years now. With this tech-enabled medium the brokers assist prospective buyers, visitors and renters to visually go through the properties.
The Indian real estate market still remains a touch and feel place where personal site visits are a must.
Another entirely new and convenient way for customers within and outside India is the regular feature from property developers called online home festivals. This option lets people shortlist options and at the same time benefit from different offers, discounts and on the spot deals.
With the deepening penetration of smartphones even the rural areas are not left out of the virtual space and market that it has created. With people becoming more tech-savvy, the list of phony properties that used to clutter the property searches have considerably gone down. Only verified and curated options are seen with a wealth of information. The RERA Act has also made a huge difference to this scenario.
Crowd funding in real estate
Crowd funding can be used innovatively to add value to developers and customers. For example crowd funding can be used to raise money online to finance a developer's project from several donors. With the help of an escrow account the buyer's stuck project can get completed and money can be accounted for. It could sell out some of the extra units and share the profits with such investors once the project is completed and a cooperative housing society is built.
Technology not just for lead generation
The Internet has opened unprecedented doors. What used to take a lot of the footwork out of finding property options, now only needs few hours. 70% of modern real estate consultancies' prospects are today acquired through digitally obtained leads.
As big data and analytics become more integrated with consultants they will find innovative ways such as finding instant matches to customer's requirement or tracking sales figures information or getting date on projects' construction progress and regulatory compliances.
It is no news that a lot of work will be achieved through smartphones and brokers will need to become tech-savvy to handle millennial clients and expect flawless and quick information exchange.
Technological advances with numerous apps will revolutionize almost all aspects of the real estate business in the future. They not only speed up the process but also make it more engaging and exciting for customers, brokers and developers alike.
Also Read: 5 Real Estate Tech Startup In India You Can't Ignore
Appoint Housecraft App For Your Interior Designing Job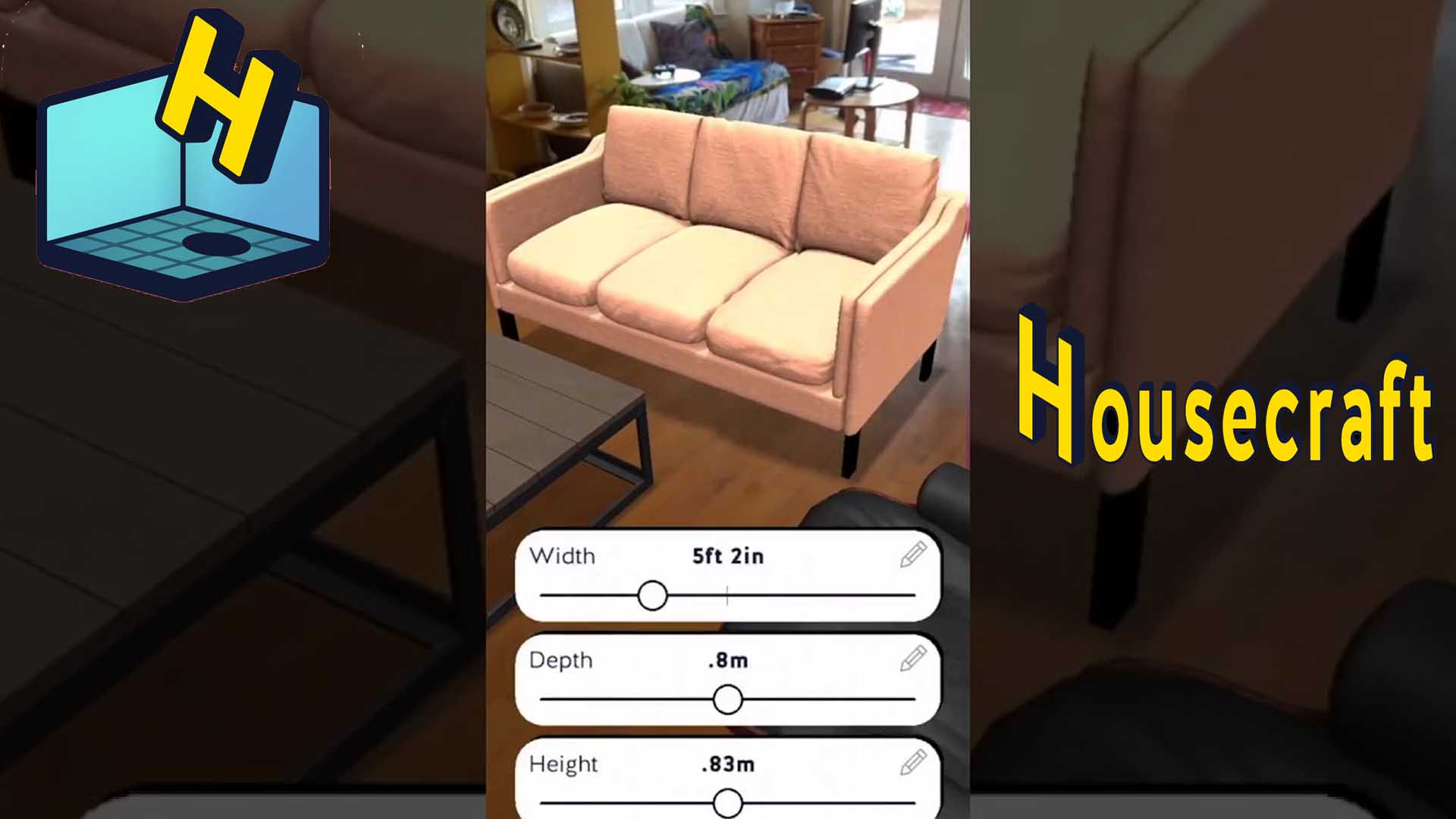 Do you have a knack for interior designing? Did you always dream about being an interior designer but could never really get a head start at it? Is your home in a dire state for a revamp? Do you like to change your interiors often?
If your answer is yes then we have the perfect solution for you. The answer to your prayers is the refreshing Housecraft App. The app is available only on iPhone App Store for free.
It is a fairly easy app that can be used to design any interior living space with the choice of several pre-fed furniture and décor items. You can use your phone's camera and watch the power of augmented reality to place fully rendered 3D models anywhere in your world.
For example if you want to redo your living room. All you have to do is open your phone camera and scan the room. You would be surprised at how accurately it takes measurements. It then lets you drop all the furniture you can think of. You can resize each object so you can customize it according to your room. Plus, you can admire objects from any angle, in any light! Once you achieve a set-up that you like, you can save it for later reference.
The app is a break through at many levels. To start with you design your own home and test it on the app so you can actually see the outcome of your design. For people who like to mix and match and change décor items on a regular basis can use this app for better visualization of their ideas. It is easy to save room configurations and try them out anywhere. Thus great help in apartment hunts, reorganizing a room, testing how new furniture will look, and more. With their video recording feature you can share your creations with your friends or family.
Also Read: 5 Real Estate Tech Startups in India You Can't Ignore
5 Real Estate Tech Startups in India You Can't Ignore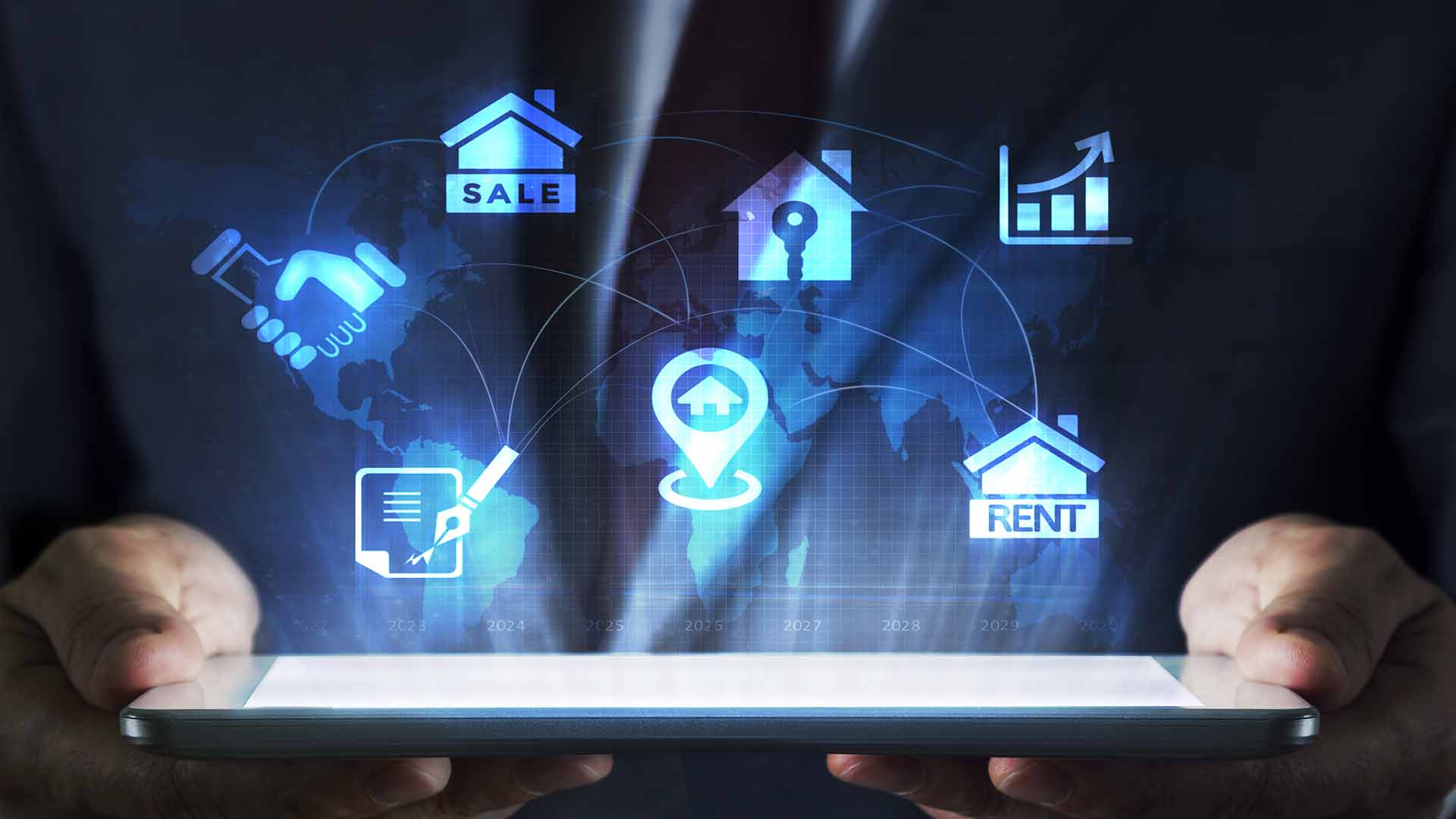 The real estate sector is one of the biggest contributors to the country's economy. It is no wonder that the sector is booming with newest technologies that are changing the age-old industry norms and raising industry standards. Here are five tech start ups that you need to take note of:
NESTAWAY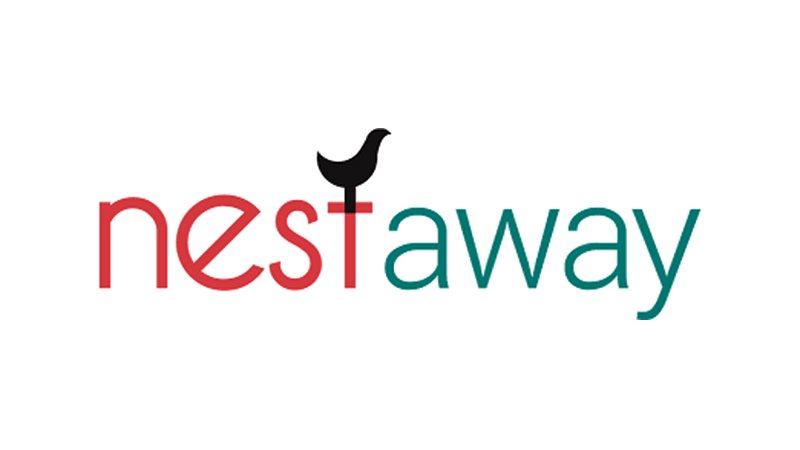 If you have ever faced a rental problem and most of us have, this is the thing that you need. NestAway is India's home rental network for singles that offers rental solutions via latest technology and best design.
Founded in January 2015, NestAway is an app that lets you find, book, pay, move-in and out of a rental home anywhere in India. They basically manage both parties in a rental situation and turn unfurnished houses in to furnished homes and offer them at affordable prices on sharing basis. Deepak Dhar, one of NestAway's four cofounders, says "It's a new concept for owners and a solution for tenants. Plus we're solving the youth housing crisis of upwardly mobile urban migrants in cities." It began in Bengaluru and today is spread in 9 metro cities of India.
Website: nestaway.com
NoBroker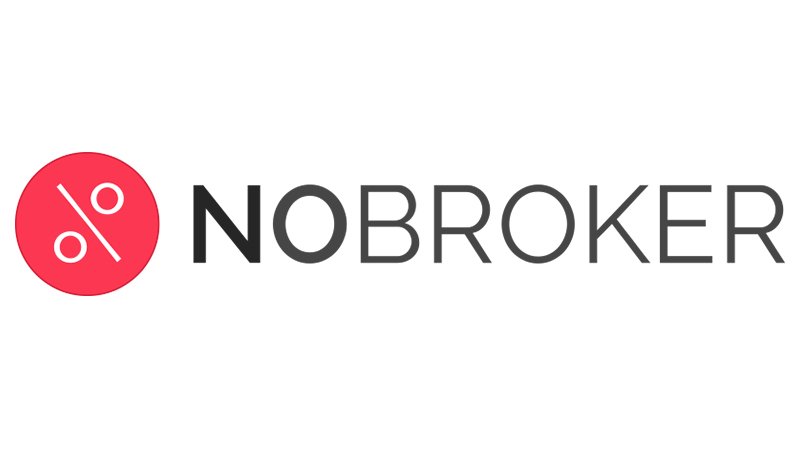 A Bangalore based real estate search portal, NoBroker eliminates broker and directly connects flat owners and tenants. Founded in 2014, NoBroker claims to work on the basis of technology that identifies and abolishes brokers. Started as a rental platform, they have now forayed into brokerage free buy/sell property as well. They verify each listing to make sure they are owners and no middlemen. They offer maximum information in the most accessible format, thus saving you time, money and energy to actually go physically hunting for house.
Website: nobroker.in
SmartOwner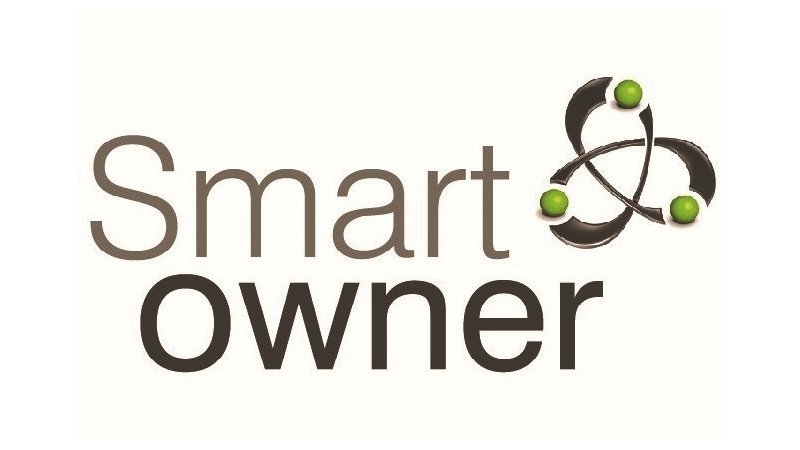 Find the biggest market for investors here; all the opportunities that you won't find on general market. SmartOwner brings forward some of the carefully curated investment opportunities from the fastest growing cities in India. Projects are vetted by law firm after meticulous checks. It verifies all the listing to make sure the pricing and specifications are in line with the market trends. Thus it offers well calculated risk and returns. People benefit from the curated high-return opportunities.
Website: smartowner.com
Approach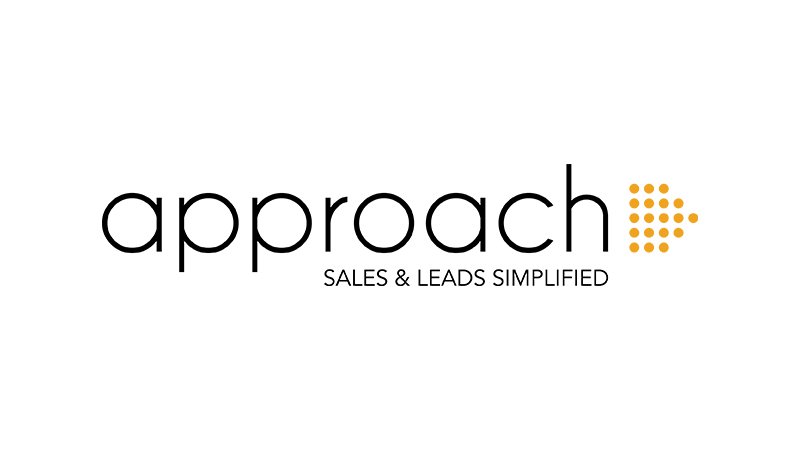 Approach helps you to conveniently and accurately manage scientific data which enables you to grow your business strategically instead of hit and miss methods. Real estate is a growing sector and it needs such solutions where management can take accurate decision based on solid data. Approach lets you manage your inventory from any location. Cloud telephony lets you track all your campaigns and calls from anywhere. Automated SMS and Email Marketing allow you to connect with your audience and also offer in-depth analytics of click-rate and subscriber activity. You can now even calculate the returns on investment from all your media spending and campaigns.
Website: approach.one
GrabHouse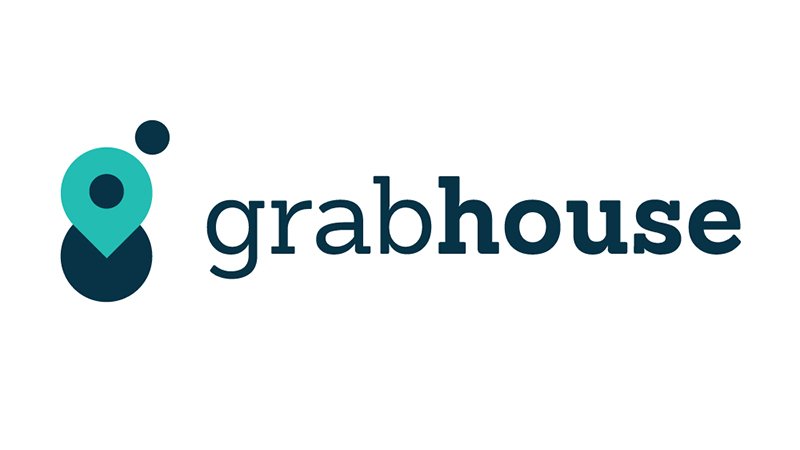 Established in 2013, Grabhouse is a no broker website that helps people find flats, flat mates and tenants quickly and without much effort. It is the first venture that is a 100 percent broker free house renting platform. It is able to achieve this by using powerful technologies that allow stakeholders to enhance their business. Their target group lies between 18-28 years; they are mostly students or young professionals who are looking for decent places to stay while saving a buck. Even on-ground assistance is provided after lead generation for a nominal fee.
Website: grabhouse.com