The Next Big Technological Trends In Real Estate
The real estate market leaders are still not fully optimistic on the future of Virtual Reality (VR) or Artificial Intelligence (AI) or other emerging technology in the industry, however, mobiles or smartphones is still remains the main area of focus as well as marketing automation. These figures came from the recently concluded Imprev's annual Thought Leader Survey, a bi-annual survey organised by the marketing automation company to address key challenges that real estate industry executives face.
Developers and Brokers are safeguarding themselves while investing in new technology. Industry leaders have mixed opinions when it comes to new technology, and if they will truly deliver return on investment (ROI). Most of them are more interested to invest in technological opportunities that have already proven their potential, rather than totally committing to the 'next new thing'.
So, 'What's In' and 'What's Out'
According to survey, 48% respondant said that mobile apps will be the most crucial communication channel in next five years, while an equal number of experts were convinced that social media will contribute to almost 45% and videos 44% respectively.
Search advertising and portals saw less interest. A mere 24% respondent believed that Google Search Ads or other search advertising will be the most effective tool in next five years and only 20% felt that real estate portals will be most important channel in next five years. The future of print and display advertising were the most disappointing.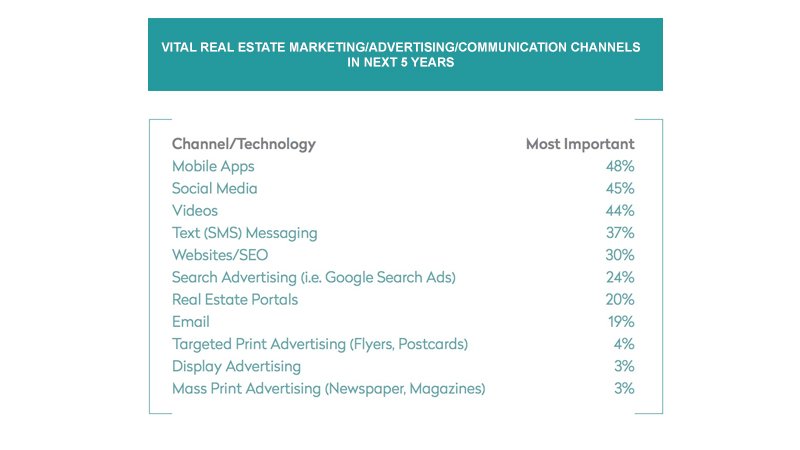 In another survey, real estate experts were asked which emerging real estate technology will be most vital in next five years, and how likely they are keen to invest in such technologies in the near future. Below are the survey results: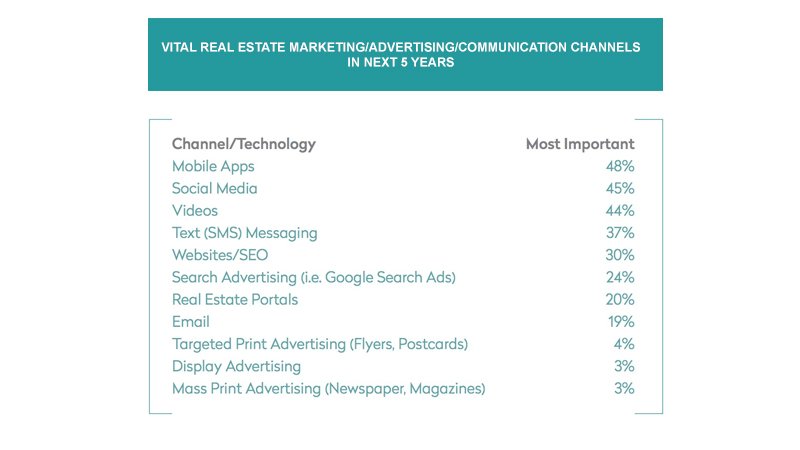 Brokers and Developers were most compelled by predictive analytics, big data and marketing but not so much about the future of artificial intelligence (including chatbots and automated virtual assistants) and VR offer. The survey conducted by Imprev took place between June 1 and June 30, 2017 which included nearly 200 real estate leaders.
Real estate leaders were more practical about the future and were more interested in investing only in technology that will give good ROI, which means sidelining the latest buzz about technology. The pressure is more than ever to deliver results, which calls for proven marketing infrastructure to achieve more success.
Key Takeaways
Mobile apps and social media will continue to grow as important outlets while portals and search advertising will be less effective.
There will be more investment in predictive analytics and big data, as compared to artificial intelligence or virtual reality platforms.