Insomniacs Bags The Digital Marketing Campaign Of The Year At The Realty Plus Excellence Awards 2017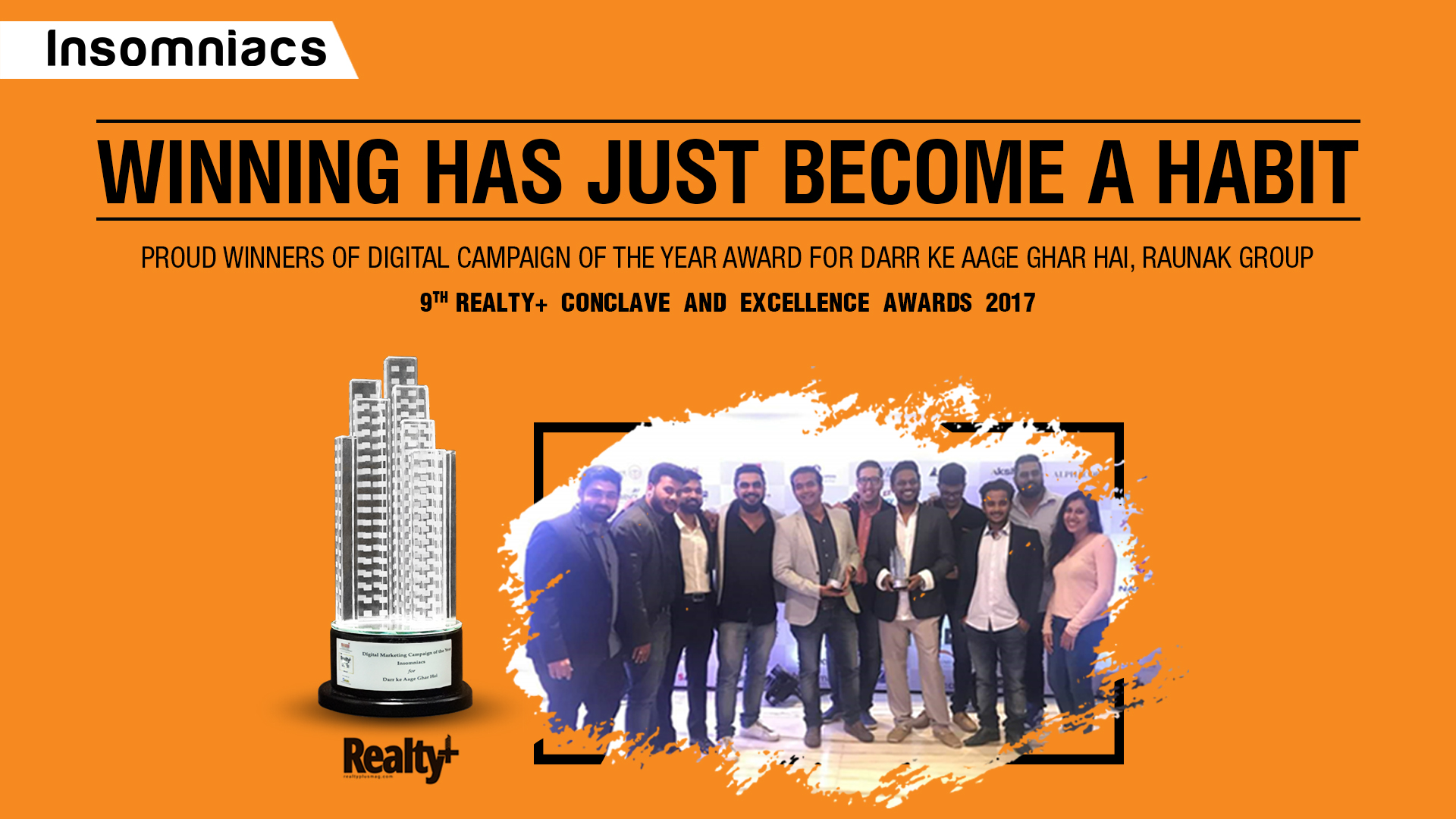 It is a big moment for the Mumbai-based digital media agency Insomniacs. They won the prestigious Realty Plus Excellence Award for the Raunak Group's 'Darr Ke Agae Ghar Hai' campaign.
Raunak Group, an established realty brand in Mumbai, was going through the aftermath of the demonetization. They recognized the problem as clarity – consumers had no clarity and nor did they have a trusted source that they could turn to. The developers were sitting with folded hands waiting for buyers to knock their doors while the unsold inventory had become a huge cause of worry.
This is when team Insomniacs believed was the opportune moment to send out a strong message. Pranav Patadia, director, said "When an opportunity knocks at your door, you need to recognize it and make the most of it. We were given a challenge and we wanted to tackle it in a unique way; in the process offering a solution which has never been attempted before. The result of that effort is in front of us."
The idea was to emerge out of the rumours and make people believe in the offers instead of just rotating advertisements in the market. When the market hit rock bottom, getting people to visit the project sites was a herculean task in itself. Thus the "Darr Ke Aage Ghar Hai" campaign was created.
The campaign was supposed to bring to light the many fears that home-buyers face today. "Darr Ke Aage Ghar Hai" engaged the masses on social media and dispel these fears, systematically and ultimately. One of the major fear-inducing problems the customers faced during demonetization was the prolonged delay in possession. Raunak Group with the team's assistance aimed to successfully resolving this and many other issues.
Shyamal Mody, Marketing Director Raunak Group stated, "I congratulate the team for the award and the campaign that they introduced. It is a pleasure to work with such a dedicated team. Raunak Group sold inventory worth 50 crore for 1.23% marketing cost. The best part was that people could actually find solutions to their property problems and most of them ended by up a house for themselves."
There was a lengthy ground research involved along with an impactful campaign on social media channels and on-ground activities. Even a micro site was created 'A2Z of Darr' which highlighted various home buying fears of a customer, providing detailed solutions for each and every problem.
The team managed a highly successful campaign with highest ever sales recorded by any real estate group. Govind Rai, Director, Insomniacs added, "The idea was to create a campaign for a larger impact. We were fully aware how the campaign could be advantageous on other media platforms. The fact that other ad agencies carried out our campaign talks lengths about its success.
It was indeed a well-deserved win. We congratulate the team at Insomniacs.
Also Read: Realty NXT Does a Survey On Why People Feel Scared to Buy Homes