FS Realty Bags The 9th Realty Plus Excellence Awards (North) 2017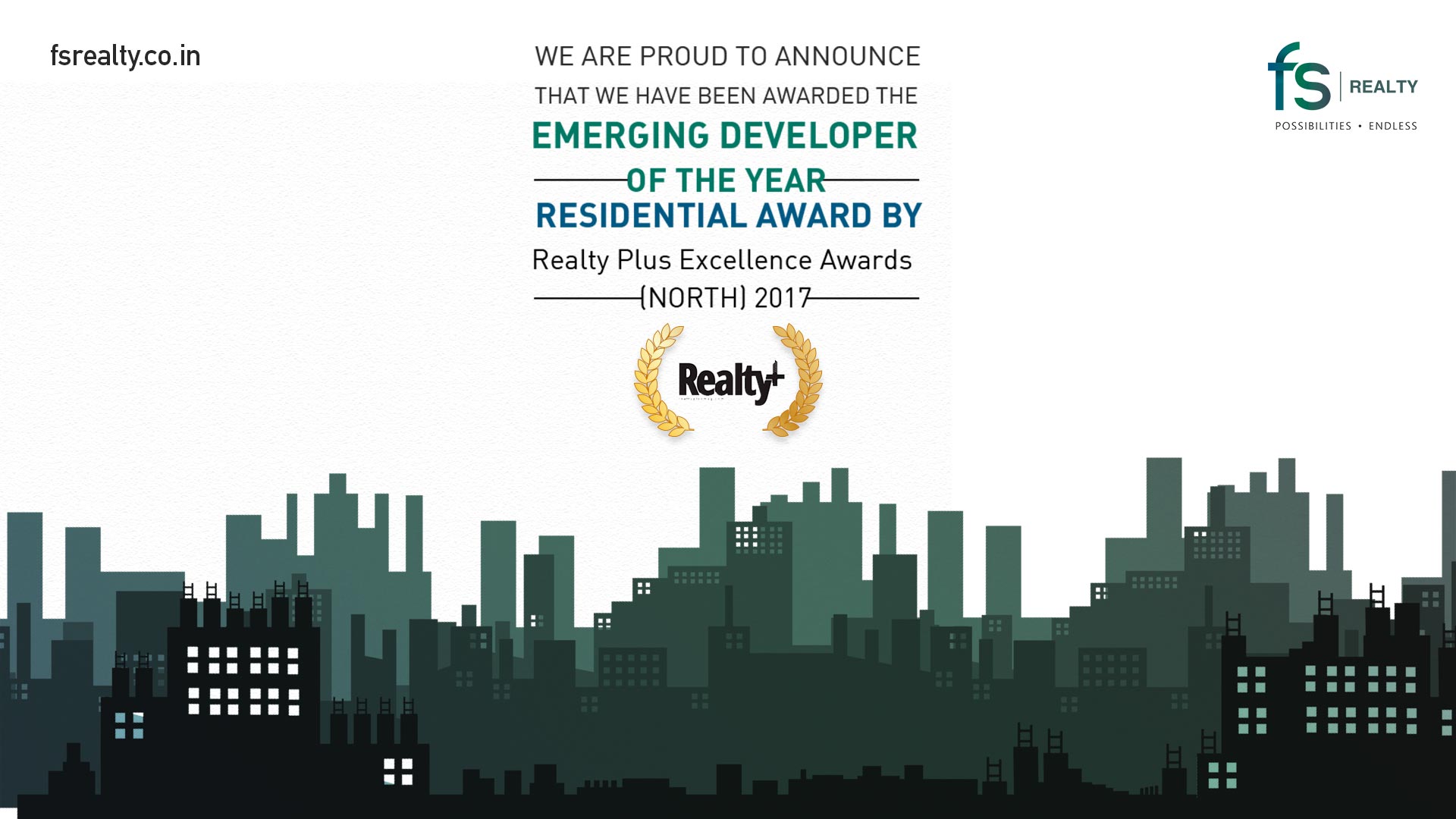 RealtyNxt congratulates FS Realty for winning the Emerging Developer of the Year award at the 9th Realty Plus Excellence Awards 2017 (North). The First Stone Group is an Asset Management Company with an array of verticals and a single vision of integrating excellence and enriching people's lives. First Stone Realty is its vertical which is doing some remarkable work in the real estate sector.
In the first year of its inception, the company has launched 9 projects and has over 6.5 million sq ft under construction. FS Realty is building upon those small desires and creating abodes that truly inspires a good life. Not only an innovative and forward-thinking company but it works with some of the best talents from the country and abroad which sets it apart from the rest.
All of their residential projects have a clearly defined niche which in turn targets a set audience. They offer a range of homes right from luxurious, royal and palatial living to budgeted, near to nature and customized homes. No matter what your dream home is, FS Realty has etched it to reality.
Charan Khangarot MD and CEO said, "It is very motivating when your efforts are not only noticed but also awarded. We thank the Realty Plus Excellence Awards for recognizing us. We could not have asked for more. Overwhelmed and boosted, there is a lot in store from FS Realty, the team is all the more excited to put its best foot forward".
Their projects truly define their vision of 'Shaping a better world'. FS Realty became the first developer in Rajasthan to get all their projects RERA compliant.
Jaypore – The Palatial Living, located in Vidhyadhar Nagar, is a project that offers ancient aristocratic flavors for modern day maharajas. It is an ultra-luxurious palatial abode that encompasses all the requisites of a royal home.
The Crown is a jewel located on the Tonk Road. It offers 3 and 4 BHK homes which provide the utmost luxury and solace at a price that will easily fit your budget. The Crest is spread in 65000 sq ft landscape surrounded by tropical gardens. It offers 3, 4 and 5 BHK homes located in Jagatpura.
Coronation offers customers meticulously designed 2, 3, and 4BHK apartments which have been exclusively customized to complement the taste of true connoisseurs. Pinnacle is 3 and 4 BHK apartments will impress those who wish to view the entire world beneath them. It stands 20 stories high and is set to become an architectural marvel with a panoramic view of the city.
FS Realty customers have genuine faith in the company and its projects because they offer complete transparency and even customize payment plans for them.
Also Read: INIT Mumbai Wins The Prestigious Realty Plus Excellence Awards 2017