INIT Makes The Difference To The Ajmera 1150 Home Delivery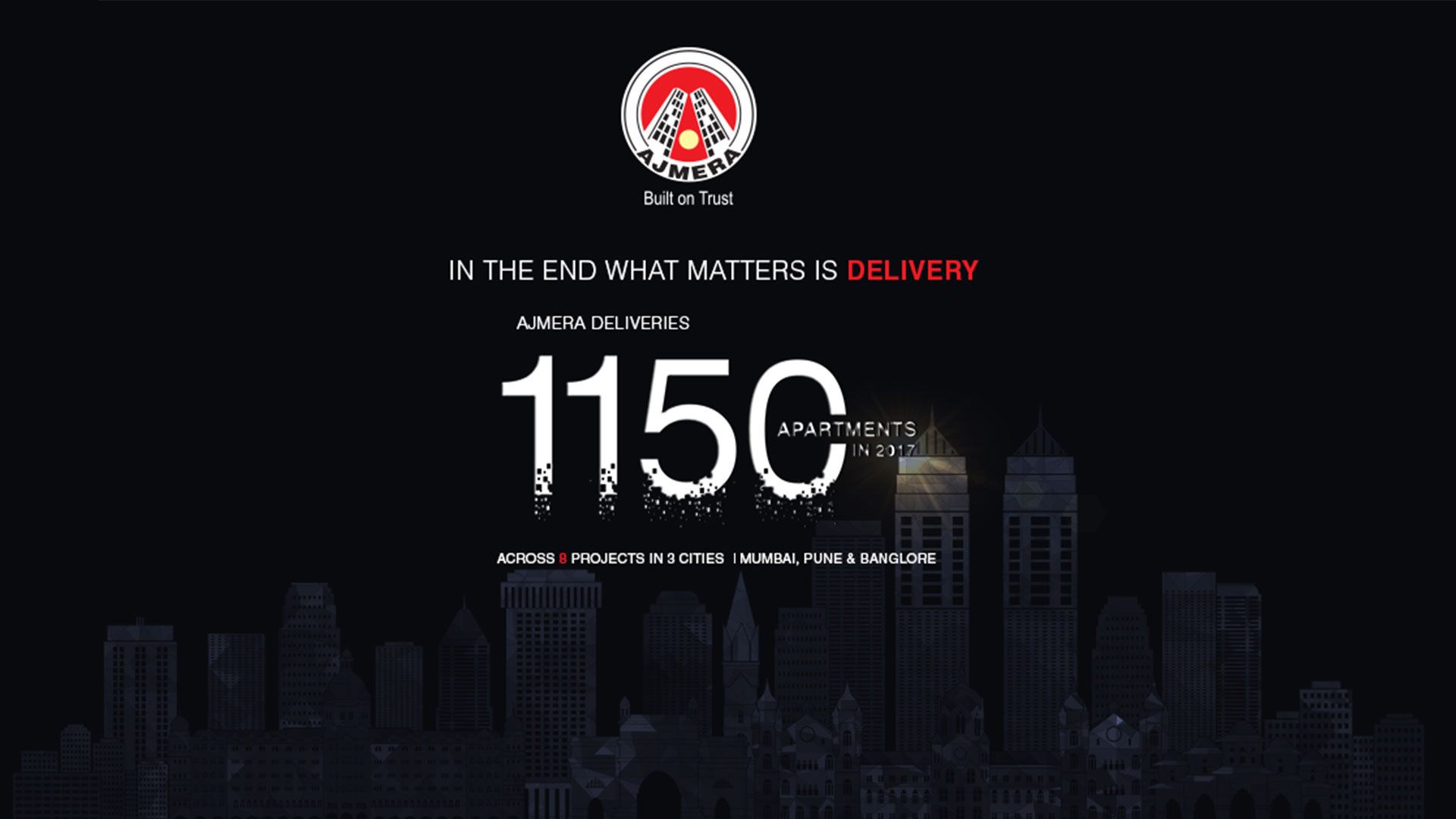 Ajmera Realty is a trusted name in the real estate industry. They joined hands with INIT  to delivery 1150 homes. INIT had to come up with something impressive as Ajmera holds a legacy of 42,000 happy customers in the 49 years of their operations.
Ajmera Realty wanted to show their delivery commitment and dedicates a rare tribute to all its customers by delivering 1150 homes to 1150 families this festive season. They wanted their customers to know that this remarkable feat has been made possible only because of them and their faith in the company.
This was the brief the design agency worked on and INIT came up with different TVCs to really capture the epitome of this home delivery moment. They called it – 'Delivering Homes, Delivering Happiness'. The ads and TVCs went on social media platforms as well as national television channels.
In order to showcase Ajmera's strength and focus towards delivery, they created four Tvcs that catered to different target audiences. The whole idea behind the TVCs was for people to understand the magnitude of Ajmera Realty and the brand it has become today.
first TVC shows two men playing chess. The father is questioning about a new car and designation of his prospective son-in-law. The father objects to her daughter staying in a rented home and this is where the son-in-law breaks the news – 'ghar se leke khushiyan tak, sab kuch permanent hai'. The Tvc is aimed at youngsters, so they realize that to buy a home age is not a factor. It can be bought at any time and the youth should really give it a thorough consideration.
The second TVC motivates the consumers to think about owning a home instead of switching to a new rental home often. The ad shows a man complaining about changing his rented home 3 times in the past 5 years and talking about the problems that tag along in such situations. The message is lucid, 'ghar nahi developer badlo. Temporary ghar ko ab permanent karlo'.
Govind Rai, Director, INIT  said, "Ajmera Realty wanted to make an impact with 1150 deliveries at one time. Being in the industry for years we know the importance of such a gigantic step. We offered them a unique strategy that would appeal to all classes of people and at the same time make them take notice of the brand."
The next ad is aimed at the people who have bought a flat with Ajmera. In a meeting room a man is giving a presentation about the revenue and sales to his boss and team mates. However, he inculcates his new home and amenities in his dialogue. Everybody applauses and the vo comes as 'Sabko pata hai ke khud ka ghar milna koi celebration se kaam nahi'. The idea behind the ad is the happiness that one can't deny about owning a home. No matter who it is and where he lives or works at, it is the happiest day of his life when he buys a home and the lingering thought behind it – why can't the next 'he' be you?
Dhaval Ajmera, 'With the possession of 1150 homes we wanted to send a wave of happiness to our customers who would receive possession and also give people the hope that it is very much possible for them too. We are giving possessions in 6 projects all with different budgets and locations. Thus, conveying another fact that we offer a range of homes according to different target audience."
The possession is being given in Ajmera Aeon and Zeon, New Era, Ajmera Stone Park, Ajmera Pristine, Villows and Ajmera Aria projects.