Realty Nxt Interviews Mayfair Housing, MD Mr. Nayan Shah And Aditya Shah at CREDAI MCHI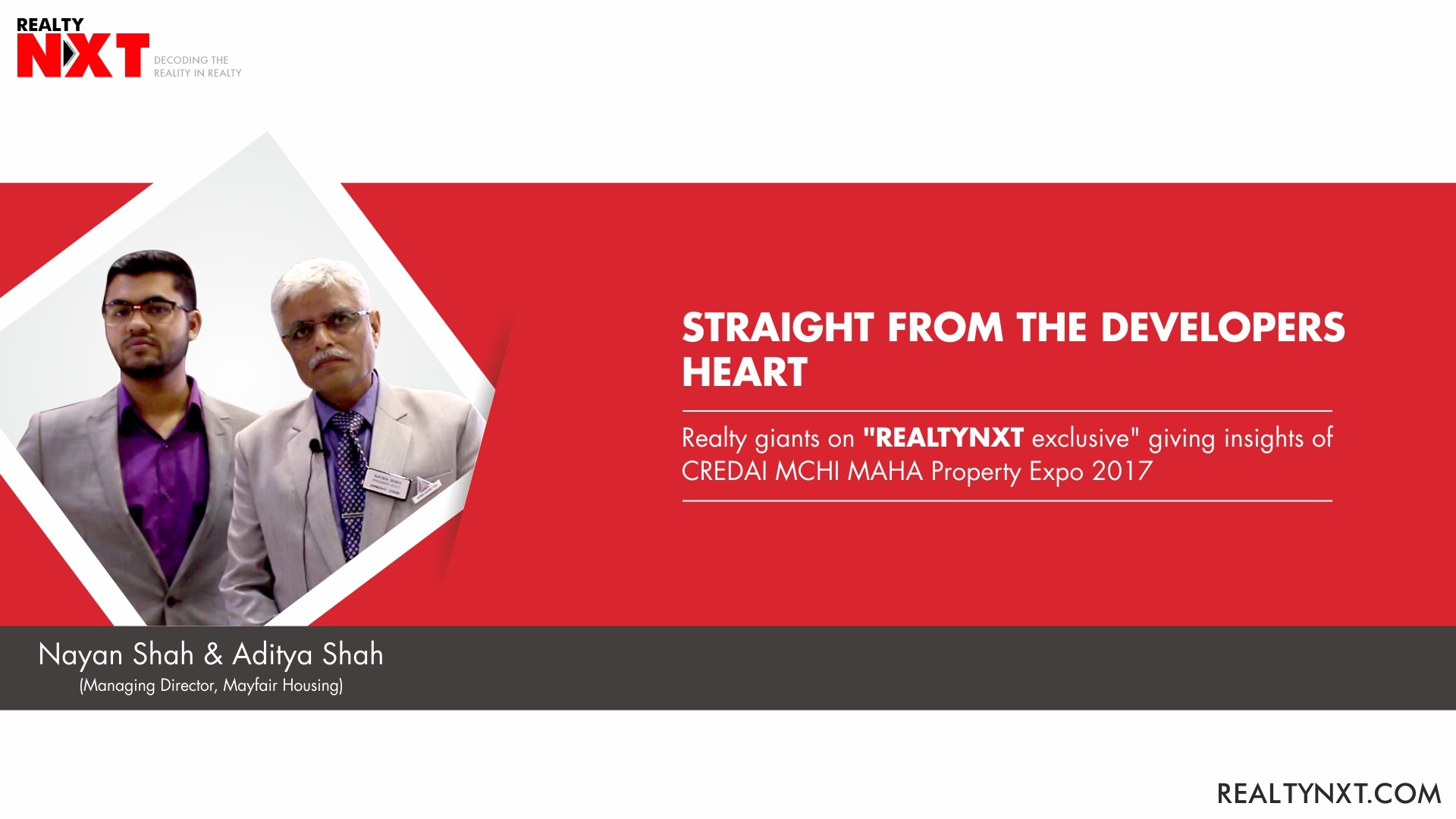 RealtyNXT brings you an exclusive interview with Mr. Nayan Shah, MD Mayfair Housing at the CREDAI-MCHI Maha Property EXPO 2017. Here he sheds light on the new logo of Mayfair Housing and its significance. Mayfair Housing has been providing quality dream homes to the customers since 1964. He explains the introspection behind the need for the new logo. Owing it to their growing relationship with the stakeholders, he emphasizes on the sole term 'Appreciation'. This is the bonding element that has been playing the crucial part in their success story.
Giving equal importance to all three dimensions of this element, whether it be customers, stakeholders or the employees. He identifies this appreciation in all of these respective relationships with the above three. When the customer finds quality home with them, he appreciates. So as the contractors, when they explore several projects one after the other, with the Mayfair Housing. And when the company's progress reflects in the progress of their employees, they too appreciate.
Now bridging this appreciation with nature, he finally reveals the reason behind the pictorial representation of the symbol. The colours of the logo being, Blue, Green, Red and Orange, truly symbolizes the four elements of nature, which are Water, Earth, Sun and Air. Which further inspires the four elements of their new brand ideology, SARA. These inspired elements being Safe, Appreciating, Reliable, Assets are embodied into their new logo.
Commenting on the significance of these elements, he relates 'Safe' to the Occupancy Certificate gained by company, depicting the fully approved safety of the respective flat, thus the 'Appreciating'. And 'Reliable' as these flats are providing exceptional return on the value to the customers, finally turning out to be the 'Assets'.
He predicts the entering of the BSE index by the real estate companies in next ten years. He is hopeful that the current market has passed the complex phase of GST, RERA and Demonetization.  Claiming this time to be the turning point of the real estate sector, he highly recommends the customers to buy the ready flats with OCs now, as the prices have plunged to the lowest level and are completely ready to soar again. In the end, Mayfair Housing commends the CREDAI-MCHI on bringing high laurels to the real estate sector.