Realty Nxt Interviews, Mr. Mayur Shah, MD Marathon Group at CREDAI MCHI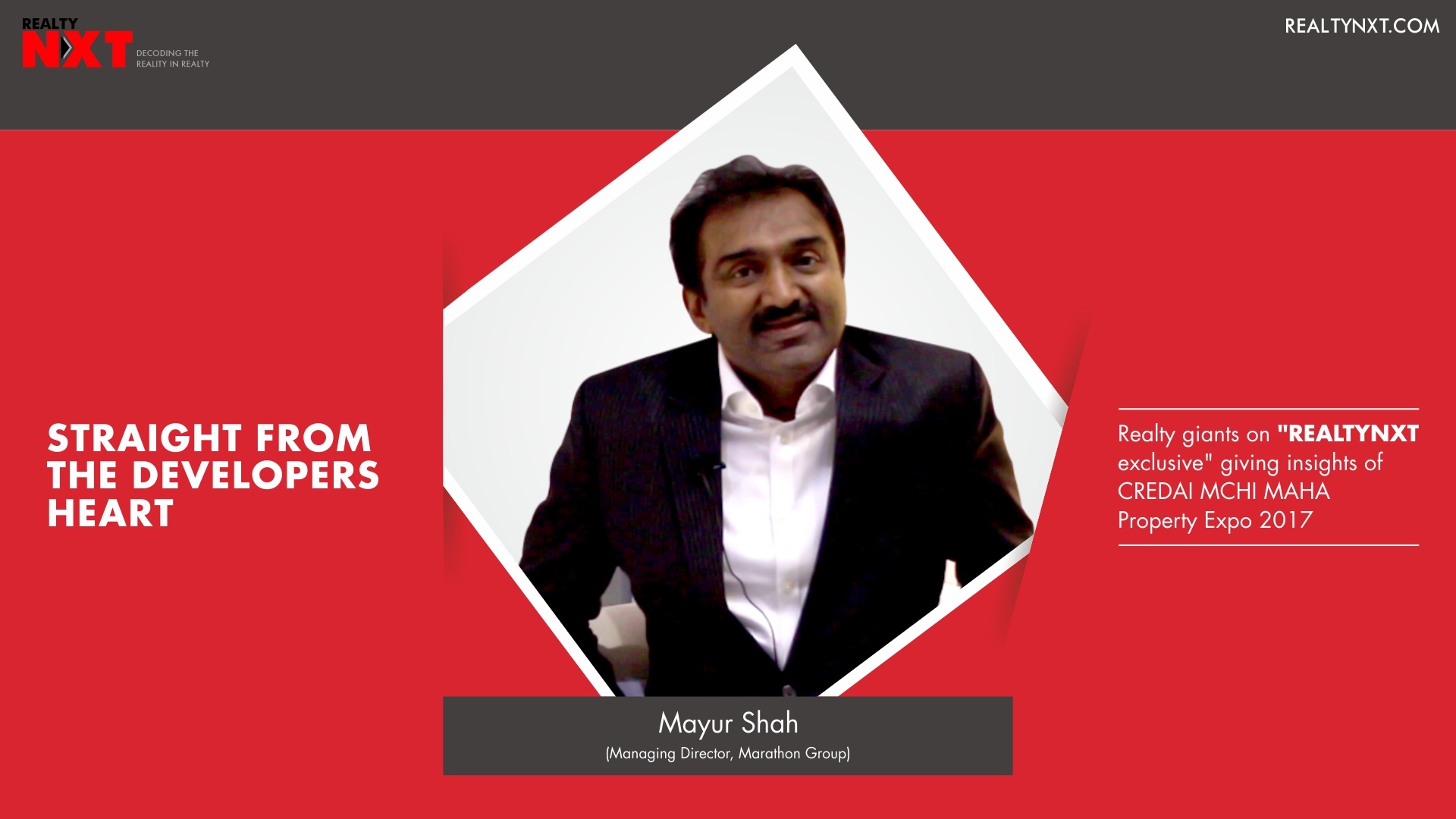 RealtyNXT brings you an exclusive interview with Mr. Mayur Shah, MD Marathon Group at the CREDAI-MCHI Maha Property EXPO 2017. Here he sheds light on RERA and its impact on the real estate sector. He gives credit to the Chief Minister Mr. Devendra Fadnavis and the dynamic regulator Mr. Gautam Chaterjee, for the smooth implementation of MAHA RERA online. Resulting into a huge achievement of 15000 projects getting MAHA RERA approval in Maharashtra. According to him RERA has breathed a new air of confidence in the buyers, by putting all the project details on the online portal.
He points out to the fact that CREDAI-MCHI EXPO is the first property Expo after the implementation of the MAHA RERA. He claims that this Expo is the ultimate one-stop-shop, where there are 110 developers, 5000 properties and 515 finance companies, all under one roof. Here the consumers can go through a complex procedure of buying, usually few months long, only in 2 days. Resulting into 20000 pre-registries, the number of consumers wanting to visit the Expo.
On his thoughts about the future of the CREDAI-MCHI EXPO, he terms it as a platform that looks into the benefits of real estate and housing industry. The prime motive is to collaborate with the local bodies in order to ease out the approval procedure, also bringing it down from 1.5-year period to 30 days.
CREDAI-MCHI is trying to improve the business viability so as to cover one of the major issues, 'affordability' in Mumbai MMR. Main task is to make home buying viable, by bringing down the prices for various transactions to a reasonable rate. Whether it be 5% percent stamp duty, 1% percent registration fees, education cess and 12% percent GST, constituting almost 20% percent of the total transaction cost.