685 Housing Projects 'Under Investigation' By Karnataka RERA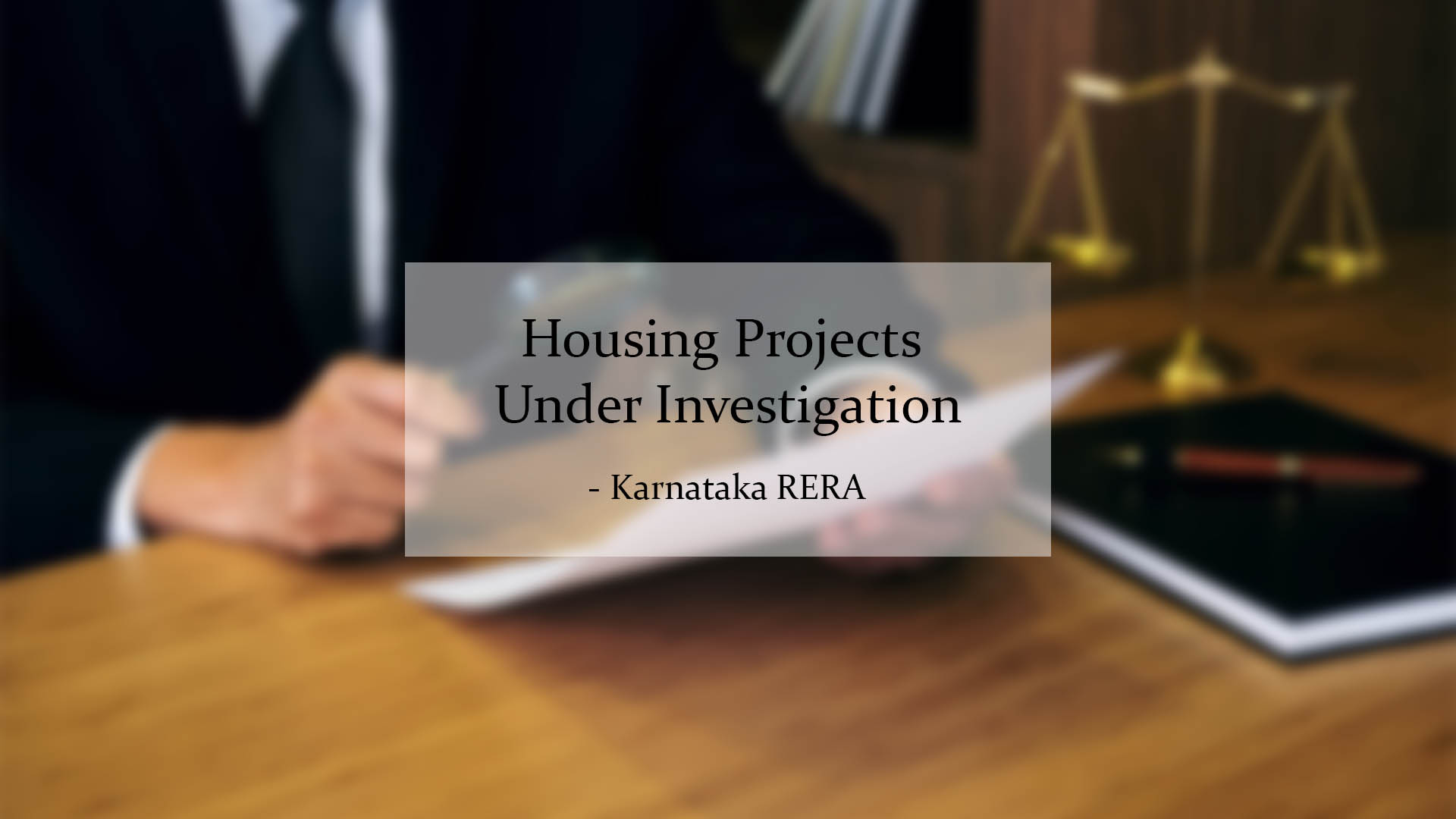 At present Karnataka has approximately Rs 50,000 crore on stake riding on various real estate projects. The Real Estate Regulatory Authority (RERA) Karnataka has raised a question mark on the future of one lakh apartment units and an equal number of investors in the state. This is due to 685 construction projects that are unregistered with RERA Karnataka. Thus the RERA Karnataka have listed them as "under investigation".
The Karnataka government notified the Centre's RERA Act, 2016 in July last year. RERA Act is aimed at protecting the investor's interest by regulating the real estate industry with a host of rules. All projects are to be registered under RERA and will get a clearance certification only after they meet the prescribed norms.
On Monday, RERA Karnataka has listed 685 realty projects in red with an alert: "The public is hereby informed that these projects are not registered with RERA and are under investigation. The public is warned that dealing with these projects is at their own risk.''
Shrinivas Rao, CEO, Asia Pacific of Vestian Global Workspace Services does the Math. "This (685 projects) would mean at least one lakh units, at an average of Rs 50 lakh per apartment. It is a neat Rs 50,000 crore exposure for builders. A property buyer would have paid 15-30% upward during the time of booking, which means around Rs 15,000 crore has already gone into the market.''
At least 50 percent of these projects are in Bengaluru. The realty industry is panicking as the stakes are high. There is also the factor of the construction finance exposure to banks. Many nationalized bank's Non Performing Assets lists have real estate players as their major defaulters. This number of defaulters among them is only likely to go up.
A developer who has already submitted eight projects' details with RERA and is still under the red list said, "We have submitted the required documents to the Authorities highlighting that these projects have received occupation certificate and hence not required to be registered under Karnataka Real Estate (Regulation and Development) Rules as per rule (4) of sub-rule (iv). We were told by authorities that they will remove our name/projects from the list in 4-5 days.''
K Ramesh, managing partner of Arna Shelters cautioned home buyers against investing in such projects and said, "Property registrations will not be done without RERA certification and even resale of old properties won't be easy.''
Before You Apply For A Home Loan, This Is What You Need To Know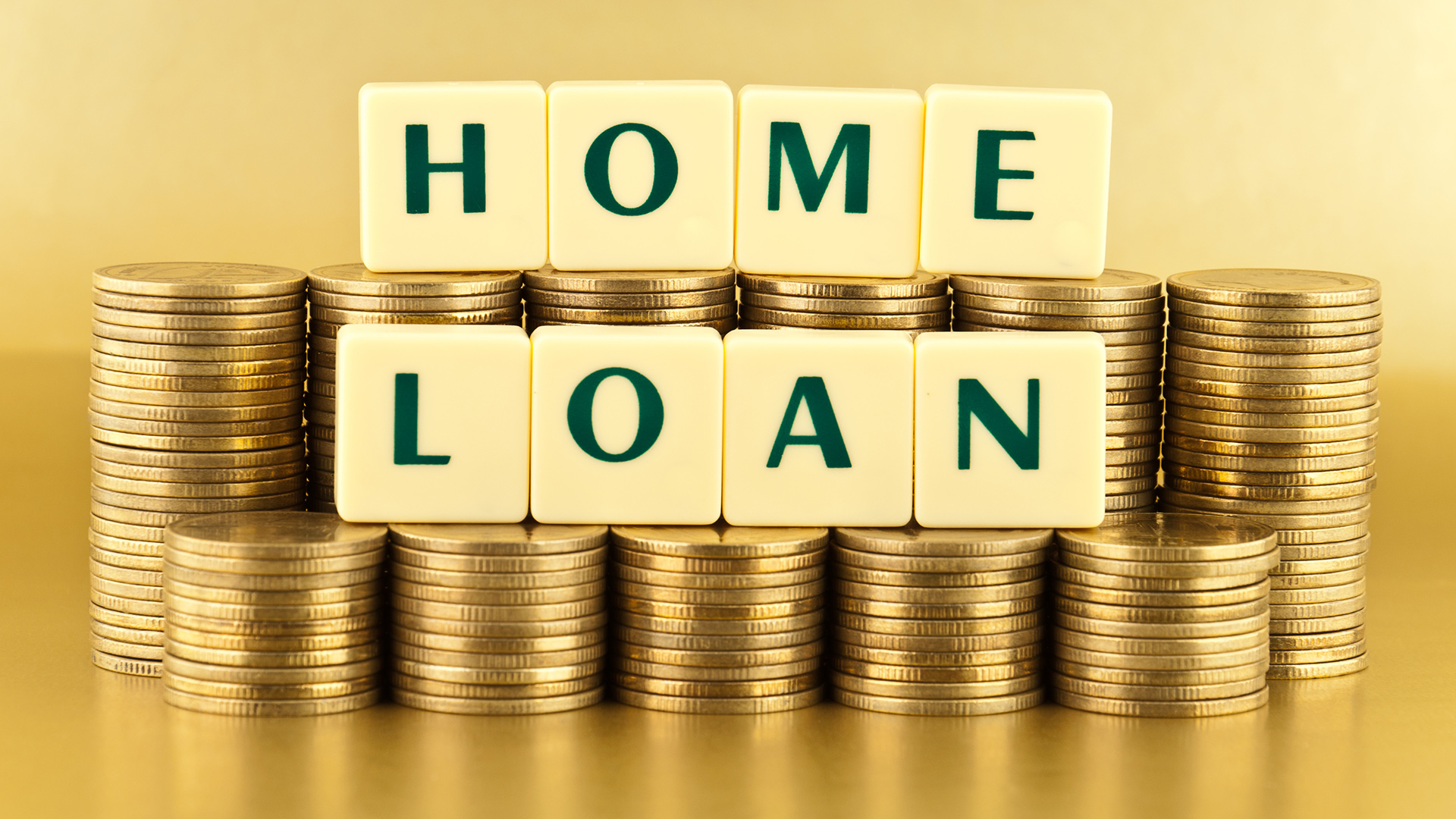 It is crucial that you understand the perquisites for a home loan from a bank in advance. There is a number of reasons for a bank to reject your loan. It is even possible that you may end up not getting the best deal from a bank.

Here is a list of things that you need to do before you apply for a loan, as per Babu Sivaprakasam, partner – head banking & finance, real estate, Economic Laws Practice:
Collect and collate all the documents. Keep original as well as copies handy like income proof, income tax returns for the last three years, identity proof, address proof, Aadhaar card, PAN card, etc.
Know the eligible loan amount well in advance.
Typically, a lender will give you a home loan to the extent of 80 per cent of the flat's cost; know the amount of funds that he can contribute towards margin money.
Calculate the amount of balance available after the EMI payment. Is it sufficient as per your lifestyle? This is especially important for people who opt for under construction property as they will have to pay rent during that period.
It is very important that you maintain a good credit track record. Your CIBIL score should be above average level.
Keep the down payment amount ready.
Check your loan eligibility amount, using online tools.
Work out tenure of loan that would be suitable for you.
Compare and make a list of banks, on the basis of the most attractive interest rates, low charges, penalty fees, maximum loan to value ratio and least loan approval time.
Even if you have all your documents in place and have a healthy CIBIL score, there are still chances for your loan to get rejected. This can happen if the concerned bank have not identified or approved the project or if the project has certain title or legal issues, or it is not registered under RERA, etc.

Thus it is important for the buyer to check if the project has been registered under RERA Act before making any booking payment. In order to maintain a healthy credit score, applicants should make sure all their loan payments and credit card payments are made on time. Furthermore, filing your income tax returns on time shall also assist home buyers to avail home loans.

Take a look at some of the most common reasons for home loan rejection:

Maximum home loan applications get rejected due to insufficient income to buy a home.

Amit Goenka, MD and CEO at Nisus Finance Services Co Private Ltd (NiFCO) said, "The annual net income after taxes, minus expenses towards other loans, EMIs and other recurring expenses, is the surplus available to a buyer. Home finance companies usually take 50-65 per cent of this surplus, as available for servicing the home loan and may sanction up to 10 times of such amount as the home loan. This amount may be short of the desired loan amount, in which case one has to look for a lower value apartment or bring in more of their own capital, to avail of the loan. The buyer may also add another family member (husband/ wife/ father/ mother/ sister/ children, etc.) as guarantors and pledge their surplus income, to meet the loan requirement. One can also seek assistance and guarantees, if possible, from one's employer."

Many times, developers also assist home buyers by proving such guarantees, or by offering subvention schemes or by absorbing certain costs, so that buyers can avail the loan. Based on your income, loan seekers should check online portals which easily tell you about your loan eligibility and rate for home loans.

Also Read: All You Need To Know About Joint Home Loans
Benefits Of Jointly Owned Property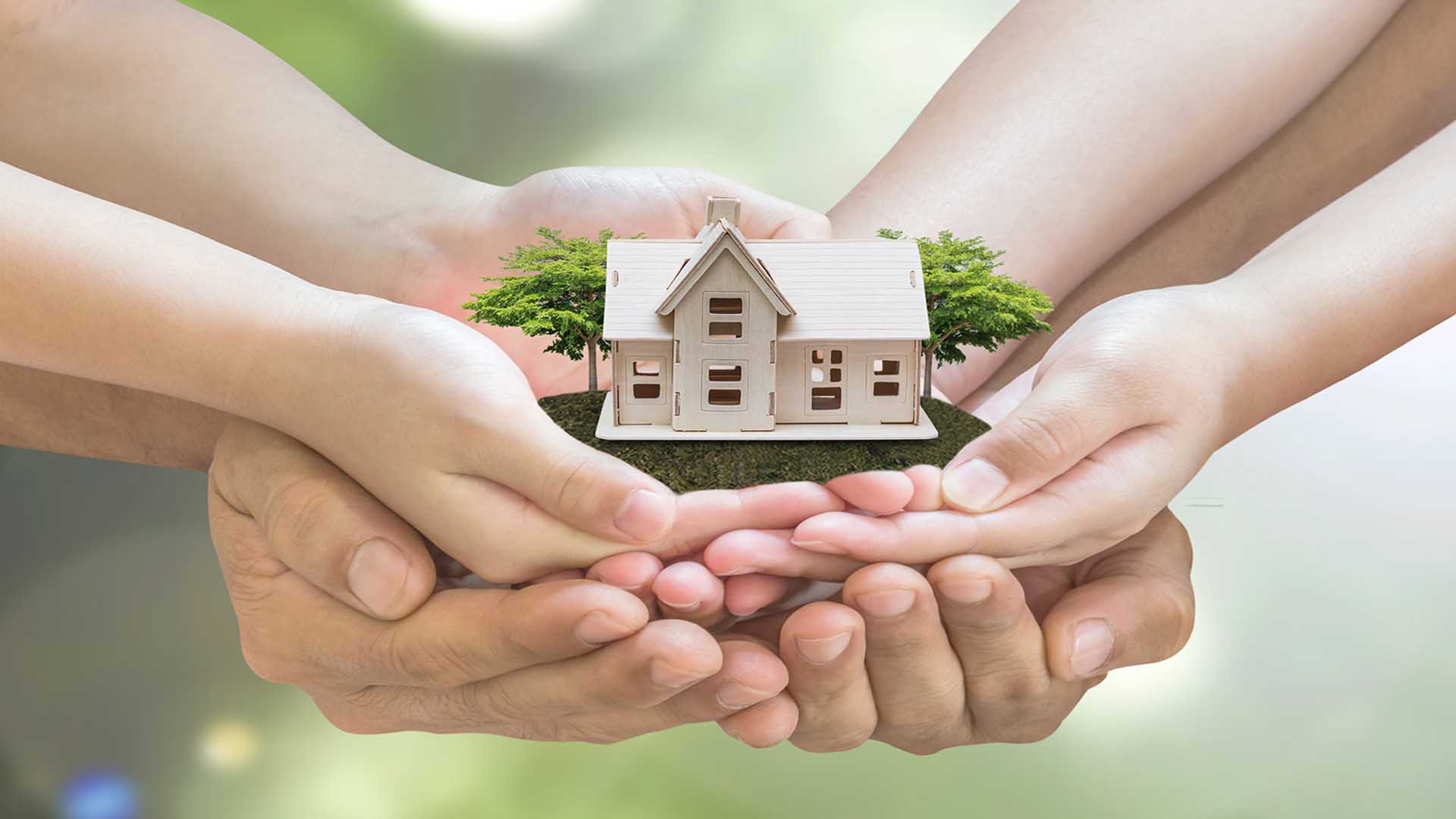 Property buyers have started working out the best mode of acquiring their immovable assets by delving ahead of informed decision. Whether it is directly dealing with the seller to avoid brokerage or choosing the best financing option for tax benefits, Indian buyers are leaving no stone unturned. One of the best ways to facilitate this is the decision to register the property jointly, with the spouse.
There are many benefits of joint registration of property like better bonding, long-term commitment and trust between spouses, and elevating the status of the wife in a patriarchal society. But a majority of the buyer's section is unaware of the financial advantages.
Loan eligibility is the major factor that determines the budget to purchase a property, with a specific limit dependency on the income. Whereas, a joint registration allows the spouses to opt for a joint home loan. This provides for sharing of the debt burden between two people, paving the way for a higher loan amount as two incomes will be considered. The candidates falling under the eligibility criteria for a joint home loan could be applicant along with their spouse, siblings or parents.
On the taxation point of view, experts claim that a joint home loan is beneficial to all co-borrowers, who can claim a tax deduction of Rs 2 lakhs for interest payment under Sec 24 and Rs 1.50 lakhs for principal repayment under Sec 80C. Tax benefits can be availed by individuals if two or more people take a joint home loan, this can be done under the Income-tax Act on proportionate basis, in respect of the interest and principal paid during a year
Some of the states provide lower stamp duty rates by 1 to 2% to encourage women to own property individually or jointly. For instance, in Rajasthan a man has to pay 5% as stamp duty whereas a woman has to pay 4% of the market value. Similarly, in Delhi, a man has to pay 6% of the market value whereas the woman has to pay a stamp duty of 4%.
The transfer of property can be time consuming and lengthy in the case of single ownership. As in a recent case in New Delhi, after a local resident passed away, his family members found that the flat they lived in, was solely owned by the deceased. They had to face excessive conformation to regulations and rules in order to get through the procedure of getting the documents in the successor's name.
After quite a mental stress and hard work put into the extensive paperwork, finally landed the possession with the spouse of the deceased. These hassles could have been avoided if the property was jointly owned. It is always advisable that the joint registration of property should be opted as the spouse is always the successor. As it will prevent the unwarranted problems in the future after the demise of any person.
Illegal Colony Regularisation To Benefit 1 Lac People In Bhopal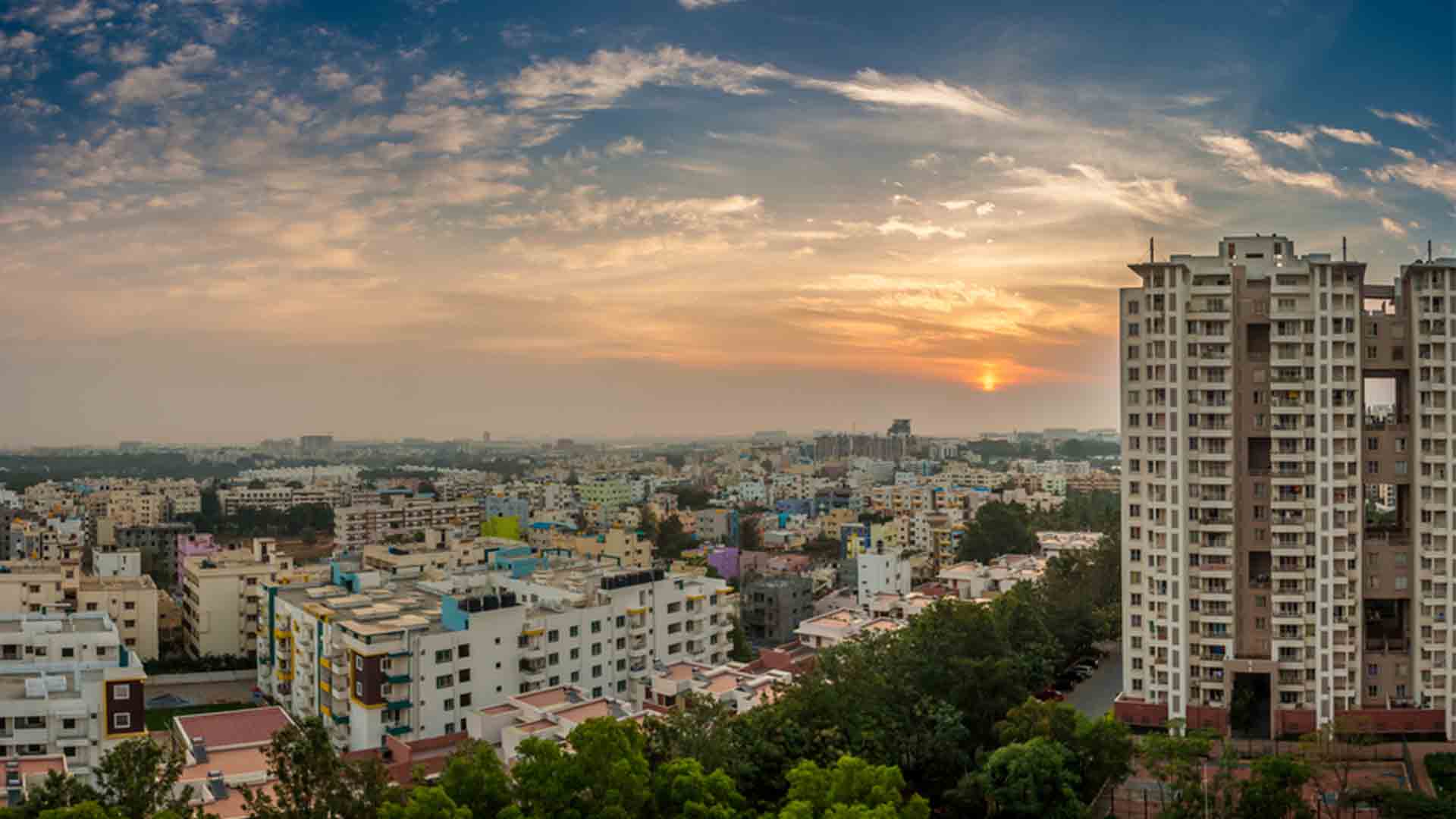 The Madhya Pradesh government has decided to regularise the illegally-built colonies, which has given a huge relief to property title holders by rescuing them from the worries of an uncertain future. The announcement on Tuesday will affect near about one lakh people in Bhopal, as the last of such initiative came 14 years before in 2004.
As per the estimates, an average plot of 1,000 sq feet would cost about Rs 1.50 lakh. According to the Subashish Banerjee, chief city planner, Bhopal Municipal Corporation(BMC), there are approximately 335 illegal colonies in Bhopal, out of which 98 colonies are in the process of regularisation. The same was notified by advertisements in the area recently.
Locations along Kolar, Semra, Neelbad, Ashoka Garden, Awadhpuri, Narela, and Bairagarh on the city outskirts are likely to benefit. According to the announcement, all illegal residential constructions before December 31 in 2016 would be legalised. In accordance to the data released by urban development few days ago, there are 770 illegal colonies in Bhopal.
Banerjee, who recently took over charge as the chief city planner clarified that the Green belt under FTL zone, colonies on government land or land marked for transportation needs would not be regularised. And now Bhopal master plan 2005 would be the basis of the demarcation. Under the master plan, there are number of constructions in new Bhopal that are along demarcated 'main' roads.
An inquiry report regarding such construction is currently pending with the government. According to the sources, hundreds of commercial structures and posh residentials would be demolished if the provision is implemented. In rough estimates, each of the colony would be legalised after a penalty of Rs 15 per square foot. This penalisation of coloniser is termed by the MP municipal corporation colonisers rules of 1998
As the surveyors have assessed the development with the development work. Majority of these colonies do not have 24×7 water supply, except the areas along Karond. According to BMC, many colonies benefiting from this proposal are the colonies that have been recently been constructed in last two decades. But the benefit to the slum-dwellers by the proposal is yet to be clarified by the government notification.
Manoj Meek, Confederation of Real Estate Developers Association of India (CREDAI), said that they don't extend support to the illegal colonies and there are economic issues that have led to such measures. The government has its own take on the issue. As this issue doesn't give the same gain to those in organised building construction. Government taxation and other fees should be reduced for organised sector as there has to be a level playing field