How To Buy Your Dream Home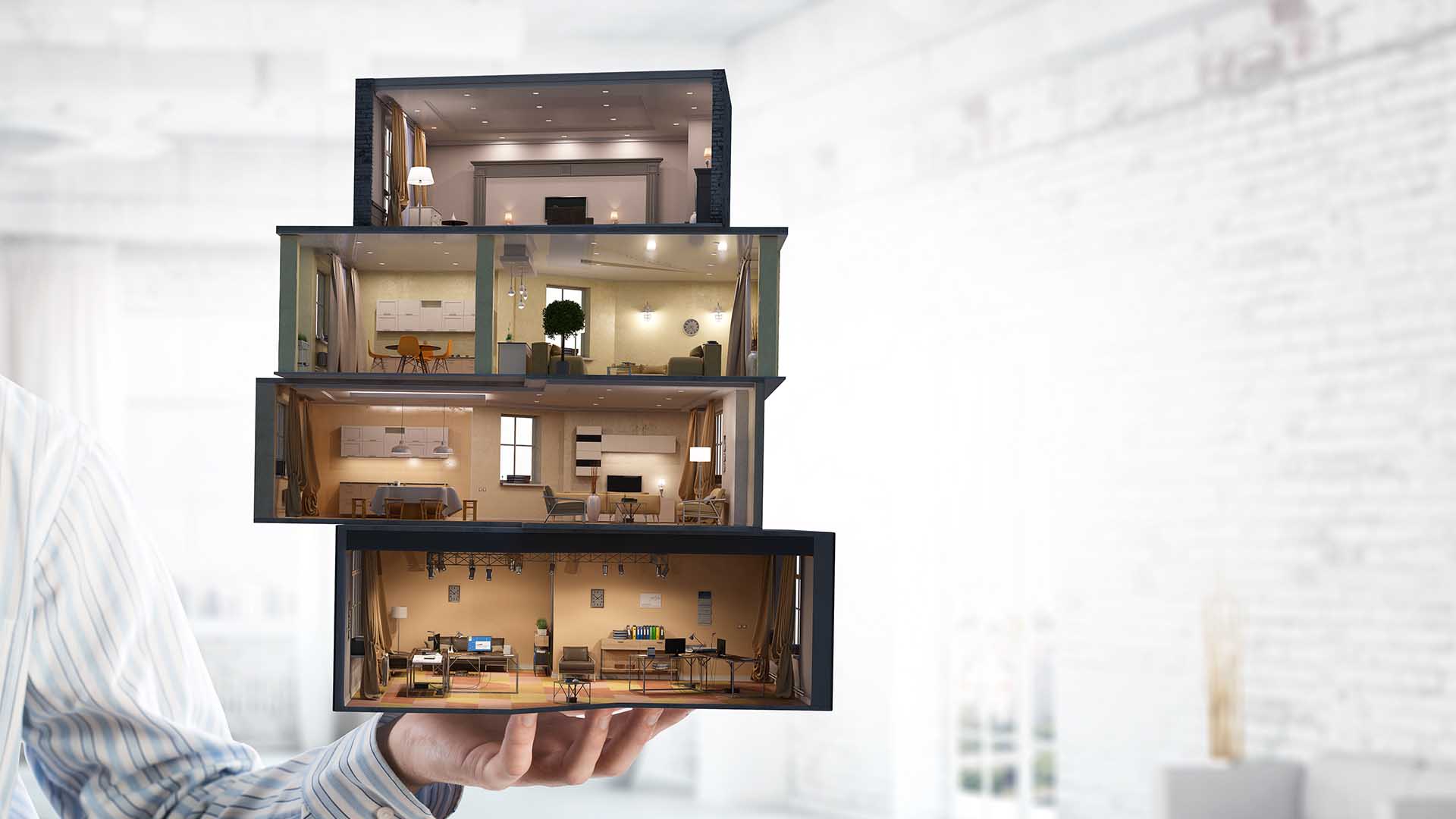 Buying a home in your life is quite a challenging task today. You taste may lie towards an independent villa complete with a garden and away from the city bustle or you may be fond of a swanky condo in an upscale township packed with clubhouse, tennis, swimming pool and more. No matter what you may prefer but when it comes to actually buying a home the adverts really influence our decision by showing us the over-edited glamour shots of beautiful bedrooms overlooking the lake or the view outside the window of children frolicking in the garden. These choices tempt us to go beyond our budget if not well out of it; after all how many homes does one buy in a lifetime?
It doesn't matter what your idea of a home is, what simply matters is your budget and accordingly you have to bring down your aspirations as well. Even though we all understand this fact most of the homebuyers end up buying a home that really stretches their finances. In chasing a bigger bedroom and marble floor, we often forget about additional expenses post buying a home and this can put a big dent in our finances and sometimes the damage can be beyond repair.
Let us find out how to avoid the roof over your head from becoming a burden on your finances.
Taking the expert's word, Adhil Shetty, CEO, BankBazaar.com says, "For buyers, especially millennial's, it is no longer about just owning a house or purchasing the biggest property they can afford. Homes have become a means of self-expression." He clearly points to the fact that homebuyers have undergone a drastic change over the years. Kanchana Krishnan, Director, Chennai, Knight Frank India adds, "Today's home buyers are young, demanding and spoilt for choice. Rising income levels, as well as their easy access to credit-fuelled by banks and housing finance companies, have boosted the aspirations of a growing consumer base."
As the trend goes that banks only offer 80-85% of the value of the property as loans so it makes homebuyers shell out a huge chunk of their savings. Thus home is no doubt an expensive affair. According to the ET Wealth survey, one out of every three Indian homebuyers is sinking in more than 50% of his total savings into the down-payment itself.
ArthaYantra analysed the number of years it would take an individual to save the down-payment in order to buy a home in major cities of India. At an assumed annual savings rate of 25% – homebuyers in Mumbai will need to save for roughly 12 years while those in Delhi and Chennai will need around seven years. However this is just the initial investment, what follows is the commitment to pay large EMIs.
This is not the only commitment that you would have in case you opt to shift to a swankier home as it comes with a host of ancillary costs to budget for. To start with you will have to pay higher amount as property tax and home insurance premium, then comes the society maintenance charges, third is bigger spending on the upkeep of the house like bills, utility and cost of repair; finally you are bound to adapt a more expensive lifestyle for yourself and your family given the new fancy place.
Hemant Rustagi, CEO, Wiseinvest Advisors said, "If you move into an upscale neighbourhood, you will be influenced to change your lifestyle as well, but your income and savings profile will not change overnight." Krishnan adds, "Homebuyers often overestimate their surplus and end up falling into a debt trap." Thus it is very important to understand the sticker price of a home and the expenses you will incur to keep it.
Getting value for money
If you live under the illusion of being able to sell the property whenever you need to and get full value for the asset, you are highly mistaken. Real estate is not high on liquidity. Given the present market, it is enough proof to know how difficult it is for sellers to find a buyer at a desirable price. Rustagi points, "In the premium housing segment, in particular, liquidity can be scarce, since what is aspirational for you may not be the same for others."
If you wish to bank on the property value in the future, it may come back to haunt you. It is not recommended to commit to a high-ticket home loan based on this expectation. Market corrections are inevitable and the present market is not ideal for investment.
Another reason is an extensive hold-up in handover for people who have brought under-construction property. Experts also advise against taking a large home loan to avail of tax benefits as a tax deduction is restricted to Rs 30000 per annum for under construction properties as against Rs 2 lakh for fully constructed properties. Besides it is easy to see that the tax benefits will hardly amount to anything in front of the gigantic expenses incurred to buy and maintain a new fancy home.
Is it worth it?
For middleclass families buying a home involves a lot of compromises. While some people stretch their budget to buy a bigger home in a locations that convey a superior sense of social 'arrival' but doesn't necessarily offer a better lifestyle; there are others who opt for an easy commute to work and end buying a home in a congested area that compromises their physical and mental well being.
Anuj Puri, Chairman, ANAROCK Property Consultants states, "Homebuyers often give in to their yearning for an uncluttered, unpolluted environment and wind up marooned in an area beset by water and electricity shortages, without access to vital facilities. These homes will not appreciate in value, and therefore there's no possibility of selling them and relocating."
What most people do not realize is the impact a bigger home makes on their other critical financial goals. You may be able to give your child an airy room with a big playground and a swimming pool but you may have to compromise on his chances of having his higher education secured by your savings.
Consider the following example:
You take a loan of – 75 lakh at 8.5% interest for 20 years. You will be paying Rs 65,087 EMI which will end up Rs 81.2 lakh in interest payments over the lifetime of the loan.
If you opt for a smaller home – 50 lakh at 8.5% interest for 20 years. You will pay an EMI of Rs 43,391 per month, shelling out Rs 54.14 lakh in interest over the next 20 years.
The monthly savings of Rs 22,000, if put into a diversified equity fund, can yield around Rs 49 lakh over the next 10 years at an expected return of 12%.
A large EMI leaves you a very limited choice for attaining your other goals like family outings and vacations. In case you suffer from an extended illness or get laid off, it immediately creates a cash crunch for your family. Rustagi warns, "For many, buying their own house is an important, once-in-a-lifetime decision, but remember that there is also a limited window for you to plan for other critical goals like retirement and children's education."
An approach more realistic
The idea is to be more pragmatic when you go to look for potential homes. Puri advises, "The 'ideal home' should provide the convenience without the compromises, be affordable and have great resale value. Since that is an elusive dream, homebuyers should focus on one or two items on their wish-list."
Puri adds, "Homebuyers should buy what they can reasonably afford, in a project and location which will meet their needs for at least five to six years." One can always trade up as and when they can afford it. Experts suggest that the key to finding the right home is to set realistic expectations and be well informed. Krishnan says, "Research well and keep yourself abreast of current market conditions before choosing a property. Make sure that you have a clear idea of property prices and rate of appreciation."
The ideal home loan EMI should not exceed 35-40% of your total income. However, as per a survey, almost 28% of homebuyers showed a willingness to pay more than 50% of their household income towards EMIs, which can spell disaster.
Krishnan concludes, "When looking to buy a home for your own use if you find the right match and are financially ready, you must take the plunge." In the end, it is clear and pragmatic thinking that would find you your ideal home.