Raunak Group launches Sabse Saste 4 Din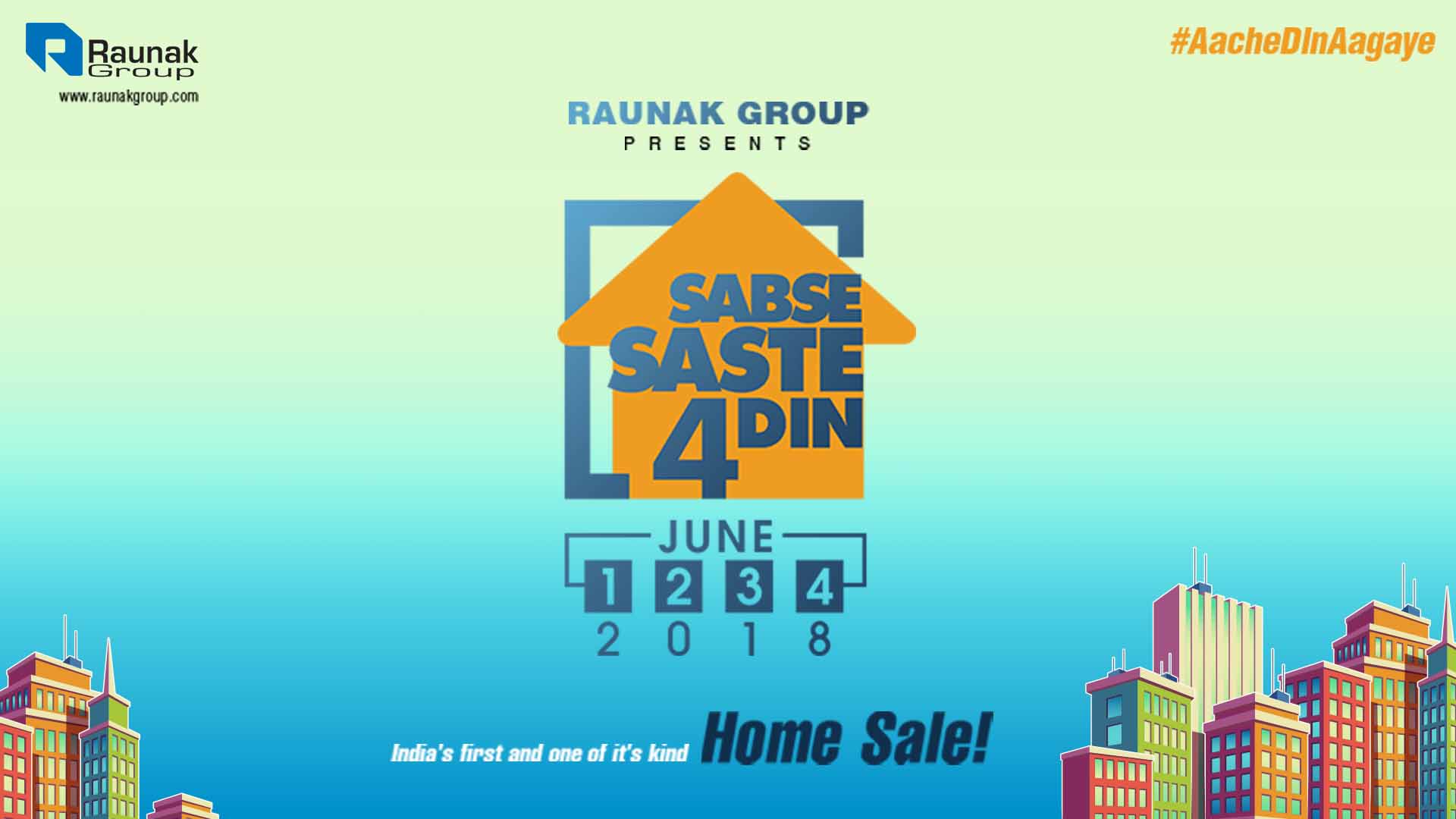 Raunak Group has once again brought an epic offer to all the home-buyers who are looking for the perfect home with the perfect offer. Raunak Group brings excellent deals on not just one or two but 4 of their under-construction projects. Their projects offer each customer a wide range of amenities. The projects are located in different locations so one can pick the right spot, keeping in mind the location, budget and amenities.
Raunak Group has a history of providing quality homes at the best prices. Their endeavor has been to help people select and purchase their dream home.
Raunak Residency
Starting with Raunak Residency – located on Pokhran Road, Thane; these units offer world-class infrastructure close to serene and quaint surroundings. The 1 and 2 BHK homes are luxurious, contemporary, spacious, and open out to the city's beautiful views. One of the prime residential addresses in Thane, the project is close to the lush green Yeoor Hills as well as Upvan lake.
A 1 BHK which was of 68 lakhs, now you can get it with a 7.35% discount at 63 lakhs only; for a 2 BHK home, you would have spent 1.03 crores, but now with a 10.68% discount, get the same 2 BHK home for 92 lakhs only. If this discount was not enough, Raunak Group is also offering GST savings for both its 1 and 2 BHK homes.
Raunak City – Sector 4
Located in Kalyan, this award-winning township is already home to over 1500 families. Spread across 35 acres of land, this project offers modern amenities and impeccable homes. A peaceful life and a convenient lifestyle are what await a home buyer at Raunak City. With provision for superstores within the townships to take care of day-to-day needs and close proximity to hospitals, schools, shopping malls and other conveniences, there can't be a better place to savour the urban lifestyle. Raunak City – Sector 4 has a total of 10 buildings of 32 floors each. It has its own landscaped garden, children play area, community hall for hosting functions, jogging track, etc. There is also a common clubhouse with a swimming pool and gym. It has won the Township of the Year 2017-18 award from Realty Plus Excellence Awards.
Buy a 1 BHK flat at a 20.45% discount for 35 lakhs and a 2 BHK at 16.13% discount for 52 lakhs only. One can also avail massive savings for both 1 and 2 BHK homes as GST.
Raunak Heights
Located on Ghodbunder Road in Thane, this project offers ultra-modern 1 BHK homes. Strike the perfect balance between comfort and space and enjoy excellent social infrastructure. Raunak Heights present good connectivity with a smooth and hassle-free conveyance. The project offers a landscaped garden with children's play area.
The 1 BHK homes were of 56 lakhs, but with a 5.36% discount, one can now avail them for 53 lakhs only. One can also save up on GST charges.
Unnathi Woods – Phase 7A
Another award-winning project from Raunak Group, Unnathi Woods won the Iconic Affordable Homes Central Suburbs award by Times Realty Icons – 2017. This project offers 1 and 2 BHK homes at Ghodbunder Road, Thane. These meticulously designed homes come with its own green spaces, community areas and children's play areas, making each one a completely self-sufficient unit in itself. There is also a clubhouse with its swimming pool. Home to over 1200 families, one can find their perfect abode there if they wish to stay close to nature and not compromise on any of their daily lives' conveniences.
With a 9.23% discount, one can buy a 1BHK home at 59 lakhs which was priced at 65 lakhs. GST savings are also available.
One can avail all the above offers from 1st June to 4th June 2018. All the projects are MahaRERA certified and have construction going on in full swing.