Insomniacs Launches A New Proptech Offering: RealtyX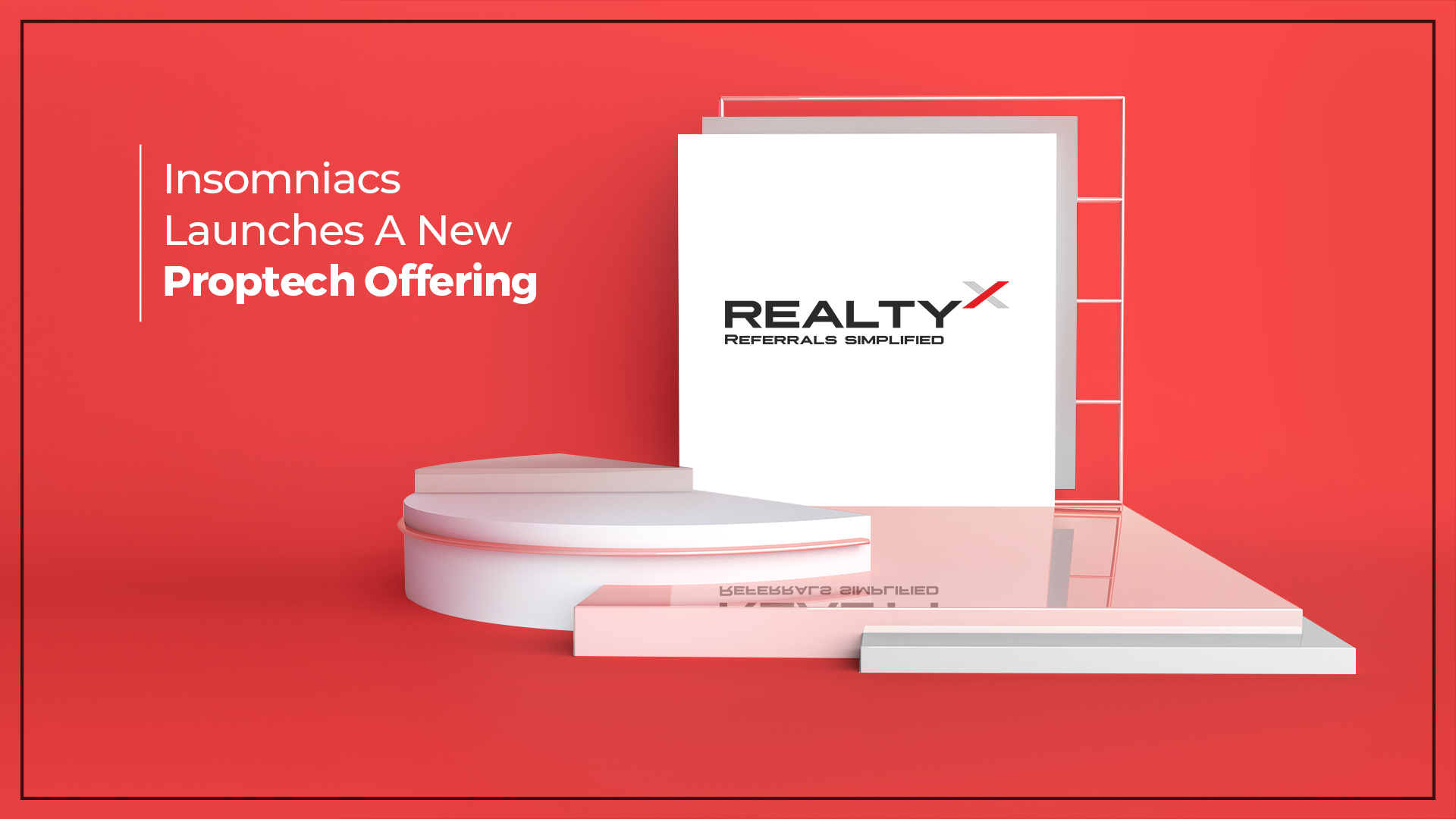 Insomniacs has been a name to be reckoned with on the digital marketing front for quite some time, as the digital ally for some of the top names in real estate. Insomniacs as an agency turned 3 years and this is the fourth successful year with 80-person teams in Mumbai, Ahmedabad, and Jaipur. The agency has handled over 150 projects spread across more than 50 real estate developers. Their clientele includes well-known names in the industry such as Mayfair Housing, Ajmera Group, Adani Group, Shivalik Ventures, MCHI CREDAI, HDIL, Ganesh Housing, FS Realty & more.
Having served the real estate segment for a long time, Insomniacs delved into the product development space last year. In order to consolidate the referral system in the real estate space, Insomniacs has launched RealtyX, a revolutionary PropTech invention. The idea behind RealtyX was to create new possibilities in the real estate space. This platform serves as a one-stop solution for real estate developers, providing a holistic digital ecosystem with the ability to get developers the leads they need through an established referral system.
The complete potential of technology in the real estate segment remains unexplored, and Insomniacs seeks to change that. To bridge this gap between the consumers & developers, as well as present a revolutionary approach to technology in the real estate industry, RealtyX was born. Within the first 15 days of the launch, the platform has garnered support from over 20 developers already.
Not to mention how the implementation of the RERA Act in May 2017 changed the game for real estate developers in the country. This included the act that barred developers from running their own referral programs which previously gave direct cash incentives to their customers. This is where RealtyX comes in.
RealtyX is driven by its four unique features — the Referral System, the Society Management System, the Online Directory, and the Real-Time Notifications. These features combined are designed to transform how developers interact with their current customers.
RealtyX's Referral System helps developers reach out to a more vast & loyal consumer segment & also gives them a chance to address customer complaints in a seamless & systematic way by connecting developers directly to their customers, while keeping them notified about the latest updates & presenting a whole new take on community living. With attention to user interface, experience and the dual satisfaction of the customer as well as the developer, this new invention by Insomniacs is potentially a game-changing one.
Govind Rai, Co-Founder of Insomniacs talks about this launch, saying, "RealtyX speaks a lot about the possibilities & the future of the real estate industry. Insomniacs aims to invest further into the PropTech space & bringing in more automation in the real estate segment. We look forward to utilizing AI and machine learning while also catering to visual experiences in the next product offerings."
Visit RealtyX  an integrated referral system.