Hyderabad – The New Growth Corridor For Real Estate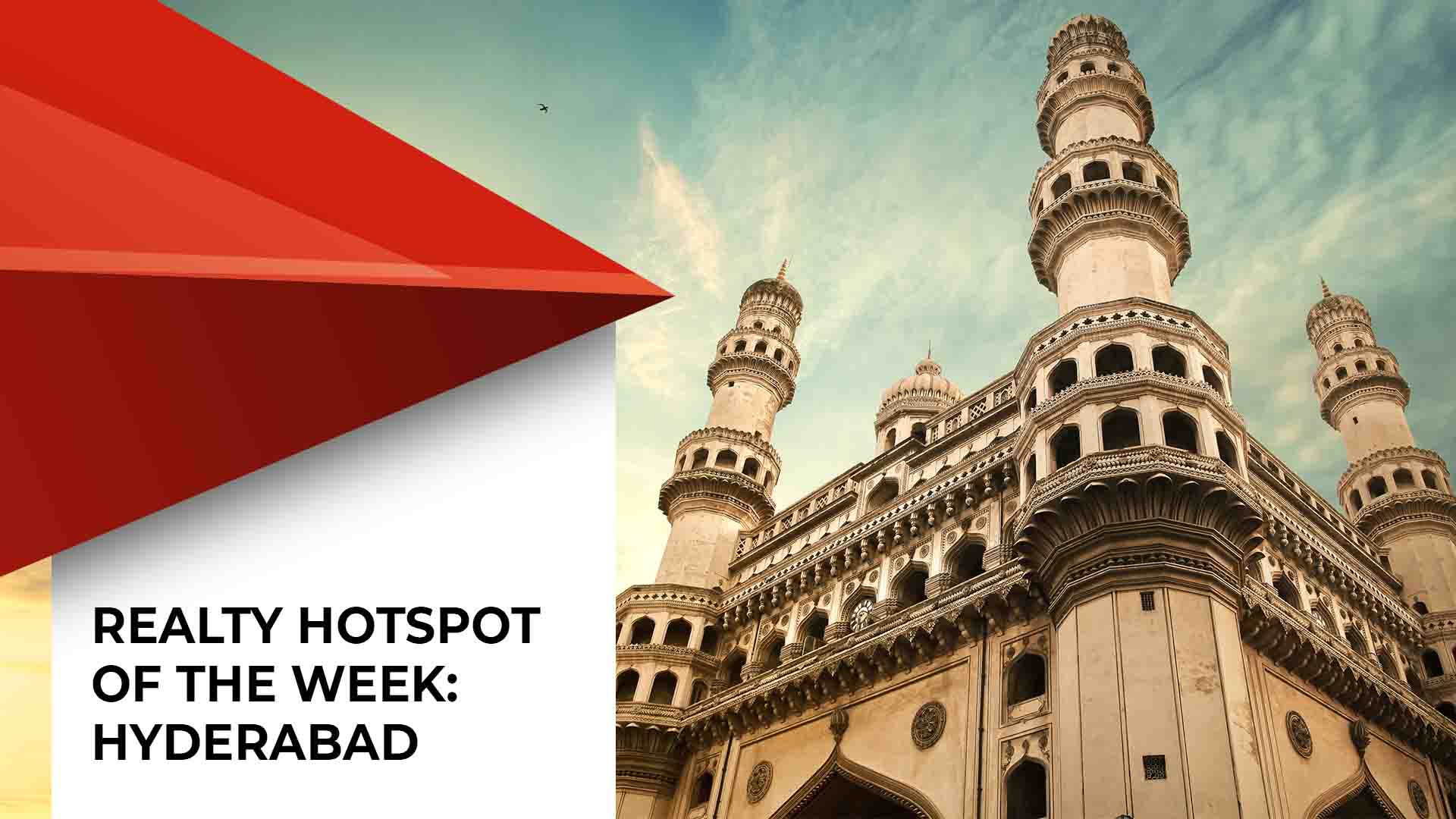 "What do you need to make a location habitable? You need schools, health care and the necessary social infrastructure keeping children and dependents in mind. Working parents, however, do not mind traveling longer for work," quipped a developer eulogizing the benefits of staying in and around Kokapet, a southwestern suburb of Hyderabad.
What he stated is so true when one considers the situation in most major metros. Most individuals travel for at least an hour, one way, in major metros like Delhi and Mumbai, largely because of high real estate costs close to their office, to reach their place of work but prefer a robust social infrastructure close to their home. At a different level, the information proved more than handy.
A closer look at the growth of the city and it becomes evident the future growth story of the erstwhile city of Nizams is going to be in locations where infrastructure will meet real estate to benefit the users.
While immediate beneficiaries have been the likes of Nanakramguda, Puppalguda, Kokapet one expects more additions along the outer ring road, across the city for different asset classes. While residential and commercial is the predominant real estate assets one observes, the ORR in post GST era is enabling a new tide of development in Warehousing & Logistics, Manufacturing and Affordable Housing across the Eastern, North and Southern part of Hyderabad.
Outer Ring Road, popularly called as ORR, is a superior infra connecting all major highways leading into Hyderabad. The Hyderabad Metro, on the other hand, connects intercity across the prime highstreets of the city. Strategic Road Development Plan is another example of a master plan to ease the connectivity through planned infrastructure.
The project is expected to be taken up in four phases comprising skyways, major corridors, roads, grade separators, and flyovers. The projects would ensure overall improvement in connectivity and ease traffic congestions.
While these areas have seen new launches of residential projects in the recent past, and Kokapet in particular, what will increase the attractiveness of these micro markets, going forward, is the fact that further new developments in the city, driven largely by office space, is headed in that direction, thereby making the concept of "walk to work" a reality. Thus, it would not be wrong to call these micro markets as the future flag bearers of the real estate boom in the city.
The major catalyst in propelling these locations is the robust infrastructure around them'. Yet, a key differentiator between the eastern corridor, like Uppal, Ghatkesar, Pocharam and the western part of Hitec City, Gachibowli, Financial District is the presence of strong anchors like IT and ITES companies choosing the west as their first base in the city.
With superior infrastructure eventually both sides of the city are expected to compete with neighboring cities like Bangalore and Chennai due to the lower real estate cost advantages and availability of land for further development.
History Behind:
When the real estate boom started in the city, it was largely concentred in areas along Madhapur and HITEC City. Gradually, the boom spread to areas like Gachibowli, Kondapur, Manikonda and other areas. Residential buildings slowly started to come up in and around the office buildings in these locations and with the passage of time these areas became "THE ADDRESS" for anyone who wanted to own a house in the city.
However, as it happens in any city, the stars of the present soon pave the way for newer stars. This is seen to be happening in Hyderabad, albeit at a much faster pace where the Central Business District (CBD) kept moving from Secunderabad and its pockets to Jubilee Hills in Central part to now Madhapur-Gachibowli belt which is still considered a Peripheral Business District (PBD).
Same Old Story:
It's a proven fact that the office market is the major driver of other verticals of real estate and the same old story is being repeated in Hyderabad. Lack of quality office space and drying up of new supply is driving occupiers to look beyond old war horses like Madhapur and HITEC City which continue to offer land and space for growth. This, to a great extent, explains the reason for locations like Gachibowli, Nanakramguda and Financial District making their presence felt in the office market of the city.
What these new locations offer are new quality office space at competitive prices and most importantly, multi-tenanted buildings, something which Madhapur does not offer. Also, the new office space in the city is largely still coming up, in locations like Raidurg, Nanakramguda, Financial District and to some extent in Gachibowli. These locations should hold on to their coveted positions as "THE OFFICE ADDRESS" in Hyderabad, but it will not be for long. It also needs to be remembered that it is not cheap to own a house in these locations.
Capital values in micro markets like Gachibowli and Kondapur are already between `5,000–5,500 per sq ft. Also, certain sections of these micro markets are slowly starting to witness traffic snarls, especially during peak office timings. Thus it will not be long before these locations too make way for the new doyens of real estate in the city.
New Growth Areas:
It is only a matter of time before occupiers start looking for new office locations in the city and they have already started looking at micro markets beyond Gachibowli and Nanakramguda. If one looks closely at office transactions in H1 2018, 29% of the transactions that happened in the peripheral business district (PBD) West happened in Kokapet, an area that is largely known for the residential real estate in the city.
Not so long ago this area was home to villas catering to the cream of the society but with the passage of time, it came to be dotted with high rises. Further, developers who operate in Kokapet have already started work on residential units beyond Kokapet, in locations like Tellapur. While the boom in the residential real estate in these locations has been on an upswing for a while, prices are still within reach.
To give an example, the capital values of residential units in locations like Kokapet, Narsingi and Tellapur are still within the range of `4,000 to 4,500 per sq ft. In addition, these locations already have the necessary infrastructure that will be able to cope with the real estate boom, at least for the midterm.
What Makes Them Special?
While they are certainly the future of real estate in Hyderabad, they are special, even in the present day. So what is that they have? As already stated, the capital values are still within reach. Second, one can drive to office locations in West Hyderabad from these micro markets in 15–20 minutes, even during peak office hours. And once offices start to move to these locations, the drive will be even shorter, thanks to the excellent infrastructure that they have.
Further, even in the present day, they have some form of social infrastructure, which basically means they do not become ghost towns at night and one can get help in case of an emergency. Third, future office development will be happening, in and around these locations. Last but not the least, these locations are close to the airport. So, it makes perfect sense for occupiers and homebuyers to look at these locations, especially when prices are still affordable.
Among other reasons, Gurugram is a glaring example of the benefits a micro market can reap from being closer to the airport. Presence of robust infrastructure not only in these emerging locations but in Hyderabad city as whole makes it an attractive destination.
The Feather Is Hyderabad's Cap:
While other cities are battling with issues like traffic jams, water woes and the inability of the urban transport systems to keep pace with the increasing population of the city, Hyderabad is at a very different level. It will not be wrong to say that compared to other cities, Hyderabad already has the necessary infrastructure atleast for the next few years.
The vast network of well-maintained roads makes movement within the city a breeze. As an illustration, even during peak office hours, one can reach from Hitech City to Kondapur, a distance of around 5 kilometers, in about 15 minutes. The urban infrastructure so laid down, is also being augmented from time to time. A prime example of this has been the metro that made its debut in the city. The metro is expected to be fully functional in all its 3 lines of the city by the end of this year.
Conclusion:
Seldom does one see Infrastructure superseding a real estate boom, in India. Hyderabad stands out as a metropolitan which had successive governments proactively adding new and superior infrastructure to the city. With anchor industries like IT, Biotech, Pharma and Housing on the rise clearly real estate and It's stakeholders will stand to benefit.
Further on, RERA and GST are the ideal regulatory infrastructure that will make the real estate of Hyderabad a much sought-after destination for Investors, Developers, Occupiers and home buyers alike.
Article by Pankaj Anup Toppo, Vice President – Research, Knight Frank India Pvt Ltd