RealtyX Brings Visionary Thinking To Real Estate's Changing Face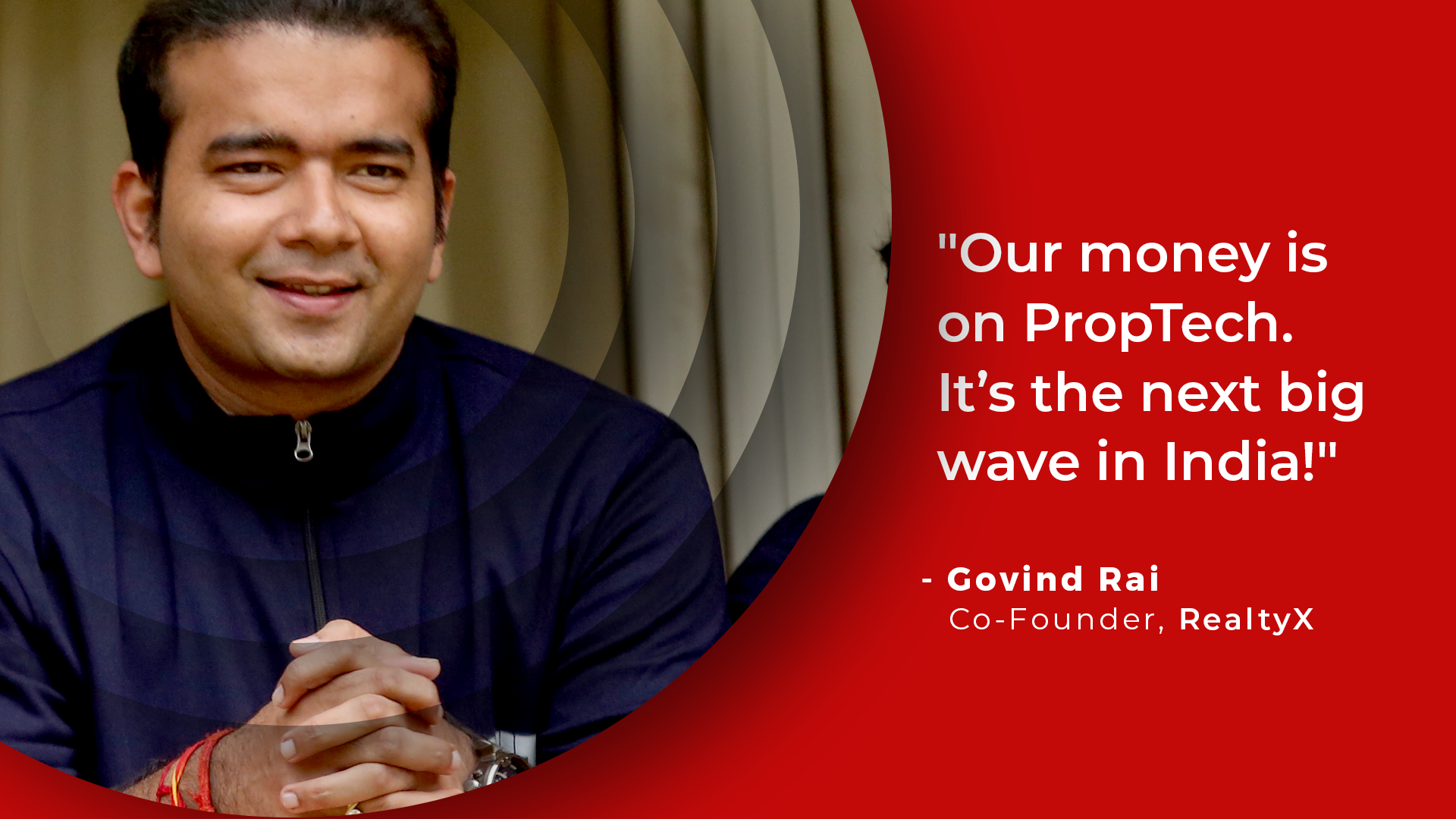 The Indian real estate is undergoing a massive change and growth in today's times. RealtyX stands out amongst the cluster of companies catering to this market purely because of the vision of its co-founder Govind Rai.
With a plethora of ideas ranging from PropTech to branding and Enterprise Resource Planning (ERP) and Customer Relationship Management (CRM) doing the rounds, the scope of real estate has become infinite.
We spoke to Govind Rai about his passion for real estate, his company and vision and why PropTech is the next big thing in India.
Why have you endeavored to be in Real Estate space over other potent business ventures?
It has been 8 years since we have been associated with Real Estate and we have dealt with more than 250 projects and 40 plus brands in different capacities. We have always got the adrenaline rush while working in this space since it observes drastic changes and only those who are able to continuously adapt to these changes are able to make some kind of dent in this space.
Arguably, the requirement for homes isn't going to stop at any point in time. The auto industry has been facing a sluggish movement. The requirement for automobiles maybe there now but, over a period of time, people are going to use it as a commodity with the presence of Ola and Uber. But that's not going to be the case with real estate because homes are going to be a prized possession.
On the other hand, homes will always remain something which people would want to own if they can. The houses in India as well as around the world, have always been a prized possession. There will be sales, there will be more houses, therefore growth is inevitable. The ones that will be able to harness the true potential of the industry, along with the right attitude and correct use of technology are going to survive and thrive.
How and when did you come up with RealtyX?
It was almost a year back while working with different Realty brands that we realized that a certain developer in the current market still gets 65% of their booking via Reference or loyalty. And here we have another set which carries almost similar equity and can boast of quality construction sites at 5-10%  when it comes to booking via referral, overall taking the cost of acquisitions at 4-6%. And that was our moment! With one question? Are all realtors truly utilizing the true potential of their current customer base? This lead to a lot of discussions.
We then went out with some of our solutions to quite a few developers, and we realized that there is a need gap and clients are ready to accept the solution we had for them. Thus started the journey of RealtyX. It promised real-time engagement with the customer base, providing a holistic solution for developers to be in touch with customers, while it lowered their cost of acquisitions, and the customers could have a seamless experience in and around their homes from one platform while having a potential earning stream by helping their concerned developers.
So for any new customer, there is a potentially lower cost for booking, saving lacs, just by going through the RealtyX channel.
So what is RealtyX?
RealtyX serves as a platform for developers to put forth a white label solution to their customers, offering them a single unified interface for anything and everything that a customer might have to attend to while living in their homes. Right from booking any facility in the developer premise, or paying their maintenance bills and the electricity bills, booking any hyperlocal service, paying a dry cleaner via virtual points to referring a certain developer project to their friends and family, it gives them an opportunity to earn as they do it all.
And from a developer point of view, they get their own customized interface, creating a definite experience for their customers, and at the same time, it helps to be in touch with them for a lifetime with all updated coordinates, generating leads at much lower cost and gaining on the momentum on sales by faster acquisition and a reduced cost of acquisitions. With any new notice or launch update being just a flash away.
What is the progress in terms of the traction you have made on the platform so far?
We have just opened our windows and have started taking Expression of interest from developers. So far, 33 developers have shared their intention to join our platform. We have also started with our first three deployments with Ajmera Group, Raunak Group and Mayfair Housing this week. By end of our first financial year, we are hoping to wrap our first 10 brands and 100 project deployment. Our aim is to close in with 50,000 customers on our platform by end of March.
What are your future plans with RealtyX?
In phase 1 we have focused on making as many functionalities live as possible. We have been open to the industry and developers' feedback and customisation. Accordingly, phase 2 is about consolidating that experience and ramping up our referral solutions. Developers will witness a lot many AI integrations towards Big data, helping developers get a closer view of customer behaviour patterns.
Voice recognition integrations are on way. Imagine Anu aunty being there in a kitty party and a new lady in the kitty party is looking for a house and all Anu aunty has to do is press the button to seek which apartment in her building is yet to be booked or yet to go on rent!? She may lose the house but with our platform, she is destined to earn.
When you say "a unified interface", how are you dealing with the presence of numerous ERP and CRM integrations on your platforms? Or isn't it a part of the offer?
RealtyX as a platform has been made with a lot of foresightedness. We want to be as relevant in 2030 as we are in today's time. Therefore, the platform has been kept flexible so that it can communicate with any ERP or CRM system available in India. We have tested them on all systems, and the results have been fabulous.
So, yes! Even when the lead is generated on our platform, a sales team member can access it on CRM  that they already carry, or a grievance can directly be seen on your ERP. All we need is those individual instance API, and then you can see the magic unfold on its own.
In that case, what is the strategy you adopt for data security?
Not only our domain is secured with a SSL certificate, but all the APIs are fully authorized & authenticated. We use the best dedicated hosting service with a firewall setup. We believe encryption is must, and hence we have encrypted our database which can be accessed by only backend server.
To prevent any type of unauthorized access, we follow a strict and restricted SSH authentication. Logging of critical operations is the basic thing which everyone should do and so we do follow it too. Not to mention multiple database backups per hour and timely code backups that our system generates.
Lastly, why do you have such a big bet on PropTech? Isn't it a relatively new and underexplored area within Real Estate?
We are ready to put every penny we have earned in our life betting on the PropTech space in India. It is going to be the next big wave in India.
ALSO READ: 5 Reasons Why Your Real Estate Brand App Should Be Powered By RealtyX