Young Turks – Featuring Parth Mehta Of Paradigm Realty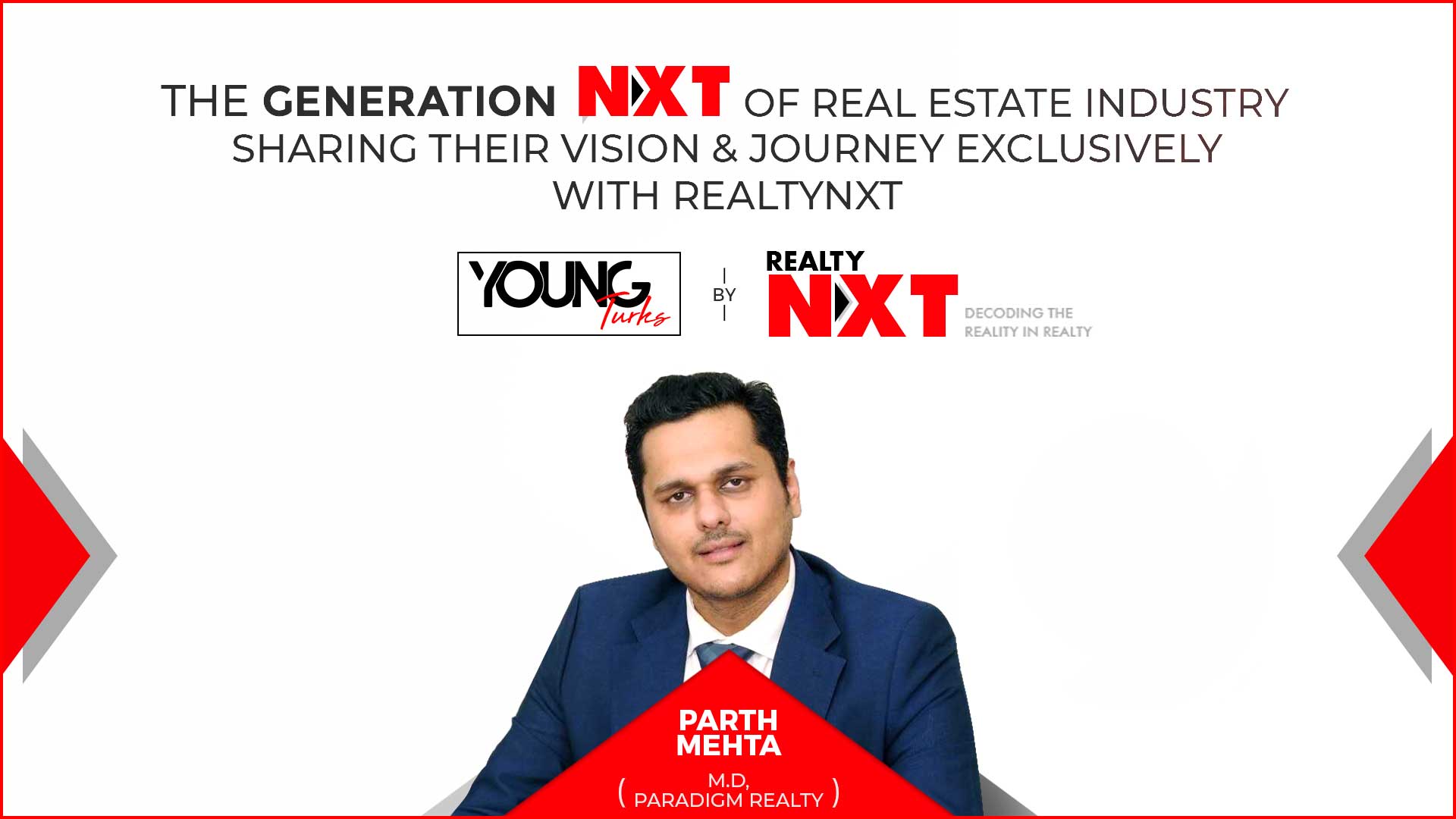 RealtyNXT knows that age is no bar when it comes to the young generation of real estate. Our Young Turks series is where we meet up with young minds who are achieving enormous success in the industry.
Their unique vision and attention to detail along with dedication and ability to make the impossible possible is what makes them so endearing. We recently met with Parth Mehta, the talented Managing Director of Paradigm Realty. He spoke at length about his journey so far and what the future holds for him and his company.
Our meeting with Parth Mehta left us fascinated and inspired at the same time. Despite being the founder and MD of one of the biggest names in Mumbai's real estate, Paradigm Realty, he is affable and has no airs whatsoever. He does have a very clear thought process.
This was exactly how Parth was even several years ago, when he knew deep down that despite a big degree in finances, it was never his true calling. Fascinated by what his grandfather did in real estate, he took a leap of faith. Instead of settling in for a typical 9-5 desk job involving numbers, he got lucky when he got the opportunity to join Wadhwa real estate group. Since then, there has been no looking back for this Young Turk who believes in taking risks and being a game changer. He is very clear about where he wants to take his company.
Parth has mastered the art of facing challenges in an industry when anything and everything can go wrong as there are so many factors involved right from the government, to getting the right piece of land. "Ever since our inception in 2014, we faced many challenges. Demonetisation, RERA, GST and recently the difficulties of NBFCs and home loans. We have seen many ups and downs in our journey so far. We have a very good team so that way we are very lucky," Parth said.
He also is glad that he has very good partners to collaborate with who showed faith in him and his organisation. "This faith and goodwill have been the driving force that helped us deliver 1,000 apartments in such a short span," Parth added.
While one imagines that there is cut-throat competition between Parth & fellow developers, he dismisses the idea. He feels that Mumbai is a city that gives so many opportunities to everyone and it's all about taking the right decisions financially and practically. He also believes deeply in the energy of the youth and feels its this young energy that makes his company stand out in the crowd. "We started with a team four people. Today, we are a team of 175 and counting. We are a very youth-oriented organisation where accountability is extremely important. We allow our employees to make mistakes and we ensure that they learn from them," Parth added.
Work ethics are simple yet important and not one person is burden with too much on his plate. Parth is in favour of having a capital closure before the start of any project so that in case of any unforeseen crisis the project's work is not affected. "We ensure that the project is delivered on time and don't mix funds of one project into another. We treat all our projects as separate entities," Parth said.
Talking about the future plans of his company, Parth has an astonishingly clear vision of where he sees his company this year. "By the end of FY 2019, we will deliver 350 projects of our flagship project Ananda in Borivali. We have another project called Casa Plazzo which we aim to deliver by June," Parth stated.
The young real estate maverick has his hands full right up to end of 2022 as of now with many more projects in the pipeline and we are pretty sure it won't stop at just that. His aim is clear to provide the best budget apartments and give his homebuyers the best value for money.
ALSO READ: Young Turks – Featuring Ricardo Romell of Romell Group