Raunak's 'Mumbai Band Rahega' Offers Flats At Reasonable Prices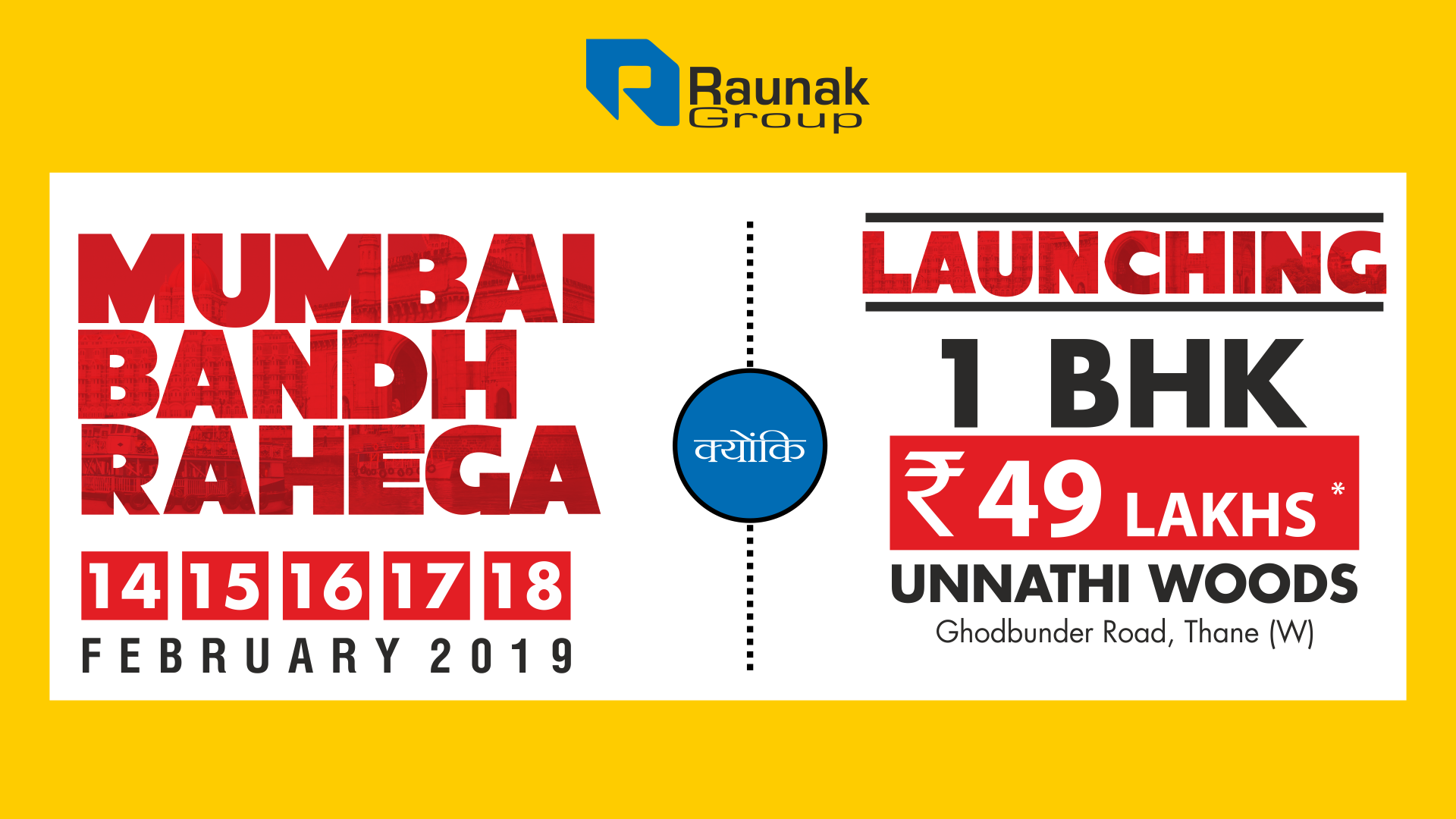 Buyers to get 1 BHK flats of Unnathi Woods Phase 7B located in Thane's Ghodbunder at Rs 49 lakhs on "Mumbai Band Rahega" Campaign.
Remember our last write up on '100 Days of Raunak'? Raunak group had promised affordable housing for 1000 Mumbaikars under this scheme.
But are you aware that Mumbai Band Rahega for five days?
Did you say that you are not aware?
Wait! Don't reach out to the newspaper or start googling. We will uncover the mystery behind why Mumbai Band Rahega!!!
Mumbaikars are soon getting a glorious opportunity to realise their dream of acquiring a home in the suburban city of Thane.
And guess what? The rates are truly unbelievable. Still confused why Mumbai Band Rahega?
Then let us get straight to the point.  
You have an unfulfilled dream of buying your own home. You are tired of paying rent or want to have a better accommodation. If the prices are low, the amenities are compromised. And if everything is just like you wish, the rates are high. But what if you get a luxurious house in a tony area with better amenities and access to school, college, hospital etc. at absolutely affordable rates?
And what if this offer lasts for five long days? Got a hint, right? When Mumbaikars have such tempting offers in front of them, why would they not take advantage of it?
If every Mumbaikar makes up his mind to own a house in this metropolitan city, why wouldn't Mumbai Band Rahega?
Thus, Raunak Group is geared up to launch a flamboyant campaign named "Mumbai Band Rahega". The campaign is launched ahead of the unfurl of its yet another benchmark project 'Unnathi Woods Phase 7B' in Thane. The campaign delivers 50 lakh apartments at reasonable prices.
Buyers can own their dream house in this exquisite apartment at prices starting from Rs 49 lakhs.  
Located at Ghodbunder road in Thane West, the offer is valid from 14th February 2019 to 18th February 2019 for 1 BHK flats.
Unnathi Woods Phase 7B has 2 towers with 268 units. Bus stop, hospital, school, shopping mall lie in proximity with these residential towers.
The early bird gets the best deal and homebuyers are sure to seize this opportunity of having a dream home equipped with all the modern amenities.
Thane is a suburban area of Mumbai and the city has become a favourite spot for real estate investors. Many projects have flourished in the city owing to the improved connectivity and better infrastructure.
It is a fact that the real estate industry is blessed to have visionary leaders striving for the betterment of this sector. But owning a house still remains a far achieved dream for the common man.
Thane city is undergoing a huge transformation and is quickly emerging as one of the most promising centres for business and trade.
There are ample employment opportunities in the city and it is a good time to buy a home either to settle or invest for future use.
Through this campaign, Raunak Group intends to provide abundant choices to people within a limited budget.
The prices offered during the five days of 'Mumbai Band Rahega' campaign are within the reach of common man. Thus taking him one step closer to his hope of possessing a home.
ALSO READ: 100 Days Of Raunak Caters To Housing Needs For All