How VR-led Visualization Can Overcome Architects'​ Biggest Challenges: BWT India Interview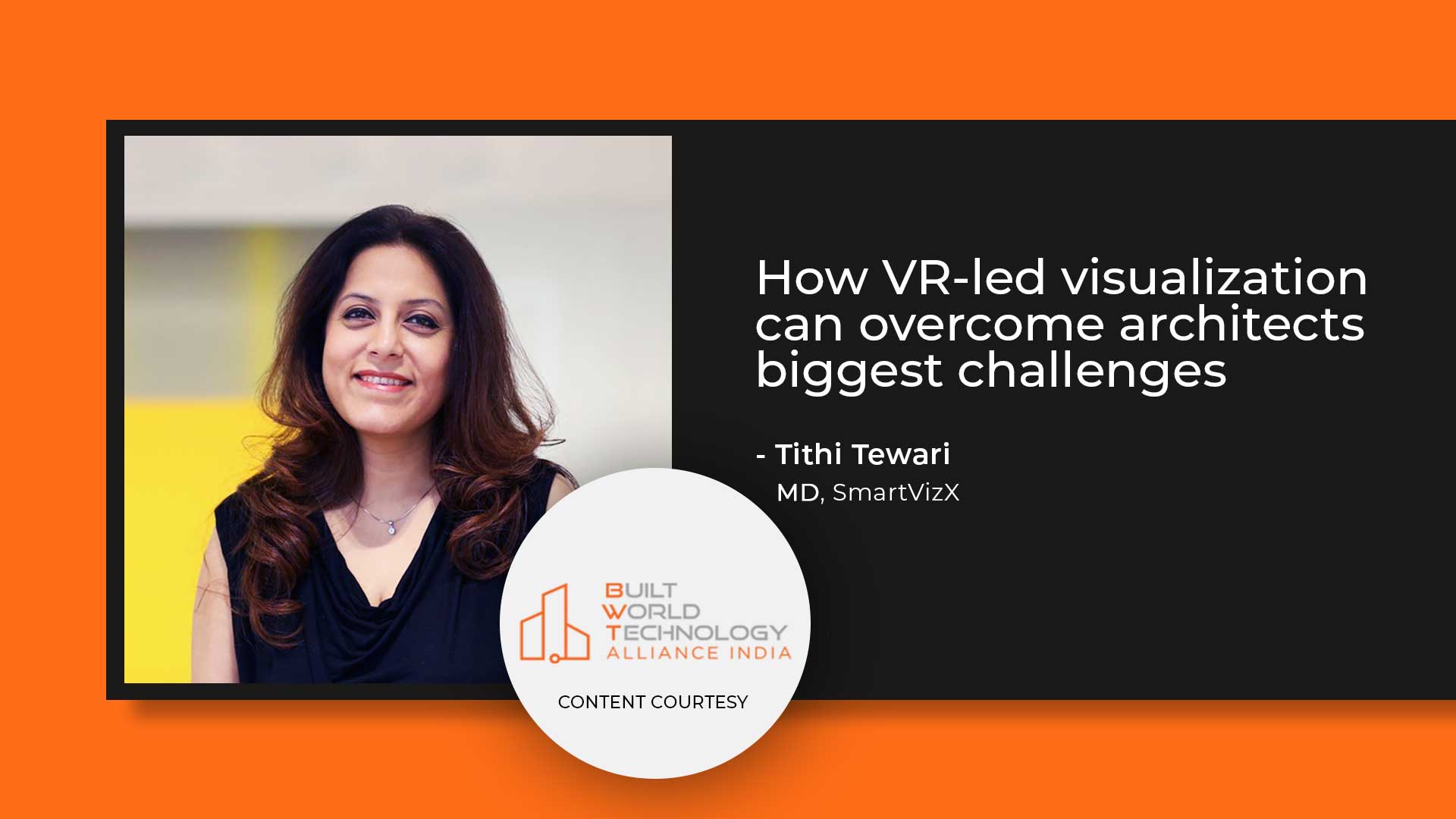 Virtual Reality (VR) is one of the most intriguing technologies converging with the real estate industry. Rather than being disruptive, it is seen as an enabler – both in the architecture and design phase and also in sales and marketing. I sat down with SmartVizX Managing Director Tithi Tewari – one of the brightest stars in India's ever expanding PropTech galaxy – to learn more…
RM: Tithi, in BWT tradition, please start by giving me the SmartVizX elevator pitch…
Tith Tewari (TT): SmartVizX has built Trezi, a fully immersive virtual reality platform that dramatically transforms design experience for the AEC industry by bringing together all stakeholders in the design project to collaborate at full scale. It delivers a real-time, immersive and interactive design experience that articulates design intent to match client expectations, and delivers significant business impact and improved profitability.
RM: How did you first identify the collaboration challenge between the design stakeholders?
TT: Having worked in leading Indian and International architecture and design practices over the last 20 years, we observed various redundancies and inefficiencies in the way architects and clients collaborate. As such, there was no single trigger to the idea of Trezi but an amalgamation of our experience and passion to affect productive change for the AEC industry. We observed that there was often a big gap in expected design outcomes on the client side due to an inefficient translation of design briefs. Add to this time and cost wastage in marketing for Building Product Manufacturers/Suppliers were key areas that needed addressing and were ripe for technological disruption.
RM: What issues does this manifest in?
TT: Design collaboration between multiple stakeholders leads to a series of issues. Firstly, such as errors and omissions in design and construction – numerous back and forth on the design. Secondly, multiple iterations resulting in delayed decision making and increased time consumption on closure of projects. Thirdly, cost overruns and reduced profitability on projects and lastly the gap between what clients expect and what they get, leading to less satisfied clients.
RM: And presumably that's where the VR comes in?
TT: Yes. Technology has created significant efficiencies and opportunities and stretched the boundaries of productivity and possibility across every industry. The limitations faced by businesses until recently are the catalyst for today's foundation of radical disruption. Technology is enhancing customer experience, increasing productivity and challenging the status quo in various industries.
The AEC industry is no different. VR-led visualization has been able to overcome one of the biggest challenges of architects—communicating design intent and collaborating effectively with multiple stakeholders. Immersive visualization not only helps architects communicate their design intent better to their clients but also to other stakeholders such as MEP consultants and contractors, by getting them into the design and experiencing the "physical" sense of volume. In the process, architects can finalize the design much faster, and the project progresses with reduced iterations, saving costs and time.
RM: I'd imagine it can be difficult to get buy-in from so many stakeholders in the value chain? Do you find resistance to VR from some quarters? And how do you deal with that?
TT: The key is to communicate the right value proposition to the right consumer persona. Entrepreneurs, business heads and lead architects understand and value business benefits of Trezi to a larger extent. Architects and designers tend to prioritize the technical features and the ease of adoption. Together, we believe that Trezi's offerings across the spectrum of building design professionals is tremendous. Like any other technology, VR has gone through an adoption cycle but we believe the age of immersive collaboration is now, and the future. As future generations become more digitally native, we see the scale and propensity to adopt VR rise globally.
RM: As VR becomes a more competitive space, how will SmartVizX differentiate?
TT: We are the first VR company in India to build and sell a VR product in the AEC industry, and we, of course, have our mantra! There are several key differentiators we bring to the table: trust, focus, client centricity, and we are a VR-first Platform backed by a team of 3D visual artists and developers who can help optimize model geometry and get it VR-ready quickly.
RM: What's been your funding model so far, and are you currently raising capital?
TT: We had invested our savings while starting SmartVizX. Last year, we raised a Pre Series A funding of Rs. 10 cr from YourNest Venture Capital and the Indian Angel Network's IAN fund. We are looking forward to raising our Series A this year.
SmartVizX is a Featured Technology of the Built World Technology Alliance.
Interview conducted by Rob Marten, Co-Founder, Built World Technology Alliance.