Sandeep Kumar Gupta Joins New Age PropTech Startup 'RealtyX' As GM Sales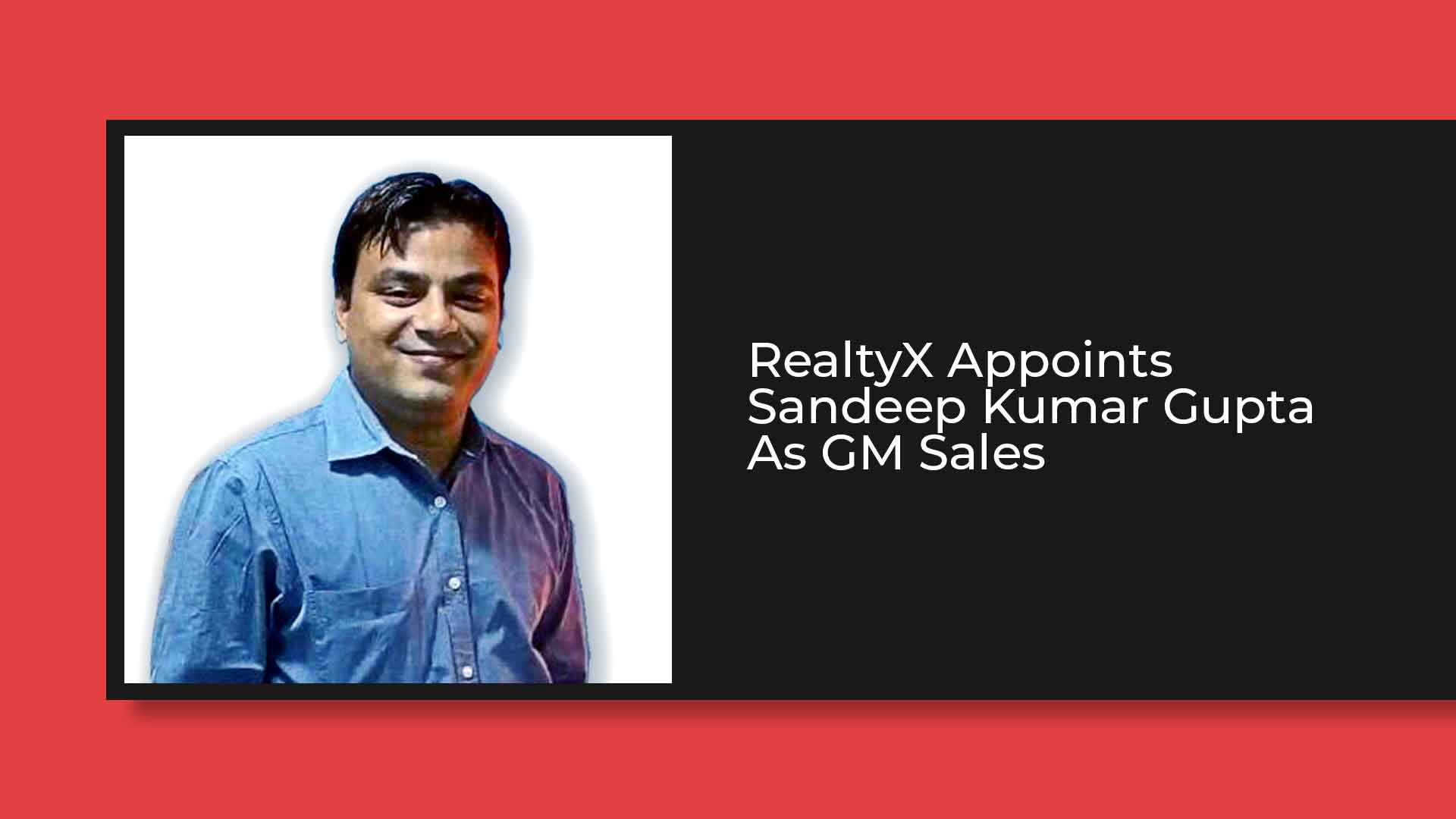 The new age PropTech startup RealtyX appoints Sandeep Kumar Gupta who has 14 years' experience in the industry as GM sales.
Sandeep Kumar Gupta is a familiar name in the Real Estate industry. With an experience of over 14 years in sectors like- Real Estate, Education, IT and Logistics, he has come a long way.
His proficiency as a startup expert is much lauded and his valuable insights have proved to be a great contribution to the industry.
As PropTech gains momentum in India, RealtyX intends to make a difference in the Indian Real Estate with novel ideas and innovative solutions for Builders, Brokers and Customers.
"RealtyX provides customisable White Label Solution for real estate companies with the focus on solving multiple issues of the developers and customers under one platform. Developers can run an in-house Loyalty Program, Generate Referrals at lower cost and Reward Customers on real time with an add-on of Facility Management, Hyper-local and many other important features. RealtyX gives an opportunity for developers to stay connected with Existing as well as New Customers."
With Sandeep on board, RealtyX looks forward to take things to a whole new level. Prior to joining RealtyX, he has worked with some renowned brands like- HiCare, ApartmentADDA, Educomp, Taxsmile & TNT.
At ApartmentADDA, his leadership role helped him leverage the Direct Sales business for the company to a very large extent. Sandeep is a commerce graduate from University of Calcutta and holds a Master's degree in Business Administration from Magadh University.
As RealtyX is excited to welcome a new member, Sandeep says, "It's such an exciting time to join the Real Estate industry, as technology and rapid change in today's business climate revolutionise the way companies are moving towards the online platform. I am delighted to join RealtyX to deliver the best services and digital solutions to clients. RealtyX has the right vision, a passionate team and a strong foundation.''
When asked to share the company's views, the Co-Founder and Business head of RealtyX, Govind Rai, says, "As the Indian real estate has embraced technology, this is definitely the right time to deliver top-notch solutions to developers, buyers and investors. The combined efforts of result driven companies and insightful leaders will definitely pave the way for constructive developments in the sector. As Sandeep joins our team, we are highly optimistic about the journey ahead."
ALSO READ: RealtyX Brings Visionary Thinking To Real Estate's Changing Face