Raunak Group Offers Special Bonanza For Women On Women's Day!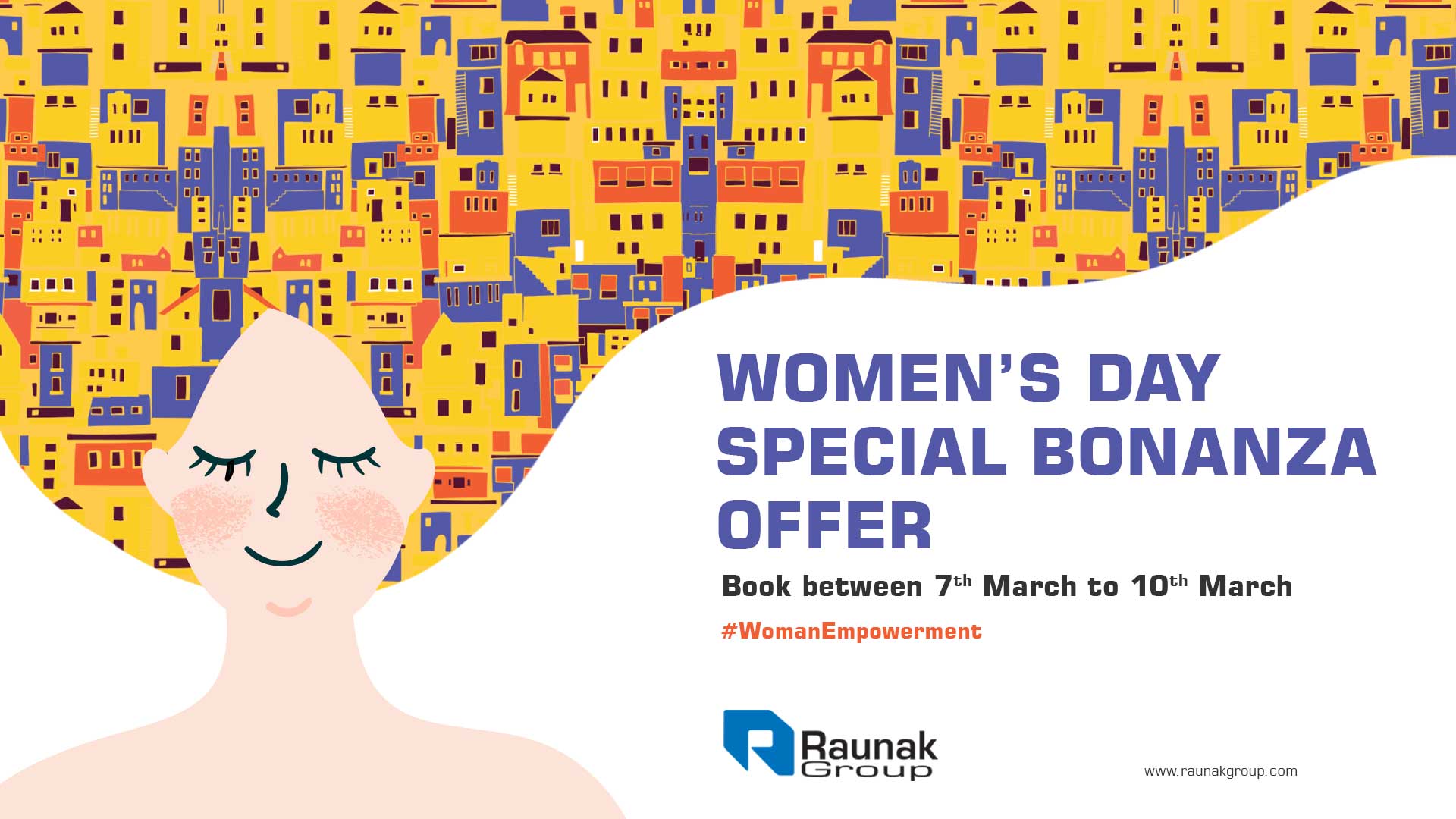 Women can save up to Rs 5 lakh between March 7-10 if they book any home with Raunak Group under India's biggest home buying movement '100 Days Of Raunak'
Gone are the days when all women did was take care of household chores. This era is all about equality in everything including when it comes to owning a home. This Women's Day, Raunak Group is offering all women a chance to empower themselves in the best way possible. The chance for a woman to not only buy her own house but also avail special discounts and offers. While governments have empowered women with several special schemes throughout the years, this time under the PMAY (Pradhan Mantri Awas Yojana) and special loan offers from banks, home buying has become an easy task for women across the country.
Acting as a catalyst to enhance the lives of women and boost the government's initiative, India's biggest home buying movement '100 Days Of Raunak' brings to you a special offer on the occasion of Women's Day!
From March 7 to March 10, 2019, any woman who books a home under this scheme with Raunak Group will instantly get a discount of Rs 2 lakhs

She will also get a specially designed modular kitchen by Sleek

Avail PMAY benefits of Rs 2.36 Lakhs*

Get an interest subsidy of 0.05 %*** on loans
When added up, all these three offers will help women save almost Rs 5 lakhs** on their dream home!
Projects falling under this scheme include Raunak Residency, Raunak City, Raunak Bliss, Raunak Heights and Unnathi Woods Phase 7B.
Benefits for female home buyers under PMAY
The ownership of a house has to be taken in the name of a female family member even if she is not buying it

Salaried women and widows will be provided with several preference provisions especially in allotment of homes

Women buyers can avail special interest rate schemes by all the major banks including private sector banks like ICICI, DCB, Axis, Yes, etc and public sector banks like Bhartiya Mahila, Bank of Maharashtra, IDBI Bank, Bank of Baroda, etc

Several state governments have promised to exempt buyers from paying an additional stamp duty if they get the house registered under the name of a female family member
Benefits for woman home buyers in India

If a house is bought in a woman's name in the states of Delhi and Haryana, the stamp duty is 2 percent lower

Even in most other states, the stamp duty for women is often one percent lower than it is for men. This is why it is best for married couples looking to save a few extra rupees to buy their home in the name of the female partner.

Suppose if a male buyer wishes to gift the residence to the female partner, even in that case he will have to pay a much lower stamp duty fee

One can also avail discounts on stamp duty by jointly registering property on both names

Women get a tax deduction of Rs 2 lakh on the rate of interest for home loans

If a wife and her husband jointly apply for the loan,




both can claim tax deductions on the interest rate paid

When giving out a home for lease, women are eligible for a cut in the interest rate paid against the mortgage loan against the net rental value

In states like West Bengal, lands given by the government for housing purposes have to be registered under a female family member's name
So all you women out there, avail this chance of a lifetime to empower yourself and enhance your lives. Take the lead and seal the deal!
(* T&C Apply **Saving is for indicative purposes only. Exact figures may vary ***Home Loan Interest Subsidy may depend on the bank)  
ALSO READ: Raunak's 'Mumbai Band Rahega' Offers Flats At Reasonable Prices