The Home Buying Scenario Ahead Of Gudi Padwa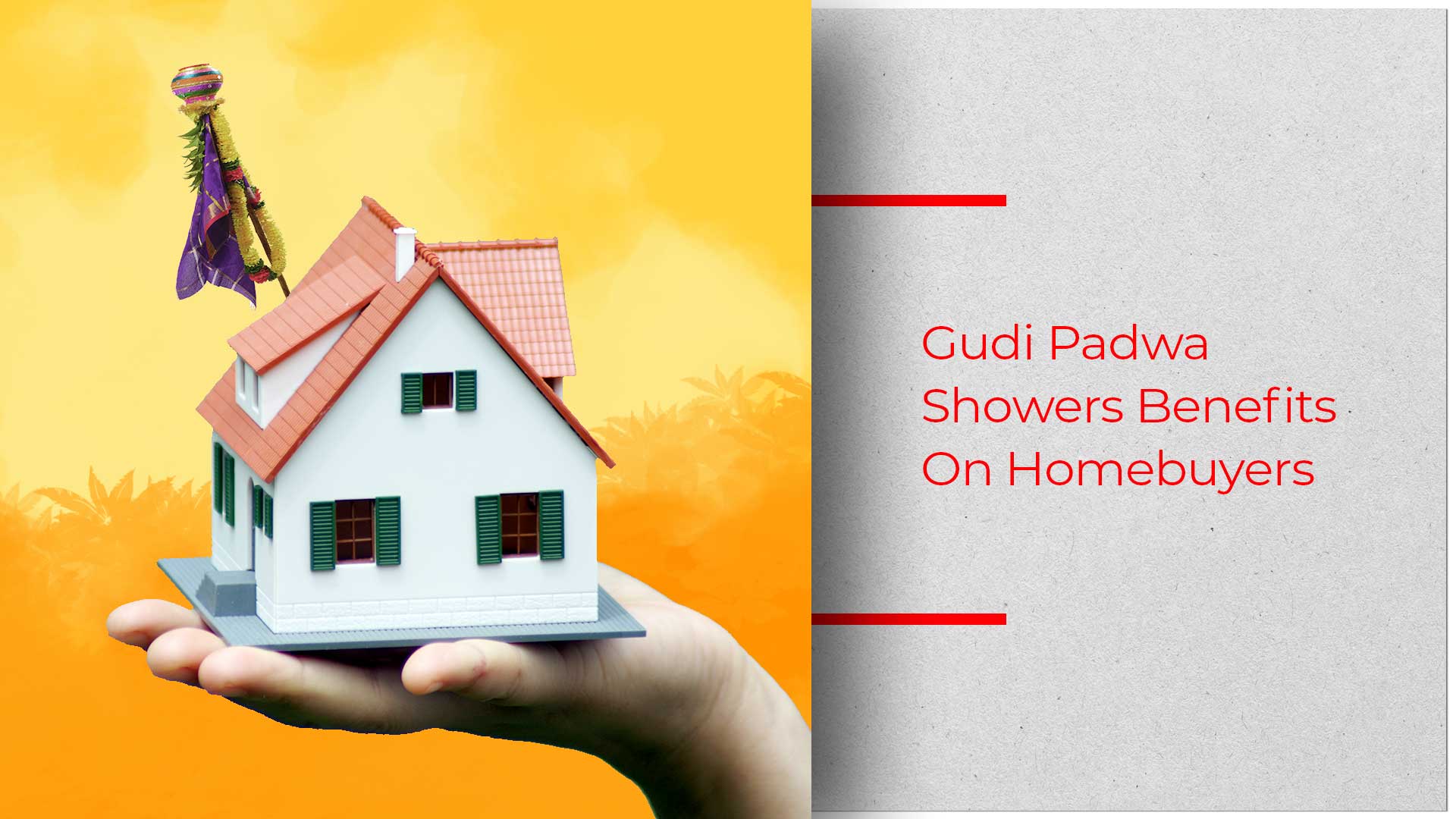 This Gudi Padwa offers a perfect opportunity to buy a home, thanks to the government initiatives and offers by various real estate firms
Gudi Padwa is an occasion to celebrate the beginning of a new year. While the new year is celebrated as Gudi Padwa in Maharashtra, the same festival has different names in different parts of the country. It is Baisakhi in Punjab, Ugadi in Andhra Pradesh, Puthandu in Tamil Nadu and Vishu in Kerala.
India is a diverse country, but the sentiments of love, unity, sharing and caring remains the same, no matter which region or community you belong to. It is a fact that businesses bank on these sentiments and introduce new offers and discounts in the name of festivals. Well, the real estate developers are also among those who offer lucrative offers. This Gudi Padwa, however, is going to be different for developers and homebuyers.
The Goods and Services Tax (GST) rates were slashed on under construction projects on February 24. Post the GST rate cut, buyers can save a huge chunk of money on their new home purchase. The middle-class segment has happily welcomed the government's GST rate cut and other initiatives. The government has also brought down the GST rate to a mere 1 percent for homes that do not exceed Rs 45 lakhs. 1 percent GST will also be applied in non-metropolitan cities for homes less than 968 sq. ft. Buyers are thus looking forward to buying two homes – one near their workplace and one in their hometown.
The Chief Minister of Maharashtra, Devendra Fadnavis has also announced a Gudi Padwa gift for homebuyers. The Maharashtra Government has decided to keep ready reckoner rates unchanged. This means that the stamp duty, property tax and FSI purchase rates will not be affected across the state.
The lending rates of home loans have also become cheaper following RBI's cut in repo rates. RBI has cut the repo rate for the second time in two months. The government aims to make home loan EMIs cheaper than house rents. This will further boost the housing segment and the home sales and supply have already risen.
This Gudi Padwa, with a slew of sops and initiatives by the government, homebuyers have every reason to buy a home. If reports of ANAROCK data is to be believed, housing sales are expected to rise by 10 to 12 percent in the first quarter. Housing sales are already witnessing a surge across the top 7 cities.
On the other hand, developers are marketing aggressively with offers, discounts and bonanza to attract homebuyers. According to reports, Godrej Properties has already announced selling 2,900 homes with a booking value in excess of Rs 2,100 crore in the quarter ended March. Runwal Group, Sheth Creators, JP Infra Mumbai Pvt Ltd and Rustomjee Urbania are among those who are running Gudi Padwa offers. In an offer valid till Gudi Padwa, a customer can save up to Rs 15 lakhs on a purchase of flat in Runwal Bliss and Runwal Forests. Zero percent downpayment, free stamp duty registration, no payment till possession are some of the popular offers that developers give on account of auspicious festivals like Gudi Padwa.
Ashok Mohanani, Chairman, EKTA World, Vice President, NAREDCO Maharashtra, said, "Gudi Padwa is one of the most auspicious occasions for high-value purchases and has traditionally been a preferred day for Indians to lock their purchases. During such festivities, the mood is buoyant and several developers will sweeten the deals with offers and value propositions resulting in a hike in sales. The recent policy changes impacting real estate by the Government in just the first three months of the year, i.e., both budget and the most recent cut in the GST rates on under construction properties will further enhance numbers of home sales. Although, the impending elections could lend a speculative mood but largely we will see good sales numbers."
Deepak Goradia – Vice Chairman and Managing Director, Dosti Realty said, "This Gudipadwa we have come up with the "I Pay Less" privilege by Dosti Realty. Starting 4 April, the campaign goes on till 22 April 2019, where buyers will be offered a plethora of options to choose from. Besides this buyers can avail a GST of 5 percent on all under construction projects of Dosti Realty. The "I Pay Less" privilege offers fabulous benefits across our 5 projects in Parel, Thane (W) and Shil Thane namely Dosti Belleza, Dosti Majesta, Dosti West County, Dosti Desire- Dosti Pearl and Dosti Planet North – Phase 2 – Dosti Jade." According to him, the objective of this campaign is to offer buyers flats ranging from 2 BHK to 4 BHK at unbelievable prices.
The group has also launched Dosti Planet North – Phase 3 – Dosti Onyx which offers smart 1 and 2 BHK homes where they have an early bird price offer for a limited period and an added benefit of 1 percent GST applicable on the 1 BHK homes.
When asked about how this Gudi Padwa is different from previous years and the response from buyers to various offers, he said, "This Gudi Padwa has loads of benefits for potential home buyers/ investors. Many developers are offering the benefit of reduced GST to its customers. This, coupled with various Gudipadwa offers and the RBI reducing the repo rate, could result in huge savings for those looking at purchasing a home. So far, the response to the same has been decent."
Nayan Shah, CEO and MD of Mayfair Housing, said, "Considered as an ideal time for home buying, during Gudi Padwa many prospective buyers are on the lookout for booking their dream home. With our special Gudi Padwa discount offer of 1.60 lakhs coupled with PMAY benefits, customers can avail discounts over 4 lakhs by buying a spacious 1BHK apartment at Mayfair Aasaan (Asangaon East). The project is located at walking distance from the railway station and has all modern amenities. Response from home buyers has been very positive. We have had a lot of enquiries so far and are looking forward to the booking tomorrow."
Rajan Bandelkar, Director Raunak Group said, "We are running an offer called zero GST on three projects, two in Thane (Raunak Residency & Raunak Heights) and one in Kalyan (Raunak City), where the customers do not have to pay any GST for the projects. The response has been great with a lot of our units being sold. We have just computed India's biggest homebuying movement and this is the last stretch of the homebuying movement. With Gudi Padwa, the 100 days' promise of the homebuying movement is coming to a close and we are very glad to have delivered more than 576 Mumbaikars their dream home. On account of Gudi Padwa, we are targetting another 100 homebuyers with our zero GST offers."
Vivek Ram, Project Head, One Mahalaxmi, said, "Gudi Padwa is an auspicious day, especially in Mumbai and we aimed to design an exclusive payment schedule for our buyers. We are offering a 20:20:20:20:20 payment schedule, with flexibility for the initial down payment. It is a 30-day exclusive offer. Gudi Padwa, 2019, seems to very different. Last year the realty space didn't perform well. But this year with the GST reduction on under construction projects and banks reducing their home loan rates, we are expecting a distinct increase in the sales. We already have customers who are anticipating the Gudi Padwa offer at One Mahalaxmi."