Joint Ventures Emerge As A Solution For Crisis-hit Developers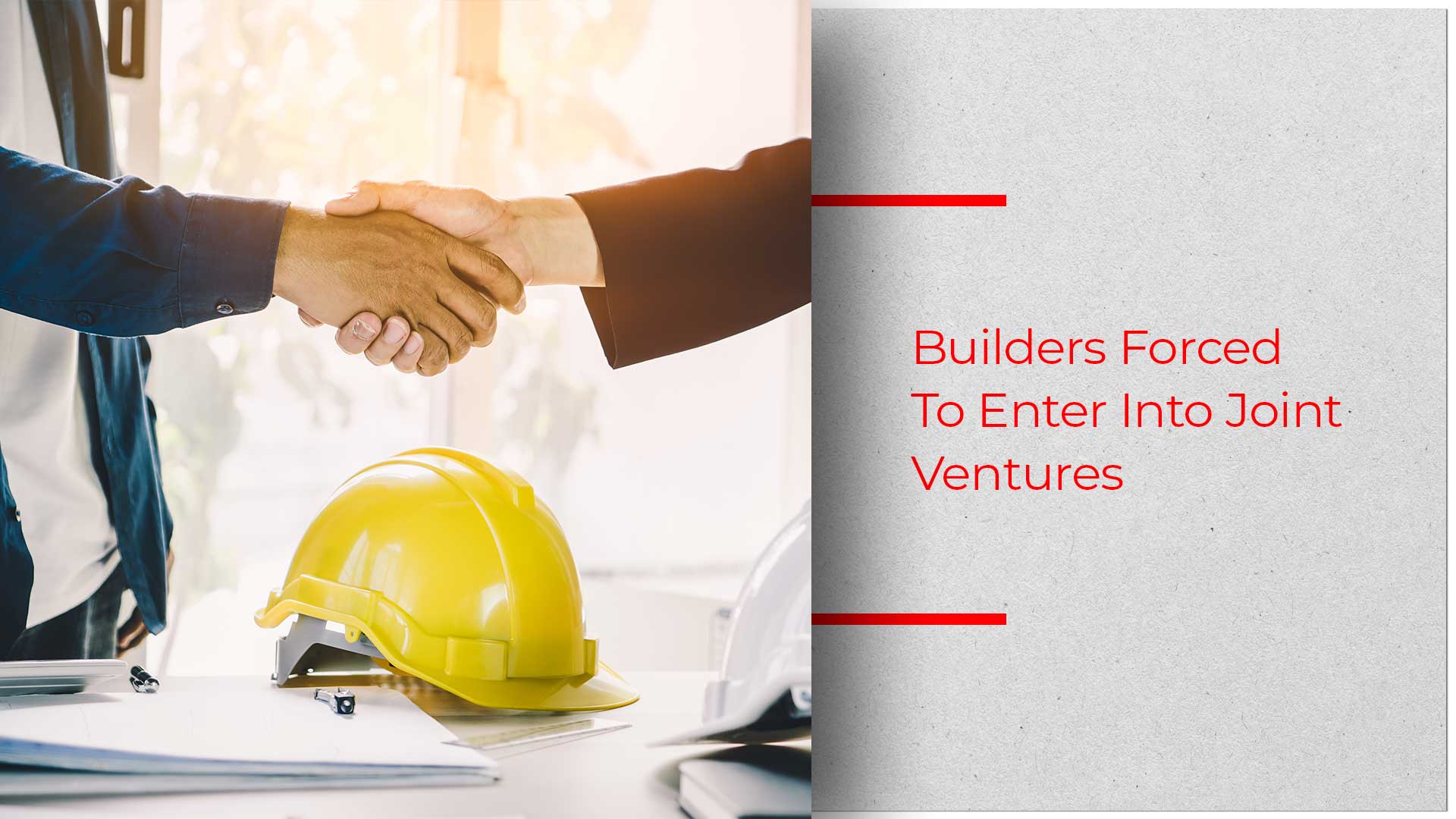 Liquidity crunch has forced developers to collaborate with big developers to complete their stalled projects
Due to the shortage of funds, builders are finding it hard to complete their projects. There is a huge number of stalled projects and builders are in a difficult situation as they are unable to proceed with the completion of the project. According to reports, as many as 70 projects of around a dozen financially stressed builders in Mumbai are waiting to be acquired by large developers or to be jointly developed. Developers facing crisis situation are eager to sell land banks to financially stable developers. A city developer confirmed that struggling developers want to sell their land to players with strong finances and hunger for expansion.
D B Realty, led by partners Vinod Goenka and Shahid Balwa, are looking for partners to finish their incomplete projects. Crown is one of its luxury projects located at Prabhadevi which comprises of three skyscrapers spread on a 5.75-acre plot. However, this project has been taken over by Rustomjee as part of a 'development management' programme. Boman Irani, Chairman and MD of Rustomjee, said that they had been approached by various developers and financial institutions to evaluate projects that would be better served with a fresh infusion of capital, change of brand and enhanced execution skills.
Sudip Mullick, a partner at Khaitan and Co, said that developers would be interested in pumping money to complete ongoing projects only if there is substance left in the project of a struggling developer. Mullick clarified that big players are looking at investing in large projects where they would control construction, but procuring permission and approvals will be left to the existing developer.
According to ANAROCK Property Consultants, 1.92 lakh apartments worth Rs 2,17,550 crore are stuck in Mumbai Metropolitan Region. Most of these projects were launched in the year 2013 or before that. According to Anuj Puri, Chairman of ANAROCK, financially stressed builders scouting for stronger developers to either jointly develop projects or for a complete takeover is gaining ground.
Private equity funds are also investing in incomplete projects. Not just that, they are also playing an active role in project designing, pricing etc. Kotak Realty Fund's investment of Rs 100 crore in a commercial project last year near Andheri-Kurla Road helped the builder to partially pay off his loan. Builders are also taking up slum rehabilitation project. Godrej Properties which is a part of the Godrej Group has entered a slum rehabilitation project for the first time. It signed an MoU with Omkar Realtors and Developers to redevelop Nargis Dutt Nagar, a 4.2-acre slum sprawl at Bandra Reclamation. Omkar is going to handle the rehabilitation of 1,300 slum tenements and would rehouse the slum families free of cost on a portion of the land. Godrej will construct the free sale component of 1.1 million sq ft and sell it as a luxury residential project.
Source: ET Realty
ALSO READ: 5.6 Lakh Pre-RERA Housing Projects Stuck In Top 7 Cities