Top 10 Co-working Space Providers In India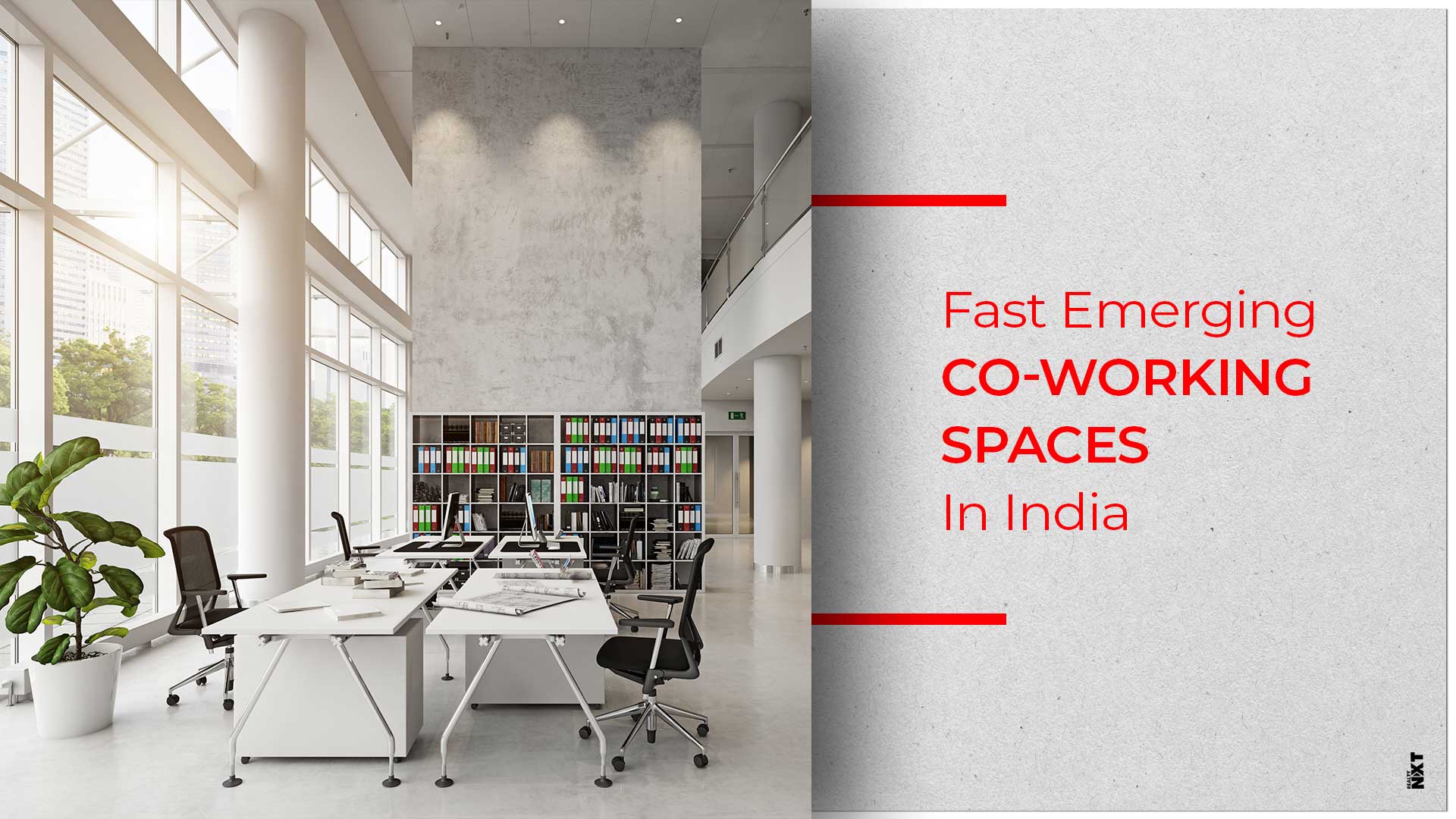 With India witnessing a huge rise in the number of co-working spaces leased, here is a list of top ten co-working space providers in India
Coworking spaces have already emerged as a favourite among millennials. Flexible workspaces, pleasant ambience and opportunity to network with like-minded individuals are the peculiarities of coworking spaces.
RealtyNXT, in this article, lists down the top 10 coworking space providers in India.
1. We Work
WeWork has a presence in 115 cities across the world that includes the Indian cities of Gurugram, Bengaluru and Mumbai. WeWork is soon to be launched in Pune, Noida and Hyderabad. It was founded in the year 2010 and is headquartered in New York City. The shared workspace has business class printers, private phone booths, 24/7 building access, mail and package handling, super fast internet and IT support among others are what the WeWork community has access to. This flexible workspace provider conducts networking events to help expand your professional circle and wellness events to strike that perfect work-life balance.
2. Bombay Connect
Bombay Connect is India's first co-working space provider. Bombay Connect is now rebranded as Red Brick offices. The co-working space is equipped with wifi, air-conditioner along with LCD/projector, IT support, cafe/lounge etc. The coworking firm currently has a presence across the Indian cities of Mumbai, Hyderabad and Pune. The firm boasts of a client list consisting of reputed companies like Wipro, Marico, Airtel, Tata Consultancy Services etc. There is a wall partition with seating arrangements for job getters and job providers. The place serves as an ideal destination to conduct interactive sessions, workshop and events. Avid readers have a mini library to satisfy their craving for books and foodies have a kitchen to cook something delightful anytime they are hungry!
3. 91 Springboard
The coworking space was officially launched in the year 2013 in Delhi. It started out as a small space in Mohan Estate, New Delhi. The coworking firm currently has expanded to cities of Bengaluru, Delhi, Gurugram, Goa, Hyderabad, Mumbai, Navi Mumbai, Noida and Pune. Wifi connection, LAN cable internet, projectors in office and conference rooms, CCTV cameras, medical services, locker facility, etc. are the key highlights of this oldest coworking space in Delhi NCR. 91 Springboard lets the individuals customize the space according to their preferences. It is open 24/7 with tight security and also conducts focused-community and networking events for women.
4. Innov8
Innov8 is a coworking space provider spread across Delhi, Chandigarh, Bengaluru, Mumbai, Noida and Haryana. High-speed wifi, ergonomic and modern furniture, recreational and breakout zones, cafeteria and lunch room, community and networking events, excellent power backup are the key highlights of this coworking space. The annual membership fees range from  Rs 8,000 to Rs 20,000 per month. The rooftop garden is a major attraction here and truly defines the name and aim of this firm – innovate!
5. Regus
Regus is the world's largest co-working space provider. This flexible space solution provider claims to suit businesses of all sizes and budgets. From private office space to desk space in a shared office environment, Regus has multiple ways of optimally utilising the space and offering it to a wide range of target audience ranging from freelancers to startups. The firm allows you to add more desk space as and when needed. Regus also has an application to book and manage workspace from wherever you are.
6. Social offline
Social offline believes in combining work and play to create a relaxed and collaborative work atmosphere. Social offline has a presence in New Delhi, Mumbai and Bengaluru. One of the major attractions of this flexible space provider is the on-site cafe that offers a broad range of delicious hot beverages, breakfasts, lunches and desserts. It is an urban-styled space that combines the best elements of an office and a cafe. 
7. CoWrks
CoWrks has 23+ centres in 5 cities all across India. This workspace caters to freelancers, startups and small and medium businesses. Flexible contract terms, customisable offices and enterprise-grade security are some of the peculiarities of CoWrks. The annual membership fees depend on the amenities in the centre as well as the location. The 'CoWrks Connect' application enables members to connect with the global CoWrks community. CoWrks has an in-house team of experts to analyse the utilisation of spaces by the tenants. This fast-growing space provider is investing money and efforts in thoroughly understanding how a given space is used. CoWrks has been in operation since the year 2016.
8. Awfis
Awfis is India's largest coworking space provider with a nation-wide network of 55 centres with 2500+ cities in nine cities and 45 micro markets. More than half of its client base comprises of SMEs and corporates while startups, entrepreneurs and freelancers make up for 20 percent of the client base. This workspace is characterised by colourful and playful decor. Awfis centres are open from 8 am to 8 pm and also encourages collaboration through fun events like festival celebrations, musical fests, stand-up comedy, special breakfast and lunch events etc. This shared space provider has partnered with leading hotels such as The Lemon Trees Hotels, Hyatt etc. to provide luxurious meeting rooms and business centres for the member community of Awfis.
9. Investopad
Investopad serves as a platform that provides mentorship to budding startups. The firm also funds projects that have the potential to scale new heights. The firm has an in-house team of experts to guide startups and claims to conduct regular workshops, seminars, knowledge sharing sessions and meetups. Economical and startup friendly are the key highlights of Investopad which has a presence in Delhi, Bengaluru and Gurugram. Audio-Visual interactive event-spaces and conference rooms, high-speed fibre optic internet with dedicated bandwidth, an extensive range of startup library resources including startup manuals, marketing guides and skill books are some of the facilities that Investopad has in store for the entrepreneurs and businessmen.
10. Bangalore Coworking Hub
This coworking space offers ready-to-use plug and play shared and virtual office space with flexible office configurations for businesses of different sizes. The coworking hub has facilities that include parking space for employees, daily cleaning services, high-speed internet connectivity among others. South Indian, as well as North Indian meals, are available at a minimal charge. Inbound and outbound mail/package handling is another peculiarity that has proved immensely beneficial for startups, freelancers, independent workers, consultants and emerging businesses.
ALSO READ: 5 Reasons Why Co-Working Spaces Are The Best