Top 10 Real Estate And Property Search Portals In India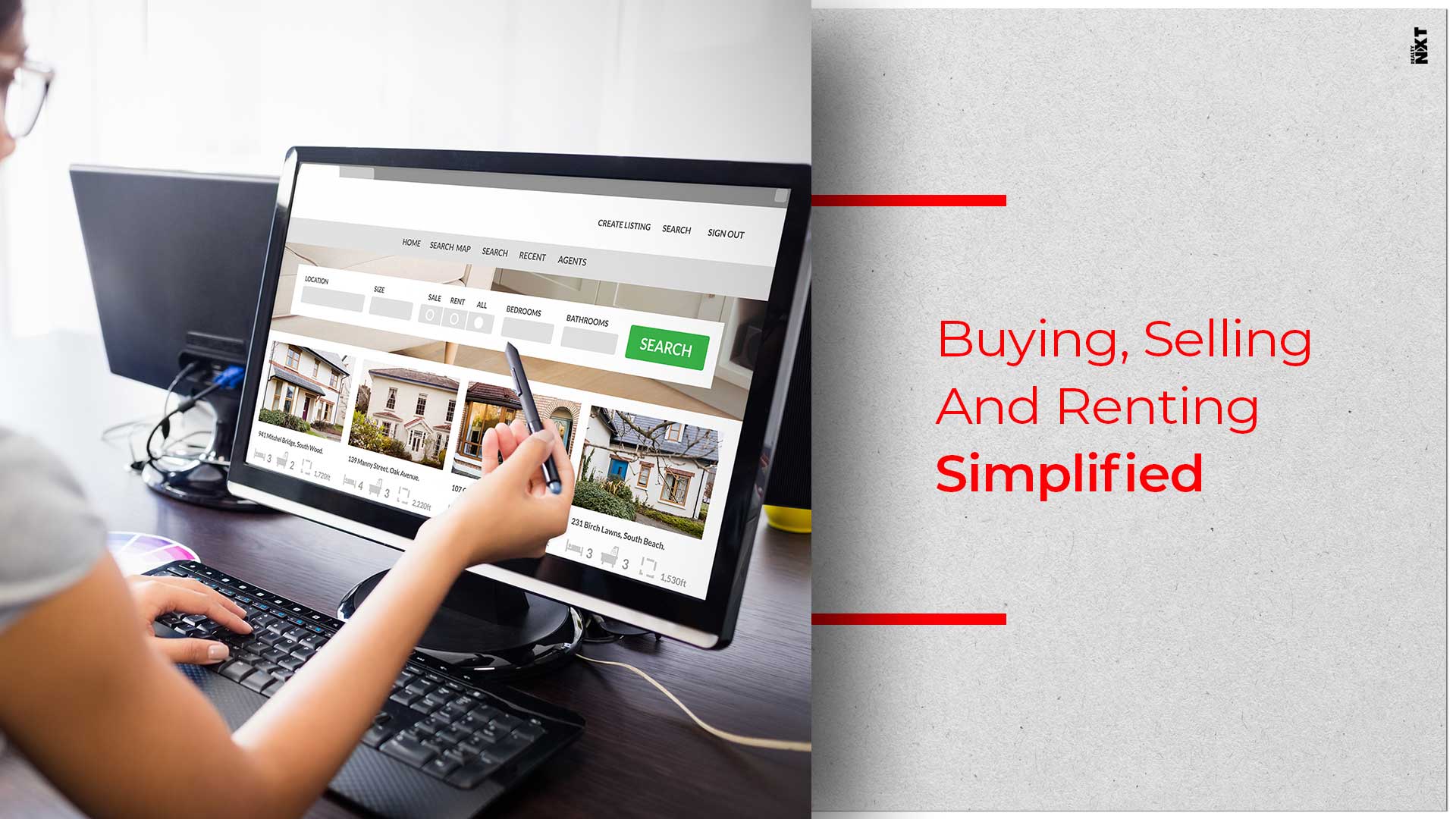 Property portals in India are garnering a huge response, especially from buyers. As people turn to online real estate portals to simplify their search process, here is a list of portals you can rely on for buying, selling or renting
Property portals are those that collect information on residential or commercial properties from varied sources and bring it under one roof. The number of online property portals in India is rising.
RealtyNXT lists down the online property portals in India that have already established a solid presence as well as those that are emerging to become a favourite among the customers.
1. 99 acres
99 acres serves as a huge platform base for buyers, sellers, renters and owners. This online property portal, based in Noida was founded in the year 2005. The website allows easy navigation through its different sections. Individuals can select any one option between buy and rent depending on their needs. The website helps you to choose between residential and commercial properties. Residential properties are further bifurcated on the basis of the project status. New launch, ready to move and under construction are the categories under which the properties are listed. Commercial properties are also categorised into guest-house, banquet halls, commercial showrooms, shops etc to name a few. You can also advertise your property for sale or rent. 'Feature Listing Upgrade' service of 99 acres allows advertisers to get maximum visibility for the entire property listing. while a section of the website is dedicated to present international properties, the portal also helps individuals decide the best home loan deal. 99 acres witnessed double-digit growth in revenue.
2. Magicbricks
Magicbricks is another online property portal that has become popular among the developers, dealers, sellers and buyers. It was founded in the year 2006 and is a division of the Times Internet Limited. The portal is ideal for those looking to buy, rent or sell their property. It recently introduced CHAT to let people go on with their search process without disclosing personal information like a contact number. Magicbricks had also recently announced the use of Artificial Intelligence and Data Science technology to take its brand a notch higher. Propworth which is an AI-based property valuation calculator by Magicbricks is the first of its kind property estimation app, that helps the application to throw accurate results of property prices across major real estate markets of India. The real estate portal recorded 74% on-year growth in the second quarter of the year 2018.
3. Housing.com
Headquartered in Mumbai, Housing.com is an online real estate portal that was launched in 2012. Finding, renting and selling homes are simplified with Housing.com. The portal presents 3D models for new projects and delivers 360-degree views for every piece of land listed with Housing.com. Plat, RealtyBI, HomeBuy360 and Indian Real Estate Forum was acquired by Housing.com in the year 2015. Housing.com was later sold to PropTiger for about $70 million. The portal allows customers to search for properties based on geography and various other filters. The portal allows individuals to sell their property easily. All one need to do is fill in details like property location and the purpose of listing the property, whether it is for sale or rent.
4. NoBroker
NoBroker claims to be the world's largest NoBrokerage property site. The portal makes it possible to buy/sell/rent houses without paying any brokerage. The site connects tenants and flat owners directly. This online portal is based in Bengaluru and was founded in the year 2014. The portal ensures that all the listings are directly from the owners or shared accommodation parties. Individuals can shortlist flats sitting at the comfort of their home without physically visiting the properties. This saves time and effort and helps to shortlist properties within less time. Commercial properties that are available for sale can also be searched for by using various filters like location, carpet area and other specifications. NoBroker has recently announced an expansion to ensure presence in top 20 cities.
5. Commonfloor
Commonfloor is a platform that allows buying, renting and selling of residential properties online. The website has properties listed under different categories like Nature Homes, Budget homes, stylish homes, luxury homes, kids friendly, home office homes etc. the website also lets you have a 360-degree view of the inside of the apartments, interiors, location surroundings and amenities. Commonfloor was founded in the year 2007 and has property listings from over 200 cities of India. Quikr merged with Commonfloor in January 2016 with its real estate vertical QuikrHomes.
6. Proptiger
Proptiger is an online real estate advisor that lets you browse through more than 139,000 verified real estate properties. It provides accurate information on amenities, neighbourhoods and cities with genuine pictures to support the property listings. Once you shortlist your favourite homes, Proptiger will arrange site visits. It also helps in securing home loans and aids in property registrations. The online portal also helps to connect with its property expert. You can get in touch with a dedicated relationship manager for your property needs. There is also a dedicated section called PropGuide which keeps the viewers updated on the latest trends in real estate. PropTiger acquired brands like Makaan.com, OoBI, 3DPhy and Proprates in the recent past and has expanded to nine cities with 18 offices. Proptiger has its headquarters in Haryana. Proptiger acquired Makaan in April 2015.
7. QuikrHomes
QuikrHomes, founded in the year 2015, allows you to browse through millions of property listings across 900+ cities in India. It allows quick and convenient search for apartments, commercial properties, land-plots and other real estate properties. Quikrhomes lets you filter your search results based on price, number of rooms, area size, locality and other relevant property amenities. It also acquired home rental startup Grabhouse in November 2016. Quikr acquired real-estate analytics platform realtycompass in Dec 2015. By acquiring the real-estate analytics platform, Quikr wants to address the needs of the evolved home buyers and investors who seek better decision-making tools. QuikrHomes is committed to building an all-inclusive real-estate marketplace for its consumers. It also made an investment in Indian Realty Exchange (IRX). IRX is a mobile-first aggregator of real estate agents to step up long-term engagement with the broker community. Quikr has also made an investment in A N Virtual World Tech Ltd, the company that runs hyper-local search engine providing 360-degree street views under WoNoBo.com
8. Nestaway
Established in the year 2015, Nestaway is a Bengaluru based rental housing solutions firm. The online portal lets your browse through shared rooms, full house and private rooms. The portal currently has listed 297 shared rooms and private rooms each and 159 full houses. Recently the portal raised $10 million from Tiger Global and Chiratae Ventures as a part of the Series D round. Nestaway lets individuals rent homes at just 2 months' deposit. The firm also assists you in visiting homes that you have shortlisted. By referring owners and tenants, you can also earn points.
9. OLX homes
OLX is fast emerging as a preferred choice for property search. OLX is going to aggressively focus on its real estate vertical with plans to expand listings to 25 more cities in India. According to a recent report, real estate is among the fastest growing verticals of OLX. As a part of its expansion, OLX has decided to double the headcount of its sales team in the year 2019. Business listers, especially premium developers, have doubled their spends on OLX  since 2018. OLX has grown its sales team to engage with the local real estate communities. The new team will also be responsible for training the sellers on the effective use of the tools on the platform to increase the visibility of their property.
10. RealtyDaddy
A web, mobile and cloud-based platform, RealtyDaddy is a subsidiary of CNS Group USA that is extensively engaged in real estate, hospitality and technology in USA as well as India. A one-stop solution for homebuying, rental, commercial selling, and leasing needs, technology is at the centre of its offerings. What makes RealtyDaddy a reliable online platform among the property buyers and sellers is the well-experienced tech team that harnesses the true potential of technology. Currently having a presence in Ahmedabad, RealtyDaddy is all set to scale new heights with its innovative lead matching engine that will redefine the buying and selling experience for people across India.
*Updated on 29th May 2019
ALSO READ: Top 10 Co-working Space Providers In India