Top 10 Strangest Architectural Buildings In The World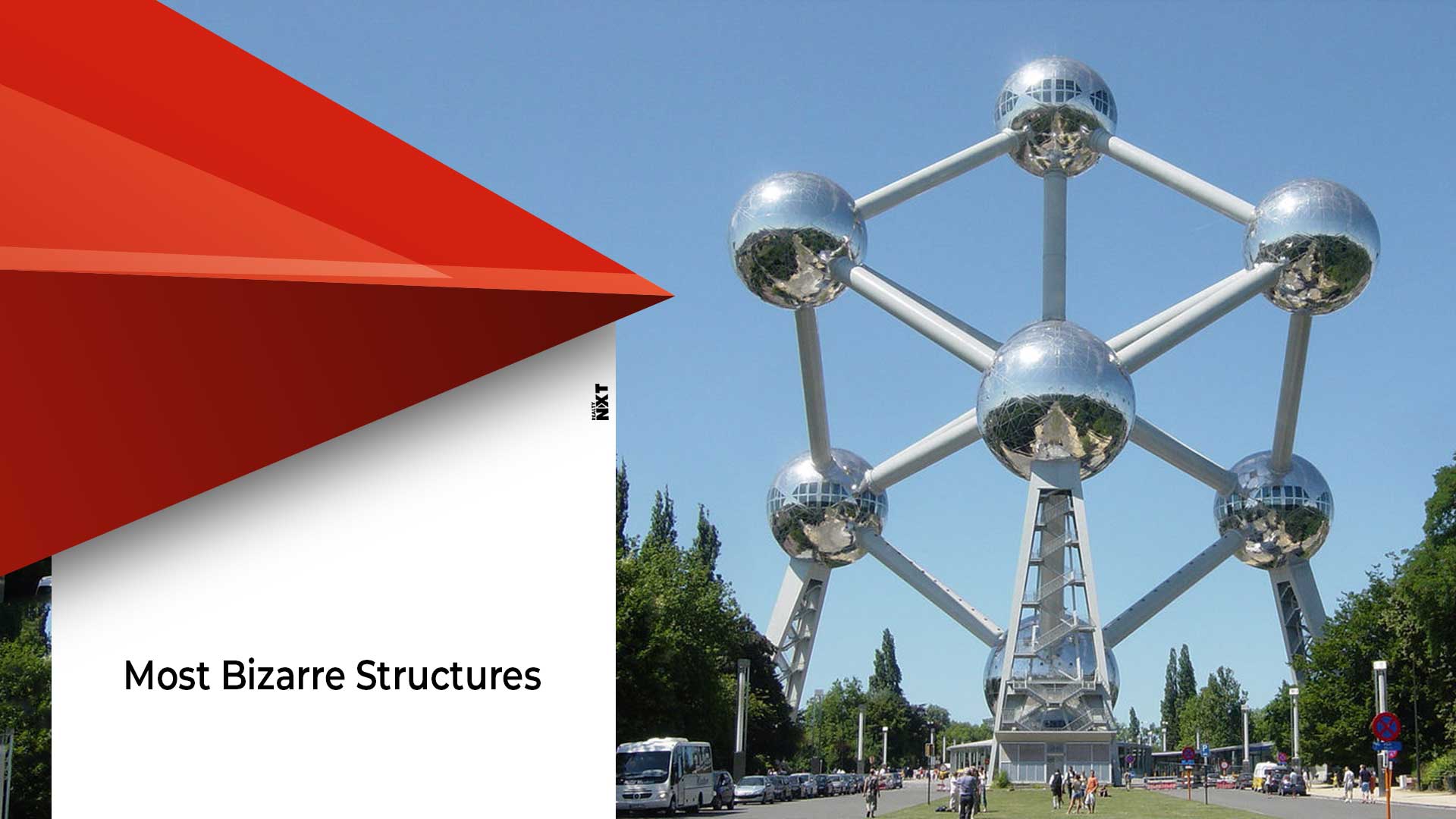 These architectural structures across the globe have the most unique designs
Gone are the days when buildings used to merely be rectangular in shape with the same look across the globe. A look at the architectural designs of buildings in the world shows us how far we have come in terms of the designs of the structures. These buildings are the perfect marriage between modern art and architecture.
RealtyNXT lists the top 10 strangest buildings in the world.
1. Atomium
Location: Brussels, Belgium | Year: 1958
Architects: André and Jean Polak
Designed by André Waterkeyn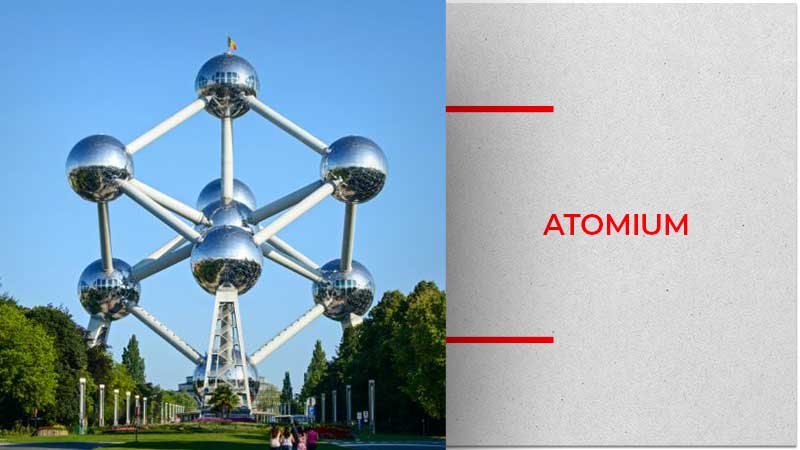 This unique building was built to be showcased in the 1958 World's Fair. Atomium is shaped as a body-centred cubic iron crystal, was intended to honour the metals industry and celebrate the atomic age. Each of the metal spheres is 18 meters in diameter and the entire structure is 102 meters tall. The sphere on top has a buffet restaurant and can be reached from escalators and an elevator in the central shaft. The aluminium-clad structure took 18 months to design and another 18 months to build.
2. Blur Building
Location: Yverdon-les-Bains, Switzerland | Year: 2002
Architects: Diller Scofidio and Renfro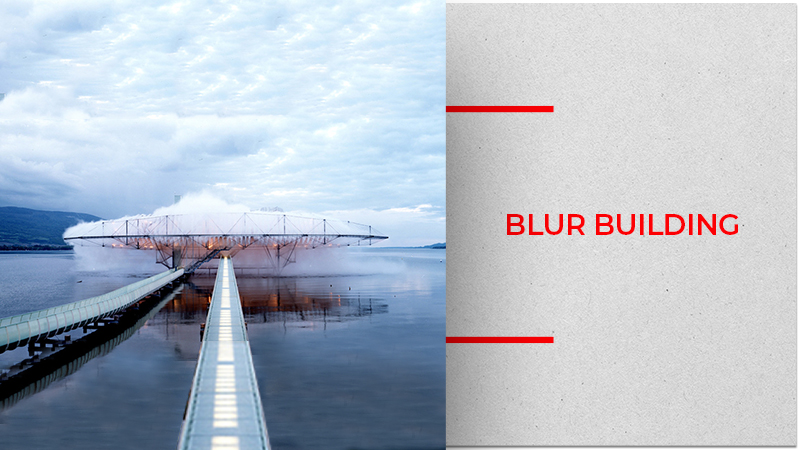 This structure was a unique endeavour of mixing construction technology with atmospheric elements. The intent was to create an architecture of atmosphere. Water was the main material used for its creation. A smart weather system was used to regulate water pressure. The water vapour then created an 'artificial cloud' that surrounded it. The Blur Building measured 60,000 feet and was elevated at a height of 75 feet above the lake's surface on four columns. It was immensely popular and attracted more than a million visitors. However, it was demolished once the exhibition it was a part of got over.  
3. Rotating Tower
Location: Dubai, UAE | Year to be completed: unknown
Designed by David Fisher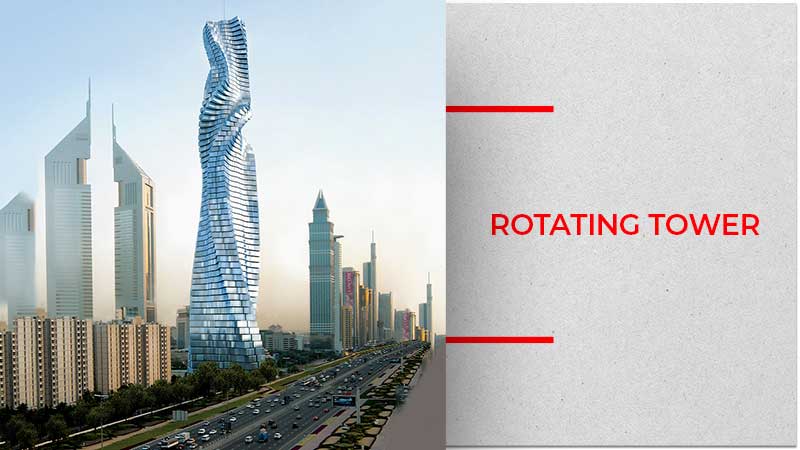 Also known as Dynamic Tower or the Da Vinci Tower, this building if built, will be an architectural marvel. Slated to be 1,378 feet tall and have 80 floors, this will be a rotating glass facade. What will make this structure even more unique is that each floor will rotate individually which will give the tower the look of it constantly changing its shape. Each floor will rotate at 6 metres per minute. The total rotation time of each floor will be 180 minutes. It is inspired by the Suite Vollard in Brazil. Even though officials say it is slated to be completed by 2020, work on it is yet to begin.
4. Lotus Temple
Location: Delhi, India | Year: 1986
Designed by Fariborz Sahba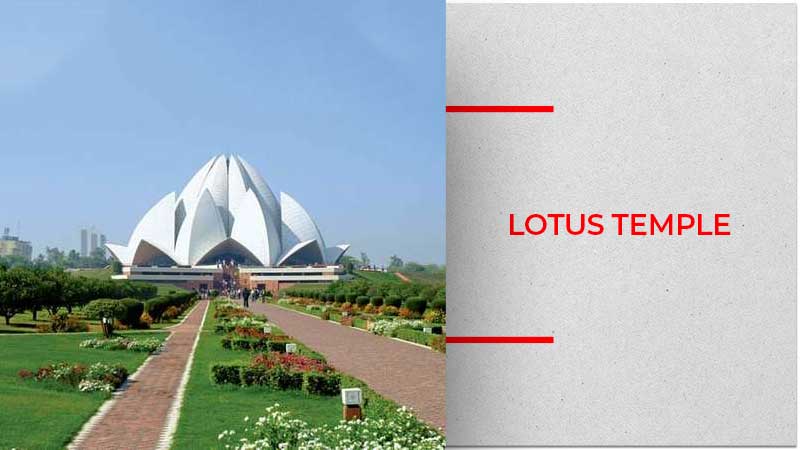 Where can one begin with this gorgeous structure? It is the most famous monument of the Bahá'í faith. Not only is it the most visited monument in India, but it is also the first temple to use solar power to generate electricity. The design of the Lotus Temple was inspired by the lotus flower. There are 27 marble-clad petals in clusters of three to form nine sides. It has nine doors in total and all of them open to a central hall which has a seating capacity of 1,300. The marble used for it is from Penteli mountain in Greece.
5. Tower Infinity
Location: Incheon, South Korea | Year to be completed: TBA
Designed by GDS Architects, Samoo Architects & Engineers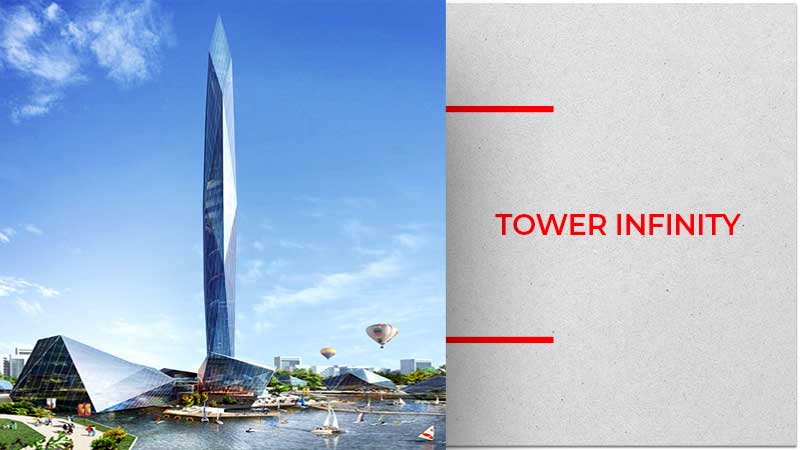 This structure is the most strange out of all the ones mentioned in this list purely because it will be the world's first invisible tower! Its invisibility illusion will be achieved with a LED facade system. This building will be used for entertainment and leisure purposes. Tower Infinity will cover an area of 1,566,000 square feet. Its design has already won an award in a National Design Competition.
6. Kansas City Library
Location: Missouri, USA | Year: 2006
Designed by Residents of Kansas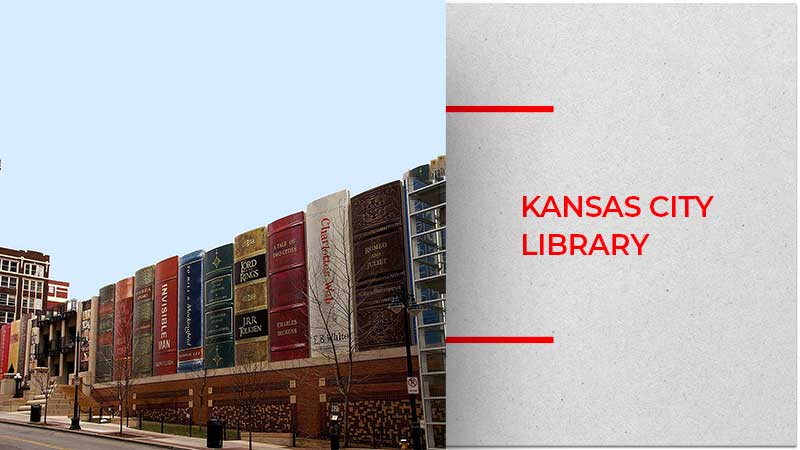 The original library was built way back in 1873. However, it was only in 2006, after several location changes of the original library, that this unique structure built. And though it is difficult to digest, this row of books, which are 25 feet high and nine feet wide, is actually built to beautify the garage of the Central Branch of the public library! The idea of this iconic design emerged after the local residents were asked for ideas to give the garage a unique look. Community members and patrons were even asked to vote on the titles to be displayed. Showcased amongst the 22 "books" are  The Lord of the Rings by J. R. R. Tolkien, Fahrenheit 451 by Ray Bradbury, The Republic by Plato, Tao Te Ching by Lau Tsu, Catch-22 by Joseph Heller and many more. Approximately $50 million was spent on the project.
7. Ontario College of Art and Design
Location: Toronto, Canada | Year: 2004
Designed by Alsop Architects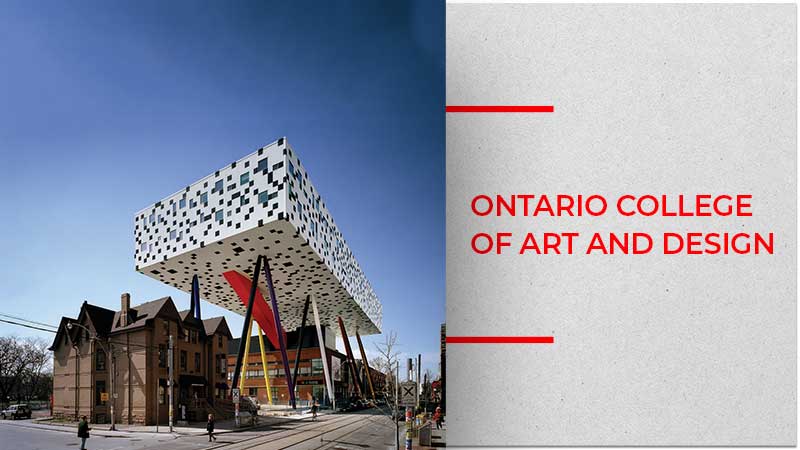 This unique structure is also known as  'the flying tabletop'. It is around 30 storeys high and is tilted on its side. It is designed in such a way that it glows at night and casts dramatic shadows in the afternoon. It has a candy-coated, black and white pixelated surface. The building is a combination of new-build and refurbishment. The Ontario College of Art and Design is a steel box clad with black and white aluminium top. In the entrance hall, there are two express elevators which go up to the table top where there are classrooms and studios which overlook Toronto's skyline.
8. Kunsthaus
Location: Graz, Austria | Year: 2003
Designed by Colin Fournier and Sir Peter Cook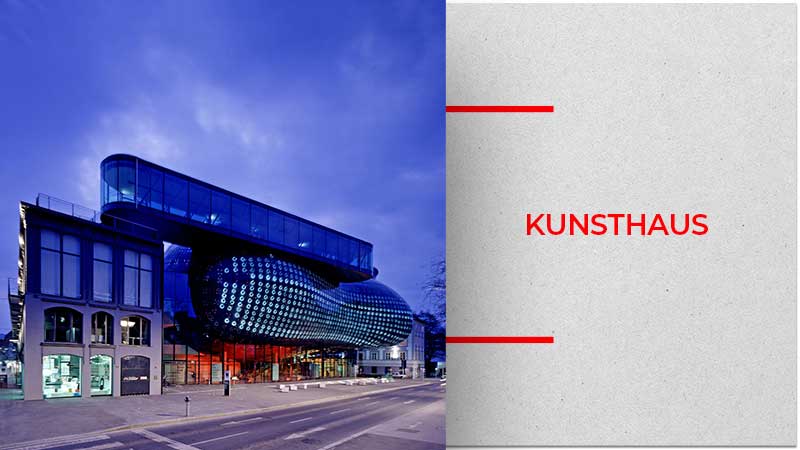 The name of this building literally translates to Art House. And what a hauntingly beautiful representation of art it indeed is! British architects Sir Peter Cook and Colin Fournier won a Europe-wide competition to revamp the original structure, Eisernes Haus. It was built way back in 1848 by Josef Benedict Withalm. It took 1,066 acrylic glass elements to achieve the glass balloon-like look. The Kunsthaus has been fondly called as an alien by its designers. The transparent base of the Kunsthaus has a restaurant and a media lounge.
9. Dancing House
Location: Prague, Czech Republic | Year: 1996
Designed by Vlado Milunić and Frank Gehry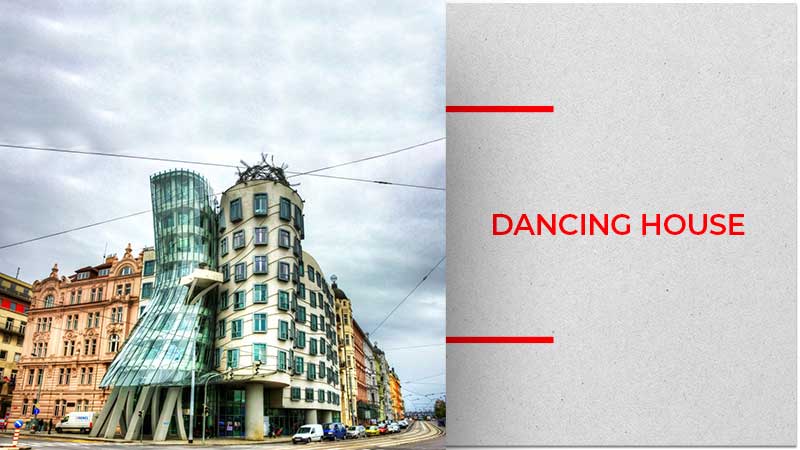 The Nationale-Nederlanden building in Prague, Czech Republic is famously known as Dancing House. It has an extremely non-traditional design. It courted controversy at the time it was constructed because it clearly stood out from the Baroque, Gothic and Art Nouveau buildings of Prague. The idea behind its unique design was to showcase the contrast between Yin and Yang. The first structure is a glass tower which narrows halfway up. On the other hand, the second structure extends parallel to the river, on three sturdy pillars. It is characterised by the undulating mouldings of its facade and the incoming and outgoing windows distributed non-linearly. The architects to display the natural colours of the exteriors and this is why the glass is green, the concrete remained grey and the steel structure is silver.
10. The National Library
Location: Minsk, Belarus | Year: 2006
Designed by Mihail Vinogradov and Viktor Kramarenko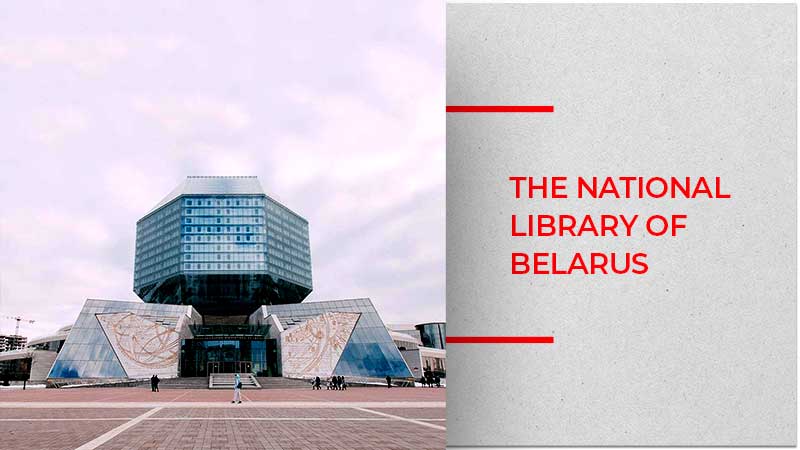 In 1989, a USSR-wide contest was held to choose the best architectural design for a library. The winning architects were the ones who designed The National Library. The Belarusian diamond design was their brain child. The idea was to combine functionality and modern design solutions. The 'diamond' is covered by glass. The cut diamond shape symbolises the value of knowledge. This unique design was approved and implemented 13 years after it was proposed. The 23-storey building is 241.5 feet tall and weighs 1,15,000 tones (excluding its exhaustive book collection).