Top 10 Real Estate Builders In Mumbai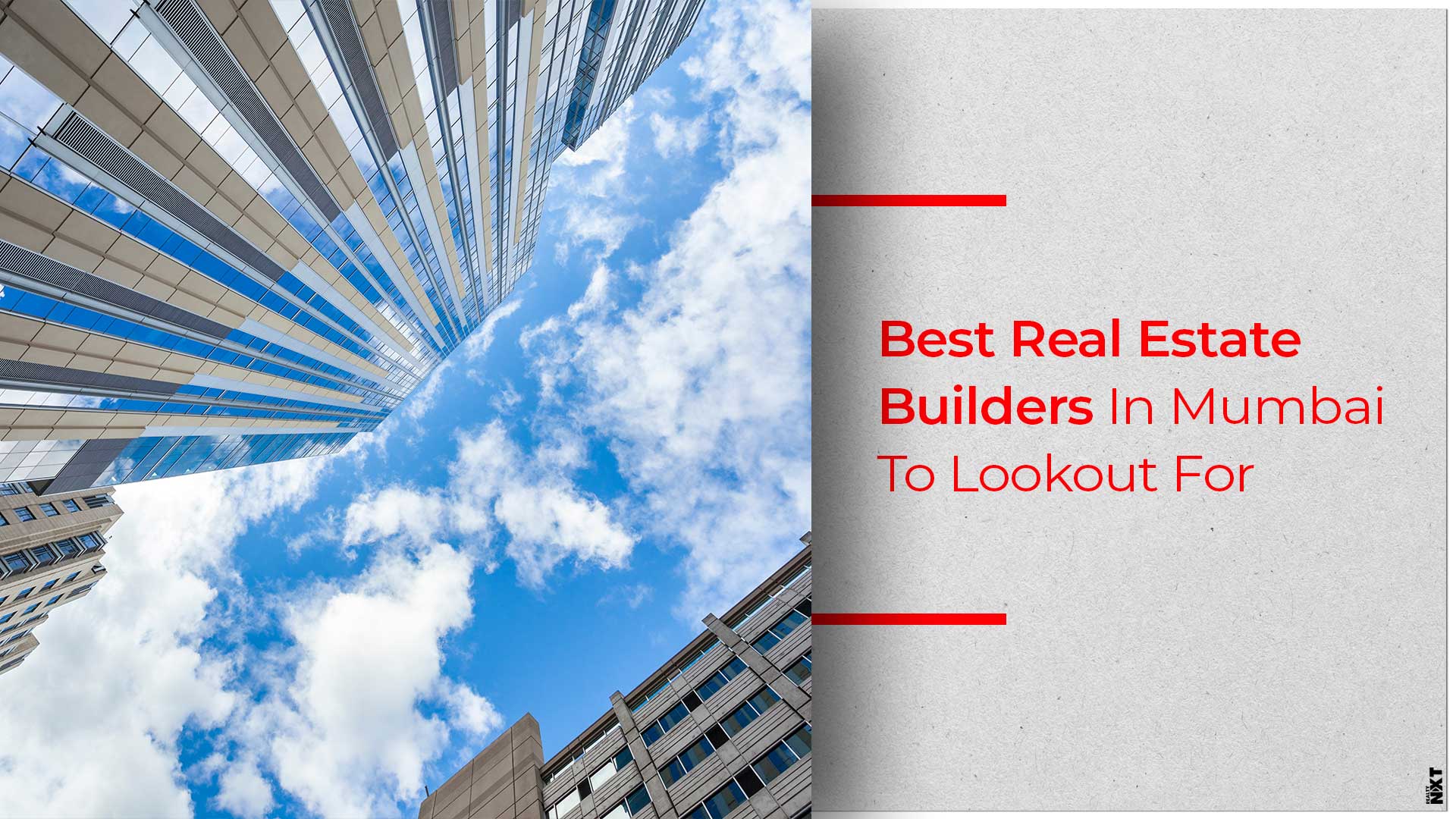 The exponential growth in income levels, urbanisation and economy of one of the most prospering places on the planet, Mumbai, is witnessing the emergence of world-class living solutions by the experts of the real estate industry in the country
With the growing need to have better lifestyle choices and ease of accessibility, home buyers in Mumbai are constantly hunting for the best real estate builders whose projects meet their demands and has good connectivity. If you are on the lookout for the best real estate builders in the city of Mumbai, this article by RealtyNXT will lead you in the right direction.
1. Godrej Properties
One of the most reputed and well-known names in the real estate industry, Godrej Properties which is a part of Godrej Group was established in the year 1990 under the leadership of Adi Godrej. They have developed projects in almost 12 cities in the country. Their commitment to environmental sustainability has made them one of the most preferred names for homebuyers looking for environment-friendly homes. Their project, Planet Godrej was the tallest building in the country when it was completed in 2008. They have won over 200 awards for their outstanding works, the latest being Construction World Architect and Builder (CWAB) Award in 2018. Their projects are super budget friendly and use the latest eco-friendly materials for construction. Their current project in Mumbai includes The Trees at Vikhroli. Some of their completed projects are Godrej Alive at the Mulund-Thane Circle, Godrej Central in Chembur and Godrej Emerald at Thane.
2. Hiranandani Group
Co-founded by India's billionaire entrepreneur Niranjan Hiranandani in 1978, the Hiranandani Group has been one of the most trusted real estate brand names. What makes them unique is their creation of marvellous integrated townships that provides homebuyers everything at the ease of their doorstep. Their residential projects in Mumbai include the iconic Hiranandani Gardens at Powai, Hiranandani Estate at Thane and One Hiranandani Park at Thane. They are the best choice for those who want the best state-of-the-art institutions of healthcare, education and recreational centres available as soon as they step out of their house.
3. Rustomjee Developers
Known for its stunning architectural expertise and luxurious designs, Rustomjee Developers, founded in the year 1996, has transformed about 10 million square feet of the city's land into a wide range of residential as well as commercial spaces. Their deluxe living spaces are a delight for those seeking to invest in the "better, not cheaper", just as they promise. They are known for their smart and energy-efficient homes, functional architectural planning and child-friendly areas. Their new premium launches include Rustomjee Crown at Prabhadevi, Rustomjee Summit at Borivali East and Rustomjee Paramount at Khar West.
4. Kalpataru Group
Kalpataru was founded in the year 1969 and has received global recognition for its high design standards and quality. They had built the tallest residential tower during the 1970s, the first to introduce the concept of 1.5 bedroom homes and one of the first developers to use eco-friendly materials to construct buildings. Most of their projects are located right at the hub of the metropolis and thus they are the ideal choice for those who love the city more than the countryside. Some of their projects include Kalpataru Magnus at Bandra, Kalpataru Avana at Parel, Kalpataru Solitaire at Juhu, Kalpataru Radiance at Goregaon West among others.
5. Tata Housing Development Company
A subsidiary of Tata Sons Limited, Tata Housing Development Company was established in the year 1984. It is one of the country's most well known public listed real estate companies. They offer some of the most affordable living spaces and are even more popular for their post-sales engagement with homebuyers. Their ready-to-move-in project includes Amantra situated at Bhiwandi-Kalyan junction comprising of 2 and 3 BHK flats starting at Rs. 55 lakh only. Some ongoing projects include Aveza at Mulund and Serien at Thane.
6. Lodha Group
Headquartered in Mumbai, Lodha Group was found in the year 1980 by Mangal Prabhat Lodha. Operating with a huge workforce, they are known for building some of the tallest and luxurious properties in the city. It has made a good name for delivering its projects on or before time. They have won some of the most prestigious awards for their innovative projects such as Best Residential Project under Ultra-Luxury Segment, Best Private Township of 2016, Tycoons of Tomorrow 2018 from Forbes India and many more. Some of their on-going projects include Allura, Amara and The Park. They are the perfect match for those who prefer to live like royals.
7. Runwal Group
Starting from the year 1978, Runwal Group has created masterpieces in residential, commercial and retail spaces. For residential purposes, they aim to create the perfect living solutions in luxury, premium and large format townships, thus offering a wide array of choices to first-time homebuyers. Catering to more than thousands of happy customers, their projects are located in Worli, Parel, Andheri, Thane, Mulund and Dombivali. Some of their completed projects include Runwal Residency, Runwal Towers, Heritage and Grandeur.
8. Wadhwa Group
Having transformed more than 45 million square feet of land, since 1982, their primary focus is to create spaces that emphasise the elements of height, light and air. Their delivered projects are extensively spacious, offer regular maintenance and have been designed to provide maximum cross ventilation. They have received prestigious awards of the real estate industry including the Asia Pacific Property Awards 2013-2014, CNBC-AWAAZ Real Estate Award and the International Property Awards Asia Pacific. Some ongoing projects to look out for include Crown residences in Goregaon, Wadhwa Pristine in Matunga, Atmosphere in Mulund and Elite in Thane.
9. Sunteck Realty
It was found in the year 2000 by Kamal Khetan who is the Chairman and Managing Director of the company. Based in Mumbai, Sunteck Realty has over 25 projects in various levels of development and known for its ultra-luxury apartment designs. They have become one of the most reputed and trusted brands for those who like to live in palatial spaces. Some of their famous works include Sunteck City in Goregaon West, Signia High in Borivali East and Gilbird in Andheri West.
10. Mayfair Housing
Mayfair Housing has been in the real estate industry for the last 52 years. Their projects are known not only for their luxurious interiors and standards but also for their idyllic localities. They offer the best prices for those looking for 1 BHK apartments but they also have affordable options for 2, 3 and 4 bedroom flats. Some of their iconic projects include Mayfair Legends in Malad, Mayfair Greens in Kandivali, Mayfair Gardens in Virar, Mayfair Heritage in Santacruz and Mayfair Astral in Jogeshwari. Their constant support to homebuyers and systematic approach makes them one of the most preferred builders in Mumbai.
ALSO READ: Top 10 Real Estate And Property Search Portals In India