Top 10 Virtual Reality Companies In India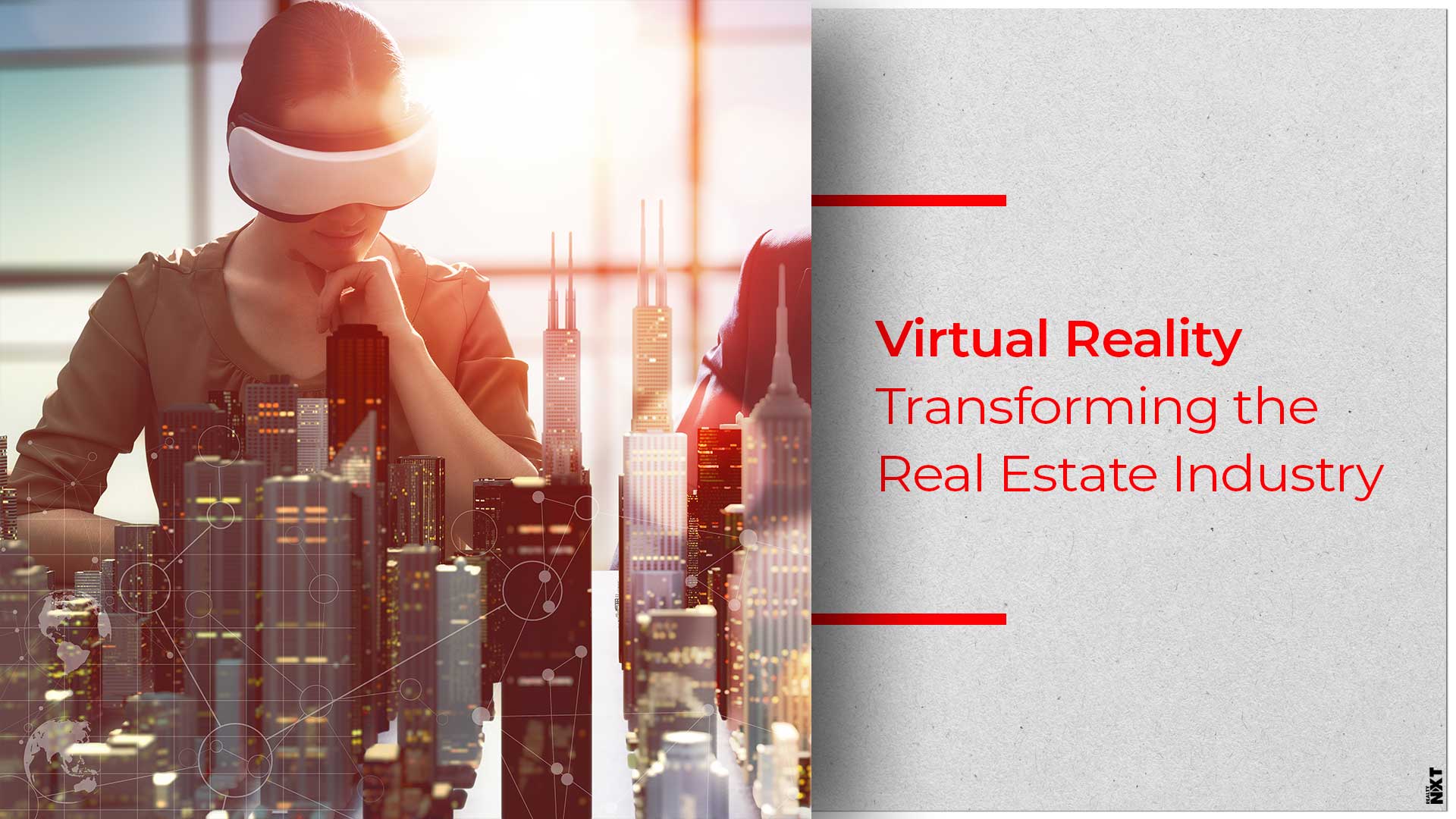 From gaming to industrial applications, Virtual Reality is on the verge of becoming omnipresent
The growing real estate industry, increasing demand of the customers and rising competition amongst the developers have called for technological advancement, with VR becoming the topmost development.
Virtual Reality is a computer-generated stimulation which transports users in a virtual world and immerses them in a 3D world. The use of VR technology helps in cutting down costs, breaking geographical barriers, improving customer experience and much more.
RealtyNXT has listed down a few virtual reality firms in India that are changing the game regarding the real estate world.
1. SmartVizX
Being awarded as the number one Virtual Reality company in India by Frost & Sullivan, listed under the 'League of 10' of Emerge 50 by NASSCOM and receiving funding under Indian Angel Network (IAN) from Stanford Angels and Entrepreneurs India (SA&E India), SmartVizX calls some of the bigwigs as their clients. They aim at providing a unique experience to their clients by crossing the barriers between the virtual and real world. Using innovative techniques and imagination, they let potential users lead their experience of interacting with projects and spaces. By changing the traditional and passive ways of communications, they are providing immersive solutions through interactive walkthroughs, surrounding view and actual stimulation of sunlight in a room across varied platforms, from laptops, mobiles, desktop, etc.
2. Housing.Com's Realty Vision 2.0
Housing.com, online real estate and property search portal, which is part of Elara Technologies Pte Ltd entered the Virtual Reality world by launching RealtyVision 2.0. The product is an innovative fusion of VR and touch devices which provides a unique experience of the home to the customers. The first-of-its-kind technology allows a 3D walkthrough which can be controlled by the sellers as well as the buyers, track customer's real-time location, support VR gears like Oculus Go and Samsung VR with a live streaming option available. The aim of this technology is to make the entire home buying and showcasing experience for the homebuyers, developers and realtors more efficient and immersive. With each launch, they aim at evolving the real estate sector to new heights and bridge the gap between global technologies and Indian products.
3. Navtek Solutions
Established in 2013, Navtek Solutions utilises Augmented Reality, Virtual Reality, strategic methods, intuitive vision, expertise and technology for transforming visions for their clients into reality. With their unique approach of devising solutions as per the clients' requirements, it has become one of the leading AR/VR service providers in the world. They combine AR/VR with multiple technologies like Facial Recognition, Text Recognition, Gesture Recognition, Multi-User Interactions, Enterprise Solutions, Data Analytics, Hardware Integration and so on. By pooling all their USPs, they have developed the RealtyView app to give users the ultimate user experience.
4. Virtual Spaces
Virtual Spaces is a mobile Virtual Reality startup which combines architectural design, interior design and floor planning with immersive technology. They render superior quality visualisations for the real estate industry so that, the customers could get a proper sense of the size, depth and height of the space. Their one-of-a-kind app provides cloud-based VR services, real-world objects scaled and made available in real-time, seamless navigation in the virtual world and data security. They are working on owned automation solutions for reducing the turnaround time (TAT) from a 2D AutoCAD drawing to a deeply engaging Virtual Reality. The company is working towards immersing the VR technology in different aspects of the real estate sector to boost the sales process.
5. Grey Kernel
It is India's first Virtual Reality and advanced visualisation-based company. Their flagship product, IRA VR, is the top-rated Indian virtual reality product on Google play store with 10,000 plus downloads. They produce gamified content across multiple platforms like Oculus, HTC Vive, Daydream, Android, iOS, Windows and PlayStation. Their first VR demo for Oculus Rift was featured in the 'Top 10 Weekly Downloads' list on RoadToVR, a leading international VR e-journal. Along with creating in-house content, they curate content from specialised Indian and international Virtual Reality studios. Apart from real estate, they develop client-oriented content for education, automotive and e-commerce fields.
6. Foyr
Backed by Philadelphia-based SRI Capital, Jones Lang Lasalle (JLL), and Hong Kong-based Brick Eagle Ventures, Foyr is a cloud-based 3D visualisation and design platform for the real estate industry. They are listed amongst the top 20 most innovative PropTech companies of the world and currently provide VR solutions in 21 countries. Their tech provides a flawless 360 user interface in VR, custom conversion and compression of 2D and 3D content, and end-to-end design service. They have created over 10 million sq. ft. of space and delivered over 15,000 3D experience to their customer base of more than 2,500 design and real estate professionals and 150 plus developers. Foyr has received an extended Series A round of $4.2 million from SRI capital and its existing investors in 2018, following the funding of $3.8 million Series A round in December 2017.
7. ComXR
ComXR is the subsidiary of Comart group, a media and advertising company which was founded in 1934. They work towards merging technologies and expertise in a cohesive engagement framework that binds people together by delivering unique solutions to some of the leading brands in the world. Their tech makes touring any property for sale in India effortless and can be achieved from the comfort of ones' phones.
8. Tesseract
Founded in 2015, Tesseract utilises innovative Augmented and Virtual Reality design in cameras, smart glasses, headsets and holograms. They have filed five patents in AR and VR. It is the only deep tech company that manufactures its hardware in India. They iterated from 6 cameras and 3 cameras to 4 cameras design and launched their first 360-degree camera – Methane. After a lot of research and development work, they were able to launch a portable device using mixed reality. Their platform even helps developers build apps and content for their headgear.
Their Holoboard headgear is a VR and AR headset that works with smartphones. It is a multi-user and cross-platform device that comes with modules and spatial tracking software. Quark MR Camera, their smartphone add-on help capture mixed reality pictures. The user can capture, edit, and share their mixed reality experiences over the Holoboard or even the existing platforms.
9. Ghar360
It is a cloud-based interactive platform for homebuyers to design and visualise their dream home. By converting aerial walkthroughs to interactive floor plans, the user can design their future home according to their liking, tour the house and live the experience with realistic visuals before even completion of the project. They are funded by Times Internet Ltd and their product can be used across any website and shared on any social media platform, email and much more.
10. Xenium Digital
Xenium Digital is an experiential marketing agency and advertising space based in Mumbai. They develop immersive digital experience using Augmented Reality and Virtual Reality as well as develop customised AV and VR apps according to the clients' needs. With more than 11 years of experience, they specialise in desktop, web-based banner applications, iOS, Andriod and Blackberry platforms, Gesture and Face Recognition, Multitouch, 3D Depth, On Ground, In Store, Web campaigns as well as the integration of social media platforms like Facebook, Twitter, etc.

*Updated on 17th June 2019
ALSO READ: 4 PropTech Innovations To Enhance Physical Spaces