Amazon-owned Largest Building In Hyderabad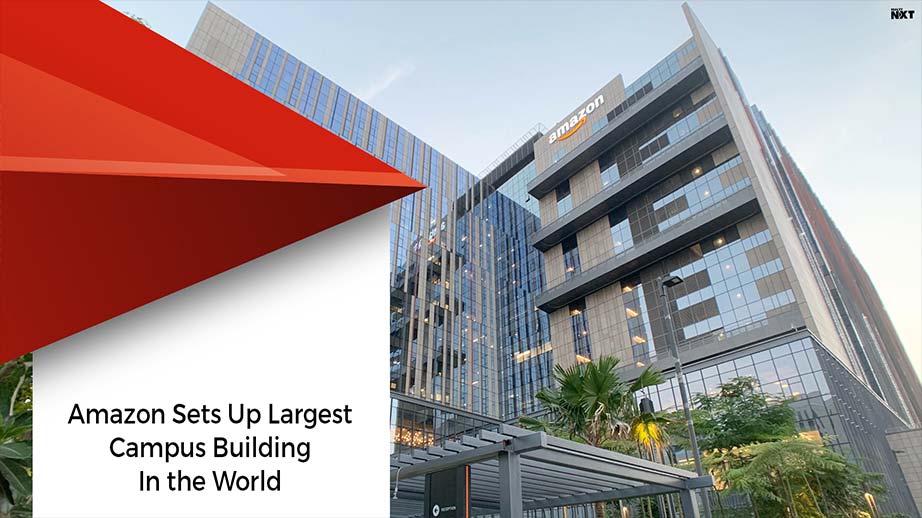 Amazon's largest campus building in Hyderabad is spread over 9.5 acres and is its first owned office building outside the United States
Global e-commerce giant Amazon's largest campus building in the world is the latest landmark in Hyderabad. Spread over 9.5 acres, this new Amazon campus is its first owned office building outside the United States and the single largest building globally.

Built on three million square, this building is equipped with 49 elevators, which can move a floor per second. The elevators that can move 972 people simultaneously. The 282-feet tall building can house more than 15,000 employees.

Amazon officials say the total built-up area, when spread out, will span over 68 acres or approximately 65 football fields. Out of total built-up space, 1.2 million square feet is earmarked for recreation and parking.

"The campus contains over 2.5 times more steel than the Eiffel Tower, measured by weight," revealed Amazon Vice President and Global Real Estate and Facilities Director John Schoettler at the inauguration of the facility recently.

It also features casual, collaborative work-spaces, as well as private areas for concentration and confidentiality. 'Every detail is aimed at improving well-being and efficiency,' Amazon said.

As many as 2,000 persons were on site every day for 39 months to construct the building. The campus has one conference room seat for every 3.25 workstations, higher than the global ration of 1:5.

Amazon already has its largest India fulfilment centre in Hyderabad. Located near Rajiv Gandhi International Airport, the centre is spread over four lakh square feet. The company last month announced that it will be expanded to 5.8 lakh square feet.
Amazon recently announced a $5 billion investment in the country and another 500 million dollars in food retail.

Source: Livemint
ALSO READ : DB Realty and RMZ Corp To Develop An Office Park