Xander floats $250-million industrial real estate venture for India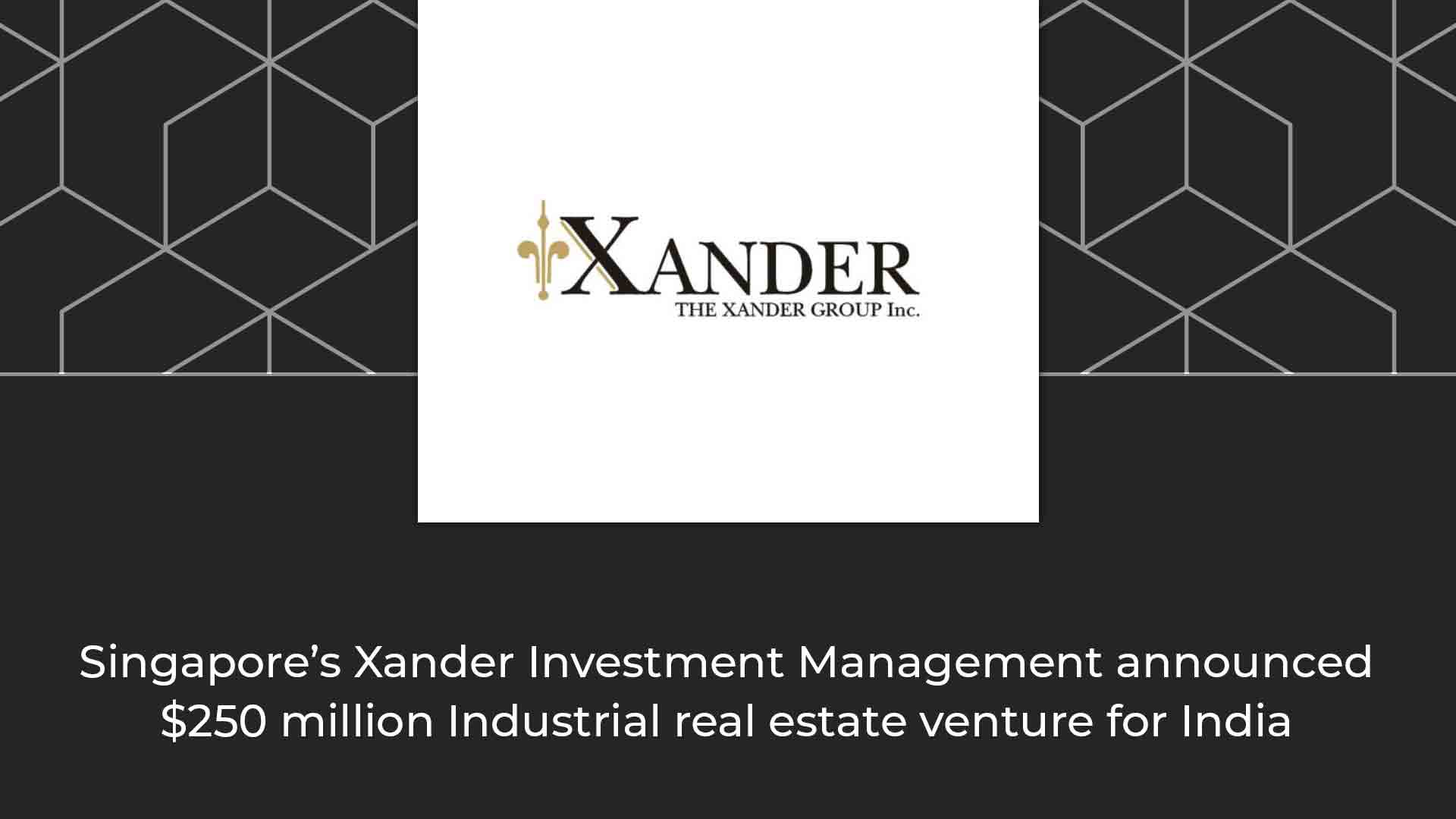 Singapore's Xander Investment Management on Tuesday announced a $250 million industrial real estate venture for India, a platform that will acquire assets in the high growth logistics and e-commerce sector along key industrial corridors across major cities.
Xander Investment is the private equity real estate arm of The Xander Group Inc., a global investment firm.
Sponsored by Xander Group, the platform has raised capital from leading European institutional investors that have previously been limited partners in the firm's sponsored opportunity funds.
Xander Investment Management, Singapore, will act as the investment advisor to the platform that will invest $250 million in high-quality assets over the next 12 months.
A portfolio of two million sq ft incubated by Xander has been used to seed the platform. The portfolio spans the gateway cities of Mumbai and Chennai and is anchored by leading multinational and domestic corporations such as Amazon, Kerry Indev, DB Schenker, TVS Logistics, amongst others.
Rohan Sikri, senior partner, Xander Group and managing director of Xander Investment Management said in a statement, "We have been investing opportunistically in the industrial/ logistics sector since 2007. With the economy poised for retail, manufacturing and consumption growth, it is the opportune time for us to create a platform with like-minded investors that will execute a longer term, targeted program."
As international and domestic companies expand their footprint in India to cater to this growth, the platform will be well-positioned to capitalize on the underlying demand for high quality, institutionally owned/ operated industrial real estate, Sikri added.
Ram Reddy, managing director, Xander Advisors India said, "The group has a strong presence across the real estate ecosystem in India and our exposure to the retail and industrial sector in India positions us well to execute on this new platform. Our expansive advisory network in India enables us to leverage our local expertise and relationships to provide best in class solutions to global and domestic occupiers".
Industrial real estate is fast emerging as the go-to class for developers and investors in India, driven by the e-commerce and consumption sectors and aided by the government's "Make in India" initiative and the roll out of the goods and services tax (GST).
Logistics leasing grew 31% on a yearly basis, crossing 13 million sq. ft, according to an August report titled India Industrial and Logistics Market View, H1 2019 by property advisory CBRE South Asia Pvt. Ltd. Mumbai, Chennai and Bengaluru comprised more than 60% of leasing activity.
"…As technology permeates the sector, demand for quality space is increasing and corporates across segments are opting for large, modern warehouses. Advances in technology, particularly automation, will continue to enhance the specifications and operations of logistics assets, thereby pushing older, inferior-grade properties down the demand pyramid," the CBRE report said.
This year, Xander has announced investments across its verticals such as commercial office and retail. In August, Xander acquired Weikfield IT Citi Info Park, an office park in Pune, for $130 million ( ₹900 crore) as global investors deepen their presence in India's expanding commercial office sector. It bought the 1.1 million sq. ft office park from private equity firm New Vernon Capital, Llc.
In October, Raymond Ltd said it is selling a 20-acre land parcel in Mumbai's Thane area to Xander-backed Virtuous Retail South Asia (VRSA) for ₹700 crore. VRSA is the retail development and investment arm of private equity firm Xander Group.
Source : LiveMint
(The story has been published from a wire feed without any modifications to the text)
ALSO READ : Globalworth Real Estate Seeks EUR265 Million To Fund Investments