RealtyNXT Talks Exclusively To The Founder Of PotHoleRaja Prathap Rao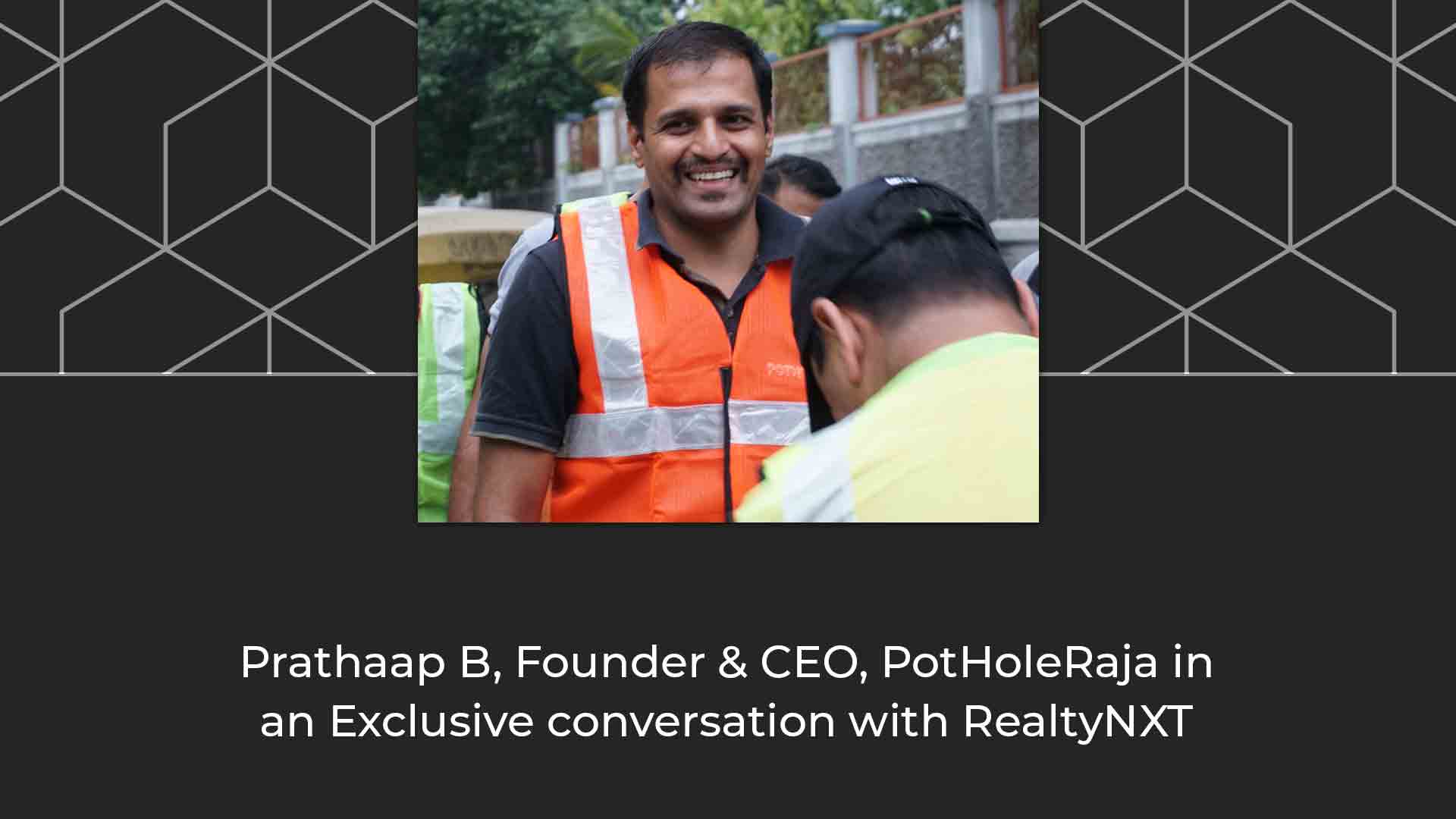 Armed with a zeal to make the roads of India pot hole free, Prathap Rao, the Founder of PoHoleRaja is a socially responsible entrepreneur. From the Indian armed forces to his current company, Rao has had quite an interesting journey.
RealtyNXT met Rao for an exclusive conversation about his company, his vision and everything in between. Presenting excerpts from the conversation.
1.Tell us how your journey began? What inspired you to take the very 1st step towards doing something so required yet out-of-the-box?
The Journey to serve the nation began quite early in my life at 18 years when I joined the Indian Air Force after getting the award of the best NCC cadet at 17 & then my flying license from the Royal Air Force, United Kingdom.
After a crash land in my Jaguar at Siachen, I moved out of the Air Force & moved to the corporate world. Served for 11 years & retired as Global VP at Hewlett Packard in 2011 before starting the next journey as an entrepreneur.
One of the focuses had always been connecting one's life with the long term goal by exploring the values & the beliefs. Through EFIL, I work with school children towards this & the results have been phenomenal. I always get astonished looking at their Social Action Project, which is about creating an impact for the society, that they do in Std 10th .
The years I have spent in abroad where the conversations over the coffee used to be about how beautiful India I, the culture is so rich, and especially about Bangalore the conversation about being the Silicon Valley of India & amazing weather, but, ended up with horrible traffic, & roads full of potholes. This always used to make me feel uncomfortable. Moreover i had seen my colleagues breaking their arms & legs due to pothole accidents. Another close friend of mine lost his daughter, who was about to get married, to a road accident.
The question was – Do I wait for a personal tragedy to take place or do I take action?
Then the research started on what are the major causes of road accident in India, and potholes emerged to be one of the biggest reasons, which was solvable. So I started with a mobile app asking citizens to report a pothole. Though the idea was thrilling, I soon realised that reporting a pothole was not getting it fixed. There are thousands of apps meant for reporting the issue, but no one told about how to fix the issue. While I was getting the pothole reports, I decided to fix them as well. I figured out that cold bitumen is the perfect solution which takes just 10 min to fix a pothole as deep as 50 mm. I had to import it from outside initially but now we manufacture it locally. The best part about this product is that it is completely eco-friendly, there is no emission at all in the process of manufacturing & in fixing potholes. To add to this, this is all weather proof material. We have fixed potholes in heavy shower as well & there is no damage to that yet.
2. We love the name of your brand! How did you come up with such a quirky one?
Indeed an interesting question. When I was thinking about the name, I wanted it to revolve around potholes only. The concept was ready, but the name wasn't. You would laugh at it but I got the idea of the name PotHoleRaja in my dream. I woke up in the middle of the night & bought the domain.
The intention behind the name- Drive like a King/Queen. Don't worry about potholes. Whoever comes to fix potholes with us is a PotHoleRaja/Rani.
3. What pain points does your brand aim to resolve?
The pain is covered almost every day in the news. The Number of accidental deaths due to potholes is increasing day by day. The number of injuries due to pothole accidents is increasing. Everyday 10 people die in India due to potholes, more than 25,000 gets injured (MORTH data). Let's not get into the number of accidents never gets reported.
Bad roads contribute to 2% of the green house emission.
30% increase in road repair cost & 5% increase in car repair cost.
But the biggest pain that PotHoleRaja aims to solve is the lack of social awareness. It takes min effort to crib & complain about a problem, but it takes a lot to solve the problem.
Our focus is very clear- Be an Actor, not a spectator. The change begins from within.
4. How many potholes have you fixed till date?
5. What were the hurdles you faced initially?
To be really honest, None. I have a very supportive family who have supported in every decision that I have taken in my life.
Also, I believe that hurdles come when a person is not sure about his own decision. Things start making sense once there is clarity in thoughts & the perseverance to achieve them.
6. You encourage people to bring potholes to your notice and then go fix them… Are there other ways you come to know if roads need fixing?
One of the ways is definitely our unique WhatsApp number +91 814 POTHOLE (+91 814 7684653) where people send us the picture & the GPS location of the pothole.
We keep getting reports from all our social media handles – Facebook, Instagram, Twitter & through our website.
We also keep getting the information from the traffic police dept. as well.
7. What are the functional benefits that you deliver to your customers?
What can be a bigger satisfaction than looking at the pothole getting fixed in just 10 mins.
We have had employees, volunteers joining us with a lot of questions on how can one fix a pothole without any knowledge of road construction and all of them have went back saying – " I never knew fixing a pothole is that easy".
The larger benefit what we have seen is that they start believing in taking actions than making noise about a problem. We have heard from our volunteers that after they volunteered with us, they started volunteering for many more activities & that makes them not only a happy individual but also a social active citizen.
8. What are the 5 qualities which define your brand?
Quality & Innovation
Inclusiveness of all the stakeholders to solve the problem.
Society over self
Eco-friendly approach
Spreading Happiness
9. You've provided employment to transgenders as well where did this idea come from?
If a section of our society has been looked upon in a different way, it may or may not be their fault, but it is definitely the fault of the society. Our transgender friends have the hunger to succeed, learn, live life but they don't get enough opportunities and then we see them doing all the unwanted things.
I always wanted to do something to uplift their life, so that they live a life full of dignity. So I thought why not give them employment where they are most visible. And what better can it get than actually working in front of the public fixing potholes. Though it's a tough journey to convince them as well, but we have had people from their community coming with us to fix potholes & encourage their peers to join us as well.
We aim to provide employment to 500 transgender friends.
ALSO READ: RealtyNXT sat down with TheHouseMonk's Founder and MD Balaji Varadharajan for an exclusive conversation