The Evolution of HomeInspeKtor, In An Exclusive Interview with Sudhindra Naib, CEO
When home buyers spend their precious money to buy homes and finally get possession, many times it turns out that what was promised in terms of quality isn't the final output. However, by this time it is too late and they have to settle for whatever is given to them. Enter HomeInspeKtor, a company providing the best home inspections in India. It empowers home buyers to question the quality of the final product delivered by developers.
RealtyNXT caught up with Sudhindra Naib, the CEO of HomeInspeKtor. Naib talks in-depth about his brand, the inspiration behind it, why every home should be inspected before possession and much more. Presenting excerpts from the exclusive conversation.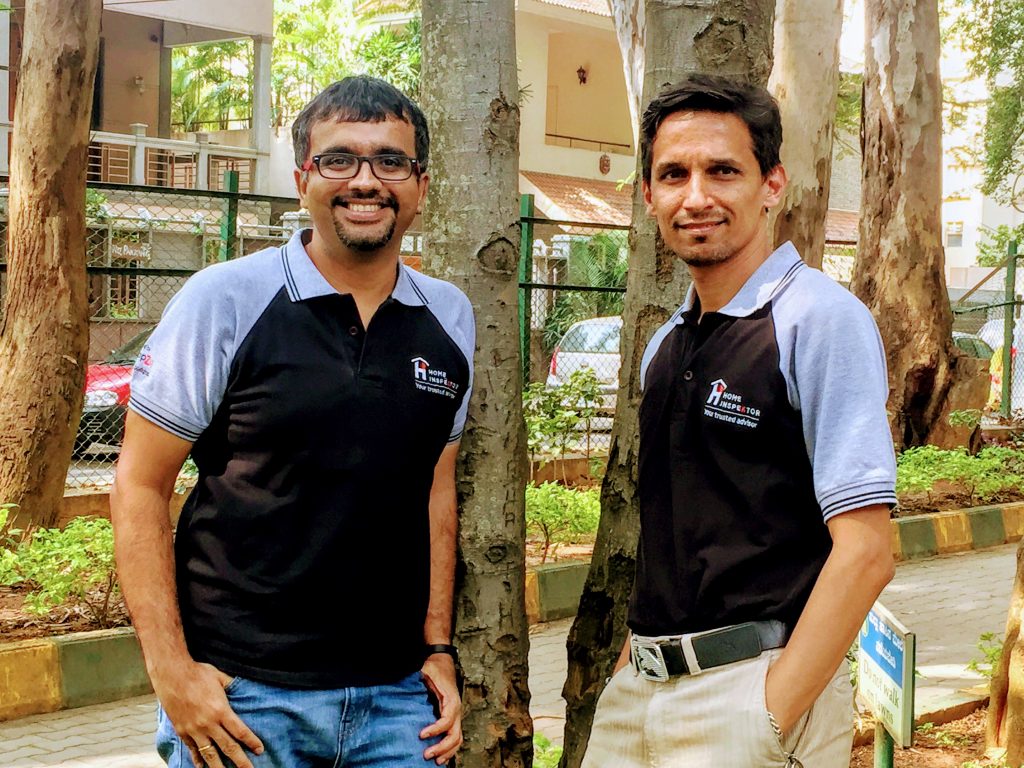 1. What made you come up with HomeInspektor?
It happened one night! One summer night not so long ago, me and my wife were woken up by earth shattering noises from our living room. It was loud — the floor was literally cracking open — and physically moving furniture out of the way too. Our apartment is on the 4th floor and it took us some time to figure out what was happening. The vitrified tiles of our living room floor were cracking open. We had a ringside view to our own private earthquake. Later we learnt that this was due to a combination of factors – poor quality tiles not properly laid and cured thereby leading to air gaps below the tiles that were slowly building up. The damage it caused was plenty and the long clean up ahead weighed upon us. It didn't help that my son had his examinations going on at the same time. This whole experience got us thinking – How are we sure about the quality of the home that we live in? Were we not taking quality for granted?
I spoke about this with my partners Vivek Bhat & Vijay Puttaraju and together it dawned upon us that quality issues plague Indian housing irrespective of who built it. Call it serendipity or whatever but it so happened that in parallel, we were building a technology marketplace for a US Realtor. One of the roles in that marketplace – that of a Home Inspector caught our attention. Apparently a Home Inspector, in the US context, is a person who verifies the quality of a property every time it changed hands and helps the home buyer make informed decisions about the property. This fascinated us since this is exactly what we wanted in the Indian context. This was our Eureka moment and led us to form HomeInspeKtor (www.homeinspektor.com).
2. Tell us the significance of homes being inspected before possession. Who exactly are your target audiences? What are the benefits that come their way?
Before a home buyer takes possession of a home, it is wise to always get a home inspection done. While a seller might consider the flat as ready, there are always issues hidden beneath the surface. Issues like seepage, electrical faults, hollow tiles, that can only be found by trained experts with tools. These issues cause a lot of inconvenience, cost a lot of money to fix at a later point in time or more importantly, might be dangerous to life or to the wellbeing of the home buyer and his/her family. Here are three examples:
Hollow tiles have this tendency to crack open when you least expect them to. When this happens in the middle of the hall and affects most of the adjoining tiles, as it happened in our home, it is something that has to be fixed immediately. Your personal and professional life comes to a standstill, all because you had hollow tiles in your home.
Electrical faults are dangerous to the occupants or their appliances. Another example is of seepage causing mold over time and thereby being responsible for air borne diseases in the occupants.
Any of the issues that are undetected in the beginning, will cost you money to fix later. Especially when the flat is already moved into, fixing the issues will always cause collateral damage adding to the costs. Fixing hollow tiles invariably causes adjoining tiles to be damaged. Fixing cracks or seepage issues needs repainting to be done.
Our target audience is typically the young, quality conscious home buyer who look at us as their trusted advisors to assess the quality of construction from a finishing standpoint before they settle in. The benefits of a home inspection are the following:
1. Get objective and comprehensive data to decide next steps
To a buyer/seller, a home inspection provides objective and comprehensive data about the home in question thereby enabling the buyer/seller to take the right steps – whether it is fixing the issues found or negotiating the right price for the house.
2. Get a professional opinion about the home
Before entering a real estate transaction, which is usually the most expensive investment one can make, it is always essential that an expert look at the home and provide his/her professional opinion. Trained eyes know what to look for. Give them a chance.
3. Find obvious and hidden defects with the home
No home is perfect. The number of defects that is found is directly proportional to the expertise of who is looking. When an expert looks at a home, he/she is guaranteed to find many more issues than the common man.
4. Save future repair and maintenance costs
A stitch in time saves nine. This saying is extremely relevant in the context of homes. Repair and maintenance costs go up all the time. Add to that the cost of material also keeps increasing all the time. Last but not the least, the amount of inconvenience caused by a repair job is the highest after someone has moved in. Be wise and get an inspection before you move in.
5. Detect unsafe areas of the home
Safety is one of the key aspects that a home inspector focuses on during an inspection. Just wanting to determine whether a house is safe or not is enough justification for a home inspection.
6. Create a quality baseline of the home
Getting inspections done on a periodic basis gives the homeowner an idea as to how the quality of home is vis-a-vis time. This information can be used for preventive maintenance purposes.
3. What are the biggest challenges you are facing in your growth story? How did you overcome them?
As a bootstrapped startup, we have had our fair share of challenges. Right from limited availability of capital and skilled manpower to lack of awareness amongst the target audience about the specialized service that we offer, we've experienced all kinds of challenges.
We overcome our biggest challenge – lack of awareness by being extremely customer first and quality focussed which is helping us to scale organically. Our customers are delighted with us and love saying so – as can be seen by tons of testimonials we have received at www.homeinspektor.com/testimonials/. As you can see, all our testimonials are either 4 or 5 stars – excellent for a real estate startup, trying to bring awareness about a service that's pretty much did not exist!.
4. Tell us about your collaboration with InterNACHI. How did that come about? Are there any more international tie ups in the pipeline?
InterNACHI – the International Association of Certified Home Inspectors – is the world's largest trade association for property inspectors. Their goal all along has been to ensure basic standards for safe housing all over the world. When InterNACHI wanted representation in the Indian home inspection market, it was natural that they look at HomeInspeKtor – the leading home inspection provider in India for help. Once the modalities were agreed upon, a press release was issued and the InterNACHI India chapter was born, thanks to HomeInspeKtor. We haven't looked back ever since. Every single home inspector of ours is InterNACHI certified and this ensures that our quality standards are the highest!
5. In the next 5 years, what is your growth plan and what's your go to market strategy?
We have ambitious growth plans – we want to make a difference to the poor quality that plagues Indian housing today. There are millions of houses that change hands every year in India – each of which that needs a home inspection to make sure that the quality. Our target is that, by 2025, 1 in 5 houses in India that changes hands would have had a world class HomeInspeKtor service availed.
We are currently offering our services in Bangalore and Chennai. We will be starting services in other major Indian cities shortly.
6. What do you think about the future of PropTech in India? Where do you think HomeInspektor would stand in the future?
Historically, adoption of technology in Real Estate has been slow paced. Macroeconomic conditions too have been challenging. However the future of PropTech seems bright. A lot of action has taken place in PropTech in the last twelve months thanks to investor interest in this sector.
Events such as Built World Technology (BWT) India that was held in February of this year are definitely helping. This event brought together the various stakeholders in the Real Estate space and helped explore opportunities at the intersection of real estate and technology. HomeInspeKtor was a featured technology at this event.
HomeInspeKtor is one of the key proponents of the PropTech revolution in India. Technology plays an important part in our Vision statement, which is to "Help solve problems in real estate using state of the art tools & technology and internationally qualified personnel". We have a state of the art custom built technology platform whose various touchpoints we use on a day to day basis – whether it be the iPad application that our inspectors use for conducting the inspections or the web application that our customers use to raise requests or pay for the service. This platform is one of its kind even when compared to what is available in the North American market. This is just the beginning – we are already working towards using AR + AI +ML in our inspections soon, which when completed will make us the technological pioneers in the world wide inspection market. Here's our take on the future of the home inspection market
7. Can you share 5 sets of numbers in terms of statistics that define your growth?
While we are looking at raising funds to scale and take the service pan-India, we are very focussed on keeping an eye on our per unit economics. Some of the key parameters that we track month-on-month are:
● Number of Inspections
● Revenues
● Number of Leads
● Number of Testimonials
● Average customer rating
● Average inspection fees
ALSO READ: RealtyNXT Talks Exclusively To The Founder Of PotHoleRaja Prathap Rao