AapKaPainter Brings A Solution To All Your Painting Woes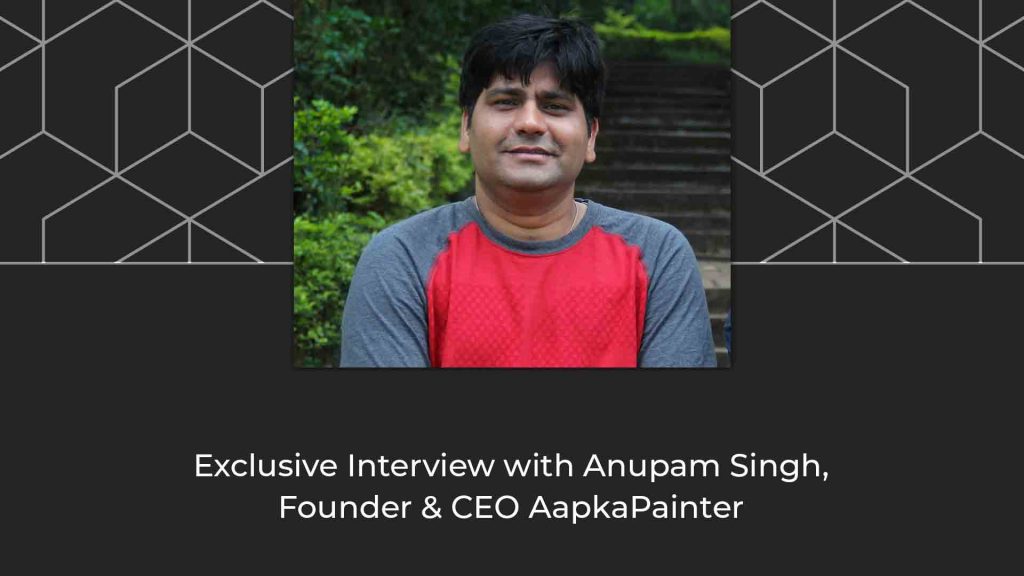 AapKaPainter is the answer to the huge gap between customer expectations and current experience throughout the painting cycle. It was founded by Anupam, with Dhivya, partners for life, who have known each other for 9 years. Vineeth, Abhiram, and Prakhar, who form the company's core team, are graduates of NIT Warangal. Today, AapkaPainter has grown to become a strong team of 60 members and is ata run-rate of Rs 15 Crore. Read on for excerpts from the conversation.
1. What lead to the inception of AapkaPainter? How did you see the niche and found a potential in this segment?
The Painting industry has been a highly fragmented and localised business operating offline and inefficiently for decades. There is a huge gap between customer expectations and current experience throughout the painting cycle. From delays to security issues to shoddy finish and no accountability and more important no definite pricing offer. And that is a great opportunity, to create a sustainable business and at scale. By organising a highly disorganised Industry and providing steady employment to lakhs of painters.
It was the time, we were right out of college and had taken up jobs in new cities. And with that, came in the excitement of moving into a new home and setting it up all by oneself. While the thought of painting the flat sounded interesting, getting it painted was equally daunting. We had to call up 5 to 7 painters from the list on JustDial, to explain requirements and get an estimate for the same. For almost a week, she was doing the same thing over and again, and even at the end of it, were not sure if we were charged the right price. While all this was happening, the top most concern for the family, was her safety, but she says, choosing colours was the toughest. None of the painters who had turned up could actually let her know, how her choices of Touch of Fuschia and Whispering Breeze would look like when put up on the wall. So Divya's first home painting experience ended up being tiring, confusing and to say the least disappointing.
On the other side of the marketplace, painters hardly get 15 – 18 days of job a month. So, most of the energy is consumed in getting the next job, rather than focussing on the job in hand, resulting in delays and sub standard delivery. Painting service industry in the country has been operating in conventional ways since decades and is plagued by non-standardized pricing and lack of accountability.
It was a period when Ola and Redbus were organizing the unorganized travel industry, using technology. That's when it occurred, after the disastrous painting experience, why can't we leverage technology to make painting services in India, efficient and more exciting. Seed of AapkaPainter was planted and years later we had started operations.
2. At the face value you guys are going head on with some legacy brands offering similar solutions. How are you positioning yourself differently?
Our processes and automated control over painting process ensures highest customer satisfaction. We have built unmatched trust, for our quality and service delivery. Customers are assured of a hassle free painting experience with peace of mind. More than 1000+ customers have rated us 4.7 out of 5 on Google in the last 14 – 18 months.
Plus, DNA and Vision is different. We are solution focussed, while brands can be product focussed.
3. If you have to give quick 5 pointers to your customers as to why they should choose AapKaPainter what would that be?
1. Highly responsive 2. Assured delivery 3. Safe Payments 4. Transparent pricing 5. Top Rated by our customers
4. What vital role is technology playing to enable AapKaPainter growth and help achieve your targets?
Tech provides us an ability to scale to any city and ensure similar customer experience across these cities and their localities.
5. Do you think PropTech really has the potential to disrupt the Indian real estate industry?
Being a part BrigadeREAP, we have closely seen and interacted with many interesting startups working on great solutions for both sides of the marketplace i.e the customers and the property developers. Technology can solve a lot of real problems of the real estate industry and with increase in adoption of the same, there will be a huge potential to create sustainable and scalable business.
6. What advice would you like to give to any millennial who wishes to make a career in PropTech in India?
It is a great time to be in this space. PropTech is a global phenomena and the problems faced by this industry is even bigger. And that gives you an opportunity to work on products and solutions that can make a real impact. Step in and be a game changer.
ALSO READ: An Exclusive Conversation With The Players Behind The Real Estate Virtual Technology, PropVR