Gera Developments introduces India's first 7-year warranty for homebuyers, an extension of 2 years above the RERA mandated 5-year period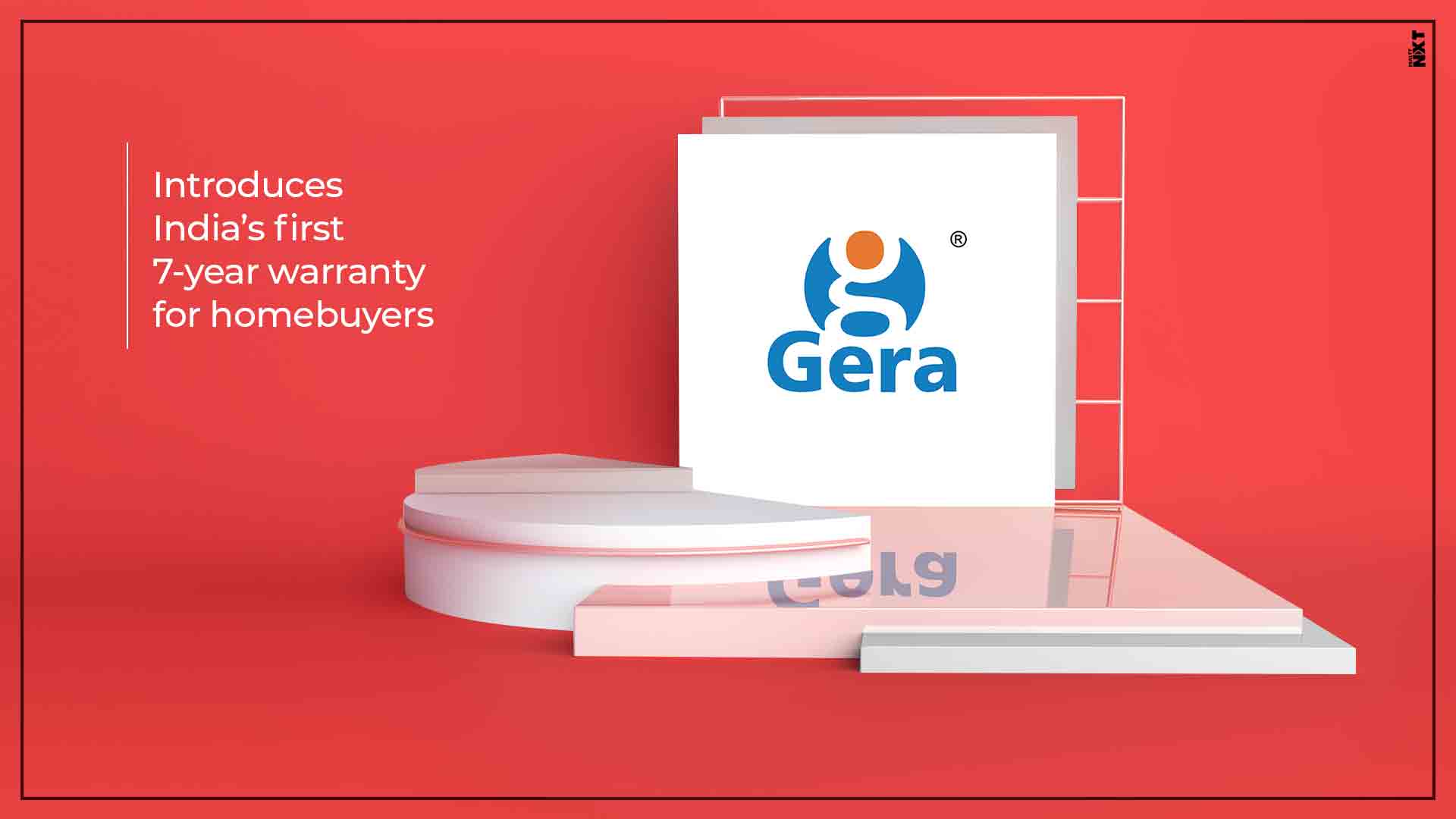 Gera has been pioneers in providing the 5-Year Warranty in the real estate industry in India for the last 15 years
Gera Developments Private Limited, pioneers of real estate and the award-winning creators of premium residential and commercial projects in Pune, Goa and Bengaluru, today introduced the country's first 7-year warranty in real estate. The warranty will be serviced through the GeraWorld app thus making tracking efficient and resolution speedy. The app also helps reduce the turnaround time on warranty and common area maintenance requests. Gera Developments was the pioneer in India in 2004 to provide the 5-year warranty in real estate that consists of preventive maintenance and repairs, which then became a RERA norm in 2017. The 5-year warranty covered repairing or re-fixing of fittings or fixtures with manufacturing defects, other defects like leakages, etc. Also, a uiniqe feature that is offered by no other, is an annual preventive maintenance which entails a team of carpenter, plumber and electrician who check for any repair and do the needful. Customers will enjoy all of this under the 7-year warranty as well.
With the extended warranty of 2 years at a nominal cost, Gera Developments has shown its unwavering commitment to customer service by providing their warranty on a standard agreement that is signed on a stamp paper and is applicable to the current owner as well as successive owners within the 7-year period.
Commenting on this, Mr. Rohit Gera, Managing Director, Gera Developments said, "We are pleased to announce India's first 7-year warranty in real estate. The important thing to remember here is, our product is a man-made structure and our warranty is an acknowledgement of the fact that we stand by our product and delivery. Besides being an affirmation of the quality we offer it is also a reflection of our unflinching commitment to delight our customers with innovative offerings. We were the first developers in India to provide a 5-year warranty on real estate way back in 2004. The warranty has kept our product quality focus sharp, as well as our responsiveness to our customers. After completing 15 successful years of servicing the 5-year warranty it was opportune to launch the two-year extension to benefit our customers. An extended warranty means more peace of mind for the customer and hence greater consumer confidence.''
Mr. Gera further added, "We have started offering the 7-year warranty to customers currently enjoying the 5-year warranty, for a nominal fee, for the 2-year extension and will be extending it to new projects going forward. The warranty will be serviced through our technology platform – the GeraWorld app thus making delivery seamless. Our customer-first approach is our motivation and driving force to introduce such value propositions. It stems from our core philosophy of Let's Outdo, enabling us to continuously improve and evolve while holding on to our core values of trust and authenticity thus empowering our key stakeholders. It is this desire to continually raise our service standards that we have now taken our engagement with customers to the next level."
More than 2000 units till date have been covered by the Gera 5-year warranty and 3500+ units will be added in the next 24-30 months.
The Gera Warranty is a formal agreement signed with the customer at the time of handing over units. There is a dedicated backend team of administration and implementation to service the warranty efficiently. The warranty and its implementation aims to ensure that every Gera customer gets immediate attention by enhancing ease and convenience of interaction with the team at Gera. The 'GeraWorld' app through with the warranty is serviced enables real-time engagement with customers to provide swift and hassle-free solutions. The App serves as a single window interaction system for all customers. All Warranty service requests, common area maintenance requests, project documentation, project progress reports, payment queries and updates etc. can be raised, viewed and tracked via this app.
About Gera Developments:
Gera Developments, one of the pioneers of the real estate business in Pune are recognized as the creators of premium residential and commercial projects in Pune, Goa & now Bangalore.
Gera Developments' pride themselves for providing long term enjoyment to their customers. Innovation has been a hallmark of the company and there are many 'firsts' that stand to Gera
Developments' credit. The 5-Year Warranty on Real Estate consisting of Preventive Maintenance & Repairs and providing Insurance of buildings was introduced by the company over 15 years ago for the first time in India and the same is now mandated by RERA. The company is driven by quality, transparency and excellence. The projects are designed around the evolving needs of their customers. Some of the revolutionary and highly successful product lines have been ChildCentricTM Homes, IntelliplexesTM, SkyVillasTM, The Imperium series amongst others.
The company's philosophy is Let's Outdo and yet again, they have created a breakthrough in innovation with launch of ChildCentricTM Homes thereby creating a paradigm shift in the real estate for both, the developer as well as the homebuyer. The company has established a new category of living spaces designed keeping the child of the home as well as the parent's lifestyles in mind. Gera's have set a new benchmark not only in real estate marketing and brand building but also setting new standards of service orientation in the realty sector.
Source: Press Release
ALSO READ: To construct 70,000 affordable homes Vijayawada civic body needs 200 acres