An Exclusive Conversation With SaaS Startup Facilio
Facilio uses a software-as-a-service (SaaS) platform combined with Internet of Things (IoT) and artificial intelligence to manage and increase operational and cost efficiencies of building assets such as elevators, air-conditioners, security systems and alarms in real time.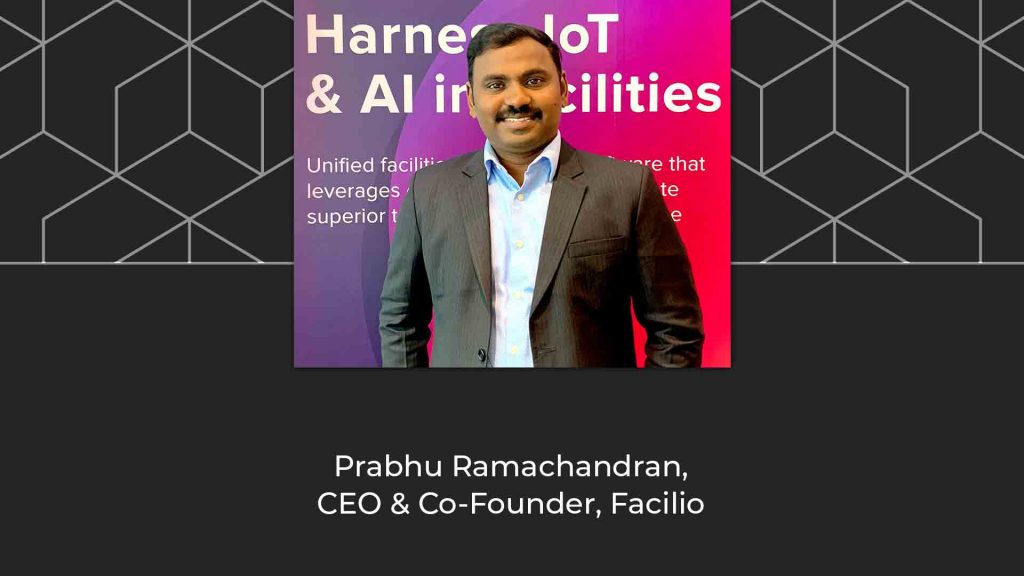 Recently Facilio beat several global tech companies to partner with the Dubai government in its smart city vision. The Tiger Global and Accel Partners-funded Facilio signed a strategic partnership with Digital X, a subsidiary of Dubai's utilities authority Digital DEWA (Dubai Electricity and Water Association) whereby the startup will help DEWA's Dubai-wide smart city efforts. Read on for excerpts from the conversation.
1. Facilio was chosen to partner with the Dubai government for its smart city vision. What are the expectations and what is this tie-up about?
As part of a larger strategy to digitize infrastructure and the delivery of public services to the residents of the city, the Dubai administration has launched the Dubai 10X initiative. The underlying aspiration is to position the city 10 years ahead of other major urban centers around the world. The Dubai 10X is part of a vision for the future, articulated by H.H. Sheikh Mohammed bin Rashid Al Maktoum, the ruler of Dubai, two years ago.
With Dubai rapidly emerging as a major regional and global commercial hub, the aim is to create digitized community infrastructure, which employs IoT driven data collation and AI based generation of real-time insights and centralized control. We are partnering with Digital X, a subsidiary of Dubai Electricity and Water Authority (DEWA) and Smart IoT, one of Dubai's leading digital solutions providers. The Facilio software platform will act as the vendor agnostic centralized hub that collects data from all the automation across the buildings under management, subject it to AI driven analysis and derive actionable insights that can be leveraged to create highly sustainable and optimized performance of all assets.
2. Could you shed light upon what's in store post your MOU signing with Digital X? Could you elaborate more about this engagement with them?
The MoU seeks to implement Smart Living as a Service (SLaaS) in the Emirati city. The emergence of cognitive technologies, connectivity and distributed processing power is making it possible to envision a new and future-ready urban infrastructure. While the concept of Smart Cities has existed for some time already, the exact approach that would be taken to create such digitally enabled communities was not clear, until recently. A mere couple of years ago, such infrastructure was being conceived as a largely hardware driven endeavor. Our solution takes the approach to upgrade the performance and potential of existing physical assets, with the addition of a portfolio-wide software program.
We have already demonstrated these capabilities in the Dubai market, with projects that involve some of the biggest names in Dubai's commercial real estate sector. Digitally empowered public amenities are a natural extension of the approach we are able to empower, and the ability to do so by upgrading existing infrastructure makes the entire project far more viable. As a company at the forefront of innovative next-generation technology, Facilio is perfectly positioned to deliver exceptional occupant experiences, optimal sustainability and unprecedented asset efficiency, at the same time. I strongly believe this project will emerge as a globally recognized model for more such initiatives to emulate.

3. What makes Facilio stand out from its competitors and their offerings? What is the core USP and going forward 5 years down the line what you think will make Facilio stand out amidst the whole competition?
What makes us unique in the commercial real estate space is the strategy and approach we enable. The industry has depended on automation for a few decades already, but we have come to a point where even a single building is trying to reconcile multiple siloed systems and technologies. The typical modern building has lifts, lighting, security, HVAC and numerous other systems that each have vendor specific software protocols that cannot talk to each other. All these systems generate massive quantities of data, but it is not being used to create optimal outcomes.
Existing CaFM solutions do add some of the advantages of digitization to this mix, but ultimately the approach has been a little limited in its scope. Many of these solutions are also rigid and lacking in the kind of innovation that the industry really needs. The Facilio solution adds a powerful IoT, AI and Machine Learning driven software platform as an additional, centralized layer, which creates system scale synergy. This unified approach is not just limited to a single building, although that would be revolutionary in itself. We are able to scale this centralized command and control over entire portfolios, communities and potentially cities.
The greatest unutilized resource in modern buildings is data. It is typically not being leveraged to optimize performance. By putting this precious resource to use, the Facilio solution is able to transform the performance profiles of existing systems. As far as future-readiness is concerned, one of our greatest advantages is that our approach can integrate any new innovation as it emerges. Frankly our core USP and projection for five years from now is the same. The Facilio solution will continue to expand the scope of its impact, because we will be integrating with more and more innovative new technologies, by providing them with the perfect underlying platform on which they can rapidly scale up in implementation.
4. Name your favourite PropTech start-ups. Do you see yourself collaborating with any of them in the near future?
We are a technology driven startup ourselves, and have great faith in the power of technology to transform existing scenarios. This is an exciting time for futurists and tech-driven enterprises. There is a genuine opportunity to introduce disruptive models and strategies that completely redefine possibilities, rather than simply making small improvements.
Naturally, given the nature of our own solution, we are drawn to others who share our passion for identifying opportunities to back a completely new approach. As a technology that can impact people, automation and physical assets at the same time, we are able to take a big-picture interest in the real estate industry. We have already partnered with several interesting Proptech start-ups, including WEGoT utility solutions, nymo.ai, Inferrix, and more. We are fortunate to be part of an industry that is actively seeking to reinvent itself. There are numerous emerging start-ups in the Proptech space that offer exciting prospects for us to partner with in the future.

5. How different is the PropTech scenario in India as compared to Dubai?
To be perfectly honest, we live in a world of ideas today. The entire world is better integrated than ever before and innovations are cross-pollinating across markets to an unprecedented extent. While there are certainly differences in the scale and scope of the real estate industry itself, when one compares India to Dubai, each presents great opportunities for Proptech.
There are aspects in which the Dubai market is already mature to an extent that India is still moving towards. However, you never know where the next great innovation is coming from, in today's world. One of the most fundamental shifts, that I believe is currently underway in the Smart homes and buildings space, is that this is no longer an approach restricted to high-end and luxury properties. This is an approach that will be looked at as a standard utility in the future. To an extent, we are seeing more energetic early adoption in Dubai, but I envisage India following suit in not too long. Proptech is a catchphrase right now, because it is an emerging innovation. In the near future it will be the standard approach to managing built infrastructure.
6. What do you see as the major opportunities for your continued growth in the future?
70% of the millennial workforce aspires to working in a Smart office facility, within the next 5 years. 73% of real estate companies perceive gaining access to more of the data generated by their buildings, as the path to turn their assets into smart buildings. However, at the same time, only 18% of firms have embedded intelligence, such as fault detection and diagnosis, in their equipment; and only 16% of building systems are connected to a centralized operations mechanism.
Against this landscape, Facilio has been able to expand to around 30 million sq. ft. of space under management, within the short span of two years. So, addressing creating resource and performance optimized workspaces is certainly one area in which we anticipate a lot of opportunities for expansion.
The global push for more sustainable buildings and Smart Cities is another obvious avenue for growth. The Facilio solution provides a way to upgrade existing built infrastructure using Digital Retrofits, as opposed to adding additional hardware, which involves higher costs to achieve the same results. Smart Homes are moving from being premium offerings at the high end of the market, to standard facilities that can be made available to most homes using Smart Living as a Service (SLaaS) solutions. This is another approach that dovetails very well with the capabilities of the enterprise-wide software platform that Facilio delivers. As exciting as our journey has been so far, I believe even greater rewards await us, in the future.

7. What do you think about the future of PropTech in India? Where do you think Facilio would stand in the future?
I think Proptech can play a central role as an enabling influence, for many of the national goals that India has at present. This is true whether we are looking at overall development, energy independence, upgrading public facilities or achieving a much larger net size of economy.
Real estate is one of the core sectors in any growing economy and this is particularly true of a country with as large a population as India has. We often talk about the fact that more than 65% of India's population is less than 35 years of age. This one statistic alone can be unlocked to reveal multiple advantages and opportunities for Proptech. Having a large youthful population will inevitably result in growing demand for new properties. The age factor will ensure that a lot of that customer base aspires to the latest amenities and this is the ideal scenario for Proptech to create an impact in. The sheer scale of this emerging market will also create challenges in sustainability and value-generation, which is yet another ideal aspect that Proptech is primed to impact.
I see a lot of space for Proptech companies to create value in India, and a lot of factors that they can leverage to generate solutions. I think India could be one of the most exciting markets globally, for new ideas in Proptech to prosper, and the scale of the opportunity could result in some of the biggest companies in the space. As far as Facilio's vision of where we will stand in the future is concerned, we are every bit the start-up in our approach and will continue to see ourselves that way. The fact that our product is inherently open to further expand, integrate and scale, means that our opportunities will continue to multiply as the industry experiences further evolution. The vision we have for our future is to continue to be an enabler, a generator of value and a company that identifies solutions where others see limitations.
ALSO READ: CityBldr The "Smart Brokerage" That Helps You To Determine Your Property's Worth