Repair work of a few buildings at Highland Park in Mumbai has almost come to a standstill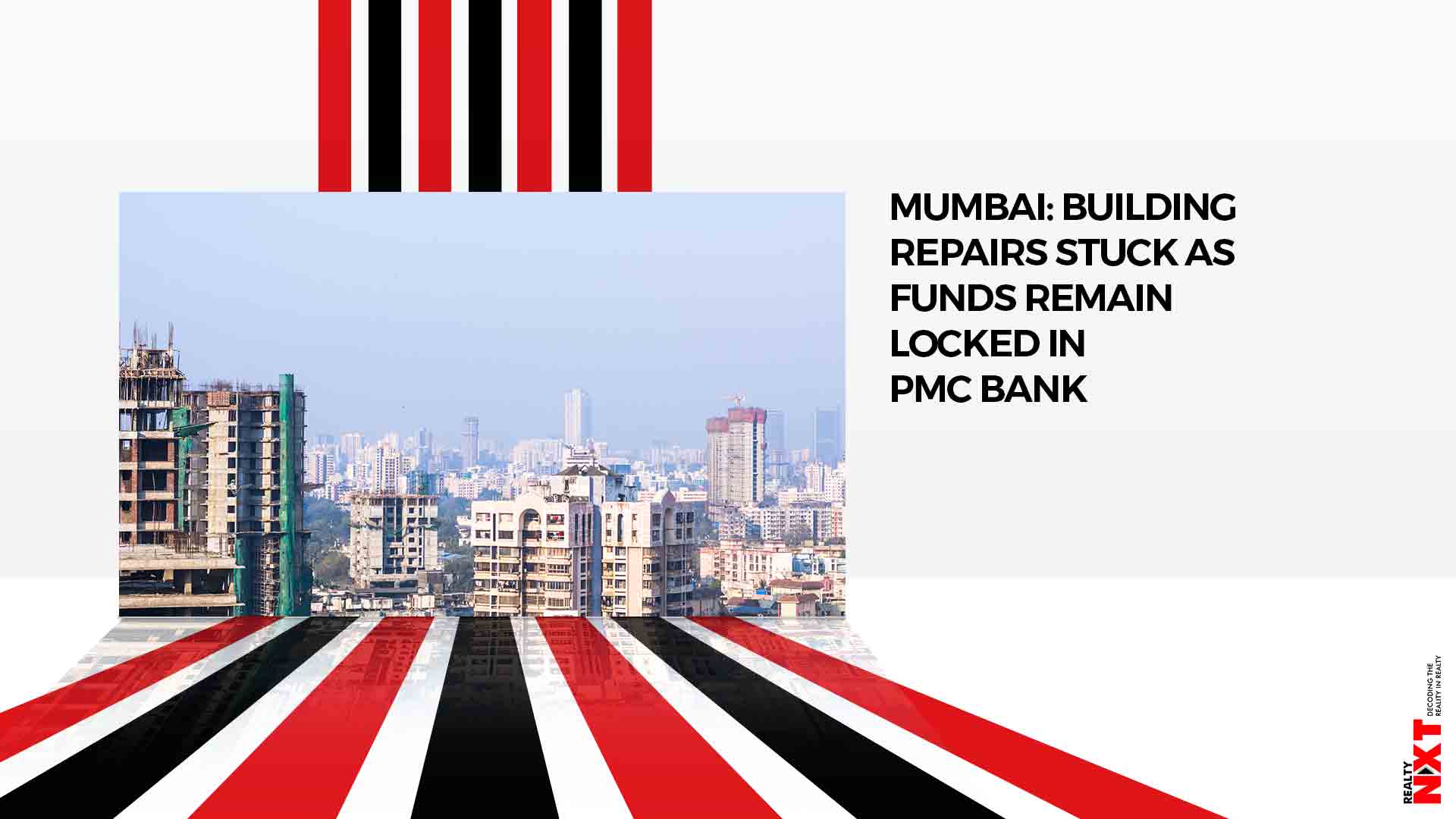 The building has a bamboo scaffolding which came up in July to carry out external repairs and plaster.
 Repair work of a few buildings at Highland Park in Mulund Colony has almost come to a standstill lately as the society has around Rs 60 lakh deposits locked in Punjab and Maharashtra Cooperative (PMC) Bank. Withdrawal limit for PMC Bankdepositors is capped at Rs 50,000.
A few housing societies in Andheri (East), too, have their funds locked in PMC Bank and the committee members are facing major hurdles in running daily operations, including paying salaries to security and other staff and for maintenance of the building.
A woman depositor of PMC Bank, who had demolished her 50-year-old house in Mulund in the hope of building a bungalow, is now left in the lurch too.
"It is a major setback to several societies in our area that have at least Rs 40 lakh to Rs 60 lakh in PMC Bank. The amount was deposited to earn interest on it for day-to-day society expenses," said Chandrashekhar Parab, secretary of the B-Wing of Highland Park which is undergoing repairs. The building has a bamboo scaffolding which came up in July to carry out external repairs and plaster.
Parab said, "We got a shocker in September on learning that the bank had blocked withdrawals for depositors. Our building was up for repairs." The society somehow managed with funds from another bank but Parab said the going is "really tough. We are calling for an SGM soon to decide what to do with the repairs and whether to curtail some expenses".
Housing societies in the vicinity have similarly suffered. Anmol Bhushan from E-Wing of the complex said, "We have six more buildings in the complex with at least Rs 40 lakh in bank deposits and they are all struggling with daily society expenses. We have to pay for the security, other staff, maintenance of the building and petty repairs."
The bank had initially allowed Rs 1,000 withdrawal and subsequently raised the limit to Rs 50,000. "It is not enough," said a society member.
It is alleged that the bank management did not disclose huge loan defaults by HDIL group firms.
Senior experts in the cooperative societies sector have advised depositor housing societies to put a joint claim on HDIL lands in Palghar and Vasai that have been attached by the EOW in the bank scam to earn their deposits back with interest. This, they say, will help societies restart their repair, maintenance and development works.
Ramesh Prabhu, chairman of Maharashtra Societies Welfare Association, said: "The 2,100-acre HDIL land on the outskirts of Mumbai (in Palghar and Vasai) is estimated to be worth over Rs 15,000 crore. The bank can easily manage to get its Rs 6,000-7,000 crore back by selling it."
Prabhu added all depositors must form an association to jointly make a claim.
In some of the socieities in Andheri (East), residents had contributed Rs 1,000 each to create a special fund to ensure daily expenses are not hit, said Clifford D'Souza of the core group of depositors who are fighting to get the money locked in the bank. 
"At least four to five housing societies near Poonam Nagar in Andheri have deposits of nearly Rs 2-3 crore in the bank branch. Daily society operations are a huge problem," he said.
Usha Mandhotra was in tears the day the bank went into a crisis. She had got her 50-year-old house on Guru Gobind Singh Road in Mulund West razed to rebuild it. "I had saved hard-earned money in the bank which offered good interest rate and I was confident of constructing a beautiful new home. But with the bank accounts locked, making any payments for reconstruction is difficult," she said.
The Reserve Bank of India-appointed administrator at PMC Bank has plans to auction attached properties of HDIL directors held in the loan fraud case to provide relief to over nine lakh depositors. The administrator has already written to EOW, probing the Rs 6,500-crore loan fraud case, to release the properties.
Source: TNN
(Note: The story has been published without modifications to the text. Only the headline have been changed.)
ALSO READ: Municipal Corporation of Gurgaon directed DLF to complete the pending infrastructure work