Bombay High Court given a "last chance" to real estate construction company Omkar Realtors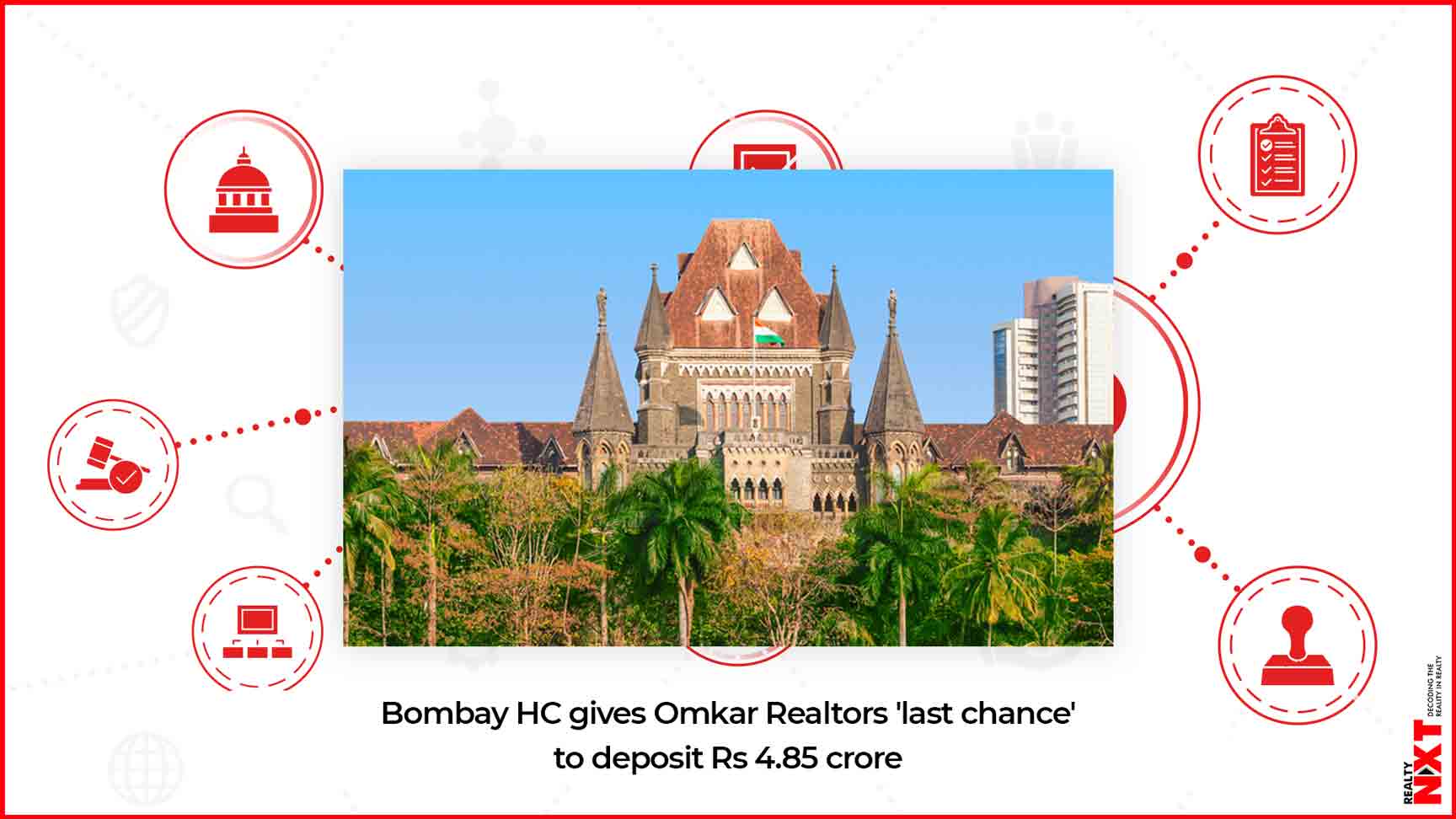 The Bombay High Courthas given a "last chance" to directors, chairman and managing director of well-known real estate construction company Omkar Realtors to save themselves from contempt proceedings. 
In an order passed last week, Justice Gautam Patel said this is their "final opportunity of redemption" and said he will consider absolving them only if they deposit Rs 4.85 crore as part of their undertaking in a dispute against one Grace & Garnet Infracon (GGI).
Apart from realty firm's chairman Kamal Kishore Gupta and managing director Babulal Varma, 10 directors have been directed to be present in court for the next hearing in December.
According to GGI, represented by advocates Firoz Bharucha and Rehan Chhapra, it had entered into a deal with Omkar Ventures Pvt Ltd (a group company) in January 2014 over development rights of a land parcel at Andheri East. In return, Omkar was supposed to give GGI constructed carpet area of over 25,000 sqft and Rs 2 crore. This was later modified to leave out the constructed area and involve only monetary compensation of Rs 32 crore.
After merging an adjoining plot, Omkar is building a plush residential complex called 'Lawns and Beyond' at the land parcel for which it had signed the deal with GGI. However, GGI approached the HC last year citing breach of the original agreement. It sought appointment of an Arbitrator to adjudicate the dispute. Omkar amicably settled the case and signed "consent terms", agreeing to pay the amount to GGI after financial adjustments in certain other projects where GGI partners had bought properties on Omkar's other projects. The consent terms were taken as an "undertaking" and the case was disposed of on October 26 last year.
In February, this year, GGI approached the HC again, citing breach of the consent terms. Omkar signed the "consent terms" with GGI yet again and sought more time to pay its dues. This time Omkar agreed to give two flats in a project at Worli and seven flats in a project at Jogeshwari to GGI to settle its dues by May 3, 2019. The court, while keeping the contempt petition pending, recorded Omkar's agreement with GGI.
On June 10, the court noted that Omkar had agreed to expeditiously complete the finishing of the two Worli flats it was supposed to handover, and sought more time for the Jogeshwari flats. Omkar's counsel Karl Tamboly told the court that it needed a noobjection certificate from Yes Bank which was financing the project.
While the two Worli flats were eventually handed over to GGI, the process of registering an agreement for the seven Jogeshwari flats remained pending, bringing Omkar's liability down to Rs 4.85 crore.
During the hearing on November 11, the court made a note of all the orders passed during the year, and the opportunities granted to Omkar to settle the dues, and observed that one last opportunity may be given to them.
"I note that Mr Tamboly (Omkar's counsel) does not today have instructions to make a statement or give an undertaking that his clients will indeed make this deposit. That matters little. There are previous undertakings included in the consent terms which can, must, and will be enforced against the respondents. I trust my meaning is plain to all the respondents. This order of deposit only affords a final opportunity of redemption to the respondents," the court observed while directing them to deposit Rs 4.85 crore by December 2.
Source: TNN
(Note: The story has been published without modifications to the text. Only the headline have been changed.)
ALSO READ: Municipal corporation resolved to convert all its leasehold properties to freehold