RealtyNXT In An Exclusive Conversation With Sachin Mehra
DaeBuild CRM is a brain child of Sachin Mehra who founded Daemon Information Systems way back in 1998 at the age of 22.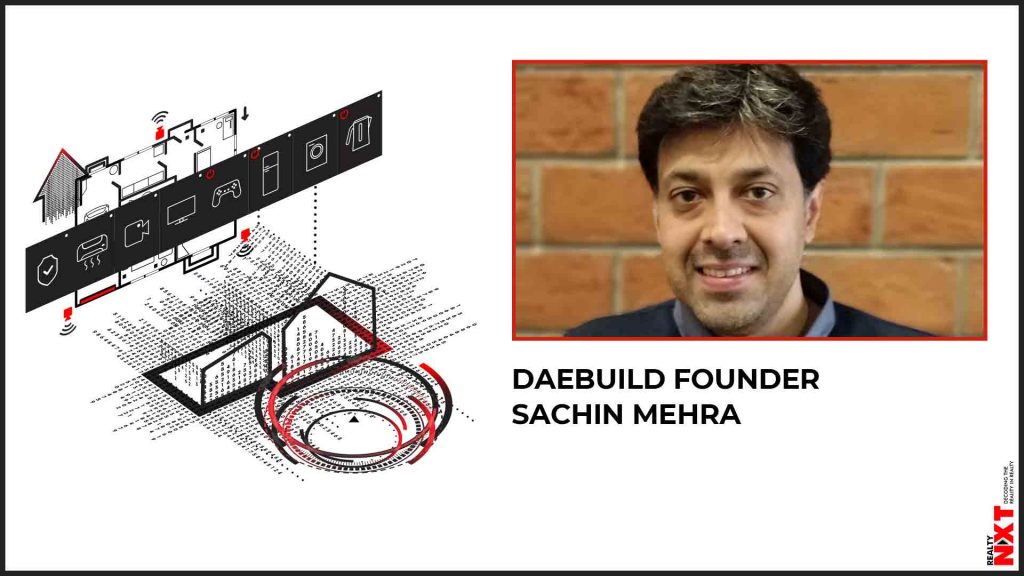 A self starter with capital to survive only for few days has come a long way to develop Daemon as a strong player in enterprise software development. DaeBuild, is a CRM Software for Real Estate Developers which enables them to manage and track their Pre and Post Sales processes leading to better Customer Service and Value addition to the bottom lines of Real Estate Developers. Read on for excerpts from the conversation.
1. CRM space has been existing for quite a while with great adaptions from developer side towards CRM at least in metro and tier 1 cities. What challenges have you faced?

DaeBuild CRM emerged with the idea to digitally integrate Real Estate Developer and Property Buyer thus creating an organized sustainable relationship. It stems from a strong belief that technology plays a crucial role in building trust and transparency among core stake holder – Builder and the Buyer.
Real Estate CRM space though existing for a while, its penetration across SME developers is not more than 20% specifically in tier 2 cities and the penetration of a Buyer/Customer App is even less than 5%. Considering the size of Indian Real Estate, we see a huge opportunity here. Even large real estate developers who have been early adopters of CRM technology are open to migrations to more intelligent and intuitive CRM technology.
The mission to penetrate tech in real estate has been quite challenging. We have walked this path, with strong determination and sincerity to ensure that one builder in front of us is happy and values the power of DaeBuild CRM.
With the passage of time, the challenges have changed. We have moved from the times when we had to convince developers to automate their customer relation and sales process. Today, most of the developers across the country are very progressive and open to embracing technology. The challenge that we face today is of an evolution, it's a new birth for real estate in India. The major reforms in last couple of years have kept developers on their toes, it is quite impressive to witness the resilience of Indian Real Estate Developer to weather the change and in fact many developers have emerged stronger.
At DaeBuild CRM, last couple of years have been quite exciting, where we have rapidly reformed our tech stack to meet the changing needs of developers.
2. What kind of services does your brand offer?
DaeBuild Tech Stack includes Web CRM, Builder App and a White Labelled Customer/Buyer App. We offer end to end sales automation solutions to Builders. Our Pre and Post Sales Automation solutions are specially designed and weaved considering the processes of Indian real estate builder. DaeBuild CRM onboards Builder and Buyer on the same mobile platform with tight integration of transactions, accounts, documents and customer engagements.

3. What's your business model?
We work on different business models for our range of offerings like our CRM works on a
one-time Units model, where builder can start from a lower unit's pack clubbed with unlimited users across projects and no expiry. Considering a real estate project runs through couple of years, this model helps builders to keep the overall cost of ownership low. Moreover, we offer both on premise and hosted solutions, thus builders have complete control over their mission critical data.
For our Buyer App, we work on a subscription model, where builders pay a nominal amount every month to onboard unlimited customers.

4. Since there is so much clutter in CRM market space. How you differentiate your offerings from the existing CRM companies present in the market?
We certainly see a clutter in CRM space and have witnessed many CRM's emerging and dying in last couple of years. I also sense that this space would certainly consolidate in times to come. At DaeBuild, we focus on how our CRM can create a customer centric culture for the Builder. Every business intelligence, analytics and automation that we build is designed with the focus to enable Real Estate Developer to build better customer relations, retain customers and excel sales growth. At the same time offering agility to meet the ever-changing needs of developers.
Our Customer App has emerged with the thought that CRM cannot be complete without having customer on board. Today our clients can build trust and transparency by sharing real time transactions, documents, construction updates with property buyers. Consistent Innovation has given DaeBuild CRM an edge over the competition.

5. What's your go to market strategy in terms of metro cities as there is huge competition. Also are you targeting any specific tier cities?
Our focus since launch has been SME real estate developers in non-metro and Tier 2 cities. We got good traction from cities like Chandigarh, Ahmedabad, Cuttack, Vadodara, Vijayawada and other smaller cities of India. DaeBuild CRM has evolved amid core pain areas of a real estate builder, its functionalities and processes are well weaved for an Indian developer to easily adapt.

DaeBuild CRM has created a shared platform for Builders and Property Buyers. Today, property buyer is an integral part of builders CRM system and is being notified in real time about various transactions and activities. This differentiates DaeBuild CRM among other Pre and Post Sales CRM systems.
With Adaptability and Affordability, DaeBuild CRM is all set to create value for SME developer even in metro cites.

6. Can you please share some case studies where developer have really benefited from your CRM. The best success story you have had so far.
We live in an era of Millennials and Gen Z where Tech is the way of life. We had wonderful experiences where builders have been able to capitalize on customer relations, improve their lead conversion ratio, payment collections, customer interactions by deploying DaeBuild tech stack.
To share some quantitative cases, one of our customers was spending huge man hours to do a complete document life cycle for a 550 units project. Post automating documents using DaeBuild CRM, same process was completed in less than 10% hours thus almost nullifying the cost involved in generating error free legal documentation. Another instance is of a typical RERA statement of Receivables, it was taking one of our clients around 4-man days, which is instantly and readily generated from DaeBuild CRM.


7. What do you think about the future of Proptech in India? Where do you think DaeBuild would stand in the future?
It is encouraging that PropTech though existing for a while has caught the attention and we have witnessed some growth in last couple of years. We are now in the post reform era and this is just the beginning. In years to come, Real Estate developers would certainly drive large scale adoption of prop tech.
At DaeBuild, our focus would be on building intuitive and innovative tech to create more enriching relationship between property buyer and a real estate developer. DaeBuild CRM would certainly stand at the vanguard of PropTech movement in India.

8. Can you share 5 sets of numbers in terms of statistics that define your growth?
We have on board our first 100 real estate companies, spread across 40 cities in India. Today DaeBuild CRM collectively manages an inventory of 65000+ units in over 300 real estate projects.
ALSO READ: An Exclusive Conversation With SaaS Startup Facilio