RealtyNXT In An Exclusive Conversation With Rohan Shridhar, Co-Founder & COO, TEAL
Recently, real estate intelligence startup Terra Economics and Analytics Lab (TEAL) secured its first round of funding totalling Rs 5 crore from Info Edge India Ltd.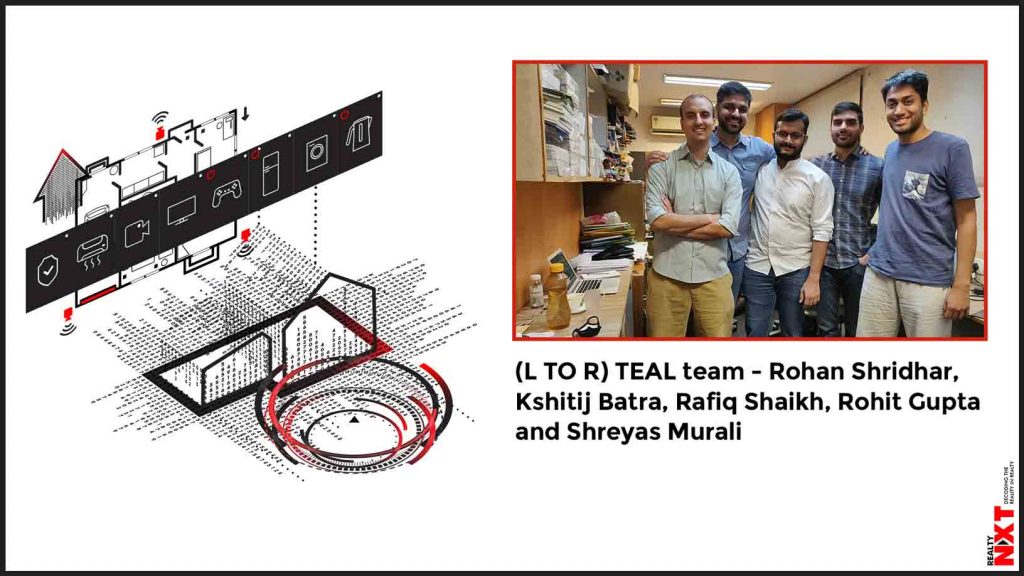 The company began its operations a year ago is engaged in building real estate intelligence and analytics platform for banks, housing finance companies, real estate firms, infrastructure developers and retail investors. Read on for excerpts from the conversation.

1. How did you identify the need gap? And how exactly this idea came and what has been your journey in the last one year once the idea struck you?
The seeds of this idea were planted a few years ago when Kshitij was working on a project with the National Housing Bank and the Ministry of Finance to track property values in Indian cities. As you are aware, price discovery for real estate is a significant challenge in the Indian market because of the issue of underreporting of transaction prices to avoid high transaction taxes. Kshitij subsequently went on to work as a Senior Economist for Housing.com, a real estate listing portal, where he experimented with linking different property databases and running AI/ML algorithms to create various tools for consumers (eg. for automated property valuation). From there he moved onto IDFC's think tank in Mumbai to lead a research study to increase the supply of affordable housing in Indian cities, and that's where we first met. I being a lawyer had worked at law firms where I had experienced first-hand the inefficiencies related to the current mechanism of property due diligence for individual properties by lawyers. We started exploring the potential for creating a tech-enabled platform to do the same task at scale plus adding some of the useful tools Kshitij had tried out before at housing.com. After a few initial pilots with different databases across India, we decided to start TEAL.
2. Recently you have raised Rs 5 crores from Info Edge in seed funding, is it one of investment funding from InfoEdge or strategic funding which would mean that in the future we can seem synergies between 99acres and TEAL.
We are extremely delighted to have Info Edge as our first investor. We strongly believe that the depth of experience they bring in this space will be really valuable in helping us scale our business. Given how early stage we are, it is preliminary to speculate on possible synergies down the line, but we certainly hope to benefit from the unparalleled knowledge and expertise that Info Edge's team brings for internet businesses in India.
3. Who are your customers at this point? And who exactly need your service?
Our main customers are financial institutions in India primarily concerned with mortgage lending. We are currently testing our terminal with several large banks, NBFCs and housing finance companies.
4. What are the challenges do you see in the growth story?
The challenge we face is the decentralised nature of information concerning real estate in India and the fragmented landscape of the market. Given that India is a federal country, each state and many a times cities within states have their own nuances vis a vis policy, regulation and laws governing real estate. Navigating this labyrinth of legal, regulatory and pricing information across the country while creating an easy to use solution for our users is demanding. To address this, we currently have a strong research vertical that devotes considerable amount of time researching local real estate laws, regulations, policies and land governance issues.
5. What makes TEAL stand out from its competitors and their offerings. What is the core USP?
The primary focus of real estate technology in India has been around lead generation or brokering commercial deals for institutional buyers. There are limited tech enabled solutions for day-to-day mortgages in India that simplify the process to leverage property collateral for small-ticket lending. That is why we decided to build a mortgage lending solution for financial institutions who have to underwrite property for mortgages (60% of lending in India is against property collateral) and deal with this challenge more frequently than consumers who transact in property. We are also bringing an interdisciplinary approach to the pertinent problem of information asymmetry and fusing it with tech enabled tools to bring about a holistic solution for our users.
6. And going forward 5 years down the line what you think will make TEAL stand out amidst the whole competition.
We are hoping to create tools that radically increase transparency in the land and property markets in India. Through this we hope to increase formal mortgage penetration and remove the liability of legal risk and uncertainty from individual transacting parties.
7. What do you think about the future of PropTech in India?
Over the years, availability of public data concerning real estate has considerably improved, especially with better implementation of central government programmes such as the digital land records modernisation programme and state government initiatives. The scope for innovation with this increased public information is immense. However, the biggest challenge is to make the innovation scalable by building a strong revenue-generating business with the technology. For future applications to be sustainable it is important for the industry to push the envelope in terms of innovation to solve deeper problems in the market and provide value to users.
8. How are you expanding in terms of number of clients and team? What's your go-to market strategy?
Our focus is the B2B segment involving financial institutions. We are building a strong tech and enterprise product team. Currently we are in the test phase with several financial institutions and are reaching out to others.
9. Can you share 5 sets of numbers in terms of statistics that define your growth?
We established TEAL in October 2018, Shreyas joined us in December and we started building the product in January 2019. Until 2 weeks ago, we were completely bootstrapped — we put in all our savings and ran a highly low-cost operation. Within 6 months, with the help of a group of stellar interns, students and remote employees, we created a platform with granular information on more than 2.7 million properties across more than 3,000 localities in the city of Delhi. This includes properties in laldora areas, village lands, 'unauthorized colonies', DDA colonies, 'encroached' areas and informal settlements. This platform is currently being tested by 7 large financial institutions, including by some of the largest banks and Housing Finance Companies in India, and we are looking to expand to more in the next 6 months.
ALSO READ: RealtyNXT In An Exclusive Conversation With Sachin Mehra