Thane v/s Navi Mumbai; Where Should One Invest?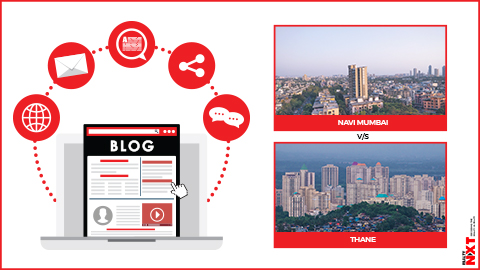 A prospective buyer looks into various aspects of properties before investing in them. One of the major factors affecting this decision is the location of that said property.

When it comes to Mumbai suburbs and surrounding areas, two obvious locations come to mind. Thane and Navi-Mumbai. The obvious question that haunts most minds is which location to prefer over the other and what are the parameters to do the same? Well, the pros and cons of both the locations are mentioned below for you to decipher which suits your needs the best!

Thane – Fabric of Culture and Development

Thane is divided into multiple wards, which makes it easily managed with a better management system in place for all the wards.
Thane is well connected to Mumbai by roadways with an easy, short commute.
The roads in Thane are wide and less prone to congestion as compared to Mumbai.
The local railway network extends from South Mumbai to thane and beyond to Dombivali and ahead, which makes the commute easy and pleasurable.
The latest metro line 4 project is all set to connect Wadala to Kasarvadavli, thus connecting Thane to all the parts of the city. That is a major positive change happening in the city.
Thane has been a top choice for many big real estate developers and thus one of the fastest-growing hubs in the city.
Areas like Wagle Estate, Ghodbunder Road etc. are some of the growing commercial areas that provide major career prospects which makes Thane a great place to be.
Despite vast commercial development, Thane has managed to preserve the old-city fabric and the community life that thrives within the city.
Navi-Mumbai- The Hub for Latest Development

Navi Mumbai is a great model for a planned city and how it's done.
The roadway construction is better and wider which avoids any major congestions that are quite common on old Mumbai roads.
The roadway connectivity is decent and an easy commute; the local network, however, extends only to Panvel and does not extend any further, which is one of the downfalls, however, a major part is well connected with Central and Western lines.
Navi Mumbai is a major IT hub and offers many job opportunities to hundreds which can be considered a major plus.
The city is planned by CIDCO and boasts major developed infrastructures than any other part of Mumbai or the extended area.
The designated Special Economic Zone (SEZ) allows multiple business opportunities to everyone nearby.
The natural bounty presented by the areas of Navi Mumbai avails the residents a refreshing opportunity to spend leisurely time.
There are many major plus points in choosing both areas. All one has to do is weigh their personal goals with the pros of the area to choose the one that makes the most sense.
ALSO READ: Should builders adapt STP for non potable uses in order to save the scarce supply of drinking water