RealtyNXT In An Exclusive Conversation With Chris Maughan, CEO and Co-Founder I-PRAC
Chris have been in the short term rental Industry for coming up 20 years, founding AES EVENTS GROUP the leading accommodation and event management company in Cannes.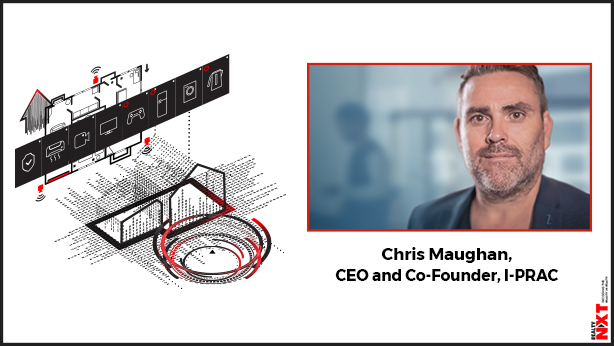 It was back in 2014 when Chris received a call from a family who had arrived in Cannes, to find themselves standing on the side of the road. A husband, wife, 3 children looking for an alternative accommodation, as their luxury villa they had paid £15.000.00 for did not exist.  

Chris offered them one of his villas for the 2-week holiday, at no cost, it was 2 days later he met the family once the initial shock had calmed down, and they explained in detail what happened, even showed him the paperwork of their reservation. It was at that initial moment as an industry leader he realized how he could protect other families and travelers falling victim to Fraud, and this was when the idea of I-PRAC came to light. Read on for excerpts from the conversation.
1. How did the idea originate? And what was the need gap that was witnessed and what has been the journey like when the idea kicked in.
After months of investigations, we realized that there was no control over the short term rental industry, no verification to list on booking platforms, no restrictions to build a website and start renting property. Although there were many legitimate operators. It was clear the short term rental industry was like the wild west no protection for consumers.
The journey from meeting the first family who got trapped in a fraud scheme till today has been tough, exciting and difficult the same time. And at times I wanted to give up the fight but I knew I had to bring I-PRAC to market and improve the rental industry for consumers and for legitimate operators. I-PRAC to date has been bootstrapped by myself and my wife Mary Tangale who is also has played a major role in bringing I-PRAC to market and building the membership base where it is today. We have invested close to 600,000 Euros over our own money, to build I-PRAC and to get I-PRAC where it is today as a global brand protecting the industry we both love.
2. What is the company current business model, and what are the main sources of revenue. And targets for next year?
I-PRAC is a global membership platform where legitimate and professional short-term rental providers apply to become an approved member, we offer two types of renewable annual memberships 
Private Owner ( £399.00 per year )
Rental Agency/Managers ( £899.00 per year )
Applicants pay a membership fee, at application stage; if they are approved they receive their official I-PRAC approved status, which comes in the form of:
I-PRAC unique Logo with ID
I-PRAC certificate of approval
I-PRAC verification profile
This is where we generate our main source of incomes, although we do have other streams in the pipeline for 2020, as we launch the business travel support, where we will offer businesses a service where we will introduce them to I-PRAC members or screen accommodation providers they have sourced. As businesses are looking to protect themselves from losing money to fraudulent operations, they are looking to pay up to £1500.00 per annum for this service. We already have 500 business signed up to this service launching in 2020 and we believe this will be a very popular service to businesses. Although also drive forward I-PRAC membership as property owners and managers see more and more businesses using I-PRAC approved members for their accommodation solutions.
3. Can you share 5 sets of numbers in terms of statistics that define your growth ?

Approval Managers employed from 5 in 2016 to 28 in 2019, and by close of 2020 we expect to have over 50 approval managers.

Membership going from 0 in 2016 to just over 34,000,00 in 28 countries by close of 2019
We also expect to reach 1 million members by close of 2022.
There is expected to be 1 billion homes on the short term rental market by 2024 and with regulation threatening the industry verification id going to play a key role, and this will have a dramatic effect on the growth of I-PRAC as more home owners and agents realize that they will not be able to operate correctly without verification.
4. How has I-PRAC adapted technology over the years and what role has it played in the company's growth?

Technology plays a very vital aspect of our business, and since the launch of I-PRAC we have invested heavily in the purchase of current market technology. We have a very skilled technology design department, where we also design out own internal systems and tech to support our approval processes and application systems. We have used technology to be able to reduce approval time for members and also to offer support to our trained approval managers. We do love technology at I-PRAC although technology alone could not support a sustainable guarantee of a verification. Its where our approval managers and internal training comes in, so yes technology is key and allows us to check passports, utility bills, email and phone verifications and property photo reverse imaging, and many other aspects, the key to verification is data provided by the applicant without the data provided we would not be able to use the technology.
5. What makes I-PRAC stand out from its competitors and their offerings, What is the core USP and going forward 5 years down the line, what you think will make I-PRAC stand out amidst the whole competition?

To date I-PRAC does not have a competitor. We are first to market product, and a product many industry leaders and operators still feel is not required, so having brought I-PRAC to market 4 years prior to any competitor it would be very difficult to compete with I-PRAC at this stage, as we are the sole industry verification platform for the short term industry. 

The core USP of I-PRAC is the platform design, the technology and the fact we are solving a consumer industry problem. This is key to any industry if you are able to solve a problem and at the same time bring value to the paying customers of the business, then it's only a matter of time before the industry sees the need and the USP of the business.

As verification of properties and their owners becomes more required we do expect to see competition, although we don't see how competition can develop the technology and the platform and the brand to compete with I-PRAC although I would welcome competition, as it's also a possibility to learn and drive our own business forward.
6. Currently for your product you already closely working with government agencies and utility companies in 28 countries, do you ever plan to expand to Asia?
Yes, a very vital aspect of our work is our partnerships with local governments and national governments to be able to work with them and our technology to support our verification process. 

Although it's very difficult to move into new territories as there are many barriers to entry, we have a very experienced team who have learned the pitfalls of entering into new markets. 

As we need to partner with governments of new countries it takes time and education for countries to understand the work I-PRAC do and to agree on partnerships, we know we bring value to any country as we are stamping out consumer fraud, in a very growing market, so yes we have plans to move into Asia in the coming years, and work will start on this with our territory teams early 2020
7. What is your opinion on regulation in the short term rental industry and how you think this will impact I-PRAC?

Regulation is a necessary for this growing industry, in fact its grown too fast for regulation to catch up, so there is a lot of playing catch up going on. However governments cannot ignore that there are huge amounts of lost income taxes claimed, properties unfit for purpose and health and safety hazards, and short term rental is causing local real estate property prices and long term rental properties to rise, causing major problems in major cities around the world, So regulation is coming, and its welcomed 

I-PRAC is members of many global associations dedicated to the short-term rental industry and we work closely with these associations to support the regulation proposals for the future of the industry

Many industry leaders will agree that booking platforms have had an very easy run to date with no verification of property listings, and no control of sharing host incomes to governments, so Governments over the next 2/3 years will certainly force booking platforms to provide data on property listings, such as rental incomes, and property addresses of hosts, this is causing many property owners and agents to look at more direct booking models, so that their business are not affected by these changes to booking platforms
However to build a direct booking model for short term rentals, you need to provide 100% trust and confidence to your potential guests, and this is what I-PRAC do, so we expect to see large increase of applicants over the next 2/3 years

In addition consumer confidence is effected by the growing problem of rental fraud, I-PRAC positioning is very positive as host verification comes more main stream over the next few years
By 2022, we expect regulations to be in place where no property owner or agency will be able to market a property for rental online without showing a rental license, and certainly an aspect of attaining a short-term rental license will be verification and this is where I-PRAC major growth will happen,

I-PRAC started as an idea in 2014 to find a solution to make the short term rental market a safer place for consumers, and after 2 years of R&D and a launch of April 2016, it's been an exciting 3 years and I am incredibly proud of where we are today as a business and where we are heading

I-PRAC is a very attractive opportunity for VC who are looking to get involved in this growing industry of short term rentals, that has a tech aspect and a global presence, We are very excited for the years ahead, although our main mission is to protect consumers by providing them with a logo of confidence they can trust when booking through I-PRAC approved members.
ALSO READ: RealtyNXT In An Exclusive Conversation With Rohan Shridhar, Co-Founder & COO, TEAL