Propstack Signs Savills as Enterprise Client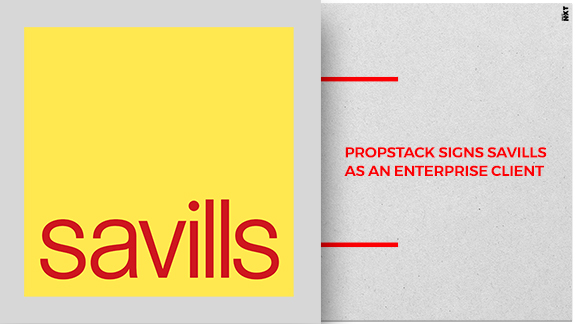 Propstack which is a leading Real Estate Technology, Data & Analytics company has today announced that it has added Savills, a global real estate services provider listed on the London Stock Exchange and India's premier professional international property consulting firm, as a client for its platform to enhance data infrastructure & granularity.
Propstack's platform has integrated the largest government sourced verified database with other disparate information across the Asia Pacific. This has helped create market transparency, predict trends, save time and optimize returns for their clients. Propstack's suite of solutions allows businesses to get deeper insights by uniting multiple data sources in one place. These technologies offer companies like Savills the agility and flexibility to scale their operations quickly. Among other things, Propstack is the largest private repository of verified sale, rental & mortgage transactions in Asia Pacific.
"Our access to Propstack's data & analytics platform will enable us to enhance our own market-leading platform and allow Savills customers and partners to gain access to enhanced & critical information. It'll provide our clients the ability to analyze data, identify trends, and make better-informed business decisions, faster" said Kaustuv Roy, Managing Director – Business Solutions of Savills.
"This is an exciting milestone for our company," said Raja Seetharaman, Co-Founder of Propstack. Savills recognizes the value of data & analytics and we look forward to developing our platform to create a seamless technology and data experience for them. Savills is leading the field when it comes to innovation in technology & data and we are pleased to be working with them to realize their business goals.
About Propstack
Propstack is India's leading Real Estate data, analytics and workflow solutions platform and was developed in response to a need for greater market transparency. Our data is the most important part of our business and we conduct expansive, ongoing research to produce and maintain the largest and most comprehensive database of Real Estate information. We are also the largest private repository of registered sale, lease and mortgage information in Asia Pacific. Propstack provides predictive and prescriptive analytics based on our deep data which forms the core of our clients efficient and smart decision making. Every data point is meticulously researched and verified by our teams. Post verification of this granular data, our team of analysts provide trends & insights through our cutting-edge analytics suite. Our suite of online services enables clients to analyze, interpret and gain unmatched insight on commercial property values, market conditions and current availabilities
About Savills
Savills is India's premier professional international property consulting firm. Savills began its India operations in early 2016 and has since seen significant growth. With offices in Bangalore, Mumbai, Delhi NCR, Pune and Chennai and having serviced clients in Hyderabad and Kolkata, Savills India has a robust pan-India platform to deliver to our clients.
Savills in India is a full-service advisor offering Commercial Advisory & Transactions, Project Management, Capital Markets, Valuations & Advisory, Research & Consulting and Residential services. Our unique combination of in-depth sector-specific knowledge and entrepreneurial spirit gives clients access to unique and innovative real estate solutions backed up by the highest quality of service delivery.
ALSO READ: Realty firm M3M signs MoU with Swedish firm to develop smart city