Drona Automations is working towards a noble cause in eradicating manual cleaning of sewer pipes
I met Suraj in a recent JLL PropTech event where his company Drona Automations was awarded for special mention in showcasing the best innovation for social change.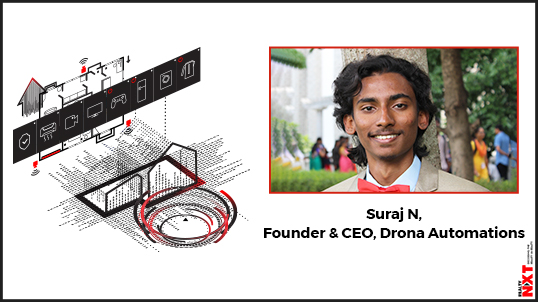 Suraj came across humble and shared his vision for his company. I support start-ups like Drona, who are getting involved in hard realities faced by our country and providing the best solutions to erase such problems.

Manual scavenging, one of the most revolting realities that exist in the country today, is defined as "the practice of manually cleaning, carrying, disposing or handling in any manner, human excreta from dry latrines and sewers."

Manual scavenging, today, continues in parts of India where there are no proper sewage systems or safe fecal sludge management practices. According to a report, the inter-ministerial task force in 2018 accounted for a whopping number of 53,000 manual scavengers in India; this was four times greater than the last survey conducted in 2017. In India, "every five days, a manual scavenger dies in a sewer, septic tank or a manhole," the report said.
Such on-ground reality can be changed if we adopt new technology, our government should support start-ups which are providing solutions to these real problems. Drona Automations are investing in manufacturing customized robots and focussing on eradicating manual cleaning of sewer pipes by bringing their innovative method. The start-up company has formed by a group of Engineering Students and Faculty members from REVA University, Bengaluru. Read on for excerpts from the conversation.
1. How did Drona Automations came into inception? What was the idea behind that?
We started out early, a group of 3 mechanical engineers who were interested to do something unique and helpful to the society. In our 2nd year of Engineering at REVA University, I saw a Facebook post that a person had died cleaning the manhole. I taught, "technologies have gone till space but there is no technology to go 10 feet below the ground and clean this manhole." We built a small prototype to demonstrate the idea of manhole sewer pipe cleaning using a robot in e-Yantra Project IIT Bombay and won the national level award. With funding from our university, we started working on the real time prototype with a team of 23 students from various departments of engineering and 3 faculty members. Our team worked day and night for 4 years and even worked sitting next to manholes, testing and calibrating the robot and finally we tested the robot. We then had our prototype and we started the company "Drona Automations Pvt Ltd".
2. Currently you are manufacturing customized sewer pipe cleaning robots, could you please tell us more about the product and its usage in real estate sectors?
Our robot was primarily developed to end inhuman practice of manual scavenging of manholes in India. We quickly realized that, we can use the same technology for cleaning, inspection and maintenance of pipes of any sizes. Our robot travels inside the pipe and cleans them, it also has a in-built camera for viewing the status of pipes. The user can control all the actions of the robot through his smartphone.
We have 3 variety of our products.
a. Manhole Sewer Pipe Cleaning Robot (MSCPR-I): This can be used to clean the manhole sewer pipes.
b. Vertical Sewer Pipe Cleaning Robot: (VSCPR-I): This robot cleans the vertical sewer pipes of less size (4inches to 3 inches).
c. Horizontal Sewer Pipe Cleaning Robot (MSCPR-I): This robot is used to clean the horizontal sewer pipes of 4 inches and 3 inches.
These Robots can also be used to clean any pipes of any sizes. We can customize the size depending on the applications. We use these variety of robots to clean pipes in Apartments, IT parks, Malls, Private layouts, Manholes, Etc.
3. What kind of equipment does Drona Automations uses?
We are an Automation and robotics company who seeks problems in society and give solutions to them using technology. So, we use Mechanical design, Control systems design and simulation software and we have specialized prototyping setups where we test and validate the technology and outsource the manufacturing and we assemble and test the product and sell it out from our working space.
4. What is the company's current business model? What are the main sources of revenue for Drona Automations?
Currently we are selling the robots to the maintenance people who actually use outdated As of today, we do not have a working product. We will be testing out our product with potential customers in another 20 days.
5. What are the challenges do you see in your growth story?
As we started out early as students, we did not get technical expertise from any industry and also whenever we went to purchase industry grade components from vendors, we could not be able to procure them because we were students. I personally faced a lot of issues in terms of getting funds from the university and managing a team of 23 students from different departments.
Also, after formation of the company, as engineering graduates we wanted to understand the fundamentals of business and spent around 4 months to make our understanding of it.
6. How are you expanding in terms of number of clients and team? What's your go to market strategy?
As of today, we got 20+ customers who are willing to use our robots in their system. Our main USP is that, we have customized design for any size of the pipe and any application. We do customization in terms of size, application and even the cost.
Also, after establishing a brand in terms of sewer pipe cleaning, we will move to other industry such as textiles, sugar industry and power plants where cleaning and inspection of pipe is of the need.
7. Can you share 5 sets of numbers in terms of statistics that define your growth?
a. We were the top 10 finalists in Boeing BUILD program across India
b. We are signing an MOU with Karnataka State Council for Science and Technology (KSCST) for promotion and advertisements of our products.
c. We were one of the winners in JLL PropTech Summit 19
d. We raised our first Angle funding since the incorporation of the company.
8. What do you think about the future of PropTech in India?
PropTech in India is at its infancy, big players in real estate are yet to taste the implication of using technology in the property and once they get to know the value addition it offers to them, PropTech will grow at an exponential rate and India will be the top in terms of PropTech in the world.
ALSO READ: RealtyNXT In An Exclusive Conversation With Chris Maughan, CEO and Co-Founder I-PRAC