Local self-government to amend new building rules: Kerala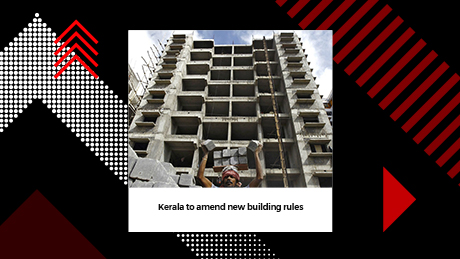 The builders have recently raised concerns regarding the 10m road for the construction of industrial buildings and warehouses above 4,000 sq.ft.
The local self-government department is mulling amendments in the new building rules a month after Kerala municipality building rules, 2019, (KMBR) and Kerala panchayat building rules, 2019, (KPBR) were notified by the state government.
The initial round of discussion on concerns over new building rules which were raised by builders, other government departments and licensed engineers & supervisors federation (Lensfed) was held at the local self-government (LSG) minister's chamber on Tuesday. Sources said that directions have been given to officials concerned to incorporate amendments and submit it soon.
Major amendments are likely to be effected regarding built-up area and setback. The new building rules did away with average setback and mandated that the required minimum setback shall be provided at the ground-level itself for the whole building. As per the new rules, the carpet area will no longer be considered in determining mandatory provisions for various types of occupancies . While the old building rules mandated off-street parking space for different occupancies proportionate to carpet area, KMBR-2019 calculates parking requirement based on built-up area. 
Further the area provided for parking inside the building shall not be taken into account while calculating the built-up area for assessing the parking requirement of a building. With the amendment, spaces like parking, slope, ramp and other storage spaces may be exempted from calculation of total floor area. The new rule has provided for calculation of total built up area and this required payment of a portion of fee calculated for parking to respective local body.
The builders have recently raised concerns regarding the 10m road for the construction of industrial buildings and warehouses above 4,000 sq.ft. Besides, the 7m road width mandated for the construction of 8,000 to 18,000sq.ft for categories like special residential, mercantile, and office constructions has also evoked protests. 
We have started discussions on amendments based on concerns raised by Credai and Lensfed. Floor area ratio (FAR) is one of the factors being considered," said LSG minister A C Moideen. When asked if FAR would be reduced, the minister said that no decision has been taken. Kerala offers the highest FAR in the country and access-based FAR which was earlier suggested by the technical committee was not taken into account. The uniform FAR has been a major deterrent in implementing zoning control and development regulations in the state.
The town planning wing prepared the new rules mainly with a view to simplify calculation of floor area and to include provisions which would enable smooth transition to online processing of permit applications. The permit validity was extended to five years and clarifications were introduced with regard to parking, pertaining to slope of ramp and width of drive way etc. Further it clearly defined the basement floor and did away with inaccuracies.
ALSO READ: Four Indian Cities feature in JLL's Premium Office Rent Tracker