VDA to act against illegal constructions along Ganga river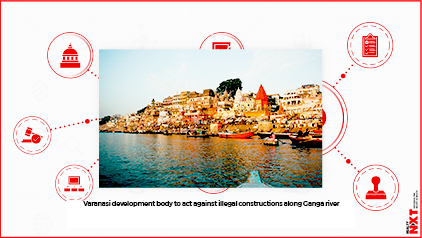 Varanasi Development Authority (VDA) has decided to take stern steps to check illegal construction along the Ganga and near ASI-protected zones. 
While a survey of over 6,000 buildings within 200m from the banks of river Ganga has been completed to identify illegal structures, areas protected by the Archaeological Survey of India in the vicinity of Dhamekh and Chaukhandi Stupas of Sarnath will be surveyed from Monday.
After the assessment, appropriate action will be initiated against illegal structures.
Meanwhile, a team of junior engineers has been been engaged to identify illegal constructions near the banks of the Ganga which require punitive action.
VDA vice-chairman Rahul Pandey said, "Any construction in 100m area in the vicinity of ASI-protected zones is completely banned. However, constructions can be done in 200m area falling beyond the 100m restricted zone but only after seeking permission from ASI. Six teams of VDA officials have been formed to assess the situation within this 300m area. The survey will begin on Monday." 
Pandey said if any illegal construction is found in the 100m vicinity of the two stupas, it would be demolished. "While all constructions within 200m area from stupas will be listed to find out how many illegal structures have been constructed with ASI's permission. The survey report will then be forwarded to ASI to decide action and VDA will ensure its enforcement,' said Pandey.
Teams surveying area along the Ganga have already submitted their reports. The officials concerned will review the reports to segregate structures in new constructions and repair work categories to finalise the course of action.
According to a government order issued in 1998, no construction is allowed within 200m from ghats along the Ganga. In 2000, an amended GO relaxed the norms allowing repair of existing buildings without changing the structure. Disposal of sewage and waste from such buildings into the Ganga was prohibited. Another GO in 2001 opened way for partial construction like public convenience at ghats and religious places like mutts and temples.
Despite prohibitions, many illegal constructions were done within 200m from Ganga ghats. In 20015, an organization, Kautilya Society, had even filed a PIL in Allahabad HC against such constructions. Taking a note of it, the HC ordered demolition of illegal constructions. In 2012, high court directed officials to ensure no construction was allowed in 200m area from the river.
"VDA is conducting a survey in view of the same orders. After work assigned to junior engineers is over, camps will be organised in each zone to provide solutions against repair work done without permission. Action against conversion of old residential buildings into group housing or commercial building will also be decided at these camps," he added. 
ALSO READ: Centre to alter IBC to shield new owners of bankrupt companies