EKTA World unveils Regent Park at EKTA Parkville Virar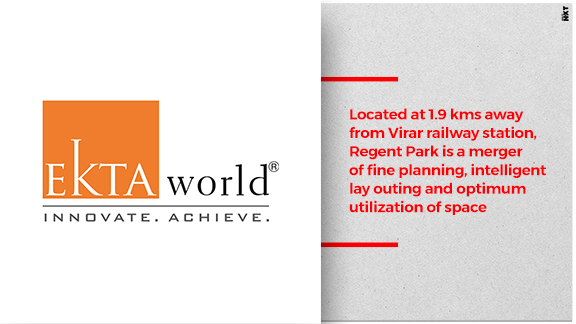 EKTA World's new phase Regent Park to ramp up affordable housing for Virar's next-generation citizens
Known for their quality and experiential homes, EKTA World, announces the launch of the new phase "Regent Park" at EKTA ParksVille, Virar. With OC received for 21 wings, Parksville is resident to 2600+ happy families. The new phase brings in more options for a conscious buyer desiring a quality lifestyle.
On the launch, promoters Mr. Ashok & Vivek Mohanani, of EKTA World exclaimed, "Buyers are looking for affordable housing, with the right sizing and right pricing mantra. We are receiving momentous response for our recent launch of Regent Park. The project is an upgrade from competition with new age construction technology and class apart from infrastructure. The ready Parksville stands testimony to promise delivered of bringing the Big City Lifestyle to virar. It's majorly for the first-time buyers and mid-income families to own a world-class home at great price."
Located at 1.9 kms away from Virar railway station, Regent Park is a merger of fine planning, intelligent lay outing and optimum utilization of space. It is a combination of luxury and affordable housing and offers 1BHK 2BHK and 3BHK starting from 34 lacs. It offers amenities like Swimming Pool, lounge, Gymnasium, Jogging Track, Indoor games, Children's play area and much more!
A beautiful blend of large open spaces and thoughtfully planned living spaces, Regent Park at Ekta Parksville will enhance Virar's extraordinary big city life with homes at a great location with leisure, lifestyle and entertainment avenues in the vicinity and excellent connectivity to Mumbai's prime locations.
Moreover, the property boosts of proximity to hospitals, education institutes, retail outlets, banks and temples. Nestled in green environs, with the pristine Arnala beach in the vicinity, the Yazoo amusement park close by and a cosmopolitan, cultured neighborhood; Regent Park is a class apart.
About EKTA World: EKTA World, a real estate firm established in 1987. Contemporary in thinking and design, EKTA has grown brick by brick while making many happy homes along the way. The team at EKTA world is constantly working towards creating memorable projects complete with 2BHK, 3BHK and 4BHK flats in Mumbai and other cities in Maharashtra. Adding a zing of glamour and style to the city's skyline, the group has not just built iconic structures but has also looked after the comfort and needs of its residents. This has gone a long way in building a strong reputation and goodwill amongst the discerning buyers and real estate agents in Mumbai and other cities in India.
ALSO READ: Corporation authorities have decided to popularize the CLSS of PMAY