Numero Uno Signature Global Drives Affordable Housing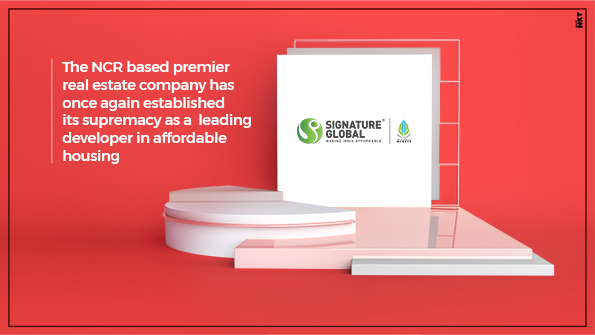 Signature Global, the NCR based premier real estate company has once again established its supremacy as a  leading developer in affordable housing.
The latest data of the real estate companies operating in Gurugram under Haryana Government's Affordable Housing Scheme, compiled by the PropEquity, a leading real estate  research company, shows that Signature Global is literally dominating  the affordable housing market in the Millennium City, having  over one third share of the total ( about 30000 units) launched in the city by all other developers.


Since 2014, Signature Global has launched 14 affordable housing projects in Gurugram, offering a total of about 10000 units. These include 1000 units in Solera project in Sector 107 Dwarka Expressway, 820 units in Synera, Sector 81, 980 units in Andour Heights, Sector 71, 1472 units in Grand Iva in Sector 103, Dwarka Expressway, 729 units in Orchard Avenue, Sector 93, 1532 units in Roselia 1&2, 1304 units in Serenas, Sohna, Gurugram, 440 units in Solera2, Sector 107 Dwarka Expressway, 1448 units in Millennia, Sector 37 D,754 units in Millennia 2 in Sector 37 D, 540 units in Sector Signature Global Park, Sector 36, Sohna, Gurgaon,720 units in Orchard Avenue 2, Sector 93, 714 units in Signature Global Aspire, Sector 63A, 738 units in Signature Global Aspire, Sector 95.
As per the licensing norms under the affordable housing policy of Haryana, licenses are given for a minimum of 5 acres of group housing  with flat sizes fixed between 28 aq mts (330sf) and 60 aq mts(645 sf) and units are available at a fixed all-inclusive price of Rs 4000 psf. Already 1820 units (1000 units in Solera and 820 units in Synera)  have been  delivered in Gurugram. In all 15173 affordable units are under construction by Signature Global in Haryana including Karnal under Haryana Government's Affordable Housing Scheme and Deen Dayal Jan Awas Yojana. Besides, 4 lakh sq ft  of commercial real estate is under development including one lakh sq ft shopping mall in Vaishali, Ghaziabad.

 The achievement  of launching record number of affordable units follows the distinction earned by the group as a topmost brand in affordable housing. A recent RICS- Knight Frank national survey report had declared Signature Global as the number one brand in affordable housing in India, ahead of mega brands like Tata, Godrej, Mahindra Lifespaces, Lodha and Puravankara.  The company has earned this high brand equity by creating values of reliability, responsibility and global standards.

At a time when the sector faces the problem of trust deficit of home buyers in the wake of large scale delivery defaults, Signature Global has lived up to its reputation of customer- centric organization with strong business ethics by not just strictly adhering to delivery schedules but completing and handing over two  projects- Solera and Synera having a total of 1820 units, months before the mandated delivery timeline  of 48 months. The company is using innovative technologies for mass housing like Aluminium Form Work  to speed up construction with quality. Leveraging cutting edge construction technologies, the company is working towards delivering all its projects within 36-42 months from the time of project conceptualization. The group has set a target of delivering 2800 homes in Gurgaon by the end of this financial year.
Signature Global homes are not just plain vanilla low cost homes but lifestyle value homes. These homes are designed by the likes of Hafeez Contractor, the world- renowned architect and stand on the strong foundation of contemporary and efficient designing. The company works with a team of experienced and best architects, master planners and designers. The uniqueness of location, impeccable quality of construction with excellent features and amenities including a dedicated retail hub (christened Signum) with each project, attach great brand value to Signature Global homes.
The company has partnered with leading financial institutions like HDFC Capital, ICICI Pru, KKR etc to directly reach out to prospective customers. In the backdrop of affordable homes dominating residential sales( over half of the units sold between the second quarter of FY18 and fourth quarter of FY 19 being in affordable category) this strategy has paid rich dividends. Signature Global's affordable housing projects are lapped up by home buyers. This is clearly evident from the recent record sales of Millennia project in Sector 37 D Gurugram . The project with around 1500 units has been four time over subscribed.
Supported by Central government's friendly affordable housing policies of income tax & GST incentives and interest subsidy benefit under Pradhan Mantri Awas Yojana (PMAY) together with Haryana Government's liberalised area norms ( increased cap of 1935 acres of land for all affordable housing projects and double the land -30 acres in each sector ) , Signature Global is ramping up its affordable housing play. Over the next 6 months, the company is gearing up to launch 6000 units.These include 1200 floors in 25 acre plotted housing scheme in Sohna, 750 units in Sector 79 Gurgaon, 1410 units in Sector 89, 700 units in Sector 36, Sohna and over 2100 units in Raj Nagar Extension .This financial year, the company is targeting to launch 8000 affordable units across Haryana and Uttar Pradesh.
Living up to the vision for India of Tomorrow, with a mission of 'Making India Affordable' and 'Har Parivar Ek Ghar' ( A home for every family), Signature Global is aiming to deliver one lakh affordable homes across India (including Haryana, Uttar Pradesh, Rajasthan and Maharashtra) by 2022 to support Prime Minister Narendra Modi's mission of 'Housing for All By 2022'.
ALSO READ: Stability, growth prospects and quality of life fuelling price rally in Hyderabad residential market