Real Estate sales in Kuwait slumped to $693.6m in October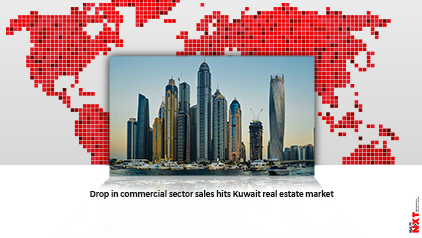 Real Estate sales in Kuwait slumped to KD211 million ($693.6m) in October on the back of a sharp drop in the commercial sector, which saw the weakest monthly sales since August 2010.
According to the latest economic update from the National Bank of Kuwait, real estate sales in October were down 31 percent month on month and down 26 percent year on year.
The report also revealed investment sector sales rose 17 percent compared to September and nine percent from October 2018 to KD107m ($351.7m), buoyed by some large building transactions and coupled with a four percent increase in building prices.
Building transactions alone totalled nearly KD100m ($328.7m), of which KD34m ($111.8m) stemmed from two large, 6,000 square metre properties in Mahboula.
The report said: "We expect the price trend to remain slightly negative in this sector until the imbalance between softer demand and oversupply starts to subside, as there is good reason to believe that a relatively large number of vacant apartments have yet to be absorbed into the market."
Residential sales were moderate in October at KD104m ($341.9m), down 26 percent month on month and 25 percent compared to the same month last year.
"The average transaction size also eased slightly, despite a monthly pick-up in prices, suggesting that trading in smaller, or less premium properties was more dominant," the report said.
There was no pick-up in the commercial sector with sales falling to just KD400,000 ($1.3m), well below the 2019 monthly average of KD52m ($171m).
There was a 79 percent drop in transactions, to just eight, and the average transaction size was down to KD47,000 ($154,500).
Source: Arabian Business
ALSO READ: Canada: Value of building permits fell by 1.5% in October