RealtyNXT In An Exclusive Conversation With Pankaj Kapoor
Liases Foras was founded in 1998, is the only non-broking real estate research company in India.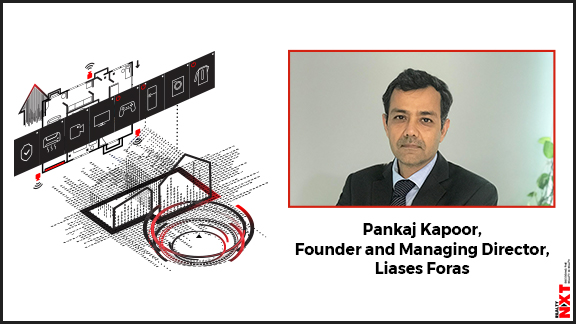 Data and science form the core of their services, which range from providing market intelligence and risk advisory to lenders and mortgage companies to providing development advice, best use, and valuations to developers, funds, banks, and corporations.
Their expertise lies in the area of real estate pricing with a strong focus on understanding the dynamics of price and analyzing any underlying risks. Read on for excerpts from the conversation.
1.Brief about Liases Foras and what inspired you to embark upon a journey in this domain?
Founded in 1998, Liases Foras is the only non-broking real estate research and analytics company in India. We not only cater to data-based needs of banks, housing finance companies, developers, funds, insurance companies, government institutions but also support them with risk advisory services. In fact National Housing Bank, India's premiere housing institution, uses our data and analytics to update RESIDEX (house price index) every quarter. Since we have no stakes in the market, we can show what is happening in the sector in an unbiased manner. Over the years, stakeholders have realised the importance of an independent voice.
Like most of the firms, I started out with modest means in late 90s soon after completing my MBA from a Pune based college. After working for around three years as an employee with an FMCG and later with a real estate firm, my first stint as an entrepreneur was in entertainment industry. However it was not successful. In 1998, I set up Liases Foras as a realty research and rating agency. Since real estate market was going through a recessionary phase, I focused on rating real estate projects. We carried out y.ratings of more than 60 projects.
For the first time rating of projects was based on a mathematical model. During the initial years, I had to struggle a lot as the industry was driven by gut-feel. Convincing people to rely on research and data was extremely difficult. All the developers needed was a broker. It was in 2003, when I was given mandate to map the quantum of supply, price movement as well as demand and supply scenario of under-construction projects in Mumbai. Our coverage gradually kept expanding with time and at present we cover market dynamics across 60 cities. Besides, Liases Foras structures housing production, consumption and pricing trends after culling out and collating primary, secondary, registration and mortgage data. No other player in the industry does that.
2. Please tell us about your Developers' Rating Tool — a model which measures on-ground performance and the capability of developers to meet their commitment to consumers.
Since we have project level information, we can estimate how a developer has been performing. Bankers and foreign funds rely upon Developers' Rating to assess credit worthiness of a developer. One can understand the cashflow situation of a developer based on sales and construction velocity of projects under his/her belt. Through the resource one can also know if a developer is going to meet his future obligations or could default.
3. What is your current source of revenue and your targets for next year?
We have two revenue streams, 'Subscription-based' data products such as Ressex, Desktop Feasibility Solution (DFS) and Desktop Valuation and 'Fee-based' services and bespoke research and consulting assignments such as Best Use Study, Valuations, Urban Planning Studies among others.
4. You launched India's first ever real estate sensitivity index, RESSEX. Tell us more about it.
RESSEX is geospatial real estate database. Just imagine you have been empowered to view crucial details of 20,000 real estate projects. You can check project level information, run catchment analysis, assess regional demand and supply or could simply do pan-India market analysis. Each project has been mapped with its price movement, sold and unsold inventory, construction progress, product configuration, unit size among hosts of other data points. Recent photographs of projects are also available on the interface. Our research team carries out survey and visits the project site to monitor construction progress. Data is updated on a quarterly basis.
5. What's is Magnet Theory' of future price projection which you have conceptualized?
In 2005, when real estate industry got liberalised, investment started chasing land with the objective of faster growth and return.
The magnet theory describes that spatial mobility (polorisation) to a specific region depends on the internal magnet (attractiveness), of the region and how economic hubs have their influence to the region.
The study finds that real estate prices are highly correlated with the economic densities of demographics. The measurement of the prospective economic densities caused by the improvement in the connectivity and changes in the intensities of economic hubs, carried out on a timescale provides projected prices and their growth patterns.
6. Do you think PropTech really has the potential to disrupt the Indian real estate industry?
Even traditional institutions have started reposing faith in data and analytics in the past three to four years. With digital transformation new entrants have been creating algorithms to cater to end-consumers. And hence all this while the focus has been on property buying, selling or renting activities. But now a need is being felt to create products for professionals working in banks, fund houses, financiers, mortgage and construction companies.
7. Name three key PropTech innovations that you think can address the major challenges looming over Indian real estate.
I feel in months to real estate professionals would have to take extra care to arrive at fair property value. All this while value of properties was derived randomly. It would be the most crucial area to deal with. Our recent product – Desktop Valuation is aimed at bringing transparency and standardisation in valuation. It has the potential to fill in the void.
ALSO READ: Drona Automations is working towards a noble cause in eradicating manual cleaning of sewer pipes