WeWork Strengthens Position in India with Expansion into Hyderabad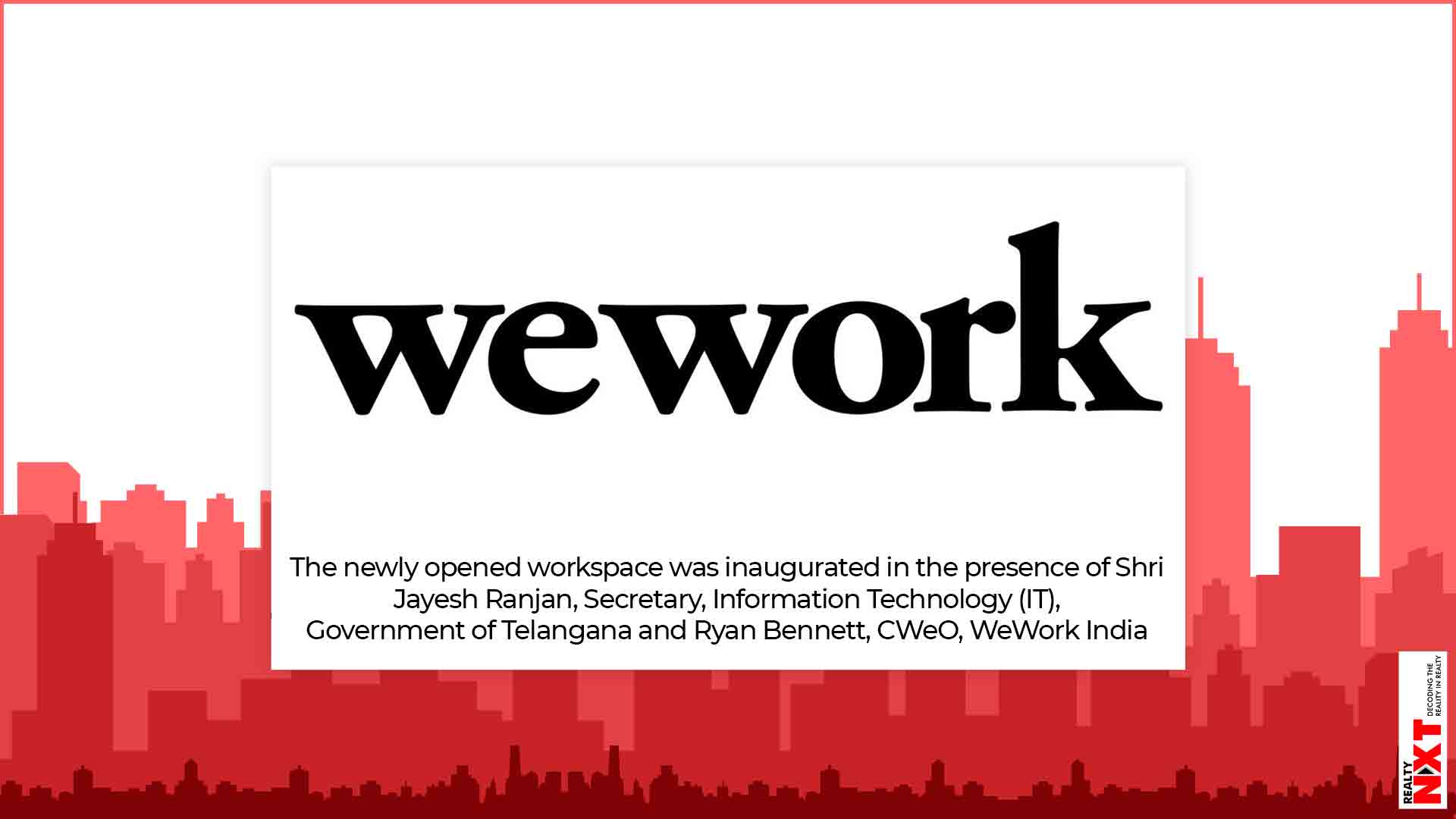 After successfully reimagining the concept of workspaces in five key markets in India – Bengaluru, Mumbai, Gurgaon, Noida and Pune, WeWork, the world's leading co-working and space-as-a-service platform, launched its first collaborative workspace in Hyderabad today.
A global network of workspaces designed to connect people, inspire creativity, and transform the work experience, WeWork caters to the needs of over 609,000 memberships around the world helping them make a life, not just a living. 
The newly opened workspace was inaugurated in the presence of Shri Jayesh Ranjan, Secretary, Information Technology (IT), Government of Telangana and Ryan Bennett, CWeO, WeWork India. Krishe Emerald is located in the IT and corporate hub of Hyderabad – HiTech City. Aesthetically designed to serve the requirements of enterprise members and start-ups alike, WeWork has used their global playbook but incorporated local elements, the design in this building focuses on capturing the eclectic city of Hyderabad and pays homage to its heritage.
Ryan Bennett, Co-CEO, WeWork India, commented, "India is one of the fastest-growing economies in the world. The country is home to one of the largest number of startups, coupled with large enterprises and SMEs, that are experiencing rapid growth. We are looking to expand in India with the intention to meet the needs of people and companies looking to expand their base in a work environment that leads to collaboration, productivity, and innovation. We owe our upward growth trajectory to our community of over 5.8 lakh members who are as passionate as we are – to create, collaborate and communicate something meaningful." 
Speaking at the launch, Shri. Jayesh Ranjan, Secretary, Information Technology (IT), Government of Telangana said, "Over the last few years, Hyderabad has witnessed rapid growth in the entrepreneurial ecosystem and the Government's committed investment in driving innovation. Moreover, through initiatives like T-Hub, TSIC and State Innovation Policy, we have created a pool of world-class talent. We are confident that collaborative spaces like WeWork will play an important role in inspiring innovation, connecting talent and providing aspiring startup entrepreneurs with global resources to unleash unprecedented opportunities that lie ahead. I wish WeWork success in their operation in Hyderabad."
Commenting on the expansion into a new market, Karan Virwani, CEO, WeWork India, said, "Hyderabad is a unique market with a rich culture that's backed by strong technological expertise, thus creating a high demand for shared workspaces in the city. The city has witnessed an impressive growth with net office absorption multiplying almost four times as compared to the corresponding period last year. We see huge potential in the city for a collaborative space like WeWork it was natural that our next point of expansion was the city of Hyderabad."
With this expansion into a new market, WeWork continues to spark collaboration and innovation, offering organizations the ability to grow without compromising on employee experience. WeWork's signature elements such as phone booths, nooks, game room, meditation and wellness room as well as large common areas converge together to cultivate a strong sense of community. By driving innovation and collaboration, WeWork India will continue its growth trajectory in changing the face of collaborative spaces in the country. 
ALSO READ: CSR arm of SOBHA organizes a dowry-less social wedding in Kerala