RealtyNXT In An Exclusive Interview With Vinayak Agrawal, myHQ
The startup has been founded in 2016 by two IIT Delhi graduates – Utkarsh Kawatra and Vinayak Agrawal.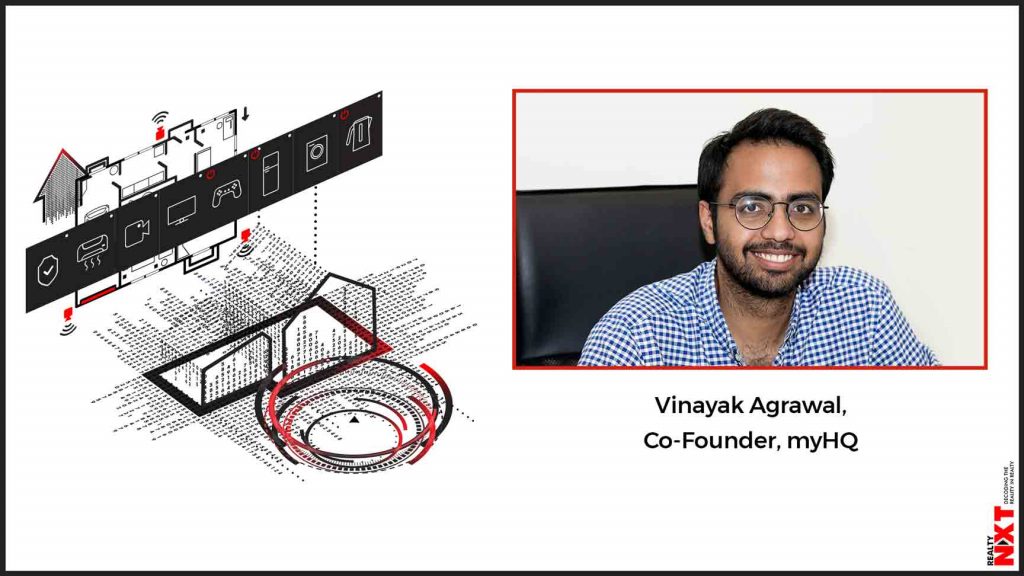 It offers workspaces across 120+ locations in Delhi-NCR region at places like restaurants, cafes, co-working centre and office complexes that have excess inventory.
Delhi-NCR headquartered coworking space provider, myHQ, recently had announced that it has raised $1.5 Mn in Pre-Series A funding round led by India Quotient. Singapore-based family office RB Investments, Ashish Goenka from Suashish, angels from the online platform LetsVenture and existing investors including Anupam Mittal and Nitish Mittersian also invested in the round.
1. How do you plan to utilize $1.5 Mn funds raised in Pre-Series A funding led by India Quotient?
We are going to use this funding to expand into new cities, introduce new product offerings and invest in strengthening our technology infrastructure. By the end of next year, we plan to expand to over 300+ spaces in multiple cities.  The funds would also be used to expand our existing product offerings and to build an engaged offline-online community of 50k+ working professionals across myHQ workspaces.  

2. What do you think are your biggest achievements since your journey began in the year 2016?

By using unused/ off-peak hour inventory inside existing spaces, we've created a solution where we are in a unique position to cater to the largely untapped market of SMEs, freelancers, mobile/white-collar working professionals. 
With coworking spaces moving more towards corporates to ensure profitability, our pricing of sub- 5000 INR, makes us the most economical option in the market and gives us a great product fit for SMEs who are currently working out of basements and aspire for great workspaces but cannot afford them.
Freelances, mobile teams don't necessarily need a space every day and hence shy away from paying a fixed monthly rental at coworking spaces. For coworking spaces, rentals are a major part of their operating expense, which makes it difficult for them to move away from the monthly pricing

3. How tough is the competition at present?
The coworking space in India is definitely getting very interesting and is seeing a lot of growth. There are a lot of players with a background in real-estate that are entering this space. With more players entering the space, while the consumer awareness about coworking and its benefits is increasing, space is getting commoditized. Coworking spaces are finding it difficult to operate at high occupancy levels (> 70%). We partner with coworking spaces and offer their unused inventory which helps them with demand generation. As space gets more commoditized, the need for a player like myHQ increases.  

4. Can you highlight how your business model is different from co-working space providers like WeWork, QDesq?

Unlike the other coworking space, myHQ is building a chain of work-friendly spaces in an asset-light manner by taking up unused or excess inventory inside coworking spaces, offices, cafes, lounges, etc.. Using existing excess real estate inventory available with third-parties, not only reduces our financial risks but also allows us to offer workspaces to our customer at an extremely economical price if INR 200/day.
myHQ offers a unique visit based subscription model. With a subscription, the user has access to all myHQ locations at just INR 200/day without having to worry about monthly rentals, security deposits or lock-ins. 

To ensure a standardized and consistent experience we control the work amenities at every space. Each myHQ space is equipped with essentials such as high-speed Wi-Fi, plug points at every seat, free printing and office stationery. Our app allows individuals to book workspaces close to their homes and as per their convenience at the click of a button.  
5. How has myHQ adopted technology over the years and what role has it played in the company's growth?

Since we do not own the physical space, controlling the work experience and providing a standardized work experience at these heterogeneous spaces is a challenge. Over the last few years, we've invested heavily in technology to build a strong product – centralized Wi-Fi and payment systems, real-time reservations, inventory management, monitoring the spaces real-time to get a real-time snapshot(occupancy levels, Wi-Fi status, etc.). 

The systems allow us to manage operations at the spaces without having to be physically present at the space. We are a team of 3 in operations managing over 140 spaces! This has allowed us to keep our operations lean and scale fast.

Also, as our members work across different spaces, building an engaged community when users aren't physically present at the same location is difficult. To overcome this, we've built the community online on the myHQ mobile app. On the app, the members can see profiles of other members, post their business requirements and professional queries. We've seen a lot of business transactions, companies, and freelancers finding new clients within the myHQ community on the app. 

6. Which are the cities that you are targeting on an immediate basis?
Currently, our focus is to expand to Bangalore first and then to Mumbai.
7. What do you think about the future of PropTech in India?
PropTech in India has become popular, especially in the Indian Real Estate context off late. The PropTech segment in India while still at early stages, has grown exponentially in the last 5 years, initially with online listings and brokerages on the residential real estate, and then with the popularity and rising demand for co-working spaces disrupting the commercial real estate.
Despite recent developments, there are still inefficiencies at various stages. While structural challenges and difficulties in conducting business in Indian real estate continue to remain, PropTech in India in the future is positioned to take off and tackle some of these challenges.
8. Where do you think myHQ would stand in the future?
With an increase in traffic and commute distance, employees wasting their most valuable time commuting to a central workspace no longer make sense. With advancements in technology, widespread availability of internet, video calling it is now possible to stay connected, have online meetings and exchange information without physically being present at a location. Sitting at a central office to work every day is more to do with habit than a necessity. 
With the rising demand for flexible work-culture, we foresee a lot of millennials users opting for flexible workspaces, which are professional yet agile, as well as pocket-friendly. With the entrepreneurial culture on the rise, we understand the changing needs for the new-age employees, whether they are an individual or a small to medium enterprise. Keeping this in mind, we are sure that myHQ, with its unique offerings, will help businesses meet their ever-evolving business needs, network and make the most out of a flexible working community. 
ALSO READ: RealtyNXT In An Exclusive Conversation With Pankaj Kapoor